ABU's New Classics!
As well as the 'standard' line of high quality reels, if ABU are ever merely standard , its ranks are being expanded by a range of specialized reels, aimed at collectors (with matching, top of end of town pricing structure).
Here I will feature some of the emerging Olympic medalists of this fishing equipment world.
They are often only produced in batches of 200, ensuring they will never be easy to source or afford.
These I believe are destined to become the new classics and one considers themselves lucky if they are able to get onto the list from the factory supply.
Once the target of predominatly Japanese ABU fishing enthusiasts, specialized tuned reels made of exotic materials and unique colours are greatly sought by passionate ABU persons as well as the well heeled Ebay buyer who will gladly part with large sums to acquire them.
First to feature here is the Swedish designed, Korean made Snakehead 6500 C courtesy of Mike from Canada.
He can be contacted here Arhontakis@aol.com with Ebay seller name cardinalparts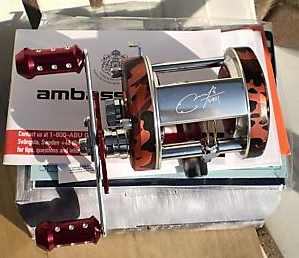 AMBASSADEUR 6500 C SNAKEHEAD KOREA Limited Edition, NEW, MINT IN ORIGINAL BOX, NEVER USED WITH ALL ORIGINAL PAPERWORK. Included also with this reel is a black ABU reel bag and oil tube. Serial number of this unit is180018/20. This reel is very beautiful with the side plates of the reel being an off orange camoflage colour with an upgraded handle that is only available on this particular special model. I only removed the reel from its original box to take a few pictures that I have on display in this auction and I carefully packed it back in its original box so some lucky collector can get this item MINT.
Only
200
sets of these reels were produced for only the Japanese market
never
released in North America. This model was SOLD OUT as soon as it was released but I was lucky enough to get a few copies for myself and I have listed this one last copy that I have for a lucky collector.
From the Japanese website, some translation issues~!
South Korea's No.1 endorser Ophicephalus maculatus
Mr. KORABOMODERU and Shin!
| | |
| --- | --- |
| ■ | Up to 10 kg class to force Drag |
| ■ | Stainless steel main gear and pinion |
| ■ | ARUMIMASHINKATTO handle standard - |
| ■ | 95mm RONGUPAWAHANDORU |
| ■ | TiN KOTINGUUOMUSHAFUTO |
| ■ | Bearing adopted a spool bearing HPCR |
If you are a person that has significantly had an effect on design/development/testing of ABU equipment over the years please contact me wayne@realsreels.com if you wish your contribution documented for posterity and the immediate interest of the ABU fans worldwide!