The ABU Bible
The Gospels of St Gote, St Len
according to, and continually being updated as perceived by Ambassadeur Wayne and Language student Christian. I have also recently been supplied with some fine old images from friend ABU Bo in Denmark. The English Tight Lines scans have been shared by Mike Elsworth , the Welsh Sleuth!
In each ABU catalogue, the first page was given over to careful observations by a member of the Borgstrom family. Almost as if he has consulted the oracle at Delphi, some would prove quite prophetic in coming years. There are gems here that we can learn from. I am still looking for more of Gote's words of advice as I do not have the early years catalogs (1940's up to 1951) and I would appreciate anyone who would share this information.
I do not have a complete collection of English Language Tight Lines catalogs, so any assistance in acquiring the missing years or at very least scans of the Len's words on the frontispiece would be greatly appreciated, in order that we all may share. I have over 50 years of Napp och Nytt , (all except 1951 and older), thanks to my Swedish friends.
I still need to collect copy of TL from the earliest known up to 1958 as well as 60, 61, 63, 64, 65, thankyou.
This image indicating production numbers gives an idea of how many catalogs were being produced to satisfy the world demand for ABU fishers.
World wide variations of the ABU Fishing Catalogs with names as :
Tight Lines/Napp och Nytt/Nap og Nyt / Petri Heil Nyt Nappaa / Dobrego Wedkowania / Petruv Zdar
1948, (never seen)
My good friend Christian who presently hails from Germany, but is of Swedish descent, is a student of languages and has kindly translated the Swedish to English for the majority of us avid ABU fans who cannot read Swedish. We are all indebted to his good work here. This is a time consuming "work in progress".
1949
A glad salmon is shown in the adjoining picture. He considered himself to be home and dry when he got dragged onto land with a Recordrod with a Recordreel and a Record lure from Svängsta. Because he was a Mörrums salmon and a local patriot. There´s the rumour abroad, however, that fish gladly allow themselves to be caught with our tackle even in other parts of the country. We thank for the trust and show here the very latest and most tempting for both fishermen and fish.
A.B. Urfabriken - Svängsta
(

Göte Borgström
1950
1951
1952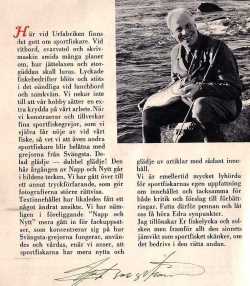 1953 (My Birth Year)
"The fifth issue of N&N is hereby granted to the Nordic sportfishermen, and we at Urfabriken are extremely pleased that, no matter where it goes, this publication is always recieved with great enthusiasm.

N&N has turned into a (vital) link between the angler and our factory, and we receive letters every day from sportfishermen from all over the world, telling not only about their great catches on Svängsta tackle, but also about very helpful tips on fishing tackle news and improvements hereof.

The sportfishermen's own ideas together with Urfabriken's delightful constructions plus a workforce with "the clock-work in their blood" using modern type machinery, have in common created the Svängsta tackle, which are in the lead of technical precision.

I thank you all for Your help, hoping that this great co-operation will continue ."

Gote Borgstom

Translation courtesy of ABU Bo from Danmark!
1954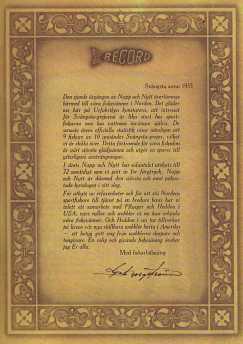 1955
1956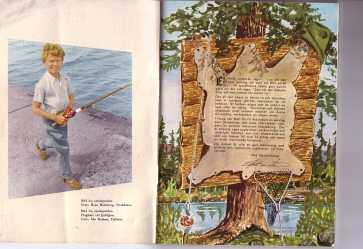 1957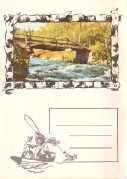 1958
1959 No title

1962 No title

In the past almost always all the odds were to the advantage of the fish in the game of sportfishing. The development at the tackle-front during the previous years has however advanced in a single wild rush and the sport fishing gear of our time has changed the odds in the fight with hard-battling dreamfish. It has also opened a new world of fishing happiness and healthy relaxation for millions of people.

With fisherman´s greetings

Göte Borgström 1963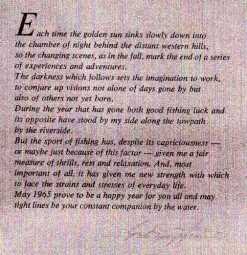 1965
1966 No title


1967 Aviemore: ABU Holiday Angling School in Scotland
1968 Invitation to Holiday of your Life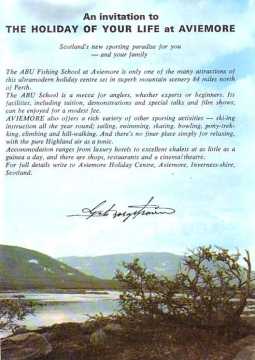 A Sport for Everybody!

The meaning of the sport or the hobby grows at the same rate as the tempo in our occupations increases. Our need of recreation, contrasts and environment contact is a community mindset nowadays. And our country is providing us with a series of excellent benefits. But many occupations have their limits. Most sports have only one activ age cohort. In other cases they are dependent on talent, on a natural requirement or on a community that you do not have time for.

Sportfishing is one of these occupations that are fascinating every individual, regardless of sex, age, social status and inherent talent. Sportfishing is a sport for everybody.

In close contact with our nature, with an injection of drama and excitement in every cast. And with a drunkenness of joy that defies its description at every indication for a bite. In this fight ABU is standing at the fisherman's side, to give the sport an even bigger benefit by the right tackle and the easy choice.

Do not let it go past you in this very life!

Göte Borgström

1969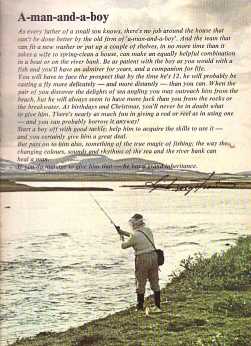 1970
1971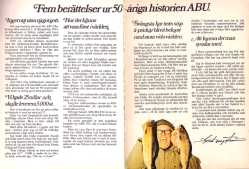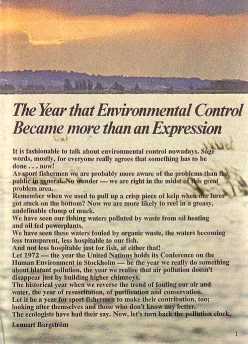 1972 The Year of Environmental Control
1973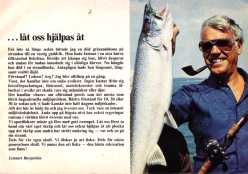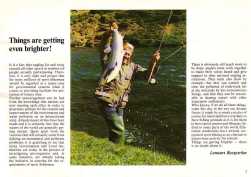 1974 Things are getting even brighter!
1975 Cheap Fishing Tackle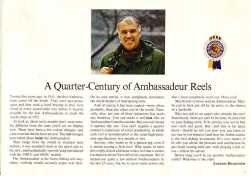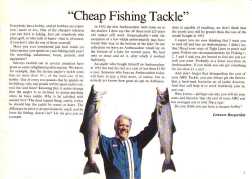 1976, 25 Years ofAmbassadeur Reels
1977 Len's last observation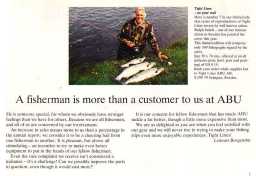 1978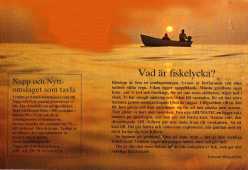 1979 Bengt Olofsson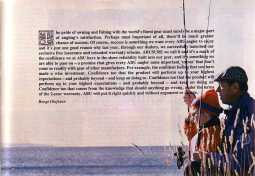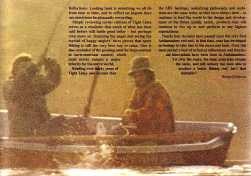 1980 Bengt Olofsson
1980/81 Identical to 1980 ...Interest lost??
1981 Unsigned ......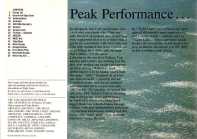 1982 ABU's Changing of the Guard
Signed only 'Your Friends at ABU" The personal approach has gone?