Ambassadeur Reels
I don't have a huge collection of Ambassadeurs (70 only) at present, but like my friends, l am trying, whilst enjoying learning something new from new aquaintences every day.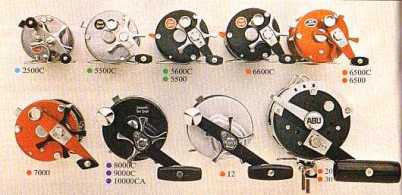 The line-up circa 70's
The world of casting reels or multipliers as we know them in Australia, changed forever after 1952, with the creation of the Ambassadeur. To my mind, based upon fishing experience, any of the classic Ambassadeur family of reels is all one needs to be a totally satisfied fisherman. A perfect reel that maintained and used correctly teach us a lot about ourselves, as I remarked to Len Borgstom.

They make us recognize our own failures (in technique, maintenance regimes or choice of balanced tackle) and therefore we grow when we learn to accept our shortcomings and adapt to change. My world has changed considerably because of ABU and it's Ambassadeurs.

Thankyou Len, Gote, Carl and all the past designers and team in Svangsta SWEDEN in general.
| | |
| --- | --- |
| Whilst not technically badged as an original Ambassadeur, I will always see the Morrum family of reels as merely an extension of the old bloodlines. Long may they be crafted in Sweden. So important as an evolution of the Ambassadeur for me, I have granted it pride of place on the top right of every page of this site, along with the Admiral soon to appear floating bottom left and the 70's Ambassadeur of Sweden fixed top left. This 7700 CL, is probably the most practical of reels for my style of fishing here in Great Barrier Reef waters where I live. I would love to one day get the 7700 CT cage version of this reel for my collection. | The Morrums were developed for the Japanese market and reached their pinnacle here being further "tuned" and developed into not only magnificent and very unique pieces of fishing technology but also the most beautiful and artistic of reels. |
Historically we can see the evolution of the Ambassadeur from the Record casting reels of 1940 on. The most obvious connections came with the introduction of high tech innovations such as centrifugal braking systems, automatic free-spool for re-engaging the spool, thumbscrew access for easy spool changing in the Record 2100 Sport (1945+) and the introduction of bearing caps which were very simply micro- adjusted in the ABU 3000.
I own a reproduction model 5000 SG boxed with Morrum and released in 2002 as the 50th Anniversary of this 5000 SG reel's release. This is probably the only way I'm to own this mint magnificient signpost reel among reels!
The Ambassadeur 5000 Manual Pages 0/1, 2/3, 4/5, 6/7, 8/9, 10/11, 12/13, 14/15, 16/17, 18/19, 20/21, 22/23, 24/25, 26/27, 28/29, 30/31, 32/33, 34/35, 36/37, 38/39, 40/41, 42/43, 44/45, 46/47, 48/49
THE DEFINITIVE HISTORY OF THE 5000 by good friend Mikael Risberg
A combination of many factors, including the economic boom after the end of WW2, the high quality and innovative design and construction techniques, along with the growth of the Sportfishing movement, saw the booming sales of the Ambassadeur series around the world but undoubtedly the USA popularity assured its place in history.
Like a Ferrari, to many, the colour of an Ambassadeur should always be red. It was predominantly found sporting this hue, but black, green and even annodized gold was produced for this first model. For many it will always be the ultimate reel. Part 1, 2 For me the 7000 fits this bill. See cut-away view
Where does one start to discuss variations in the Ambassadeur reels? Sidepate colours/engraving/foil label stickers? Handles? Nuts and bolts? Models, capacities of spools? 4screw V 3screw? Bearing Caps, Plain/Agate? Prototypes/Packaging/Cases? Accessories? Gear Ratios? Commemoratives Delux CDL's? Export models? and so on.........
Close up views of parts of the Best Reel (Ambassadeur) in the World:
Parts ordering numbers view 1, view2
Other popular models to be included in my fishing armoury and collection.
Models 6000 7000 8000 9000 10000
I've heard of the 3500 and 4500 which I have not seen but would like to collect
I strongly suggest that the 4 books listed in my links page by Len Borgstom, Simon Shimomura and Daniel Skupien are absolutely essential to the study and appreciation of these fine reels. They are very definitely the Universe when it comes to matters ABU. Unlike a Penthouse which we all know are mainly bought for the literary articles, buy these (don't loan from a library or photocopy a friends) as coffee table books at least! I have even found my wife having a sneek peek and even commenting on the beautiful reels.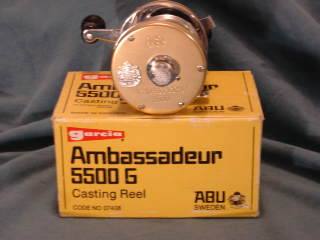 Rare Champagne Ambassadeur 5500 and box marked G for gold!
"From The Collection Of Lonnie Mills, USA"
The photographs are just stunning and let's face folks that's the only way most of us are ever going to enjoy many of the these classics....not to mention the prototypes... ..ah a quick flight to Svangsta, Sweden to the Museum to drool?
If you have any others not listed in my collection, that are unneeded or doubles in your collection and are available for a reasonable fee, I would be very pleased to hear from you. I cannot afford to collect Mint, in-box or unused reels at present, until my children have completed their education.