Half Encapsulated Reels
The manual of the 506 is here A B C D E F G H

This 500 series has proved very popular with English match fishermen.
An un-sourced writer (known only as Stefan, whom I would like to fully acknowledge) has written a very good and informative short 3 page article here . Page 1, 2, 3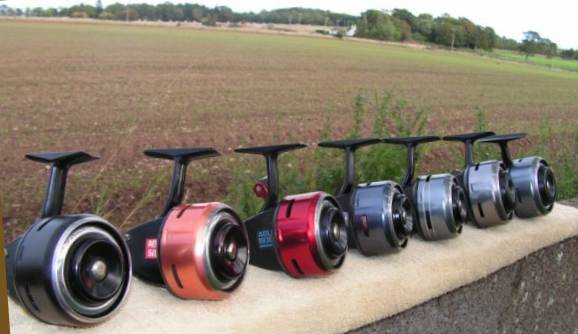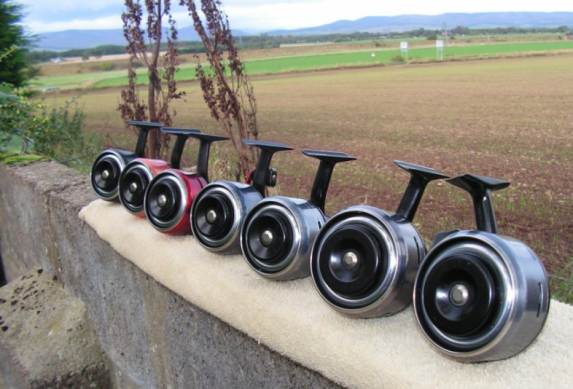 These are reels that I am learning more about and collecting .
Packaging for the 500 series interests me which I hope to add to my collection before too long. Please contact me if you have a spare box.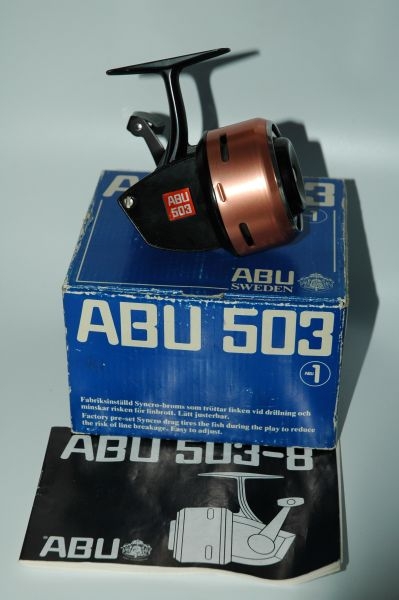 Like myself, Roy Allett has them all (the old metal type first 9) and has kindly provided the stunning photos above. His little grandson Cameron is also an early fan of the marque demonstrating great dexterity and prowess with actually catching a fine Ide which grow up to 3 to 4lb in UK and >7lb in Scandinavia.
This gives an introduction (Part 1, Part 2) to the reels
Images ( 1 and 2) here of 505 from Tight Lines
I have all nine models only which I can't fish with even if I permitted myself the luxury of using near mint reels from so long ago. They are left hand wind and most Aussies wind with their right hands.
Mine reels include a 500 series 501, 503/520, 503, 505, 506, 506M, 507, and 508 as well as a newer plastic and to my mind not so desirable 601M and 602 Diplomat.
My friend Julian from Germany,
Hi Wayne,
Pictures of the ABU 505 Cutaway, in Germany only known of 2 x exists of ABU 505 Cutaway (See pic 1, 2, 3, 4, 5) and 1 x ABU 506 Cutaway, in other Countries i don't know about one to exists, maybe in Sweden some Reels, Regards Julian.
I have also been contacted by Steve Smith via our Guestbook and it is hoped he will bring his expertise to this area when time permits.
"I am a collector of the classic ABU-Matics and ABU 500s. As far as I know
there are 50 models and variations of ABU-Matics (made in Sweden) and 9 ABU
500s. I have a nearly complete collection and need only 7 reels to complete
it. I also collect the Garcia Annuals from 1959 to present and Tight Lines
English Edition for the same period. I am currently researching and
writing a book on these reels."
Lets hope he decides to share some of his excellent depth of knowledge here.
If you have any 500 series box mentioned above, that are unneeded or doubles in your collection and are available for a reasonable fee, I would be very pleased to hear from you. I cannot afford to collect Mint, in-box or unused reels at present, until my children have completed their education.