Spinning/Haspelrullen

I intend to collect a few examples of this spinning style of ABU fishing reel and will eventually get around to photographing and documenting and learning more about the range. I have recently learned about the Zebco Connection with ABU and now due to Clinton Beeler's interest and generosity, have quite an understanding and appreciation of these ABU badge enginneered models sold in USA. This arrangement really spearheaded ABU into USA spinning reel market, following on the successful Ambassadeur models.
| | |
| --- | --- |
| | They were identical in every respect except for some reel colours, adhesive stickers, metal badges, packaging and a few names changes in the manuals. |
Beautiful black and white studies from Zebco are to be found here:
Zebco6/7, Zebco 6X, Zebco 7X, 557, 555, 554, related Zebco/ABU 178 Fly reel
| | |
| --- | --- |
| Cardinal reels, 1, 2, 3, 4, 5, 6, were for a long period the ultimate spinning reel in the ABU stable. Their rugged construction and worm gear drive ensured their long popularity. They were replaced in the 90's with what was to be called the Morrom Spinning reel (see prototype box which never reached market!) but eventually become known as the Suverian. I have heard mixed reports and would appreciate contributions as to its fishing performance and acceptance in the marketplace. | |
Other specific models that are in this fine stable of reels are 1, 2, 3, 4, 5, 6, 7, 8
My first was a Cardinal Series Model 57. The only problem experienced was the "exploding" of a spool due largely to my storing it in a hot garden shed with a tightly loaded spool of monofilament, which expanded with consequent shattering. Thanks Uffe for replacement spool.
The complete manual for the Cardinal 54,55,57 reels is here. 1, 2,3,4,5,6,7,8,9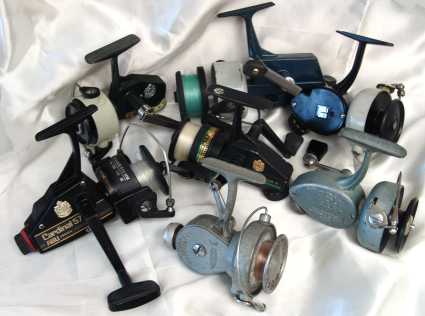 I have since collected many more (t0 date 35) including a Record 700, pictured here as well as a Record 444 and an ABU 333, ABU Record 444, Cardinal 40, 60, 70 and a Cardinal 44, 77 from friends in Europe.
Thanks in no particular order, Morgan, Peter, Uffe and Marco, Ben and Clinton.
One particular spinning reel that I would love to collect one day id the reproduction (what a compliment!) ABU Cardinal 33 CDL
If you have any others listed below, that are unneeded or doubles in your collection and are available for a reasonable fee, I would be very pleased to hear from you. I cannot afford to collect Mint, in-box or unused reels at present, until my children have completed their education.
Early Record 450, 500, Cardinal 3X, 4X , Any tan Cardinal or model Suverian are wanted.