Essential ABU Reading
ABU Books of great worth, are far and few between and it is not difficult or expensive to purchase everything available for under a few hundred dollars in total. Mandatory reading in alphabetical order are,
Lennart Borgstrom - " ABU-Garcia. What happened?"
MUST HAVE COLLECTOR BOOK!
English-edition proof copies are now pressed! Buy it here. An absolute must for any serious collector. The whole story from the horse's mouth. I read this and helped encourage Len get this to press for all us English only speaking ABU fans, so get behind this please. It should be your FIRST ABU book you buy!
SoldOut!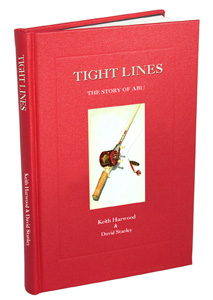 Harwood and Stanley Tight Lines...The Story of ABU , a new detailed hardcover
Simon Shimomura - "The Ambassadeur and I"
Simon Shimomura - "The Ambassadeur and I Final Chapter"
George S, (Stu) Lawson - "Lawson's Price Guide to Old Fishing Reels" (unsure of link)
Daniel Skupien - "Vintage Fishing Reels of Sweden"
All website links will be appended soon to aid your purchase of these books
I am friends with the authors above but I must emphasise I'm on NO COMMISSION !
Some very small in pages but still expensive (at auction) small production run books (ie 50 copies only) such as

"ABU/Record Beten Fran 40 till 80 Talet"

by Urban Westblom and Goran Magnusson

are very expensive and cost up to $200 each. I believe there is a possibility of a reprint some time and urge your purchase of this wonderful bait/lure resource. I will confirm this when I can contact the authors.