Lures/Baits/Artificials
Spoons
eg My favourite The Toby
I do not have the FAT or THIN Toby and would like to collect these.
These are probably the largest group of lures made by ABU and the definitive text
ABU/Record Beten Fran 40 till 80 Talent"
by Urban Westblom and Goran Magnusson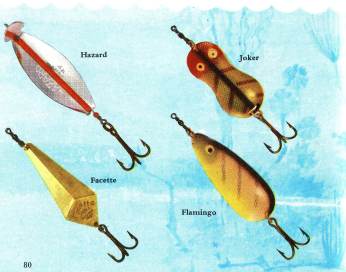 is manditory reading and could be a good choice for a complete and thorough understanding of this type of lure. The spoons number over fifty in name/style but then there are huge variations in sizes, either by length or weight, along with colourings and even the addition of snag prevention mechanisms on some such as the Atom weedless (spring wire spikes protecting the hooks from grabbing onto snags) Names like Salar, Flamingo, Hazard, Joker, Island, Ninette, Little Wiggley, Tilly, Glimmy, Dafy and Finish all are long lived and well used. In weights ranging from 7g to 30 g , they will fish enticingly for many species.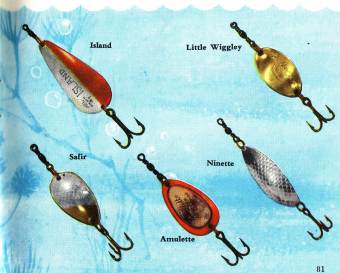 More details can be seen here from Tight Lines Catalogs
Groups 1 Group 2 Group3 Group 4 Group 5 Group 6
Tight lines magazines show possible species matched to particular spoons/lures. The essential element of a spoon is the ability to rotate, flutter or spin in their entirety compared to spinners which have a non-moving body and a rotating blade. It is most important to use good quality swivels in order to attempt to arrest the twisting of the main fishing line, which then would bring about difficult to manage line twist when casting. Ball bearing swivels are also available now to further counteract this problem. Some lures are worse than others at causing line twist. The Hogbom had an interesting innovation, which was drawn to my attention by Uffe, whereby the fisherman could determine the direction of rotation of the lure and reverse it to undo the line twist.
Without doubt my favourite all time spoon has to be the Toby which has almost as many variations as the Ambassadeur range of reels.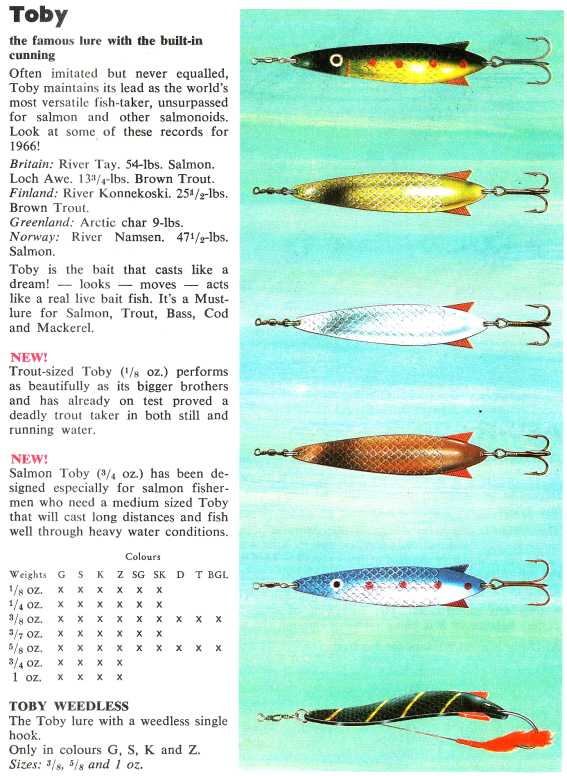 I really donít know where to start describing these. They have been pirated in design and copying is a form of flattery I suppose. Nothing like using the exact original though. We have weedless single hook varieties, trailing single hook varieties and well as the more common triple hook arrangement. They range in size from 7g tiny trout spoons to the huge 35g Toby Salmo. I have even created some double length monstrosities that seen to give the extra desired casting weight plus more visibility under the water and maybe matching the size of the live local baitfish. These lures are often trolled behind boats and depths can be assigned with the use of down-riggers and utilizing our ability to see fish and bait courtesy of our fish-finding sonar devices.