Cooking Fish for Fans!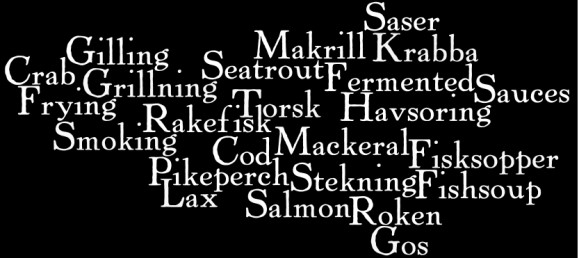 This cooking page can be attributed to my friend Quek's suggestion when I met him recently in Malaysia .
For many years, the sole purpose of fishing was to catch fish by any means, fair or foul and support the family by providing food for the table.
Sadly in some countries, for reasons of subsistence lifestyle in the third world or commercial exploitation in many societies, fish are still being trapped, gaffed, netted, speared, poisoned or bombed out of existence.
Today in many enlightened socities, the fishing process is heavily regulated to the point where teaching kids to fish with a rod and reel, bait or lures it is extremely difficult for the new comer to experience the success of past generation. On the other side of the coin, political influence driven by overtly green believers who never fish, seek to lock up areas forever thus preventing one of mankind's greatest recreations, viz fishing by fair means.
The best form of regulation is a balance between formal seasonal, size, quantity or location control/regulations and self control based on the need to see fish stocks available for future generations.
Never the less , many enjoy eating some of their catch, like myself and friends, and sometimes the catching is either a feast or a famine. Logically we try to keep some for next weeks when good fortune may not smile on the fisher.
I will outline below some of ABU's attempt to help the fisherman who enjoys eating his catch, with no more talk of fishing regulations.
First we will look at Freezing for future use and then a look at the best ABU reference available, namely Paul Lorck Eidem's wonderful ABU Fisherman's Cookbook, now sadly out of print and only available by commercial trading of existing stocks in private hands. I do strongly recommend you try to find a copy on an auction site and below , you will experience a taste of this great resource. It is hope the book will be re-printed.
Click on smaller images to read clearly!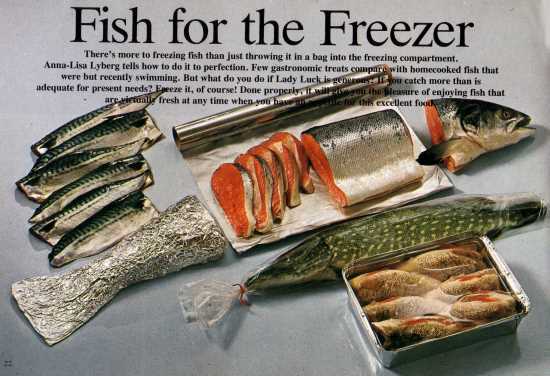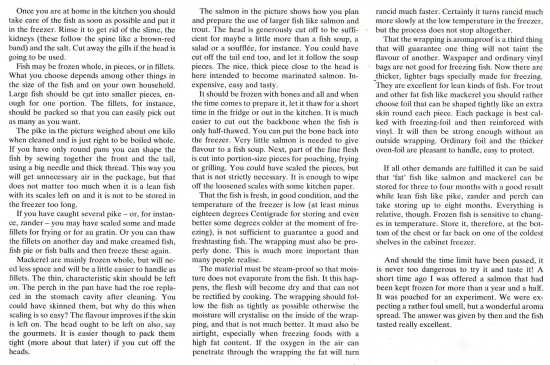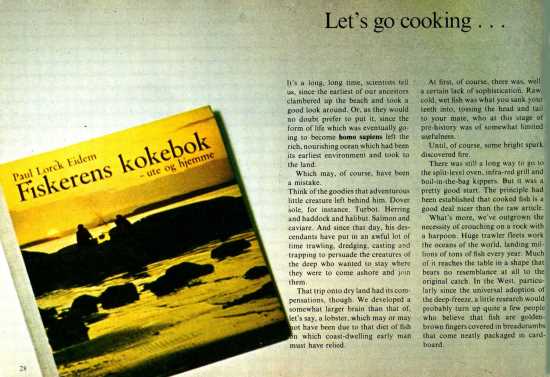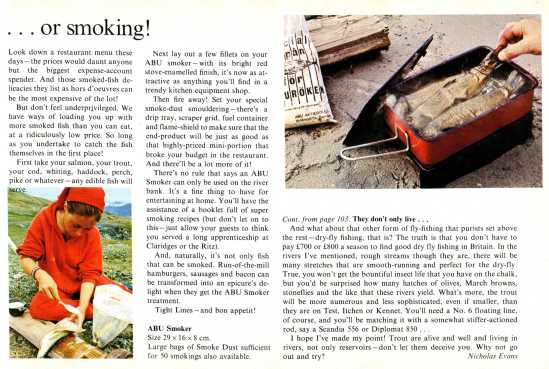 More detailed idea of the contents of Paul Lorck Eidem's book
So much more to follow in further 100 pages , it is well worth trying to find and buy this book second hand.
I have a Swedish version and an English language version bought in London UK in 1975.
The book does not indicate first date of publication by ABU at Svangsta.
I have included this important publication here to promote and help raise consciousness of Paul's book and hope this does not infringe on copyright. If there are any issues please advise and I will remove the pages.
Enjoy or rather Bon Appetite!