Abumatics (1957-1982)

These beautiful little reels which were first looked upon by a some of my heavier tackle Aussie fishing mates as being a bit small, light or generally not up to the task are now considered by many discerning fishermen worldwide, to really be classic quality fishing reels designed for specific tasks. They have the same material build quality of the old Ambassadeurs from this famous Swedish manufacturer, although they as a group do not need to have the same sophisticated casting controls and higher associated manufacturing costs.
Abumatic models which I have an interest in from the classic period are listed below along with their respective production dates. They vary through a great range of colours, line capacity and fishing applications.
&nbs
My friend Marcel, from Germany, has developed his

Updated (Mark2.0)


He has kindly decided to share his findings and acknowledge helpers within. Sharing this with us all. This is him and his first Seatrout caught in Iceland.
| | |
| --- | --- |
| Did you know? ....that Abu thought of selling the abumatics under the name ABU Viking but unfortunately a Viking reel already existed at the time. So they renamed it to Abu-matic. However a first anouncement of the company in 1957 to dealers announces the Abu Viking. Below as proof , you find a photograph of this Abumatic 60 in an announcement sourced from Rullfakta website. Thanks Marcel for pointing this out to me. | |
Regarding this Viking reel to the right, my friend Len Borgstrom has these interesting insights.
The Viking reel was never made by ABU. There were exact copies made in Japan. They were so exactly copied that the ABUMATIC 60 housing had a hole, which was used on the prototype to secure the spool. On the final model that hole had no function. The spool was secured in another way, but the hole was still copied. Re. ABUMATIC 82, I think that the reason for a higher price is that there was not a big volume made of that particular model.

Kind regards
Len
Just found these images further to the soon to be renamed ABU Viking from 1957, image from this catalog.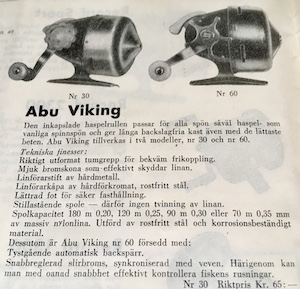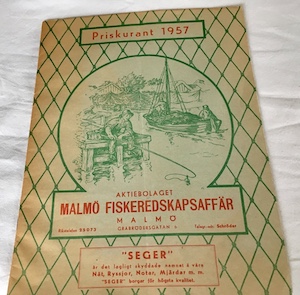 A group of us ABU fans shared knowledge to enable frequent contributer Hans
to put together a useful article
on the

ABU Abumatic and 500 series reels.
Please click and enjoy here.
A group of us ABU fans conspired to put together a useful article on the rarely seen Abumatic Models ending with a "2".
Please click and enjoy here.
My friend Coenraad has recently offered an Abumatic 170 i Versus original Abumatic 170 review
Hopefully one day a "2" model of my own will grace this page.

My latest two Abumatic acquisitions marketed by Alen and Hohn

Both are fom the Ahlen and Hohm sponsored firm, not so often seen.
Firstly the 160 which is red and has no numerical model number .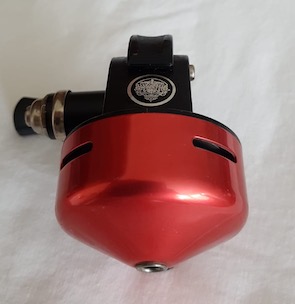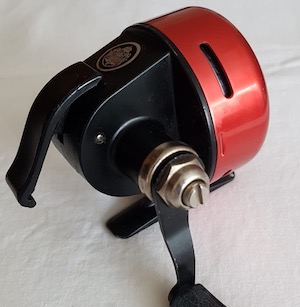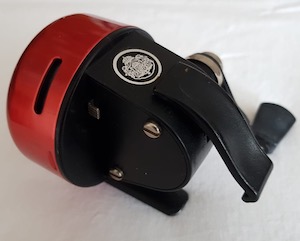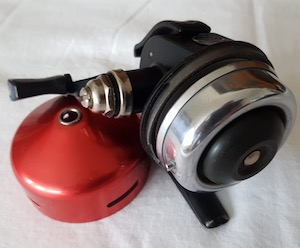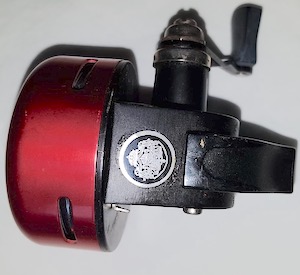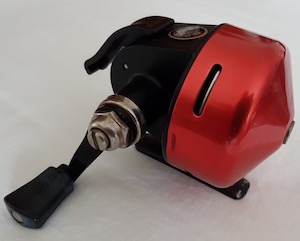 Then this 120 produced in 1981 only, similar looks like 160 but no engraved abumatic logo on bell
More of a lighter , almost orange annodised bell.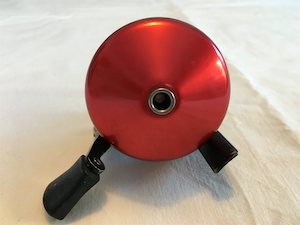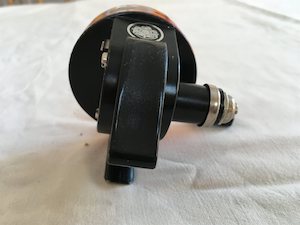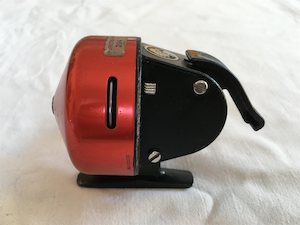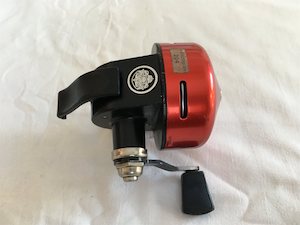 Copying....Highest form of compliment I guess!
The very first Abumatics were merely painted over their aluminium line cover plates and then they became the anodized spun colourful caps common throughout the line. The bodies initially were a black textured finish which endured well. The identifying model number used to be a magnificent metal badge mounted prominently atop the reel, but by the release of the Model 120 in the sixties, the identifying model badge can become merely a pressed impression in the cover plate.
Many early models which were well used can still be found in good condition today. Eventually totally external plastic models were produced ostensibly as a saltwater-proof model but basically the economics of inexpensive production encouraged their development.
Lovely cardboard boxes from Abumatic 30 and 70 respectively, targeted for world-wide sales with English and Swedish writing.
Beautiful advertizing of the day is below. More advertizing here

The method of mounting the reel atop the rod is used and largely the casting method has remained unchanged throughout the series till current times, however more sophisticated drag systems have kept the marque up with modern times.
My knowledge of this subset of the fine ABU fishing reel family to date is based upon the material I have had to research and also partly hindered by my interest in the pre-eighties designs.
Marketed as suitable for all family members and very easy to operate and simple to maintain, they have stood the test of time and will always hold a special place in the hearts of fisher-persons who appreciate quality reels that are very simple to maintain.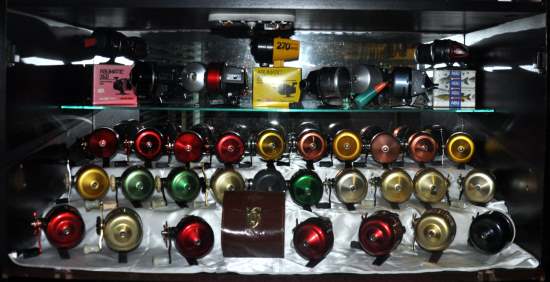 I obviously still have a very sizeable hole in my Abumatic collection, with only 36 shown above and 25 being shown below in this picture. I have Frank to thank from Melbourne, Victoria AUSTRALIA , a dyed in the wool fly fisherman who sent me, as a gift, the Abumatic 60 linked here as it was no longer being used and he thought it would receive a good home in my beginning Abumatic collection. The first of long pedrigreed lineage from 1957 on.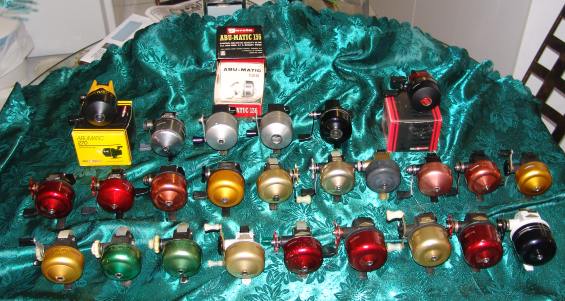 The first model was the 60 and it had a magnificent manual which covered features such as oiling and cleaning, removing replacing bell cover, explantion of the synchro drag, how to cast in great detail and adjustments.
Pages 4/5, 6/7, 8/9, 10/11, 12/13, 14/15, 16/17,
18/19, 20/21, 22/23, 24/25, 26/27, 28/29, 30/31
Model 60
circa 57/62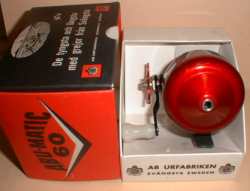 Model 30 circa 57/60 (two models blue painted and green annodized)

Model 70 circa 59/64 (two models Burgandy/Gold and Red/Black)
Model 80 circa 59/69 (two models Black/Gray and Red/Black)
Models 32, 62, 72, 82 circa 59/60/61 (Left handed model, Not owned)

Model 35 circa 60/62 Gold only
Model 40 circa 60/62 Gold only

Model 30A circa 61/65 Green only
Model 75 circa 61/65 Direct drive Gold only
Model 20 circa 61/67 Gold only inexpensive model
Model 160 circa 63/76 Red/Black only
Model 135 circa 63/64 Gold only but with dual pick up pins
Model 136 circa mid 60's Right handed export Garcia only
Model 140 circa 63/mid 60's Gold only right handed
Model 141 circa 63/mid 60's Gold only left handed
Model 170 circa 65/82 Red/Black only ..IMHO An enduring classsic
Model 145 circa 66/76 Gold only and from 75 direct drive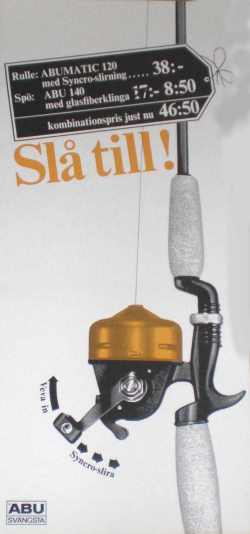 Model 120 circa 67/80 Pink only dual pin pickup version of Model 20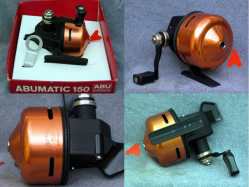 Model 150 circa 67/80 Red and Black only
Model 110 circa 68/77 Dark Gold only
Model 280 circa 70/71
Model 220 circa 71/78 Silver (start of the decline in quality IMHO )
Model 155 circa Early 70's

Model 290 circa 72/82 Blue only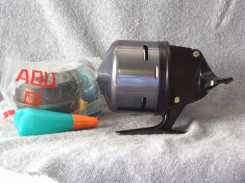 Model 270 circa 74/80 Yellow Plastic
Model 330 circa 77/82 (Not owned)
Model 350 circa 77/82 Solid heavy Black wide mouth model
Model 320 circa 78/82 Silver wide mouth
Model 360 circa ?? Cheap and nasty looking Red/Black wide mouth
There were 12 Abumatic Combos with rods produced up till now.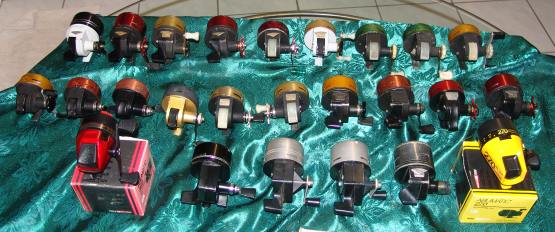 If you have any others missing from above, ie 45, 155 and the "2's" that are unneeded or doubles in your collection and are available for a reasonable fee, I would be very pleased to hear from you.