ABU Worldwide Advertizing
Links to a new section of advertizing pages (comprising USA, Australia, Asia, Europe, Africa, South America )

Please advise if you have access to ads from other locations.
My advertising efforts....
I feel I need to do some advertising for the old ABU we love. The company ABU Garcia continues to be consumed by bigger and bigger companies comprising multiple tacke firms and even as with Newell Brands the latest owner, it has product nothing to do with fishing. to me, I feel our old loved ABU is losing its obvious position within the world of fishing and within the company that owns it. The imagges are free to use if asked for so long as they are not altered in any way and not sold. These are free for all or any to use so long as no finnancial gain is made by anybody.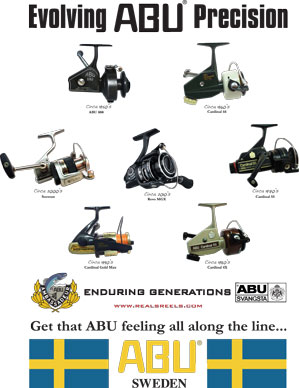 I with the help of Ming, have created high quality images to wear on tee shirts to promote and ABU and show our pride in the company. The last foray into showing this love is the Antique Siver belt buckle soon to be released. It will be 100 m oval Jeans typle 3 D metal belt buckle with touches of enamel . The first on its own was a $450 experience by when 50 are bought it will bring price down to A$ 50 plus postage. 17 have been ordered to date so I am hoping there are a fe mor ABU enthusiast who want to show the love. Each will be laser engraved and no more will be cast/issued so first in, get what will become a desirable ABU object. It was derived from this colourful artwork using my ABU Logos and my Record 5000 reel. Then it progressed toward the mounding stage and final is below.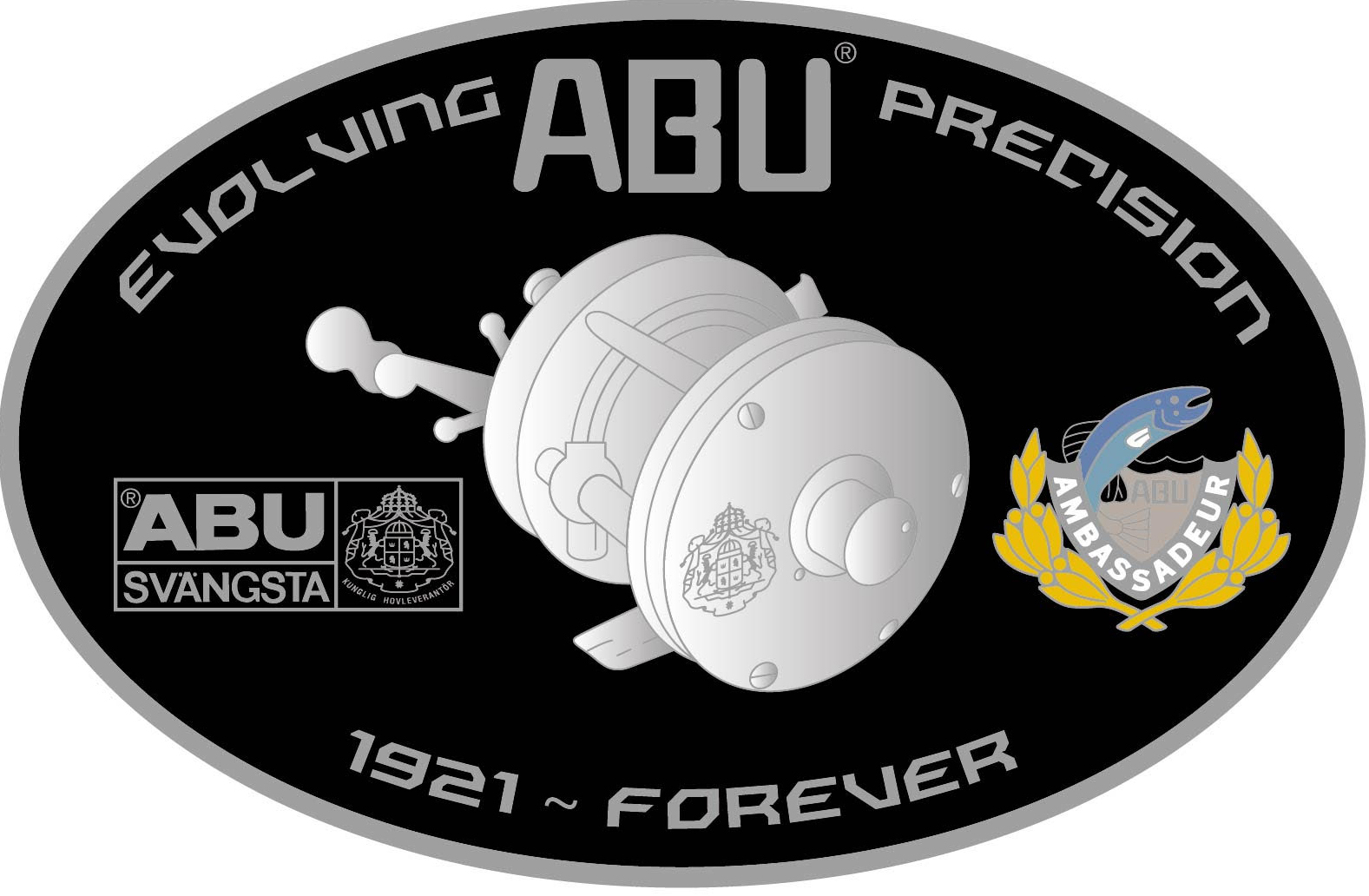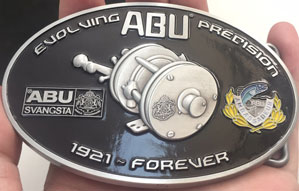 The greatest collection of published and unpublished ABU images, prographed
by official ABU photographer, Stig Svensson, will appear gradually here soon.
Official advertising....
Primarily Sweden was the first place the Record and ABU tackle was advertised.
The Napp och Nytt catalogs are world famous now, but as well, local Swedish firms such as
Paul Berghaus (Pebco) and Wilhelm Denninghoff (WD) and Leidesdorffs etc carried the Record/ABU tackle in their respective catalogs.
The influence on and by GÖTE BORGSTROM (click on Gote's namehere) is recorded here.

Len Borgstom has kindly supplied this old image showing Tony Perrin's (UK ABU Boss) advertizing agent in the 60's
displaying the full page ads for Ambassadeur!
Wayne, I got this picture from Tony Perrin. It shows a picture of our English advertising agent. He is showing a full page Ambassadeur ad. This was sometimes in the 60th. It is still very good concept – in line with the Rolex concept that I have preached for a long time. AMBASSADEUR - YOUR EXCELLENCY! It says it all.
Please forgive my nostalgia!!
Have a Merry Christmas and a great New Ambassadeur Year!
Len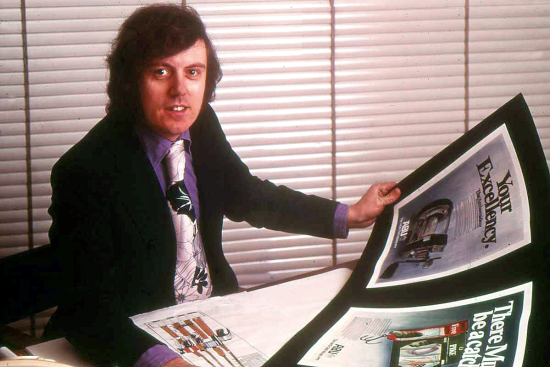 Advertising was often created on negatives before the digital age like this one below. It is a huge A3 size negative created for a poster.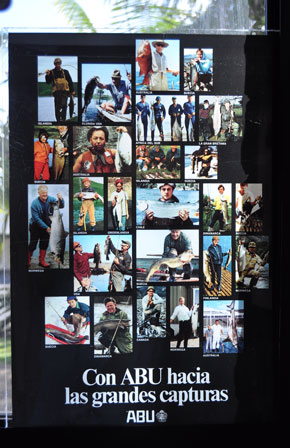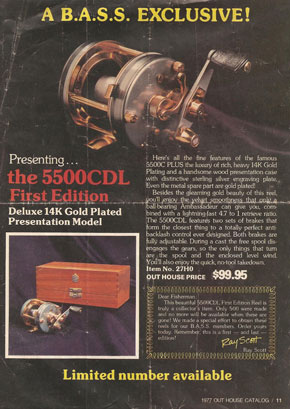 The magazine print above from USA, shows one of few reels I would like to add to my collection if anyone would like to re-home one.

Although A.B.Urfabriken began as a watch making firm in Sweden so long ago, the build quality of its fishing equipment saw it sold right around the world!
I have amassed a large number of advertizements (such as these below) linked elsewhere on this site but the most numerous and in colour have to be the ABU Garcia USA (being the biggest market) advertizements (see Text links above) which are so interesting , so attractive, even a non fisherman would stop to read the details and be encouraged to purchase based on the details provided.
ABU also saw the need to educate its dealers regarding up-coming/newly released equipment, like this 1976 publication below.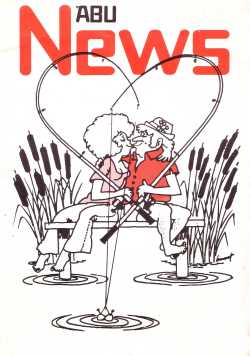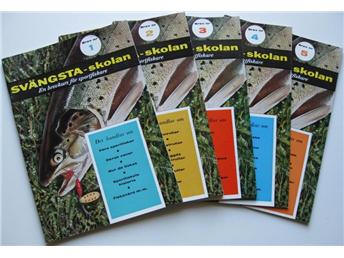 These booklets (6 in the complete set) are also Swedish dealer instructional pamphlets which I now own.
Naturally, as throughout this website, I asked my friend Len Borgstrom, calling upon him for 1st person, accurate recollection of facts. In response to my probing questions he always happily responds to share insights that are not necessarily document elsewhere.
"South Africa was one of our first export countries outside Scandinavia. Robert Winquist was the export manager for the Swedish company Husqvarna. In those days Husqvarna made hunting guns. He gave us the names of their agents in several countries. South Africa was one of these. The name of the Husqvarna agent there was Cyril Caro & Co. The founder, Cyril Caro, visited the Husqvarna factory in Sweden and Mr. Winquist took Mr. Caro to the Morrum river to fish for salmon. This was in the early 1950s. A few years later when Cyril's son, Tony, had taken over the leadership of the company, he came to Sweden and we became very good personal friends. So much so, that when Annika and I got married he came all the way to Sweden for our wedding.
I think it must have been in the early 1960s when my father and I went to Leningrad for an exhibition, where we had a rather nice booth showing our fishing tackle. At that time it was still not possible to do any regular export of fishing tackle to Russia. All sales were based on us buying something from them in return. I have many funny memories from that show.
As fishermen in Russia were very interested in buying everything we had on display, we tried to find a way to get permission to leave all of our show products there. Our communist translator took us to the head Customs Office in Leningrad to help us get permission to do that. We got there at 9 o'clock in the morning and the first thing the head of Customs did was to bring out large glasses of vodka. My father and I had to drink two large shots of vodka together with him before we even started to negotiate. It ended up with us getting permission to leave everything.
Take care! Len
"
Almost at the same time as I received this info re ABU's venture into Africa from Len, I received info to say that I would soon be receiving some supporting historical images also from Gary Moran in Africa.
"I don't know if you made contact with Cyril Caro Agencies?. Cyril Caro used to bring in Abu products from around the mid Seventies, Cyril has passed away and the company is currently being run by his son Simon. They are no longer the Abu agents, Eezee Gold took this agency over around the mid Nineties, as it was under the umbrella of Pure Fishing. As of last week the agency has once again changed hands. If you can bear with me I will send you a number of Abu adverts dating back from around 1955. I have a collection of fishing magazines.
Kindest regards
Gary Moran
THE KINGFISHER
It seems everyone wants to help! Look for a South African page now and some efforts to get the South American page rolling.
USA : The largest Market for ABU
Initially in the 40's , it was local sales that were the main concern for the Swedish ABU company, but avid fishermen around the globe, soon realized the quality of its products.
ABU management travelled overseas to promote its wares in the USA initially (to Garcia and eventually Zebco) , and soon began advertizing in USA, Europe, as well as Australia (even before they had stitched up a distributor here). If anyone knows more of the Asian, African and South American marketing regimes , please advise me.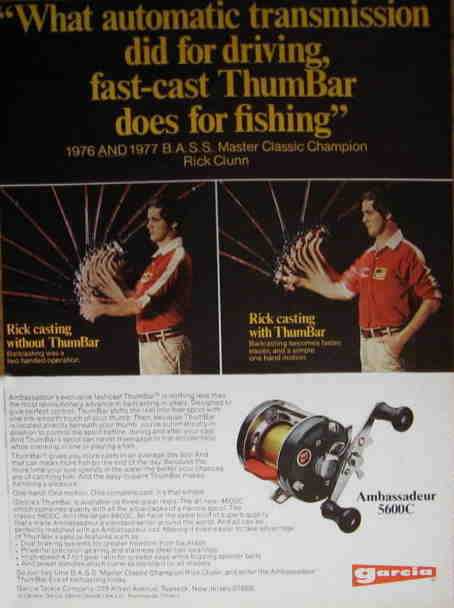 ABU management not only sold its wares but established networks/relationships with 3rd party companies like Heddon, Burke, Pfleuger, Zangi etc who were soon in commercial relationship with ABU.
It is amazing that their quality equipment was sufficiently well thought of and bought behind the Iron Curtain counties as well as Scandinavian and English speaking countries. .
There are a multitude of reasons why this company was so successful, but I think high visibility in the market-place must surely be attributed to its English language translation of the Catalogs containing so much more than mere fishing equipment. Along with the English versions, the catalogs appeared in a dozen or more languages and more detail is available here.
Even an Austrian Fishing tackle company called Kossler produced it own catlogs, largely devoted to ABU.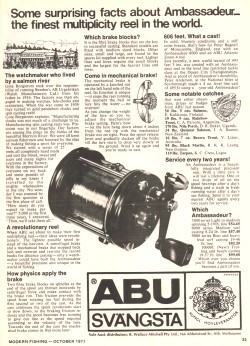 ABU mainly were advertized in the print media, of monthly, yearly fishing magazines for many decades but eventually they hit a critical mass whereupon fans/collectors (like myself) use new age media to promote the glories of ABU. Even after (the original Borgstrom family ownership) the huge number of company management transitions culminating in the present Pure Fishing conglomerate ownership, we see Television advertizements, company websites, DVD production. I am unsure if radio was ever utilized to promote the product.
Please advise me if you have any further knowledge on this matter to share.