Lures/Baits/Artificials
Collectors
Lures.
A work in progress which all will appreciate I'm sure!
Many thanks to Mike, Derrik, Rob, Henrik, Hans, Steen, Uffe and many others in the future
Record ABU Lures by the Decade 40's, 50's, 60's, 70's, 80's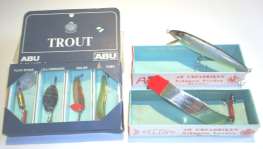 1960's
Following the success in the American market in the 1950s, Abu continued to grow its business in the 1960s by promoting its tackle in other countries.
By the 1960s, the economy in countries like the UK was starting to recover from the shortages which followed the Second World War. Demand for quality tackle, at reasonable prices, was met by Abu. Throughout its product range Abu could supply tackle to suit any pocket. Lures like the Svängsta spinner and the Droppen were specifically designed to be made and sold cheaply and yet they were incredibly effective baits.
In many ways the 1960s were a golden age for Abu. Many new lure designs were produced, some only sold in Europe for a handful of years but then taken to America and developed further and sold for many more years.
Personal photographs coming soon......
Prisma Perk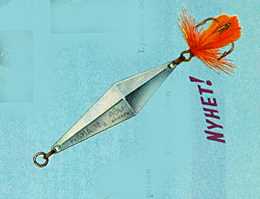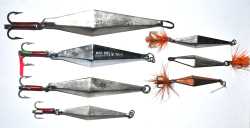 The deep sea jigs known as Prisma Perks were first issued in 1960 in 5 sizes, namely 12g, 18g, 28g, 40g and 100g. The available colours were S, K, S/K and S/G.
My displayed Chrome version above, I believe to be an undocumented test/experimental example.
By the end of the decade they were available also in 200g size. The 100g and 200g were only ever produced in Silver.
By 1972, the 12g sized was discontinued. 1973 saw the demise of the 18g version.
We know the story with off shore, far east lure production in 1981. BY 1983 I can't find any lures at all in the ABU catalog.
With lures re-appearing in 1984 Catalog, the proud Prisma perk is almost no more and has been reduced to just 100g and 200g sizes in Silver only.
By 1988 , the Prisma is not to be seen again.
Colibri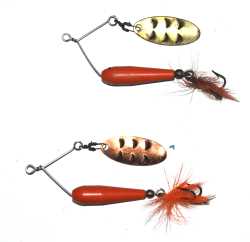 Shiner/Luster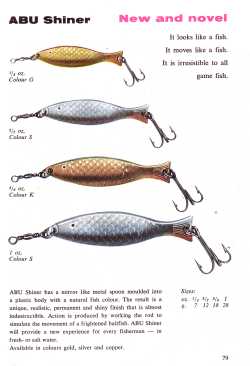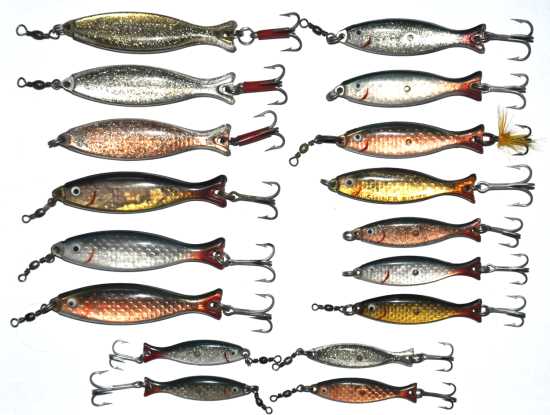 ABU Fly
Flies are obviously made from feather, fur or hair and are used in the surface dry form or the under surface wet form.
Most are tiny delicate items of great beauty, some float (dries) and other sink (wets) but a new variation was on the way from ABU in Sweden.

Len Borgstom tells me his father Gote came up with the ABU Fly, a weighted spinner with fur, feathers, to fish inthe fast running rivers like the Morrum, close at hand.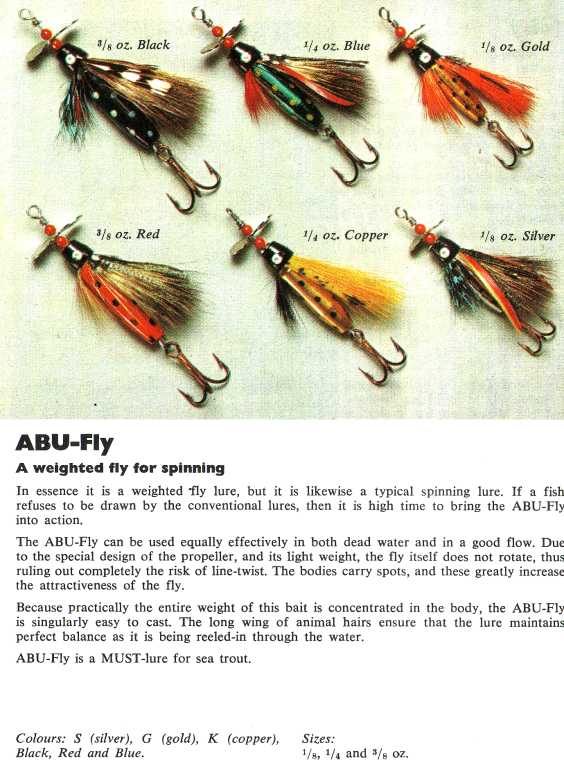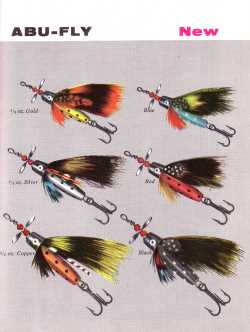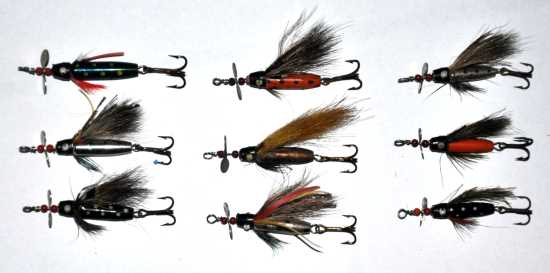 Rauto Spoon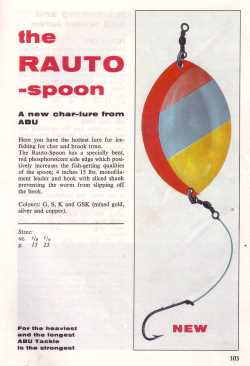 Comments from Len re Rauto and Droppen



"Rauto and Droppen were designed by our sales manager for Sweden, Alf Eurenius.
Rauto was designed for winter fishing Char in the northern part of Sweden.
Droppen was designed to compete with Mepps. The body shape made it casting better than the Mepps."
Droppen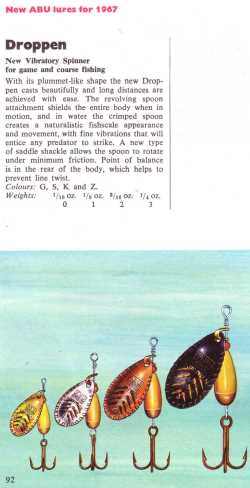 Isac Perk

Byting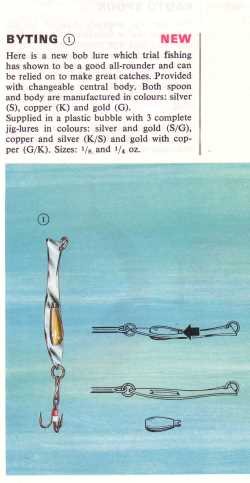 Rakan / Shrimp
The jury is still out on this lure in terms of actual date of sale and all colours sizes.
The lure first appeared in 1966 Tight Lines catalog and yet had disappeared by 1970. There was no apparent big promotion with words and graphics like NEW! etc as other items were introduced.
I have also seen a black Rakan/Shrimp (image below kindly provided by Derrik, ABUfreak in Germany) without any documentation in catalogs.Now I own a black version for myself, but it is the large size 3/7 oz.
The story will unfold further I'm sure.
I have now acquired a small yellow prototype Rakan as well as the big brother to Derrik's Black Rakan.
Unfortunately even going to my friend Len Borgstom, the highest authority, is unable to throw any more light on the matter. So Derrik, Steen and I have the only big and small examples, being black as well as yellow colours of Rakan. Would love to know if other test colours were made.
Len has thought an remember some detail that did not come to him initially.
" Räkan was a lure inspired by an American lure, that was a bestseller in the US at that time. The American lure that inspired Rakan was called Flatfish. I think it was Göran Enocson who at that time made the Swedish prototype who came up with the idea to make look like a shrimp."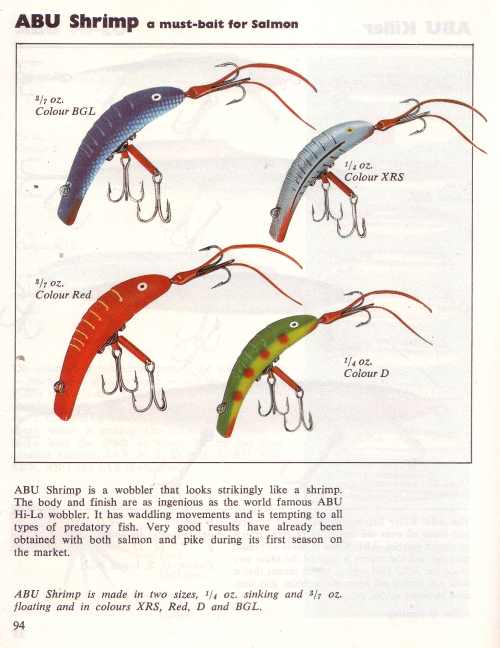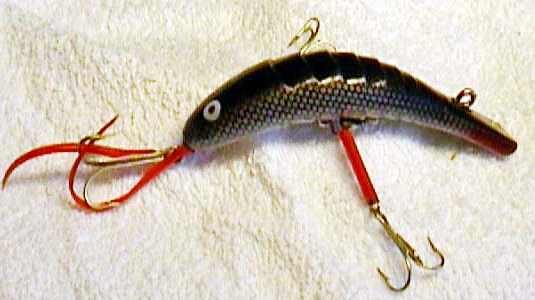 More recently Steen has supplied image of a previously undocumented and certainly uncatalogued yellow Rakan photographed along side a regular red Rakan.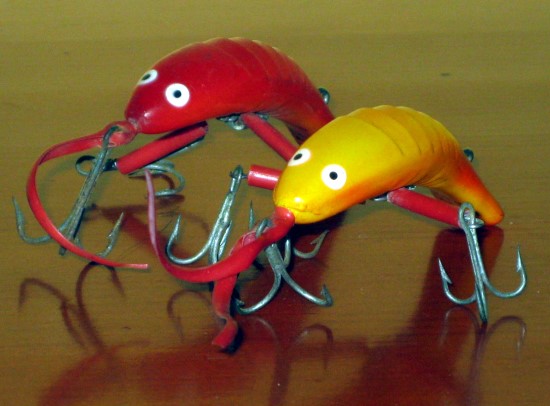 Yet another variation of the Rakan is the transparent unpainted version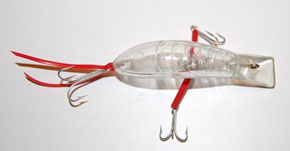 Pep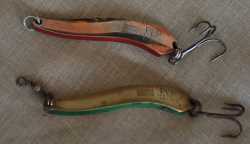 The Pep lure is a delightfully curved bait introduced in 1966 but lasting in production as an ABU bait for only 5 years or so.
Its history stems from the larger 23g CONGER marked lure, the maker of which I do not know. My version here is 70mm long compared to the PEP's 60 mm length. Help with detail here would be appreciated.....Thanks to Uffe Edefuhr for bringing this infomation and actual lure to my collection.
The Pep was only available in 18g size and 65 mm long only and in the three popular colours of S, G and K
I believe one of mine is a rare pink Champagne colour due to a possible contamination of annodizing process. Never seen another like it, please advise if I am wrong.
Despite looking like an excellent bait, due to superb choice of curvature of spoon, it was not successful I supect because there were not enough weight variations created.
My calculations, based on newer and very successful similar lures made more recently in Asia like the wonderful Pegron, indicate for this length the weight should have only been 10/12 g ie press from metal approximately half the thickness.
There is no reason to think short lighter 4/8 g 45mm versions would not have been great stream fishers fro trout also.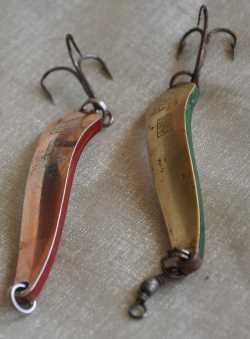 The Svangsta Spinner (Svängsta-spinnaren)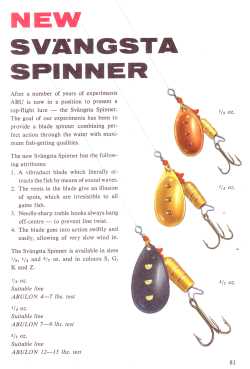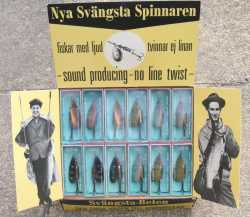 This is the second lure made by Abu to carry this name. This version was released in 1962 and was intended to be an effective lure at a low price. In the UK it was initially listed in Tight Lines in sizes 1/8 oz, 1/4 oz and 3/7 oz. In the colours G, S, K and Z. Later, around 1964 the 1/16 oz lure was introduced. The last year of sales in Europe was 1966 when it was replaced by the Droppen.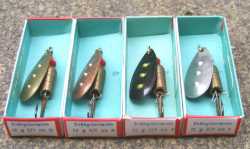 However the lure was catalogued by Garcia from 1962 initially in the 1/8 oz and 1/4 oz sizes but with different colours specific to the American market, these included Red and White, Red and Silver and I have seen Blue and Silver examples.
FIB-spinnaren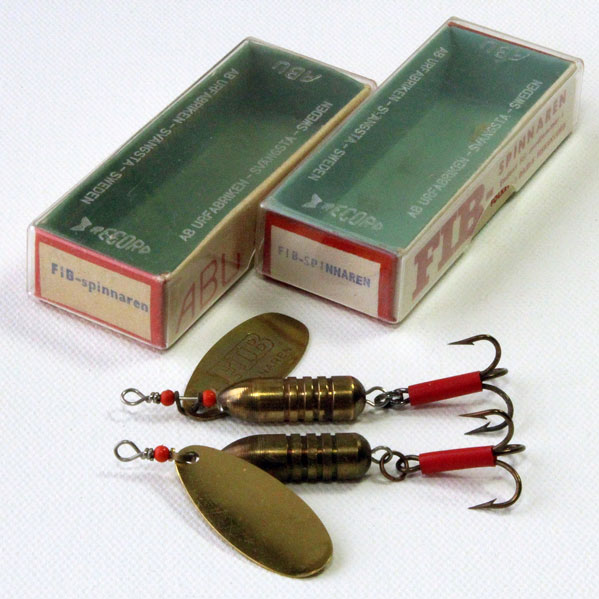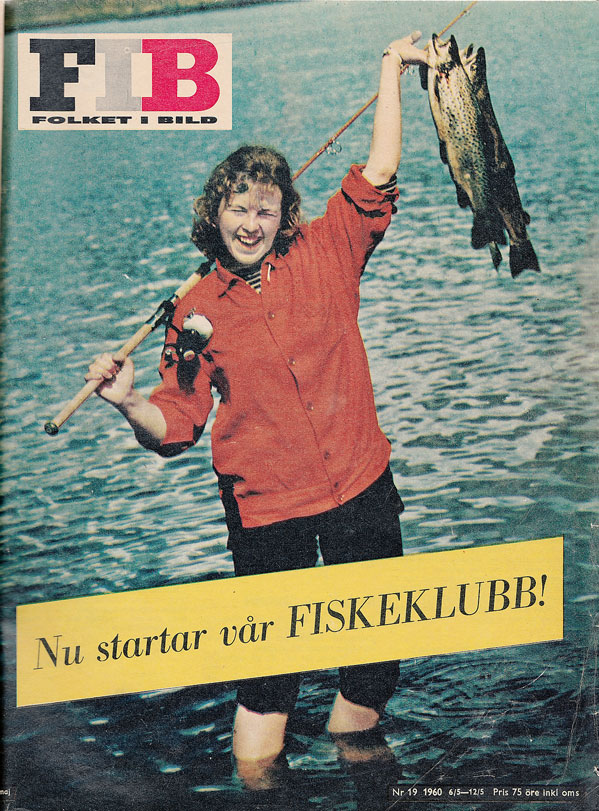 The FIB-spinnaren was sold in the early 1960s exclusively to members of a Swedish fishing club. The lure was not cataloged in Napp och Nytt.

The lure is composed of a spinner blade of the same type as on the ABU-spinnaren and of a body of the same type as on the Flax spinner. Neither the lure or its box was marked with weight, size, or color. The actual weight of this spinner is 11 g and its blade length is 35 mm. Only examples of this spinner in "gold" (= brass) are known. In fact, the spinner blade was not even ABU-stamped, rather the blade was stamped "FIB-spinnaren". Two FIB-spinnaren box types are known. There is the plastic-topped cardboard FIB box (stating the spinner is exclusively for fishing club members) without mention of ABU or Record on the cardboard (however its clear plastic lid is the standard ABU/Record embossed type). As well, there is a rarer plastic-topped cardboard ABU version-1 box (with "hill" lettering) from the early 1960's, ink-stamped "FIB-spinnaren".

FIB ("Folket i Bild" = "The People in Picture") was a Swedish magazine that announced the start of its fishing club on its 5-12 May 1960 issue cover. Unfortunately, the copy I was able to obtain has no further information, missing pages – perhaps torn out by an enthusiastic fisherperson. Fortunately, the 3-9 June 1960 issue I obtained has a mail-in coupon, which documents this lure's history, translating as:
"Registration coupon to Folket i Bild's Fishing Club, Box 118, Stockholm 1. I hereby register as a member of the club and will receive an FIB-spinnaren, a fish diary, and a file folder. The fee is SEK 3."
FIB magazine was sold in 1963 resulting in changes of its name and focus/audience. So, it is likely that FIB-spinnaren production by ABU was limited to 1960-1962 (if not a shorter time).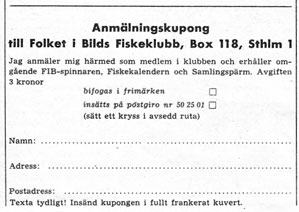 Joining the FIB Club form found in FIB magazine of 1960(above)
2 type of boxes housing the FIB spinnaren (the latter for club members only)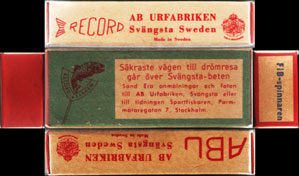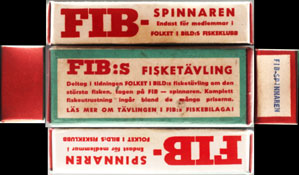 If you have any additional information, please advise Wayne Real abuadmiral@gmail.com
Many thanks to John Fishkat for his incessant help!
The Abu Fly Range...from 1967


The official well known and provocatively named ABU flies were preceded by these.

No-one seems to know when they were first packaged by ABU, but it is certain the actual flies were out-sourced. Help appreciated!
These images are thanks to Les Shaw who operates the excellent "
Classic Vintage Fishing Tackle
" website in the UK. A fair and trusted dealer from who I have bought numerous items without any bother.
I suspect they were first made by some English fly tyer or company and sold in bulk to ABU to package up and retail. Names are sort of universal and English-sounding.
The story of the official ABU flies continues below these lovely and unusual images.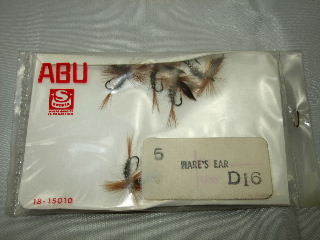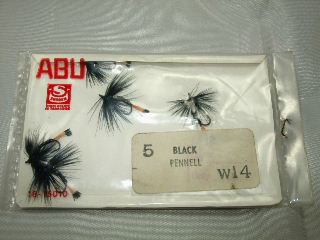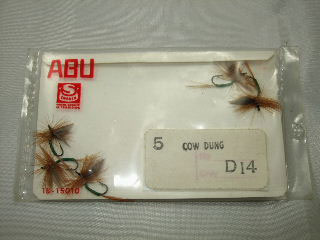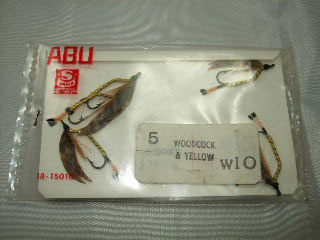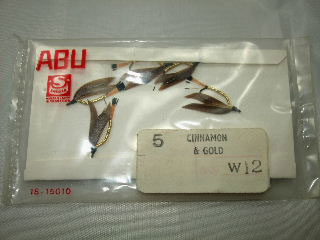 The interesting history behind the development of the ABU range of flies, has been uncovered by my good friend Uffe Edefuhr and the all important letter of authenticity shared by Bert Neilsen, a long time employee of ABU. Thanks to them for the sharing.

I'm pretty sure fly fishing has been with us since long before Roman times, thousands of years in fact, though without any sophisticated technology being employed , sticks and horsehair and the like! ... ABU was a later bloomer in this respect but their high tech product line made a long and lasting impression, still today with a book currently being published on their history from nearly 50 years ago, by Michael Jensen of Denmark.

My conclusion then, is that many were involved with ABU getting their flies to market, from visualizing a need, and concept to creation . Erik, Gote, Len, Viola, Olle, Rolf and alopogies to others who may have been involved but omitted.

A few words from Uffe Edefuhr
The designer of the ABU flys was Erik Swan. He was involved in much of Abu's doings. He wrote in ABU catalogs like N&N also as I just remember about fishing in general.
Insert : (See his wonderful 1967 Tight Lines writing "History of Sportfishing" cheers Wayne)

I have a document here from the lady that had the Company that made the fly's. Her Name was

"Viola Hildér"

She was a very famous maker of fishing flys.

Conclusion, the designer of ABU,s flys was

Erik Swan.

The maker was Viola Hildér in Bromölla. He had contact with her
fly making

Company!

They were never made outside Sweden in that time! She must be dead now and her business must be buried also at this date!

Bert was on that trip to Norway with ABU. Göte was thinking about that ABU needed some fishing fly's. Erik Swan got up with some fly's he made on that trip. This was how it started. Viola Hildér company in Bromölla made fly's for fishing. She sent a letter to Göte and sent him sample fly's to look at. After this, ABU bought all their flys from her. Bert showed me the original letter that he still has in his possession ! He sent me a copy over mail which he shares here below.
Bert told me that Viola had sacks of feathers to use including Jungle Cock that now is forbidden to use as the Jungle Cock is on the red list!
I have a nice (private) story of how this partnership was between

Erik and Göte

was born! Hahaha, I will tell you later when all is set!
I think this is fantastic story, I guess there are not so many to tell this story from original persons that was involved?


Uffe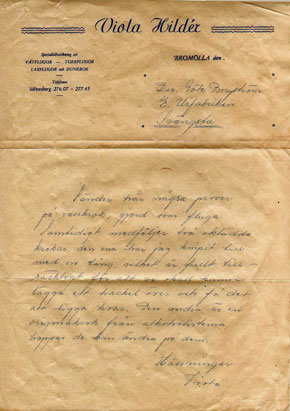 Optic Fly fan and upcoming Author of book on said Optic Flys, Michael Jensen from Denmark has submitted a rough translation
"Viola tells Göte that she is sending some samples of flies and a pair of bare hooks. One of the hooks she has apparently bent with a pair of scissors to a get the right shape. The other is a baithook she has got from the alcoholics (yes, that is her words :0) And there is a technical detail regarding the hackle feather."

A few words from Len Borgstrom
" Well Wayne, there is a lot to comment on. ABU Optic: Eric Swan was one of our most creative employees. He is the one who came up with the name Ambassadeur and he did a lot while he was working for us. I would not be surprised it he put together the patterns of the ABU Fly. I added the "eyes"gave them the names!
The story told about Viola Hilder is correct. She originally tied OTs flies in Stockholm. She also tied the treble flies for the ABU Spinners for many years until we had to get then from the Orient for cost reasons. Viola moved her business to a small town in southern Sweden, Bromölla and had her own home workers.

At the time the Optic flies where presented, my idea was just to make it easy for the new fly fisherman to choose. With thousands of different flies on the market, it was very difficult for a beginner to know what to buy. With an Optic range of flies he or she would have a fly for all conditions. I also gave them the then"provocative" names, Callgirl, Pin-Up, Playboy etc. We never had the ambition to be a fly manufacturer.
The "eyes" were there to be make the fly balance better in the water and to make it different from traditional flies at that time. The flies were at my time tied by home workers.



These flies commenced in 1967 with a streamer fly called the Abu Optic. The Optic range were identified by their "bulbous beguiling eyes". The Streamers were single hooked, in sizes 8 and 10, and were designed to target Trout and Grilse in Europe.





Olle Törnblom

had a fly tying business in Sthlm. As far as I remember, a well known Mörrum fly fisherman

Rolf Wilhelmsson

, was the man behind the later Chillimps fly. O T may have commercialized it. I knew OT very well. He was the man who taught me how to fly cast."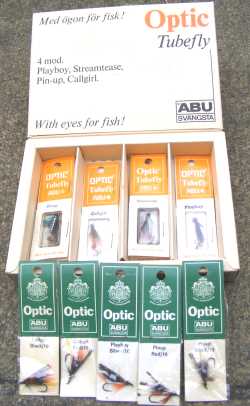 Thanks to Mike from Wales for this wonderful example of a box of Optic Tube flys
My personal ABU Flys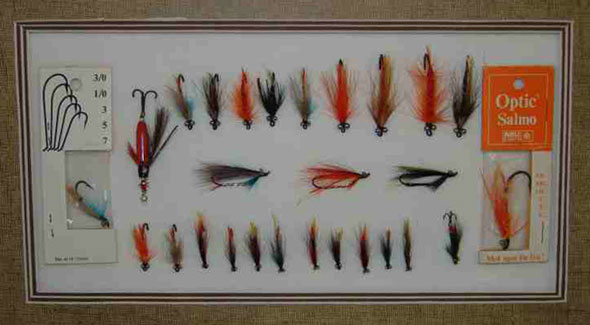 They cover all types from Optic Salmo, Streamers, Keel and Chillimps

With the exception of the shrimp coloured Chilimps the Optic flys came in 4 colour schemes which were cheekily named

Playboy, Pin-up, Streamtease and Callgirl !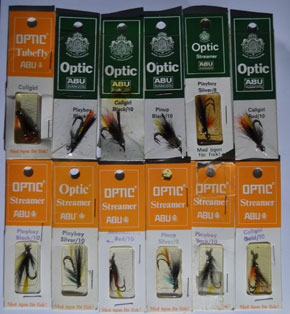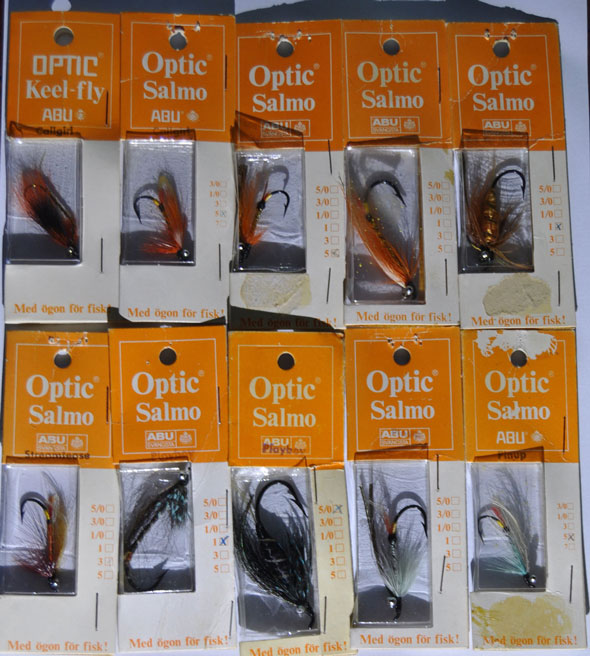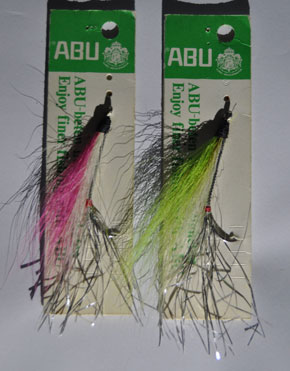 Just as necessary tapered casts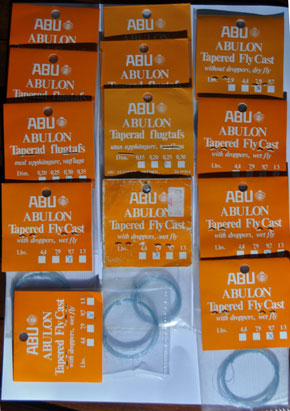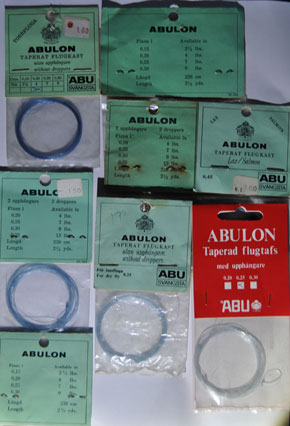 Catalog listings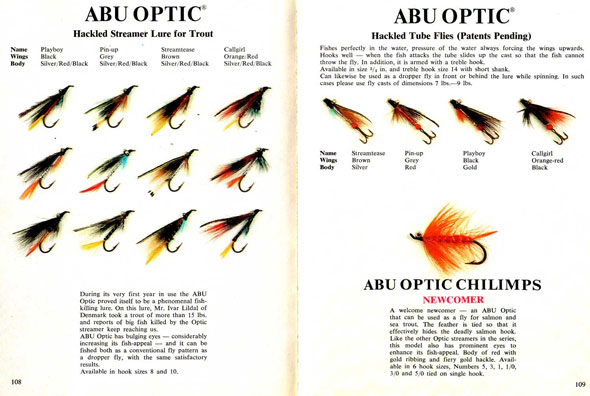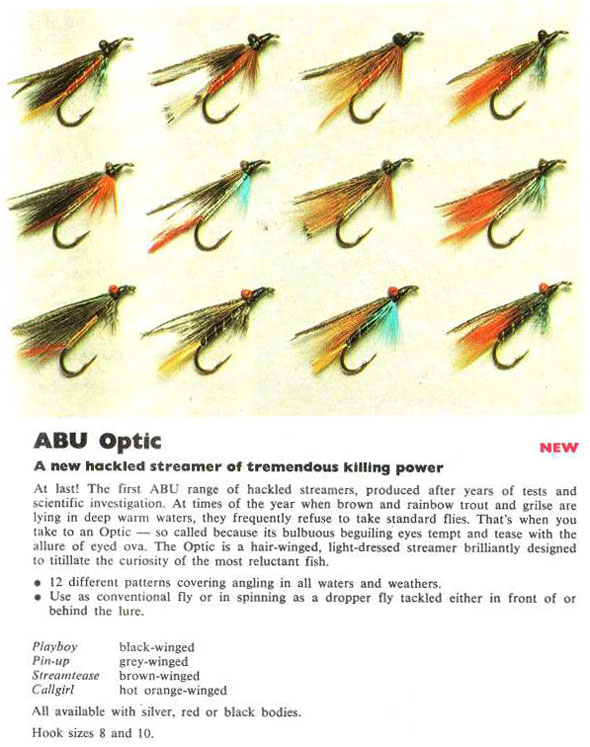 The Optic with its much copied bulging eyes, the popular Salmo or long thin weighted Tube fly came in a number of sizes , colours and variations totalling a dozen variations. Colourful names like Callgirl, Playboy, Pinup or Streamtease were used to identify each.
These flies commenced in 1967 with a streamer fly called the Abu Optic.
The Optic range were identified by their "bulbous beguiling eyes".
The Streamers were single hooked, in sizes 8 and 10, and were designed to target Trout and Grilse in Europe.

In 1968 the Abu Optic Tubefly was introduced with a size 14 treble hook.

In 1969 by the Abu Optic Chillimps was introduced, it was a shrimp fly for Atlantic Salmon and it came in 6 different hook sizes.

In 1970 the Optic Salmo was introduced, it was a single hooked Salmon fly that also came in 6 different hook sizes.

Finally in 1972 the Optic Keel fly came along in size 6 only.

With the exception of the shrimp coloured Chillimps the Optic flies came in 4 colour schemes which were cheekily named Playboy, Pin-up, Streamtease and Callgirl !

Enjoy this fly-fishing article by Dan Aslund from ABU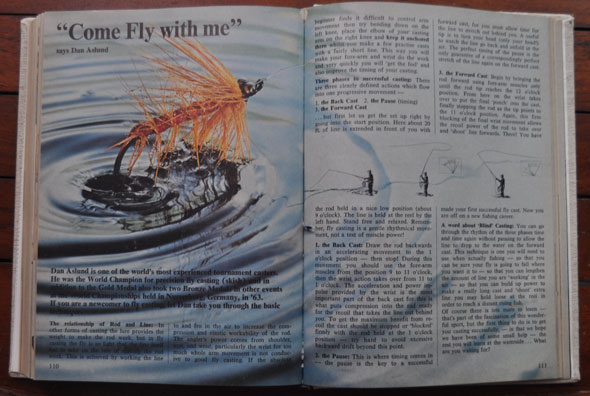 A later discussion between Michael and myself on why ABU never produced Dry Flies early on, is as follows


Wayne: Ever wondered why Abu never sold dry flies? My suspicion is they fished differently to English purists and dapper fly fishermen




Perhaps the Scandinavians fish rough fast flowing waters which required a sinking bait As evidenced by the Abu Fly shown on 1960's webpage




The only names dryflies ( a la Greenwells Glory etc) that I see marketed by Abu are later Asian made lots of 10 or so




Any thoughts

?
Michael: Regarding the dry fly question: I really don't know why ABU chose not to take dry flies on the product line. In my opinion there's not anything in the geography, insect life, water types or other conditions that will explain it.
Dry flies were used all over Scandinavia back then, with prominent anglers like Preben Torp Jacobsen, Hans Lidman, Nils Färnström and lots of others happily swinging dries… and writing books on the subject. So lack of popularity was not the reason. I more suspect that a most of ABU's fly tackle at that time, was a bit to heavy for dry fly fishing - but was more useful for wet flies and streamers. This theory is based on my own use of vintage ABU fly rods (which i swing now and then)… but… I'm just guessing.
The later dry flies made in Asia (Post 1981) (Torrfluga) cam in many assortment packs and differing hook sixes. They were modelled on well known and almost universal fly patterns like Black Gnat, Cock-y-Bondhu, Blue Zulu, Greenwells Glory, Brown Ant and Royal Coachman FW to mention just a few patterns.
Cello /Cello Dip
My friend Kalle Bornefelt from Sweden is a recognized expert in these lures and we hope our collaboration below helps extend your knowledge and appreciation of this unusual lure.
The images he has supplied indicated his depth of appreciation of the marque.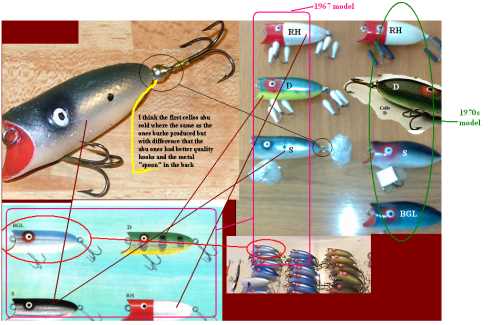 Len Borgstrom has confirmed
"When it comes to Cello, we bought the bodies unpainted from Burke (owner Bing McClellan). They were painted and assembled in Sweden."
A fascinating lure was an evolving design in two forms ie a cupped-front surface-running popper in one size only and its bigger brother, a deep running aluminium bibbed version of completely different elongated shape.
We will learn much and I look forward to uploading more information when it comes to light and is collated.
ABU CELLO was first introduced in Napp & Nytt in 1967 and later the diving CELLO DIPP version came in 1969.
Cello and Cello Dip were sold by ABU until the late seventies.
The Cello is made in a soft plastic with a rubber feeling.
Both Cello and Cello Dipp are floating, even after sustaining plenty bitemarks of pike.
The Cello and Cello Dipp originate from lures made by the American company BURKE.
Both Cello and Cello Dipp were created in four colours: BGL, D, S and RH.
Slight variations have been noted in body design, hook hangers and actual hooks used.
The story will be updated as new information unfolds.
Thanks to my friend John Fishkat in USA. He has been able to source some more nice images relevant here to share.
The very rare and to date unheard of straight bib ABU Cello Dip is first. Hot White was a Burke colour, but unsure if actually sold by ABU. It may have a test colour for trial fishing. Comment from Len Borgstrom below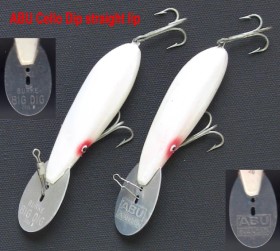 Wayne,
I just do not remember us having that color in our range. It seems to have the eyes painted. I know that a similar color was popular for salmon fishing in the GB. I am copying Tony P to ask if he remembers.

Regards!

Len
Earlier USA made and sold Burke models are below.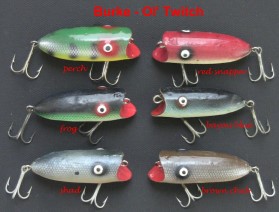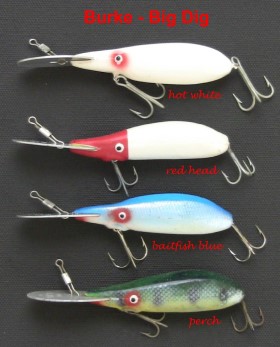 Actual ABU engraved and sold in Europe versions of Cello.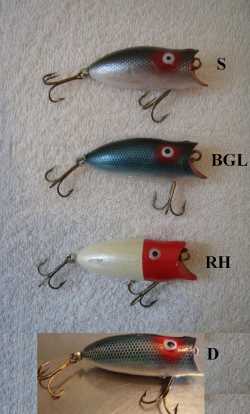 SKAL Blanket
The last of the lures to be introduced in the 60's was the Skal Blanket which looked rather like a half a metallic tennis ball.
Words from Len "
I do not even remember the SKAL so it could not have been an important lure for us."
It was preceded by a number of ice-fishing jig lures mentioned earlier but also shown here in more detail with a variety of Pimpel or ice-fishing equipment like rod/reel combos , ice-augers and lures. More details on this cold country style of fish here (and unusual to me in Australia)
The Skal Blanket is a truly beautiful jigging lure designed initially for ice-fishing and consequently advertized alongside ABU Pimple Ice-fishing equipment, it was later marketed as a sea fishing jigging lure used for Flatfish like flounder.
I will show the thumbnail images /linked to larger sizes, of six years of Tight Lines catalog pages for the interested reader to enjoy first hand the images and text.
Basically the lure was introduced in 1968 and was off production by 1974.
It was a 60mm half sphere of annodized aluminium produced in 4 stunning colours of Silver, Gold and Kopper as well as P/K (Parlemor, Mother of Pearl)
The barbed hook was trailed 100mm behind/below on .40mm trace.
My mates in Sweden say that although it was beautiful lure to look at, the fish did not think so, so was consequently removed from production.
1968 1969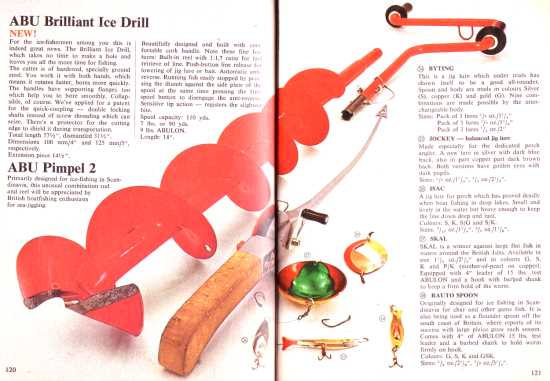 1970
1971 1972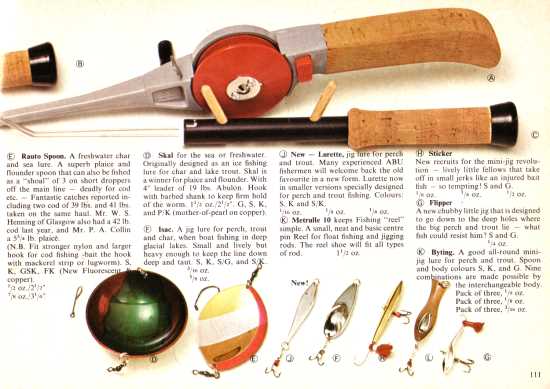 1973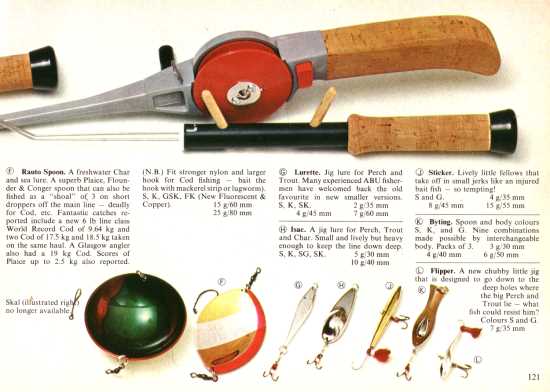 Main difference with this page is that the buying public are advised that the Skal Blanket is no longer available.
Bit strange I think?
1974
Many thanks to Mike Elsworth (the Welsh ABU Sleuth) for suppling these images.
Mine to follow soon.
I only have 2 examples of this lure , a mint in sealed card unit silver example and a gold used example , no card.
If anyone has a Copper or Mother of Pearl example I would dearly love to purchase them.
I am attempting here to create (with the help of others), the greatest collection of images and information about Record ABU lures ever collected together and freely available for all to learn from. Obviously image copyright for alternative publishing purposes always remains with the owners.
Please feel your input, help , criticism is very welcome and I look forward to expanding with network of Record ABU lure collectors and appreciators.
Contact me here to assist.
If you have any other lures, that are un-needed or doubles in your collection and are available for swapping or a reasonable fee, I would be very pleased to hear from you.