Prototype Lures/Baits/Artificials
Prototypes here were never for sale, rather testing and evaluation, and here 50 or more were shared by good friend Uffe Edefuhr, a one time serious ABU Collector.
Many more have been shared from workers and friends he knew at ABU in times past

My most recent gifts from Uffe are these having no names but one can see the ABU heritage.
Thanks mate for the gifting and willingness to permit me to share with ABU fans worldwide.

As I have no intention of selling , value is of little consideration, though I have paid up to A $300 for my most expensive unique named but not sold ABU Hilo Whit and Pink bait.
If starting off collecting these items, one should be pretty sure of not parting with large sums of money before providence is established. ie a link to workers who experimented with new designs at ABU. Bert Nilsson from Asarum is a great example of such a worker at Svangsta known to Uffe. Incidentally he worked with Ove S in coming up with the Toby variations/designs.
Interestingly, reels were experimented with different colours too, many did not escape the crushing yard. I have one beautiful lime green ABU Cardinal 55 destined for crushing but "someone" could not bear to destroy it. See here....

As many of these lures were test models from 40/60 years ago, I suggest you establish a link to where they originated and who was responsible.
The latest batch of these unique attempts to design a marketable lure for ABU is below.
Uffe came out on 3rd September 2017 to visit me, for his 16 days of fishing and I think he must have cleaned out the last of his tresures that he can attribute directly to ex -employees at ABU's Svangsta plant. So many, roughly 40, in fact that I don't have the time to photograph them all like I have done previously for the earlier 26 prototypes. One will note all component parts were readily available parts from the era.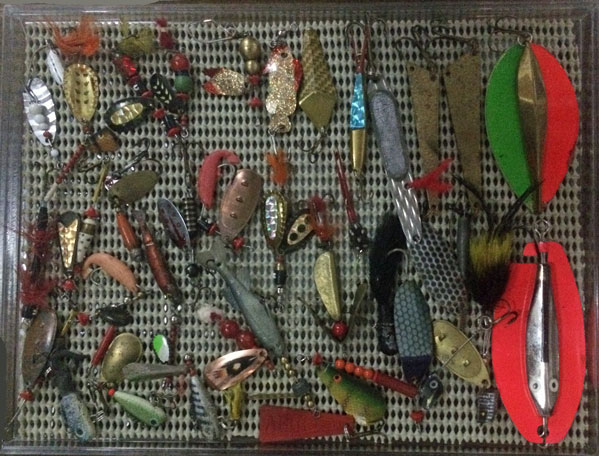 Previous contributions to my collection of ABU prototypes by Uffe Edefuhr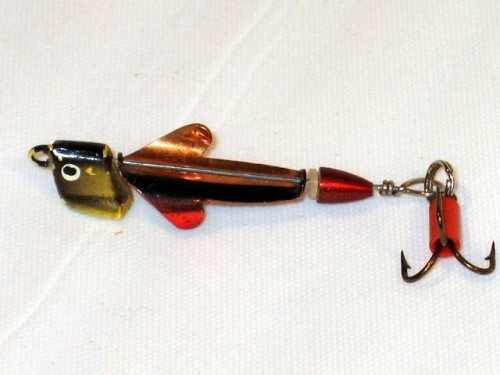 Prototype ABU spinner bait based on Morrum lead head.

Prototype Kaleva with Droppen body

Prototype Shiner weedless style.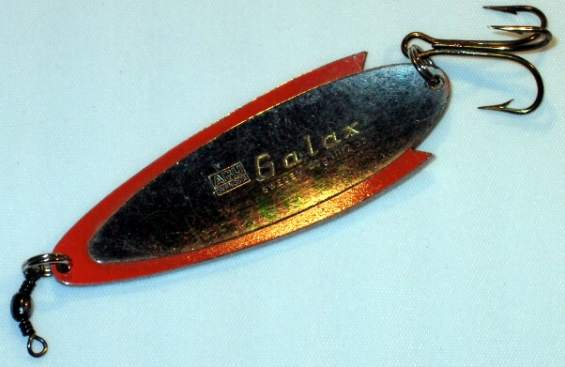 ABU factory Modified Salar design, named Galax, tested but never released.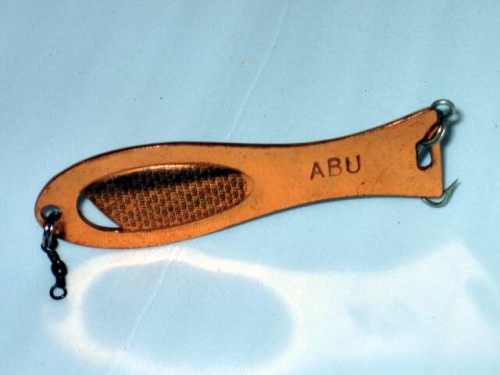 Strange ABU prototype

Mortblank ABU factory experimental colours

ABU Uto experimental factory paint colour

ABU Uto metal blend experimental tri-colour finish. Never catalogued.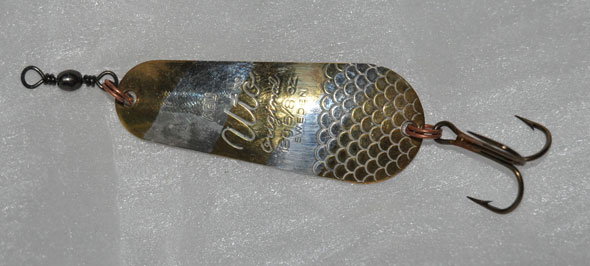 Experimental factory colours, two similar but different, never made production line.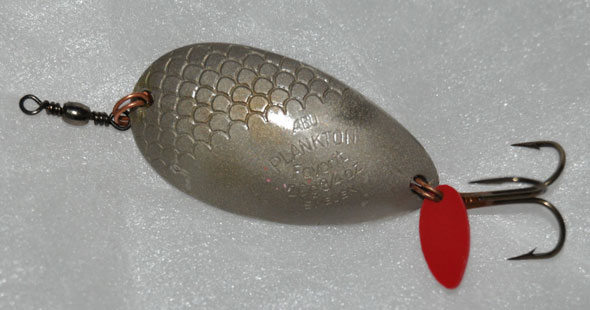 Possibly same test batch but without imperfection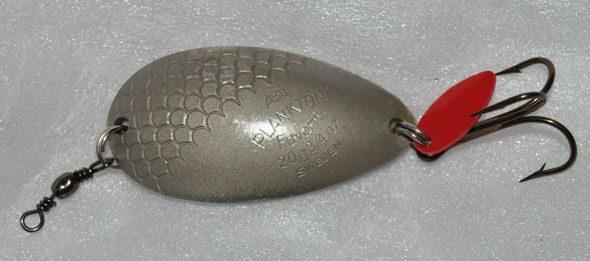 You will see here , my most valued due to ownership, the original special weighted Island lures made for Gote Borgestrom, in 12g size (double thickness metal) rather than usual 7g size for deeper fishing and longer casting on fast flowing streams and rivers.
Soon, as I learn how to photograph a very difficult subject, the double thickness 4g Toby in Silver, I will share it here. Due to the thickness and extreme curvature of the spoon, it just barely received the identification impressions.
The weird looking giant Ladybeetle was another that never made it to large scale production and sale.
I also have some ABU Toby lures with the identification impression on the wrong side of the spoon. This happened with other ABU spoons too.

Uffe tells me....
The original handmade lead model for the Krill is here with the first Stainless steel example produced in the factory prior to being stamped and named in production models.
Today I talked to my friend Bert Nilsson from Asarum in Blekinge! He was working many years together with Ove Soldemyr! In fact the protos of the weedless Toby that you now have was made by Bert! He told me about the goat hair that he attached to the metal thread on the protos! I did not know that he was in this position working close to Ove! This Bert is the father to the Cleopatra fly reel! He still have one of this protos in his possession! Bert will do some research about Ove for me!!
......
I have today got some news from Bert, my pal in Asarum. He say that the first Toby was made by a man named "Sven-Åke Kullberg" . He made a 18 gram Toby. Later on there were made Toby´s in other sizes and then Ove Soldemyr was the constructor and Bert Nilsson my pal helped him to punch out the metal pieces!
" .....to be continued we hope...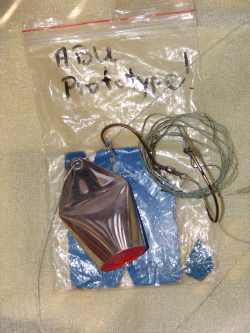 Mike has kindly photographed (below) the very rare 12g weight but 7g size Island from Gote's personal tackle-box mentioned above but seen poorly though the plastic bag with Uffe's annotation.

Click to see good detail.

I have 2 colours S and Z mint and Mike recently became the beneficiary of a spare Uffe had.
In the search for all the ABU plugs, I am still looking for a Kynoch, small size Black Rakan, large size yellow Rakan, and a jointed Killer of any colour or size, for my lure display.

Old Record spinners/spoons such as Ideal X, Pike, Pendeldraget, Kelly, Doublespinnaren are still very scarce and yet to be found in my collection also.
I am interested in tracking down some un-painted plugs also.

If you have any other lures, that are un-needed or doubles in your collection and are available for swapping or a reasonable fee, I would be very pleased to hear from you.