ABU Angling: Lures and Baits
Packaging/Storage Styles from 1940 > 1981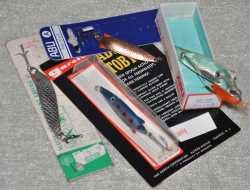 A.B.Urfabriken changes it's approach to presenting lures for sale many times over the complete era of producing its lures were made in Sweden.
The original all paper, flimsy paper boxes came in 3 sizes and with 2 types of illustration, viz the 8 window or 11 window factory picture, later had a splashing fish!
Much more details are available on other pages.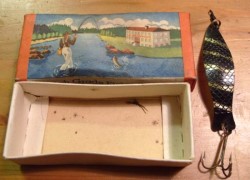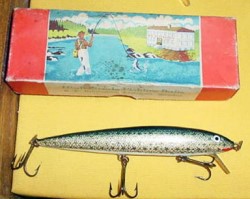 Z coloured Tylo draget and very rare 1951 N&N advertized ABU Paijanne Minnow from Finland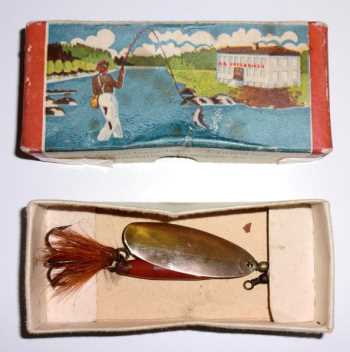 Next came with USA sales when some boxes were made with old flimsy paper and had a clear cellophane viewing window . Thanks to Mike Elsworth
The end of boxes always held the Lure Identification details, viz Name, weight and/or length. Some early ones were left bland and details hand-written on end of he box.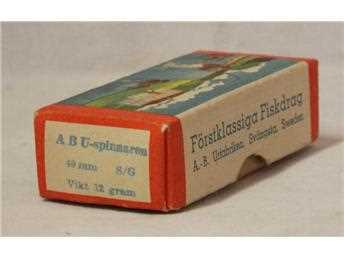 The next variation was the more sturdy heavier cardboard box with slide off plastic lid. These came over a shorter era, in 3 different sizes and 3 issue variations.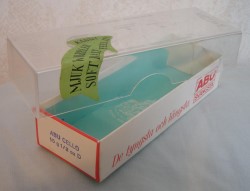 Later Vacuum formed clear plastic shells were used to display lures such as Toby, Luster, Hi-lo, Rakan , Rauto, Skal Blanket, Reflex etc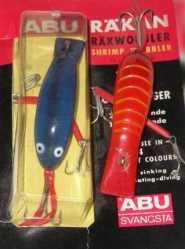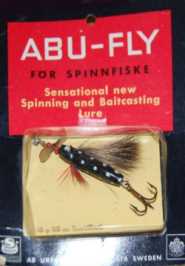 MUST SETS were created in hard plastic divisioned , all clear storage boxes and then later black based with clear top boxes. There were also pale blue boxes with darker blue or orange lids. These were produced with 4 to 10 divisions.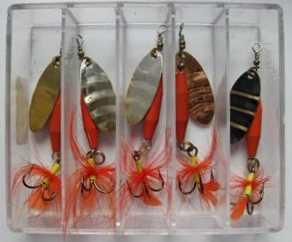 They were also sold later in disposable cheap plastic bubble boxes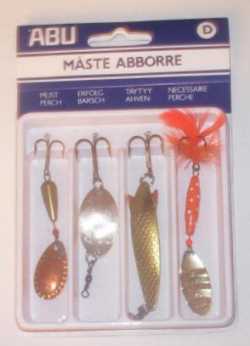 Initially, lure cards were always green, comprised of a a folding front and back (and some later yellow cards) , where the top of the lure was secured with a small soft metal clip and the hooks were secured in the front layer of the card. Details of Fishing type 1, 2, 3 or 4 and weights of lures and usage were described on the back of the second half of the card.

Hanging cards, evolved into 2 styles, both long cards where hooks are pinned to card and short type with loose hanging lure were utilized for economy in later 70's. I believe they were sold more cheaply in petrol stations.
Single layer cards eventually replaced the double layer cards.

I have seen green, yellow, red , light and dark blue variations.

Spaghetti plastic tubing was fitted to the exposed hook points to protect customers fingers.
Where multiple treble hooks were employed (see Drop-fish below) the second set of hooks were imbedded in the side of the card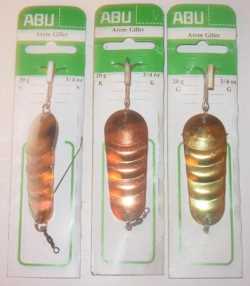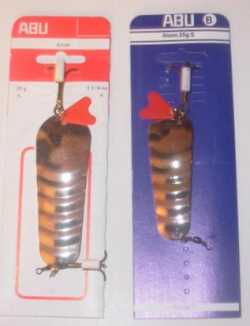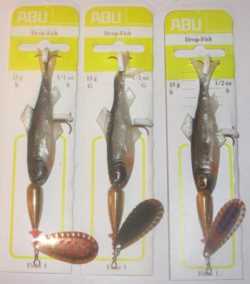 A further variation noted particularly for smaller ice perks /Pimpel lures and tiny Droppen spinners was to enclose in a clear plastic bag hanging from a small card.
I suspect the issue sequence was first green, red, blue and yellow but I am unsure of the dates.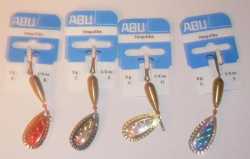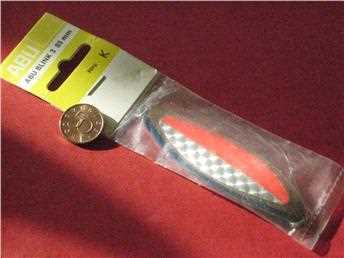 Some enterprising re-sellers even bagged up stock in random ways to sets groups of lures more inexpensively.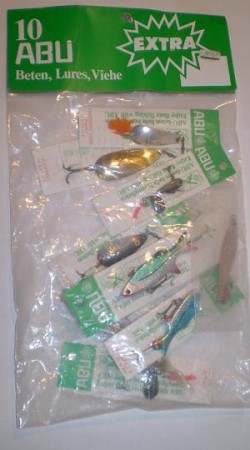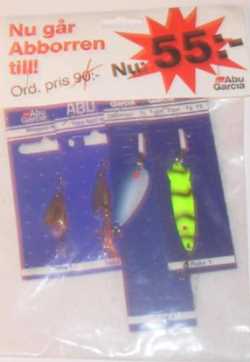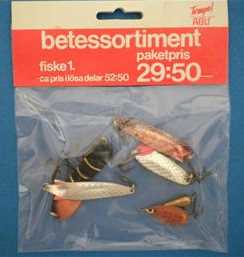 END of the Swedish Lure Manufacturing era was in 1981.
This is how they look today manufactured and packaged in Asia
They catch fish just as well, as I have proved, but something seems to be lost in the quality of packaging today, compared the older era styles.
I think this is mainly old fart's nostalgia for their boyhood days 50 years or more ago.

They certainly have no collecting value compared to the old styles.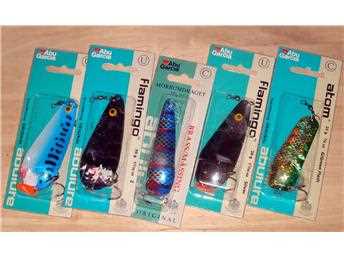 If you have any other older ABU lures, or boxes that are un-needed or doubles in your collection and are available for swapping or a reasonable fee, I would be very pleased to hear from you.