Half Encapsulated Reels
The universally accepted primary dedicated reference to all things ABU Half-encapsulated
by
James Partridge and Martin Stone from the UK.
I am honoured to have this personal copy in my collection to learn from!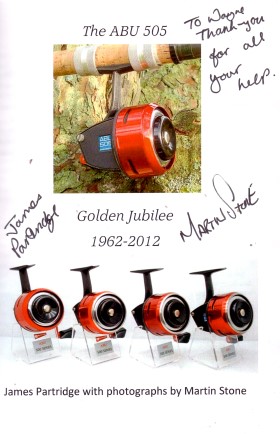 Do buy your copy to know all on all versions of the ABU 505
Do not miss their upcoming ABU 500 series book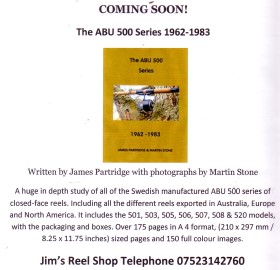 Marco Malavasi's book "Reelstown Guide to ABU Spinning Reels of Sweden" and website is also a very worthy wider reaching tome of which the 500 series are a small part.
ABU's Tight Lines 1983 offered this "Route 500" article which furnished good historical information about all the half encapsulated 500 series of reels.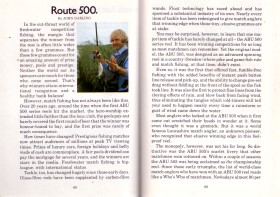 Tight Lines 1984 saw the demise of the popular match winning series of metal 500 reels. ABU placed confidence in the new plastic models and lauded the new Diplomat 601/601M ad 602 series.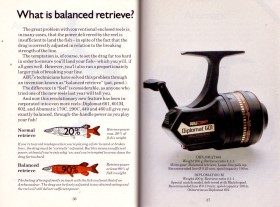 An un-sourced writer (known only as Stefan, whom I would like to fully acknowledge) has also written a very good and informative short 3 page article here . Page 1, 2, 3
The ABU 500 half encapsulated series burst onto the angling scene in 1961 and held sway for 21 years.
Not so popular in my part of Northern Tropical Australia, as Europe (particularly for UK match fishos) and USA, they are still a strong, reliable, multi-featured and innovative reel.
I own a right hander and consequently my ABU 508 (rather than the normal identical size LHW ABU507) will always have a place in my tackle box for fresh water fishing.
This gives ABU's introduction from their Tight Lines Catalog of 1977 (Part 1, Part 2)
Beautiful images courtesy of James and Martin cited above.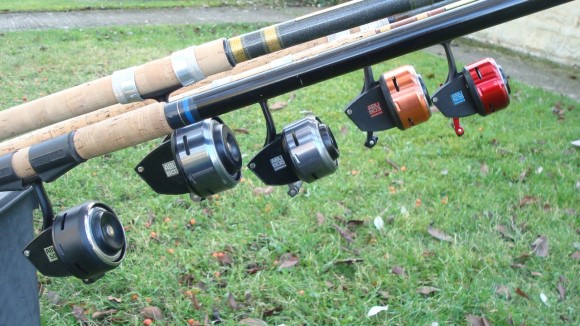 I have all nine models only which I can't fish with even if I permitted myself the luxury of using near mint reels from so long ago. They are left hand wind and most Aussies wind with their right hands. My above mentioned 508 fits the bill.
Full kit of the right hand wind 508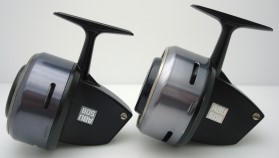 Note the upside down badge!
In general , the popularity of the series was largely due to the initial design features such as having a fixed spool reel without the usual bailarm structure. Instead, an enclosing drum made from stainless steel covered the hidden spool and it drove a pin(s) to safely guide the retrieval of line. Anglers loved the one finger operation (merely touch the rubber ring in front of the reel) which ensued making it a very easy reel to cast and retrieve. This coupled with a wonderful drag system made it a winner. More features would evolve over time.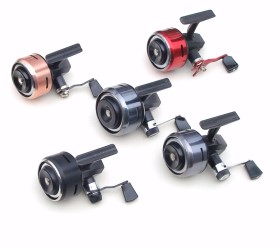 First Garcia 505 from 1963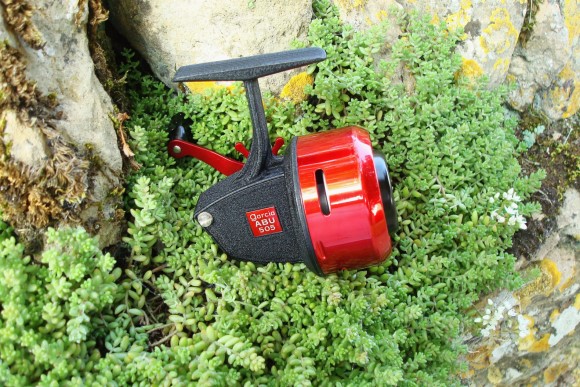 Model 1 and last 1975 model of the Swedish ABU 505
The Match fisherman's most famous and popular 506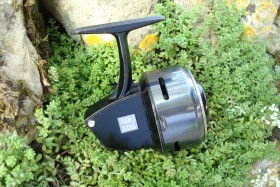 Packaging for the 500 series interests me which I hope to add to my collection before too long. Please contact me if you have a spare red display box or a green one. I have the blue 501 boxed.
The true fan of ABU 500 series will drool at this rarely seen item. It was won as part of a competition, promoted by Nabisco in USA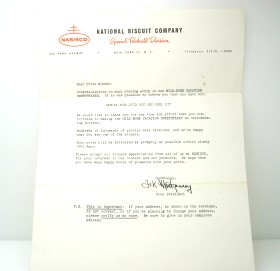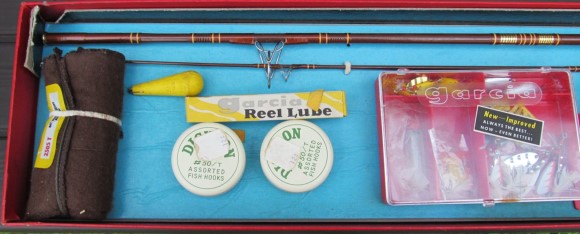 My reels include a 500 series 501, 503/520 (USA) , 505, 506, 506M, 507, and 508 as well as a newer plastic and to my mind not so desirable 601M and 602 Diplomat.
I will specifically detail my boxed ABU 501 below when time permits.
Images ( 1 and 2) ) here of 505 from Tight Lines also.
The manual of the 506 is here A B C D E F G H
Loan reels for the 500 series was introduced in UK


The first Service reel to come to my display was from Rod Cameron of South Australia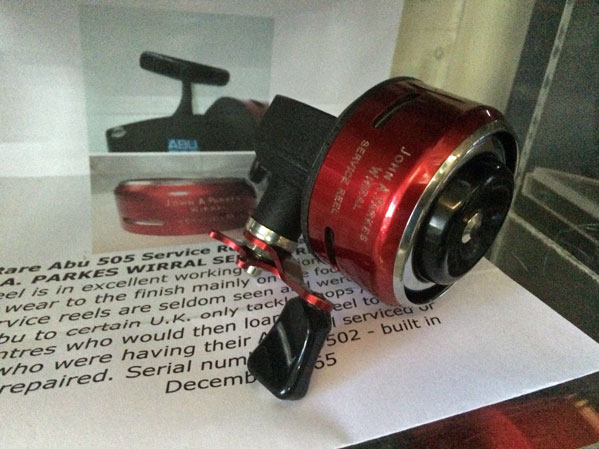 It certainly enhances my collection of 10 bare reels and boxed 501, 505, 506 and right hand version 508 models.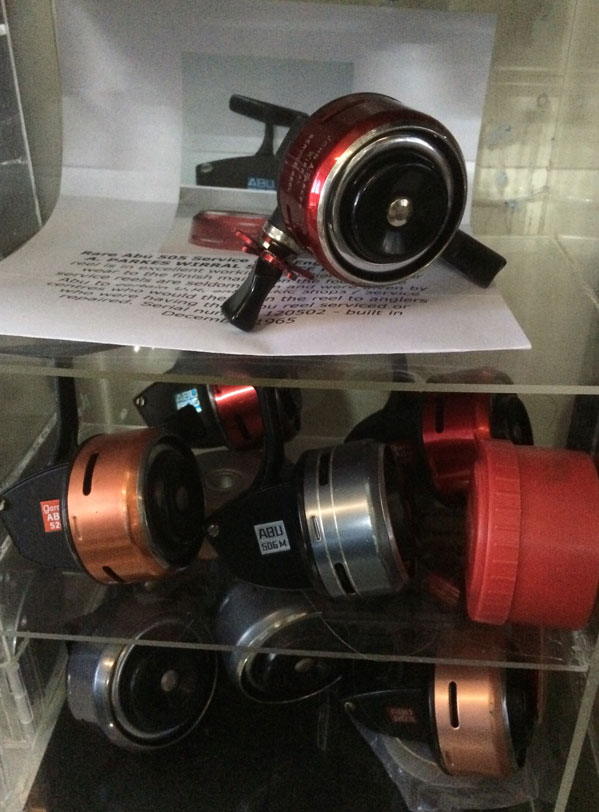 More Service reels


This was facility was the standard of service available in UK when one's reel was in for service. The picture below shows the engraved cowl of the 500 series reel "loaned " to the you. thanks to Les Shaw for images of his service reel cowls. More recently Martin Stone has shared his images here also.His friend who send him these images to share is Richard Burfield from the USA. Thanks to both ABU fans!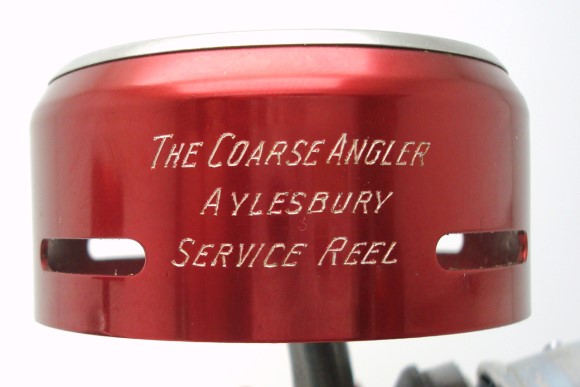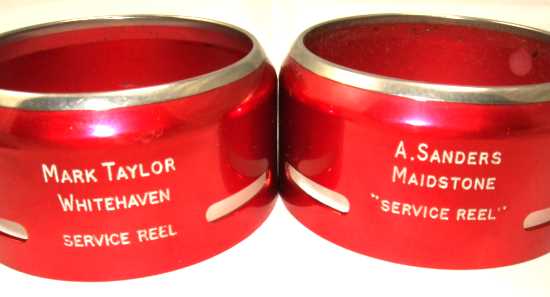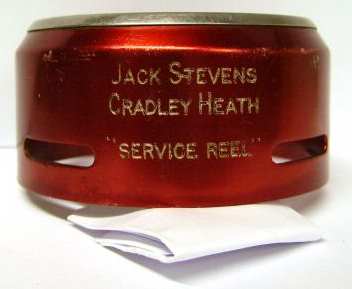 Thanks again Martin and Richard in USA for these unique beautiful images of loan reels.
Some UK advertizing of the 60/70's
At last I have a Green box ABU 506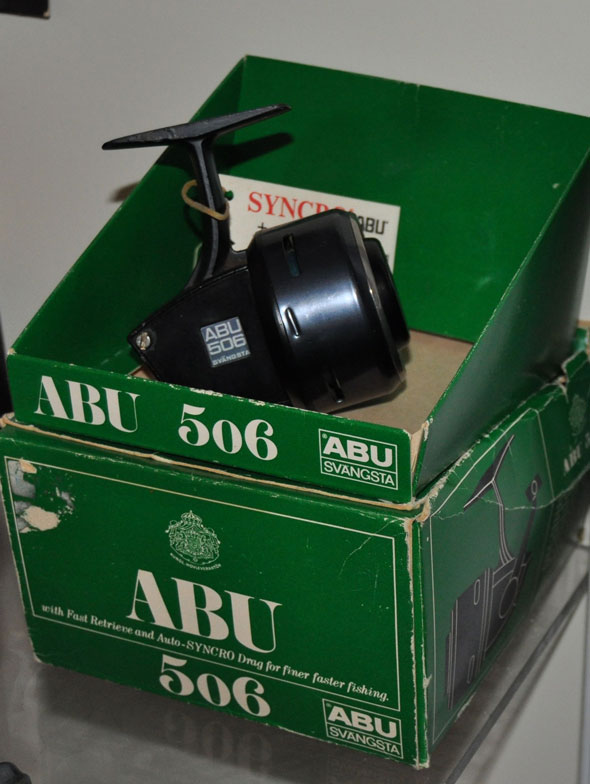 My friend Julian from Germany writes,
Hi Wayne, rong>
Pictures of the ABU 505 Cutaway, in Germany only known of 2 x exists of ABU 505 Cutaway (See pic 1, 2, 3, 4, 5) and 1 x ABU 506 Cutaway, in other Countries i don't know about one to exists, maybe in Sweden some Reels, Regards Julian.
Lets hope more keen ABU anglers decide to share more knowledge here.
If you have any 500 series red or green box mentioned above or a Service reel , that are unneeded or doubles in your collection and are available for a reasonable fee, I would be very pleased to hear from you.