Record/ABU Reel Models
The biggest problem with documenting these reels is knowing whether these one-off unique reels are a genuine ABU sanctioned Prototype or came about as a result of an innovative owner, who was attempting to add features to a previously designed model.
I have several photo groups here to share
Possible/Probable Prototypes
My own heavily modified red ABU 1750 is a joy to behold. A unique and electronically adapted version of the standard AQBU 1750.
Please enjoy this service guide which exposes the reel but still leaves many (who, when, where, why) questions unanswered.
Prototype Record 2300
Steve Vernon from the USU of Antique Fishing Reels website has kindly shared some fine images of his Prototype Record 2300 with unusual level wind mechanism.
His words below......
The Record with the level wind that I posted was an aberration for me, acquisition-wise.
My collection consists mostly of patented reels, and I'm interested in bizarre inventions.
When I first saw that reel at a collector show, it was love at first sight, regardless of the reel's relatively young age (or maybe because of it).
I bought it from a Brit, who said it had come from some ABU machinist.
I didn't care that the story was probably apocryphal.
What's especially interesting about it is that the line guide swings so slowly, relative to the number of spool revolutions.
I forget the precise count, but it's fun to watch. The level wind is brass and was built onto a production model.
It is also an impractical design--heavy and bulky--so I guess it was an experiment with the mechanism itself, rather than a serious prototype.
I wouldn't expect to see another one. The attached pics may be helpful.
Reel #1
Uffe Edefur's recollections of ABU Fly reel evolution
The biggest breaking story that I have ever heard with respect to ABU's involvement with the design and production of fly reels has to be the fantastic but never to see the light of day, Cleopatra reel, pictured below.
I know of the existence of two models, one of which is in Japan and one in Sweden.
It was made as a prototype by a talented engineer at Svangsta, probably in the 1970's as this was to be the reel to compete head to head with finally lose the battle with the Delta series above which were finally selected to go into production based on cost rather than performance.
Was this the first crack in ABU's armour, if a price point was chief determiner of product line, rather than quality at any cost!
Surely from the personal experience of the two people I know, their comments on the large line capacity and superb braking capability required for big game fish like Salmon, would have had me lining up to buy one.
Now with only 2 in existence and both in collections, none of us will ever experience the potential of this apparently superb reel.
Look closely at these two pair of photos . They show the individual differences (on both sides) of a reel that is not mass produced.
Both however sported a superb braking system.
Some day I hope to find exactly and a detailed analysis of why it never went into production.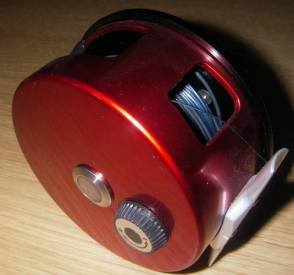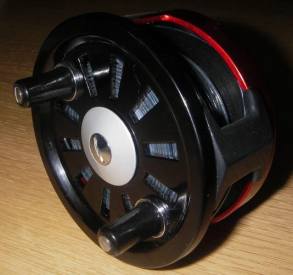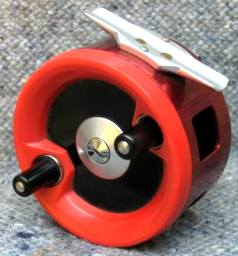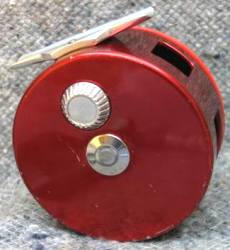 Prototype REELS
Model name Cleopatra
Maker/designer Bert Nilsson
Production dates Prior to the Delta 3 and 5
Features Very large line capacity, huge breaking surface for big salmon
Catalog Never catalogued, 2 only made , a true prototype from ABU at Svangsta.
Reel #2
Uffe Edefur's recollections of ABU Fly reel evolution
Uffe was able to source yet another ABU prototype reel, again from his designer and creator Bert Nilsson.
Model name Wide spool ABU Delta 5
Maker/designer Bert Nilsson
Production dates Post Delta 3 and 5
Features Very large line capacity, huge breaking surface for big salmon
Catalog Never reached production, this was hand-tooled at Svangsta. Never catalogued, 1 only made , a true prototype from ABU at Svangsta.
Reel #3
Tom Taiton's sharing of his ABU Ambassadeur 4500 D Prototype
Model name Ambassadeur 4500 D
Maker/designer Inspired by Ake Murvall's original 5000 design, but with direct drive.

Production dates Post Ambassadeur 5000 D and 5500 D
Features Narrow spool, smaller line capacity, presumably for lighter lines
3 made that are known, one resides in USA, one is in Europe , so quite likely a true prototype from ABU at Svangsta. There is no lot number on the reel foot. I have personally seen a widespool 6500 D
Catalog Never catalogued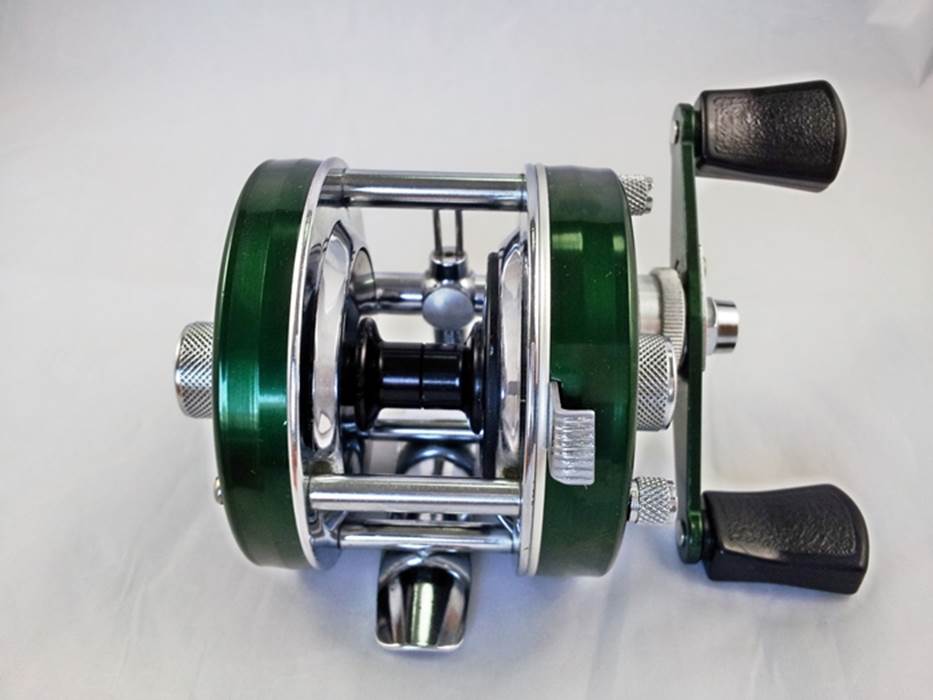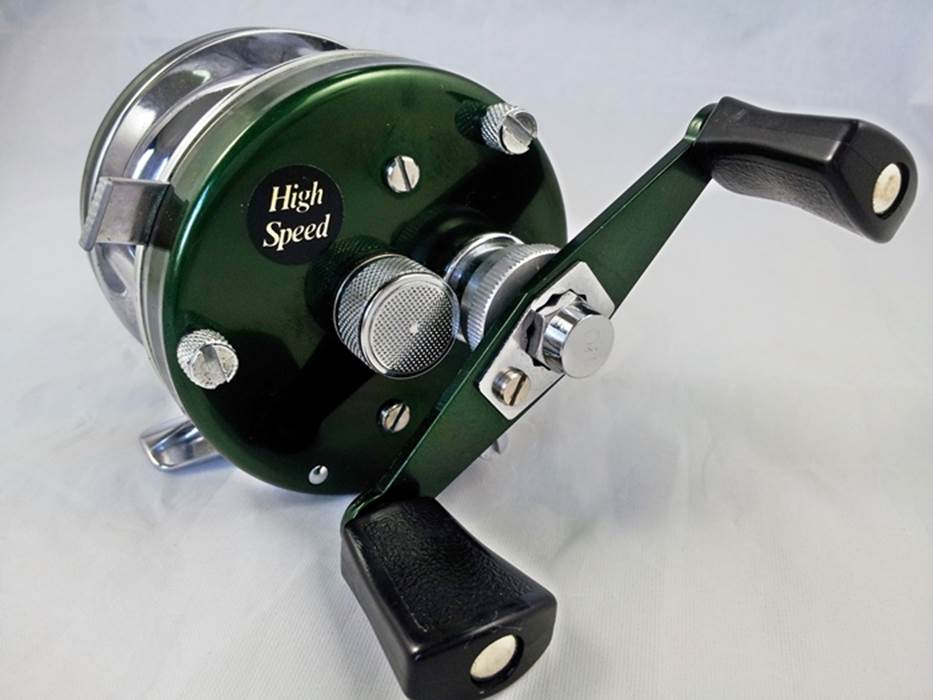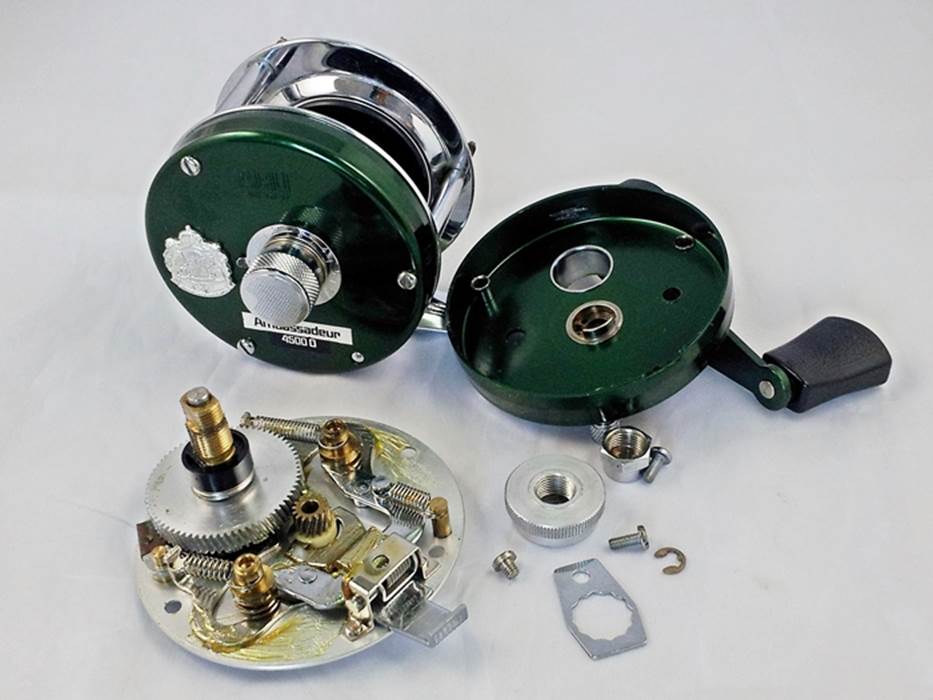 Ambassadeur 6500 C shared by my friend Lars Jonsson


Interesting reel I came across here.
The story is.....
There was a manager at ABU gave him away this reel
It was #7 of a range of prototypes
I have no idea of the date but this type of thumb-bar never made it to production, rather a smooth rounded type NOT this harsh angular type.
He organized a golf tournament as ABU sponsor
It was probably lying around and not needed and cheaper than a new reel as a prize.
The reel was used by the winner and hence the missing sideplate screw
Please be patient and enjoy as they appear and do contribute!
If you have any others not listed above, that are unneeded or doubles in your collection and are available for a reasonable fee, I would be very pleased to hear from you.