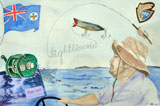 About Me
Travelling on a PNG cruise "P&O Jewell" (29/10 to 7/11/2018) . We 4 ABU mates would enjoy making contact with possible ABU "fishing mates" whilst onboard! Hope to fish at Alotau, Kitava, Rabaul, Kiriwina and Conflect Islands.
Contact abuadmiral@gmail.com
Encompasses my fishing trips, my actual ABU fishing equipment, my location, my boat "Ambassadeur", my family but also the research I have on other like-minded ABU devotees to show their collections, their fishing as well as their contributions to ABU via employment and management roles.
I use the Twitter feed to the far right to point to significant new updates (but not all) on website -->>
Supporters
Many friendships have developed over the almost 12 years since I first started sharing my ABU educational research findings here. Support has been just wonderful and as I do not sell ABU to profiteer, I feel doors have opened to me, with many kind souls also very willing to share their knowledge.
Great to have met many of you in Svangsta and throughout Sweden in June 2018
Pure Fishing Sweden , USA , Malaysia and Australia have recognized my efforts here and are now about to offer prizes for me to give away on site.