ABU Tackle boxes
Made by "Old Pal", Woodstream, USA
I was only aware of ABU's offering of tackle boxes from 1967, when first noted in their Tight Lines catalog.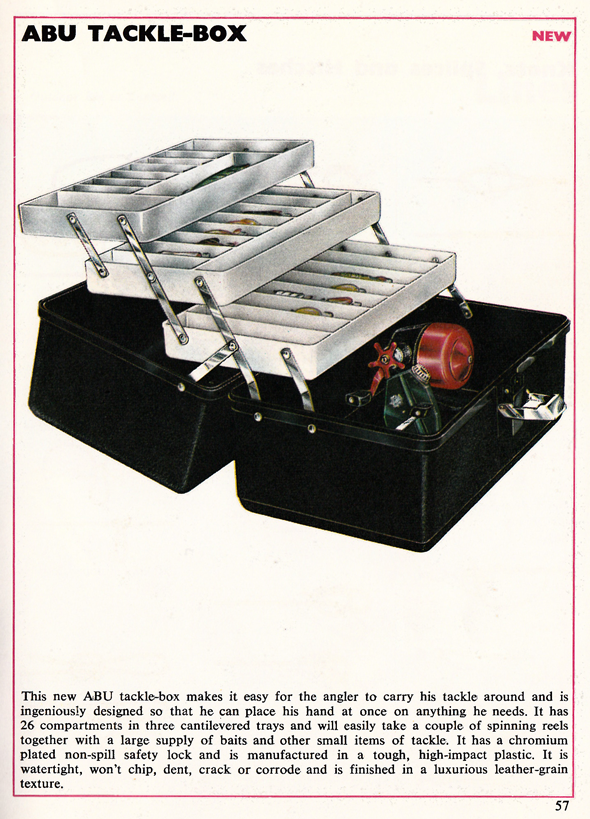 Here in Queensland, Australia, I never actually saw one for sale, but being from a small country town, the boxes may have appeared in larger city tackle shops.
My friend John Fishkat, advises me that that tackle boxes were not sold as separate items on behalf of ABU by Garcia in the early days.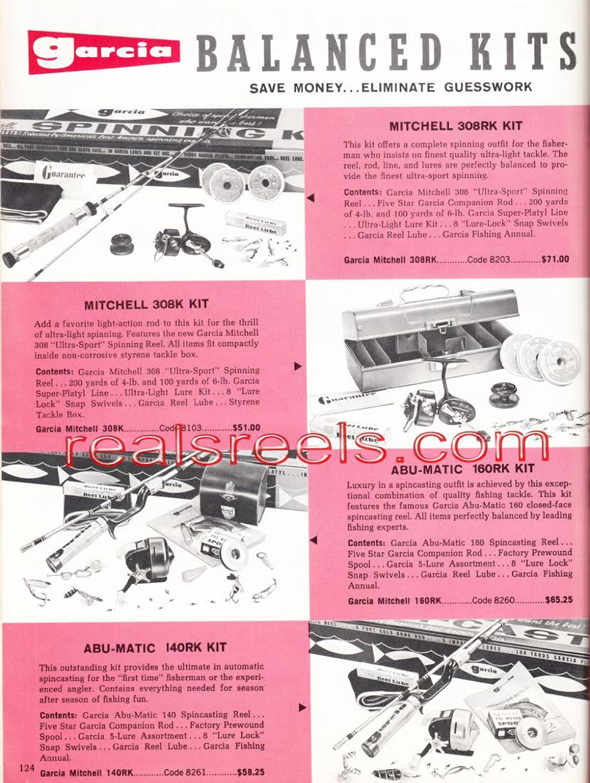 The closest he came was observing this 1962 Garcia catalog advertisement above with only the Mitchell 308 combo on offer with a tackle box.
He kindly shared the above Garcia combo deal marketing a hard to discern brand of "Styrene" tackle box along with Mitchell 308, lube, line, snaplock swivels and spinners.
They frequently , but not always, show these markings, ie The ABU marking, the catch with leaping Bass and Model/Manufacturer name

The majority of my images come from English language Tight Lines catalogs dated during 1967/1980
This is from TL 1971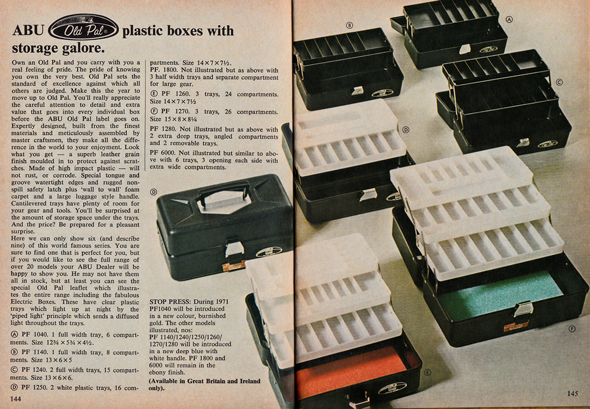 These below are pages from Tight Lines 1974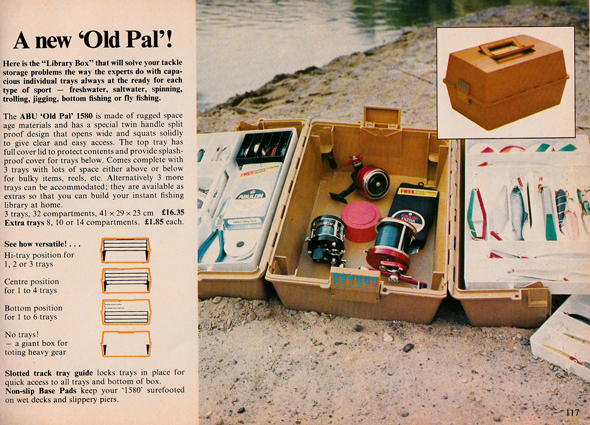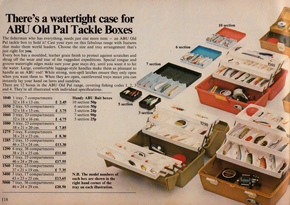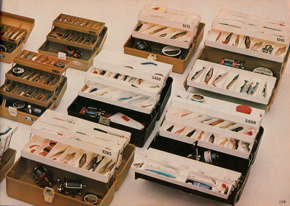 Next image below is the last I can find from Tight Lines 1980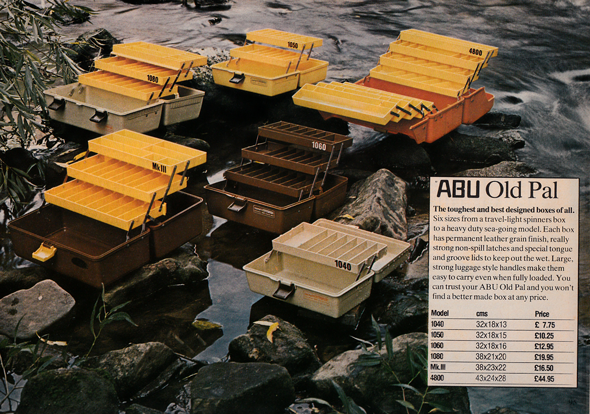 Wayne
Old Pal was owned by Woodstream and they made the ABU Old Pal tackle boxes. I arranged this relationship but I do not know what happened after I left Svangsta.

Maybe we only sold these in UK/Europe?

I do not think that Woodstream is in the fishing tackle business any more.
Fond regards!

Len

Thanks to my good friend and noted ABU 505 writer, Martin Stone, I am now the proud owner off one fine example of the ABU Old Pal Woodstream tackle boxes.
It is the Trout PF 2000 example.
I will stack it with typical examples of Record or ABU spoons, plugs, perks, spinners and other ABU items such as spare hooks, swivels, snaps, monofilament, fishing scales and pliers, for authentic display of 70's ABU fishing gear.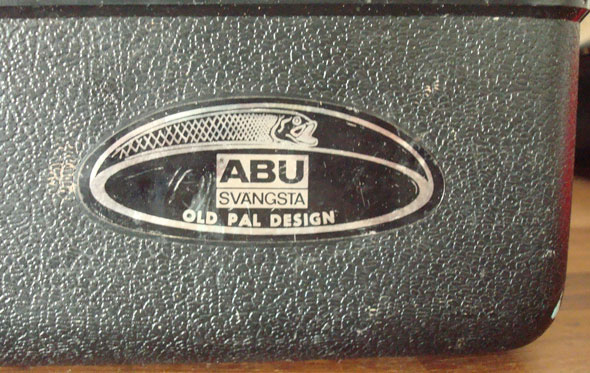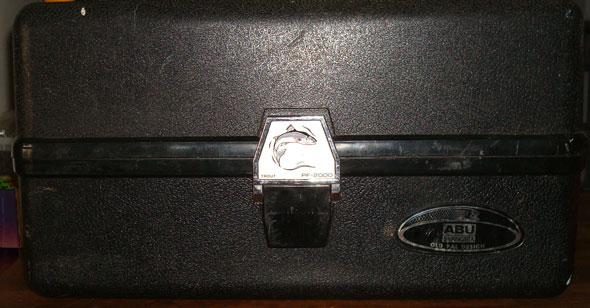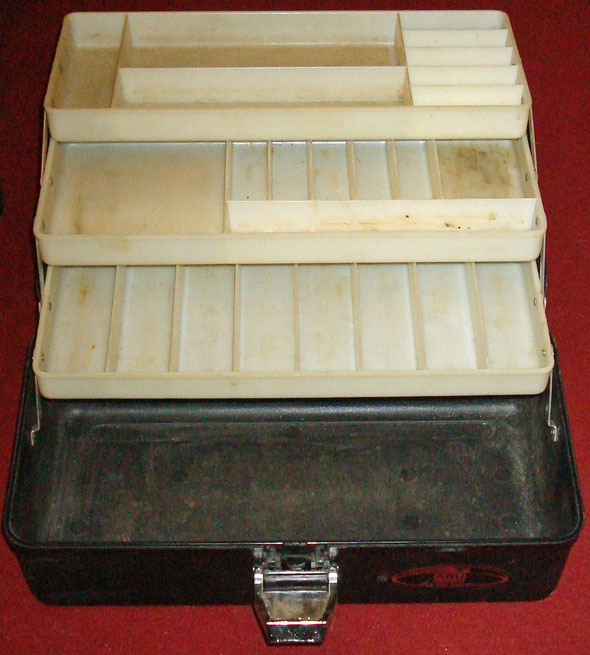 My fully populated with late 60's + lures and beyond, as would be seen in the era.
Complete with Ambassadeur 6000, Cardinal, lines, scales and pliers.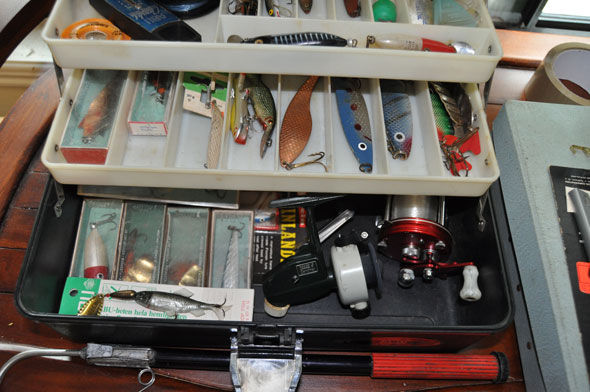 Yet another of these boxes is this mustard coloured box which I suspect is a 1980's two Model 1050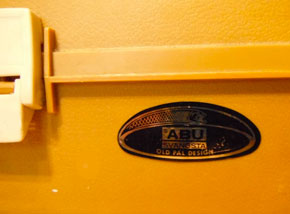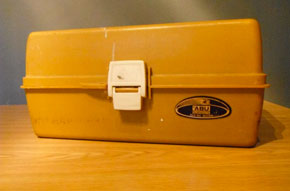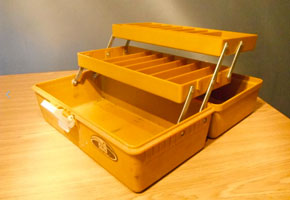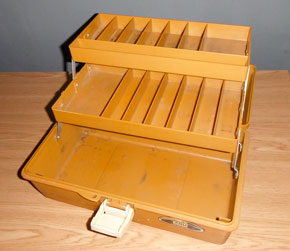 interestingly this black and white image from a Canadian magazine, shows a range of identical tackle-boxes made by Old Pal Woodstream but
NOT made with the ABU Logo
, obviously being sold in a different market.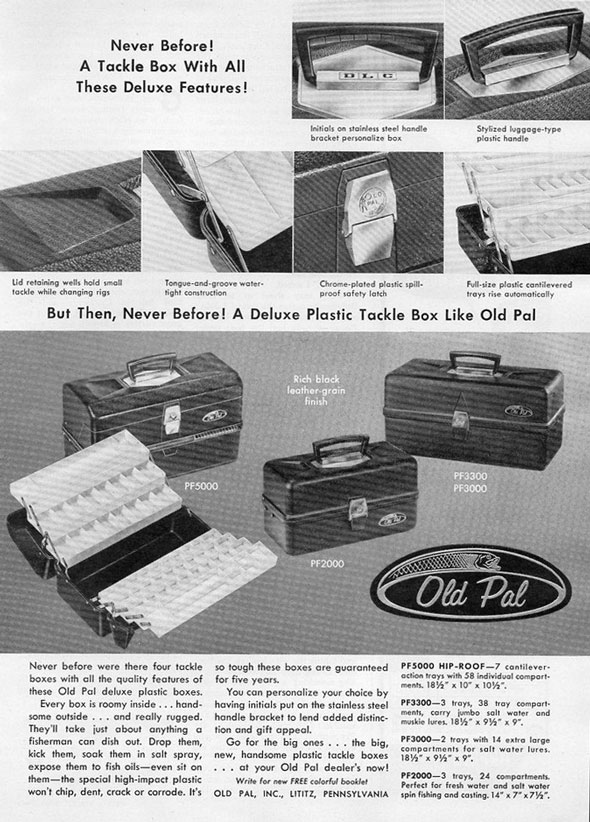 If you should have anymore of similar to these boxes illustrated, I would very much like to acquire one and/or receive images to acknowledge here.
If you have further information to share, please contact me to be acknowledged.