Lures/Baits/Artificials
Collectors
Lures.
A work in progress which all will appreciate I'm sure!
Many thanks to Mike, Derrik, Rob, Henrik, Hans, Steen, Uffe and others in the future
Record ABU Lures by the Decade 40's, 50's, 60's, 70's, 80's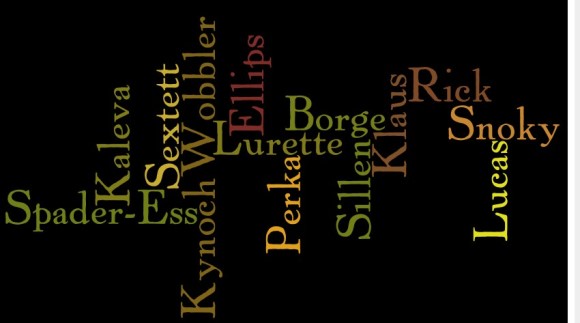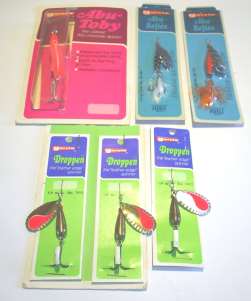 1970's

Uto
Prehistory of this old lure began almost 4 decades earlier courtesy of Paul Berghaus, star symbol with P.B. being shown on this 1937 catalog page.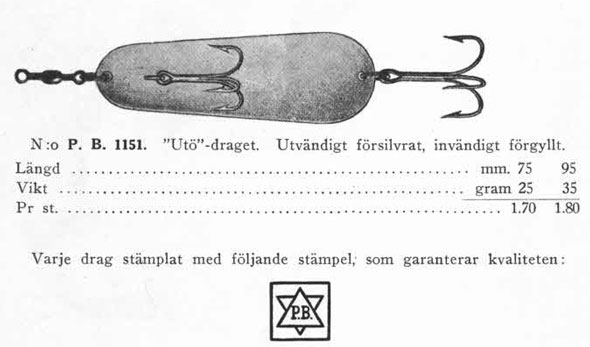 John Fishkat kindly supplied these boxed images of an early Pre-ABU Uto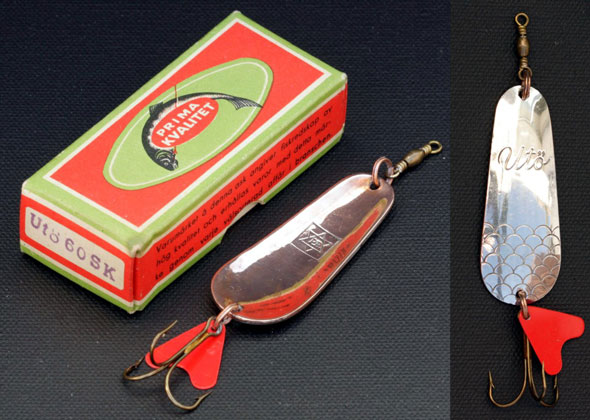 ABU first released this very old and long used lure in their stable of fine lures in 1974
My examples follow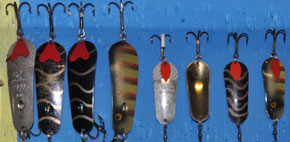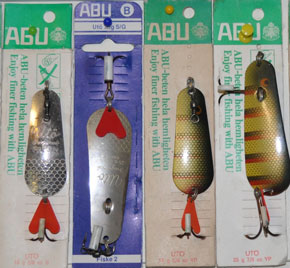 Read Hans van der Pauw's fine treatise here
This is the start of the decline in original offerings from the old classic ABU of the early decades, with a few exceptions. These were notably, the expansion of the sea fishing jig range which started in the previous decade with the Egon. All Swedish lure production ceased very early in next decade (1981), so the decline was in progress.
ABU produced its lures in various colours. This is an example of each plastic type and colour except Silver XRS
Kaleva
I find the history of this particular ABU lure facinating in that it existed since 1925 , which is 49 years before ABU licenced it and brought it into its fine stable of lures.
My all-knowledgeable friend Uffe Edefuhr, has filled in the pre ABU history for us, and I believe this should not go unrecognized.
Hi. I have some info about the Kaleva bait. A lot of the baits that Leidesdorff sold was made by "Dragfabriken Stenbastu" in Stockholm. The Kaleva bait was a new bait 1925. Look at the page from their catalog from 1925. There is also a possibility that this company made this bait to different other sport fishing companies. There is one common Kaleva bait that is stamped CFN and that is also Leidesdorff. There was also another big sport fishing company in Stockholm at this early time called Lundgrens sportfiskeredskap they also sold the Kaleva.
The story that Edward Leidesdorff called the bait Kaleva and took the name on it from his son Karl and daughter Eva is true.
Uffe
More Kaleva spoons from various companies follow..
ABU Kaleva
ABU released Kaleva actually in 1974 and took it from production in 1982. Below we see the standard Silver kaleva in largest size 25g and also the interesting yellow Perch colour.
Notice the engraving has shifted from fron to back over the time period.
The ABU versions were released initially in 7, 12, 18 and 25 g sizes with S, Z, BGL and YP colours ony.
By 1978 , the 7 gram size was omitted. All 4 colours in the other 3 sizes were still continued.
In 1979 , the Silver colour was deleted from production, according to the catalog. I suspect his was an error in publishing as next year in 1980/81 catalog , all 4 colours including Silver are back in print and presumably in production.
In 1981, the last year of production, Kaleva were still being offered 12, 18, 25g in S, Z, BGL and YP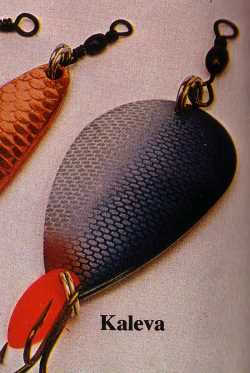 Catalog images above and nice fishing collection in orange ABU box below.
The Snoky
The mullet shaped Snoky was to be a very popular minnow shaped lure which fished and (still fishes) well 4 decades later. Introduced for the first time in 1973, the marque was sourced in USA from Doll Thompson who created many popular lures in the USA. (see more detail below courtesy of my friend John Fishkat)
The lure was made for ABU with 2 styles, floating (with bib) and sinking.
The sinking sizes were in 3 colours BGL, S, K, weight being 3/8 0z (10g) , 1/2 oz (14g) and 1 oz (28g)
The floating sizes were in same colours, weight being 3/16 oz (5g) and 3/8 oz (10g)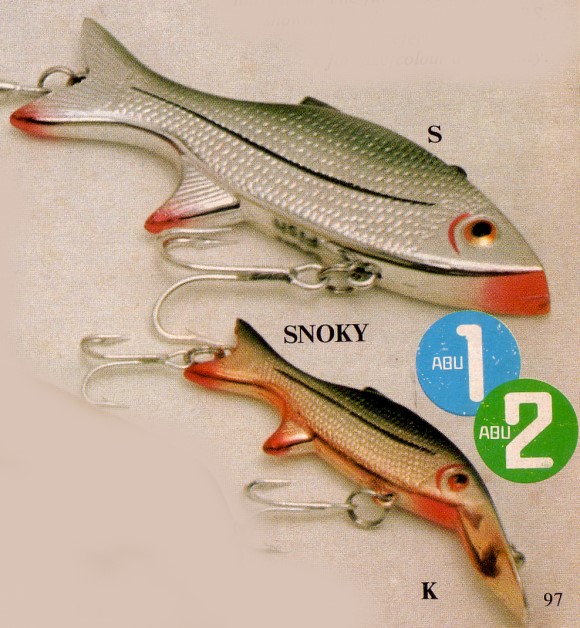 Personal example of lures to follow along with USA made non ABU colours.
Click to enlarge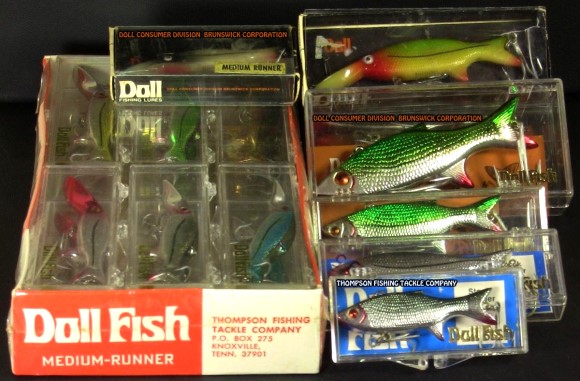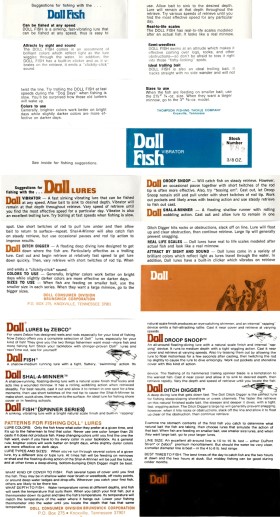 The Kynoch Wobbler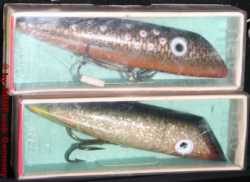 Abu's famous plastic wobbler, introduced in 1973, is another example of Abu acquiring the rights to a previously registered design. In fact the classic design of this bait can be traced back to the hand carved, wooden "cut plug" Salmon baits from America/Canada.
It was introduced in the U.K. by the late Iain Kynoch for Salmon fishing in the river Tay. I believe that it was Iain that obtained the British Registered Design for the bait (No. 888812).
The Abu Kynoch was only sold in one size - 3/7 oz (12 g). The colour range was .....
Gold (G), T (Trout), BO (Brown/Orange), WP (White/Pink), BGL (Bluegill), RH (Redhead) and Lys (Luminous).
Abu ceased selling these lures in 1976.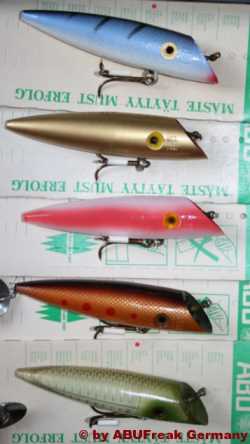 Spader Ess (Ace of Spades)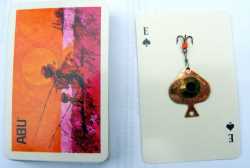 A little ice fishing jig lure that was sold for one year only, 1979. It was 7 g and available in Gold, Silver and Copper colours.

This lure does not appear to have been sold in the Australia probably because there is no ice fishing here due to not having any iced lakes.
Likewise Mike, no ice lakes to fish in here in Australia too, so while advertized in the Tight Lines catalog that came to Australia, the lures were not imported here for sale! if anyone has one or 2 or 3 colours for sale please contact me re adding them to my display..thanks Wayne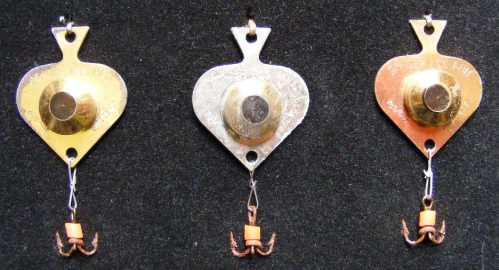 Sillen

The Sillen was a fish shaped jig with prominant eye. Unsure if this shape was any advantage in deep dark water. It was made in Silvery blue colour in 5 sizes, usual 40g, 60g, 100g 200g and the massive 400g !
These lures were symmetrical but with a slight bend to the body to create action on drop or retrieval. Notice the name and weight of lure is on the left hand side of the lure, just above the anal fin.
Sextett

Produced in the in ABU parlance, with "hexagonal shape with irresistible movement through the water" It was available in Silver with red under and green above in the usual 4 jig sizes of 40, 60, 100 and 200 gram sizes.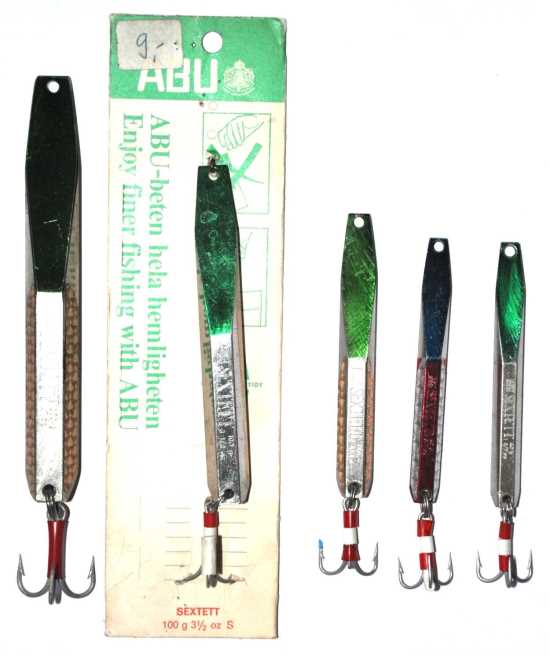 Lucas

Produced initially in 1972, the new Lucas jig was made in 4 sizes, 1 1/2 oz (40g) , 2 1/8 oz (60g), 3 1/2 oz (100g) , 150g and 200g silver. The 150g was added the following year.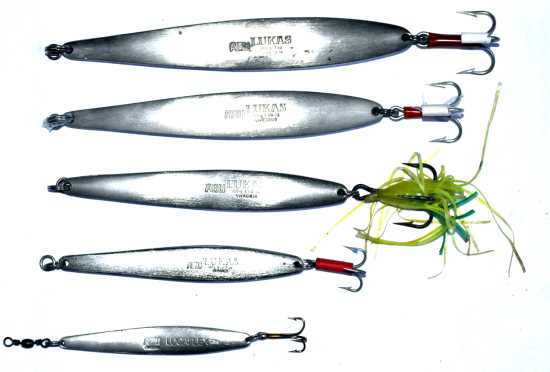 I suspect the hook is not original, and has been replaced on the middle lure ( 100g ) but this is as I received it and it probably caught fish in this configuration.
Lurette
These lures were initially introduced in 1973 as fresh water ice-fishing jigs (below on black velvet background) in small sizes (2g 4g and 7 g), coloured S, K, S/G and S/K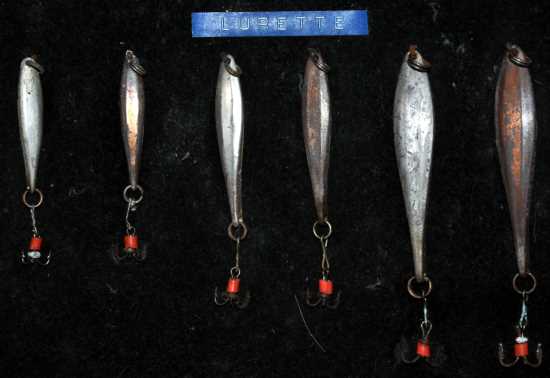 Later it grew in size to be used as salt water deep sea jigs.
In 1974 there were 2 weights of large Silver Lurette, being 100g and 150g
By 1977, the 200g was released and it also had a red flash along one side.

It had disappeared by 1982 when lures were made in the far East.
Klaus designed and produced for the Danish market only

Seeking information please ......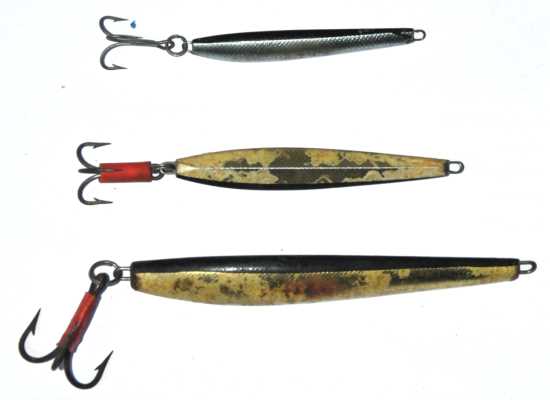 Borge designed and produced for the Danish market only


Seeking information please.....
Rick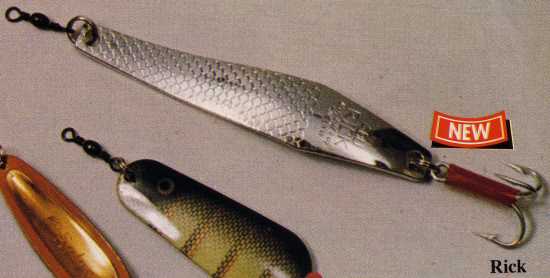 A budget lure introduced in 1977, the Rick to my mind was no where near as effective as the famous and still in production Toby.
It was produced in the colour Silver only in 28g, 40g and 60 g only in the initial production run.
Later it was produced in red and blue/silver stripes as well as green and black/silver stripes, doing little to enhance its fishing catching ability.
I guess somewhere, someone has this as a favourite lure, not it has failed for me personally. I have seen these sold by the card at cheaper prices than the Toby of course.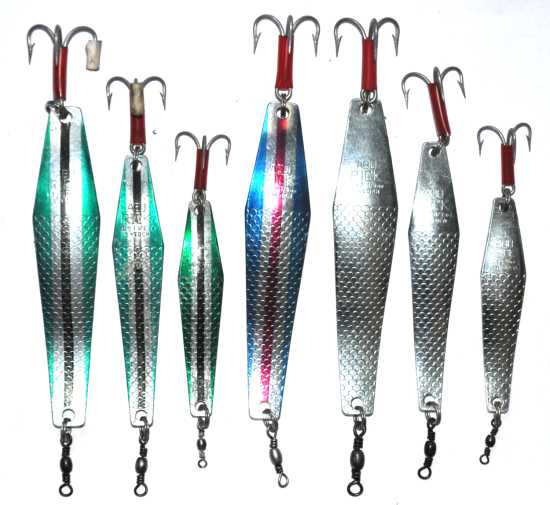 I have not seen this Rick lure in catalogs in subsequent years, so I guess everyone thought this was a failure.
For me the highlight, is owning a prototype created by Ove S at Svangsta. It was a clumsy looking lure made in 40g length but actually weighing 64 g because it was punched out of metal more than 3mm thick. It would hardly flutter on retrieve I should think..more of a jig up and down
3 Views of 65g prototype below


Notice how it was pressed out of very thick metal, causing lack of fluttering action on drop and straight line retrieval on lift, in my opinion.
Later production versions were of thinner metal, still not a lot of improvement.

Perka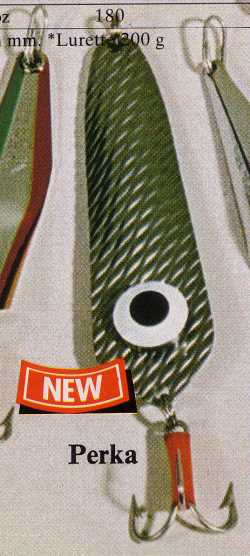 The Perka was created in 3 stainless steel sizes, 40g, 60g and 100g and was a real fish killer for me, jigging in warm tropical reef waters, taking all sort of Pelagic fish.
I won a Record Fisken Silver Award for a 11.7 kg Bludger Trevally in 1980, however my Swedish mate uffe recons they are no good for him. I thought big European cod would love them. they sink quickly, flutter well and are very reflective of light.
I still love having a few in the boat (of heavier 60, 100g size) to jig with, as well as my display versions.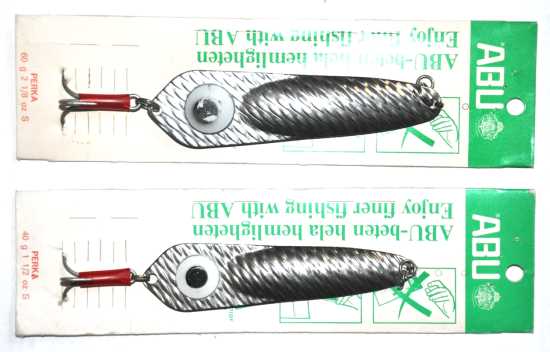 Ellips
The Ellips was made in two lengths 80mm and 110mm and sold for three years only 1978 - 1980.
However it was made in three weights 12g, 18g and 28g.
Initially (1978) the 18g was made in the same length as the 28g (110mm) but used a thinner gauge material.
In 1979 the 18g lure was changed to the same length as the 12g (80mm) but with a thicker gauge material.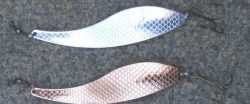 The Elipps came only in four basic colours - G, S, K & Z.
So we have 16 possible variations of lures sold.
I am missing only 6 , viz 110mm , 18g G and K as well as 80mm 18g S G K and the 12g S
An unusual form of packaging here for different size Elipps, that both Mike (who kindly supplied image) and I have never seen before.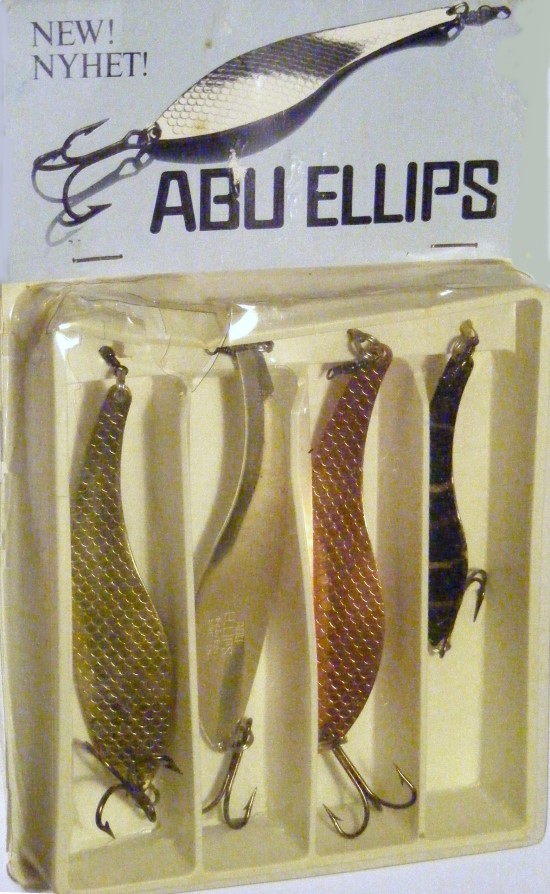 The reason we have not seen them before is explained (in Swedish) on the image below.
On the back, it was explained they were sample packs prepared in 1977 for the 1978 season.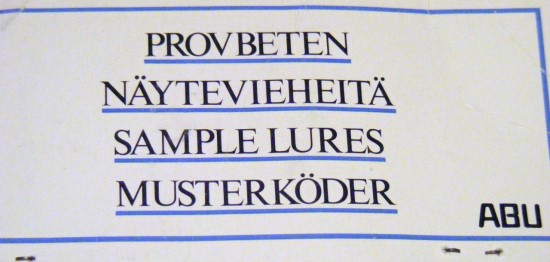 I am attempting here to create (with the help of others), the greatest collection of images and information about Record ABU lures ever collected together and freely available for all to learn from. Obviously image copyright for alternative publishing purposes always remains with the owners.
Please feel your input, help , criticism is very welcome and I look forward to expanding with network of Record ABU lure collectors and appreciators.
Contact me here to assist.
If you have any other lures, that are un-needed or doubles in your collection and are available for swapping or a reasonable fee, I would be very pleased to hear from you.