ABU /Record Rods
(Types and Models)
Unofficial Intermittant ABU Catalogs (date uncertain)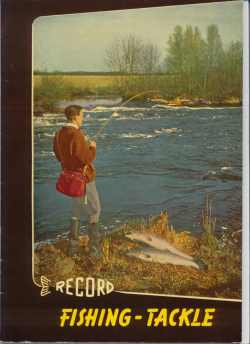 Official Yearly ABU Catalogs
I have been fortunate enough to acquire many early copies of ABU Swedish language Napp och Nytt and English language Tight Lines Catalogs from which I gleaned lots of information for the avid student of ABU. I intend starting at the earliest and working forward as time permits. Please note the first will be in Swedish only as this is the only source of information from the 1948 to 1955 until 1956 when the English Tight Lines were published.
From these, I have reproduced the selection of rods available in their particular Catalog year , initially for Napp och Nytt and for 1956 and after, the use of English Tight Lines.
Click here (coming soon) for a detailed discussion/research findings on the Record/ABU transition from Stalspo (steel rods) to fibreglass, both solid glass (massiva) and Hollow tubular glass (Rorformiga) rods . The findings will show in-house development of steel rods, import of split-cane rods, and the importing of fibreglass rod blanks to be finished in house at Svangsta to the later fully independent creation of the Zoom series of rods from 1970 in Sweden. Also discovered is ABU's purchase from Fenwick, the Ferulite glass to glass ferrule rods and later move to the use of carbon-fibre.
Repetition will unfortunately occur as New Rods images are included with images of old favourites on catalog pages. It will give the reader an idea how long each were produced for.
ABU produced dozens of named rods and variations over the 7 decades to date.
After the numerically coded Record Steel rods ie Stalspo 2, Stalspo 45 etc came the rare Norwegian Horgard split cane rods.
Horgard split cane never became a long term or household name in the ABU catalogs but it certainly carved a place in history due to its high quality and consequence expense.
The numerically coded Record Steel rods continued in parallel to the new fibre glass rods, and we saw the replacement of the Record name after a number of years.
Many named rods in future would be re-released in an ever widening range of lengths complete with numerical suffix.
The ever familiar ABU Lapplandia, Suecia, Scandia and the rare Gothia models were first introduced.
ABU Sport , Tournament, Atlantic models were introduced.
Next to appear were the Adjusto, Combino , All Round , Brilliant, Excellent, Salmo, Match
The long lasting Safari was introduced in 1960, followed with the Caster and Royal in 1961
N&N 1948/49 were identical catalogs
Up until 1950 all Record rods were made of steel


1950 N&N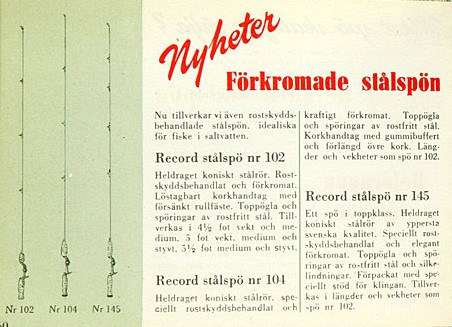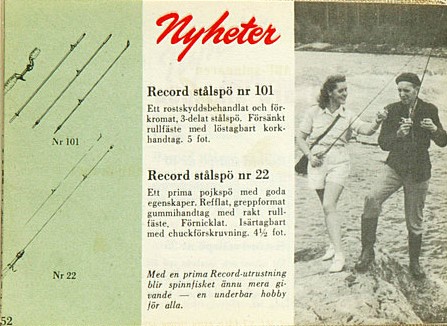 N&N 1951
In 1951 Horgard of Norway was the chosen manufacturer of fine (some would say as good as the English House of Hardy) split cane rods.
They were predominantly fly fishing rods but a few baitcaster/spinning rods were offered also.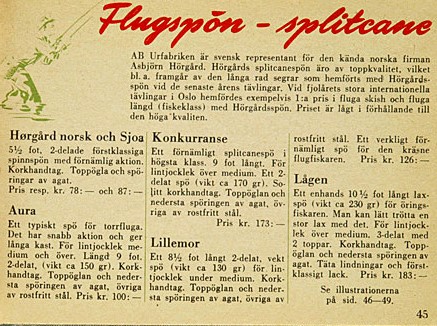 N&N 1952
Notice the first fibreglass rods areLapplandia Fly, Suecia, Gothia and Scandia which were all premium hollow glass (Rorformiga: made from resin impregnated woven cloth wound around a steel mandrel, covered in cellophane and baked ) NOT the cheaper solid glass or Massiva style of binding half a million glass fibres together with resin.
Steel rods were still offered along the new Fibreglass models. No solid glass rods were released tot he market this year.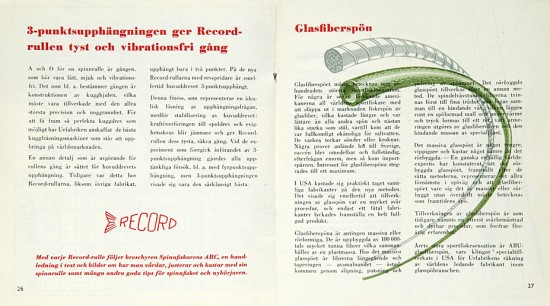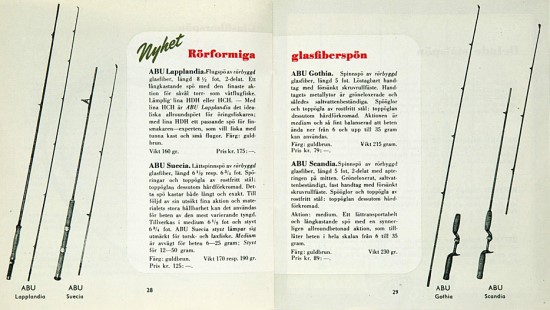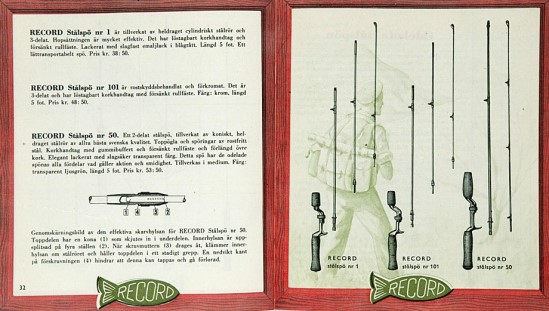 N&N 1953
This year 4 advertized Massiva or Solid Glass-fibre or Fibreglass (as known in Australia) as well as 6 Rorformiga or Hollow Tubular glass rods continued their ingress into rod manufacturing and eventually would shift the remaining 8 Stalspo or Steel rods from the ABU product line.
N&N 1954
This catalog is a bit confusing and mixed in sequence.
Fibreglass rods generally are strongly promoted.
This page tells of hollow tubulary glass rods via a schematic diagram.
First in the catalog 8 different solid glass rods are now on offer.
Next we see 6 hollow glass rods on offer.
After a few more pages we see a plethora of New /Nyhet hollow glass rods advertized.
Following on, we still see 7 older Steel rods still be offered. I guess inventory still had to be cleared.
N&N 1955
7 solid glass rods are first offered
Next 13 hollow glass tubular rods including spinning, surf-casting Atlantics and baitcasting rods are advertized.
Still showing the 6 Stalspo or Steel rods for sale.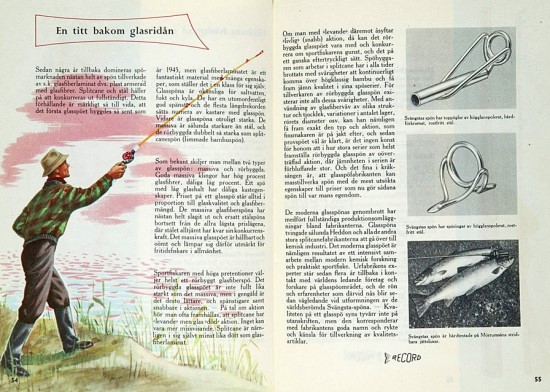 From 1956 on .....
I have available scans of the English language Tight Lines Catalogs
Please note NEW additions to the product range. Also note the popularity of the continuing range BUT all steel rods are now not catalogued any more.
It seems there is developing a tendency to give rods specific names, often within classes viz Laplandia, Atlantic etc rather than just give the model a number only.

A host of new Record rods were offered this year viz Record 48, 49, 52, 53, 57, 75 , 250 and 270 along with the ABU Brilliant, ABU Suecia 320 and 330, ABU Adjusto, ABU Combino and the very long running ABU Atlantic 420, 430 and 450 models. The ABU All Round Sliding Reel Seat model was popular for fishers who wanted to use baitcasting reels , spinning reels and fly reels from the same rod.
Tight Lines 1957
also
ABU Corona first appears, along with Record 230 and 250 and finally the ABU Sueca 325 and 300
++++++++++
There was no Tight Lines Catalog issued in 1958
++++++++++
Tight Lines 1959
The importance of matched/balanced tacked was highlighted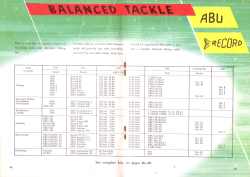 Both Record Solid and ABU Tubular glass rods continued to be offered
Tight Lines 1960
The ABU Safari was a new 3 piece solid glass release.
The Lapplandia 530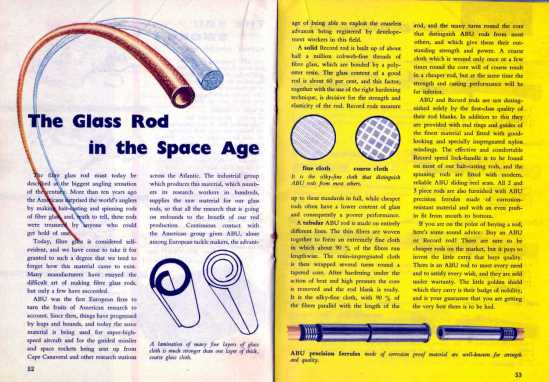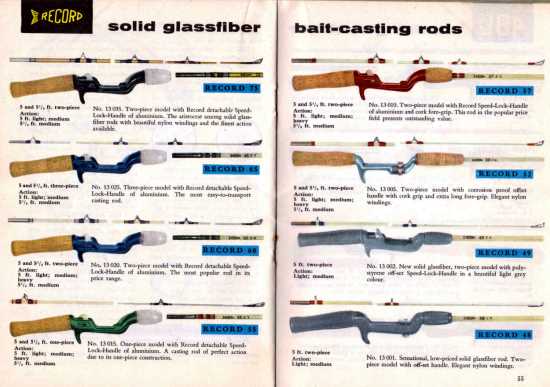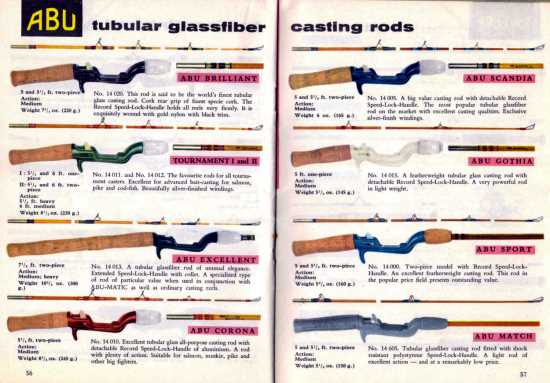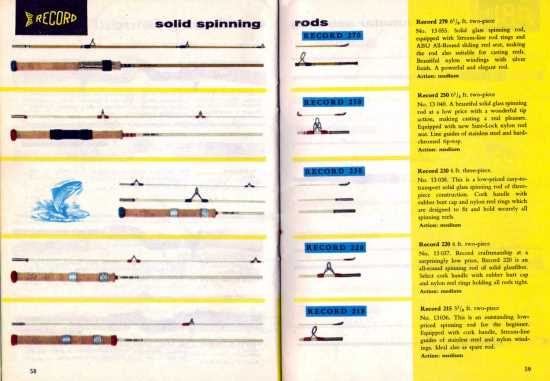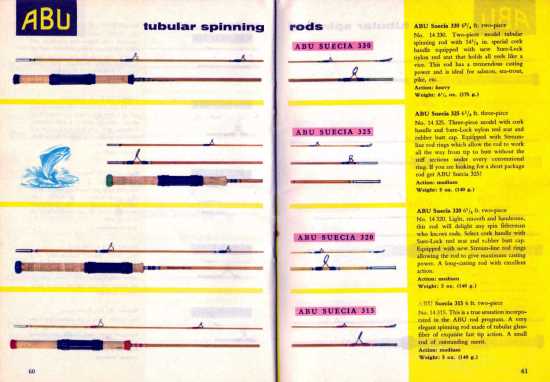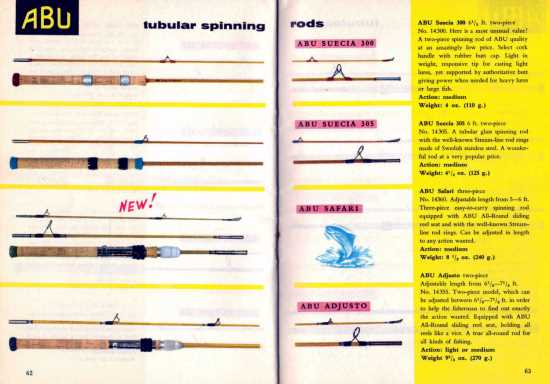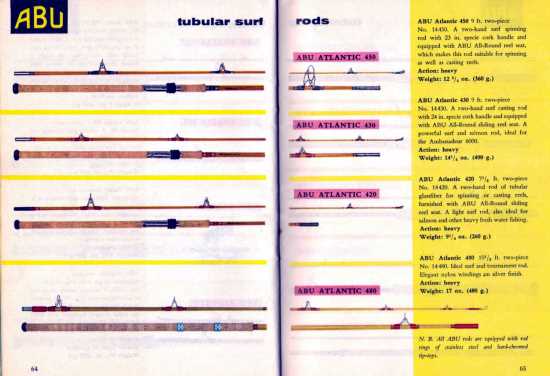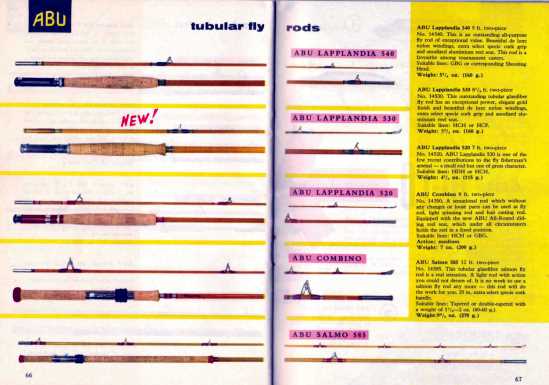 Tight Lines 1961
The ABU Caster. a hollow glass Zoom action, followed by the ABU Royal and the ABU Strong.
A plethora of solid glass Record rods were also released viz Record 155, 158, 160, 165, 175, 157 and 152
Next was the ABU Suecia 340 and Record 251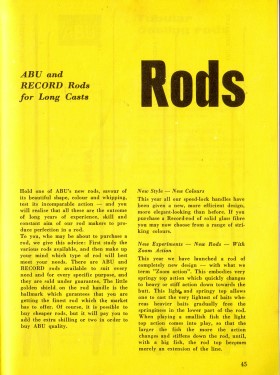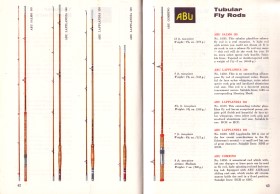 Tight Lines 1962
The Record 290 and Surf -Casting Atlantic 410, 425, 460 and Lapplandia 525 fly rod were the only new models introduced this year.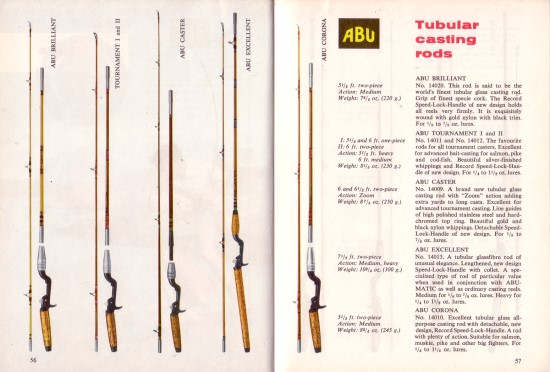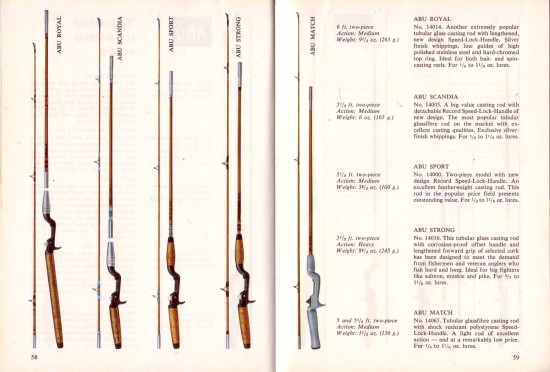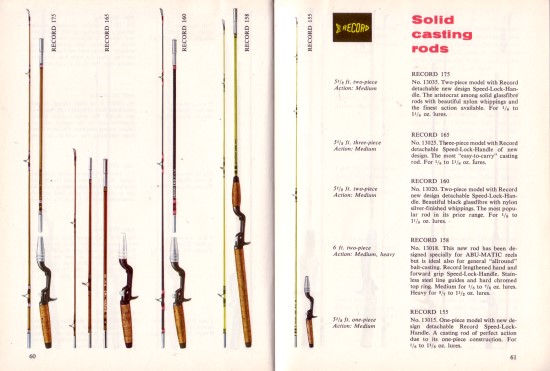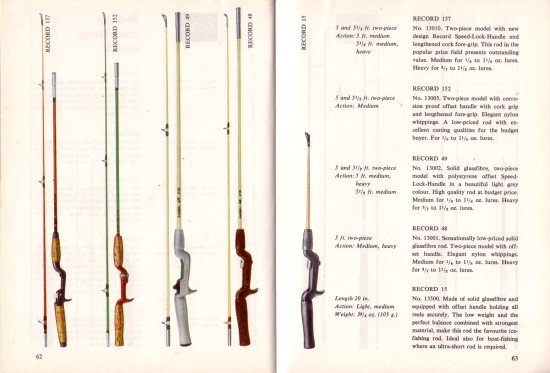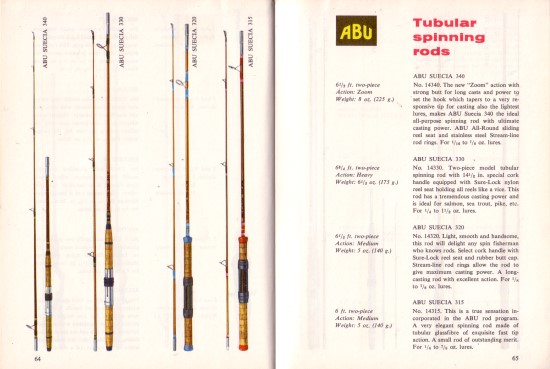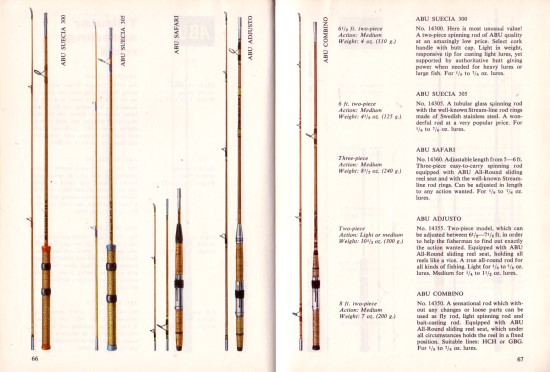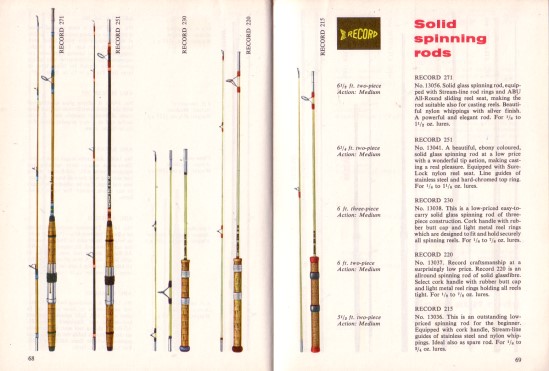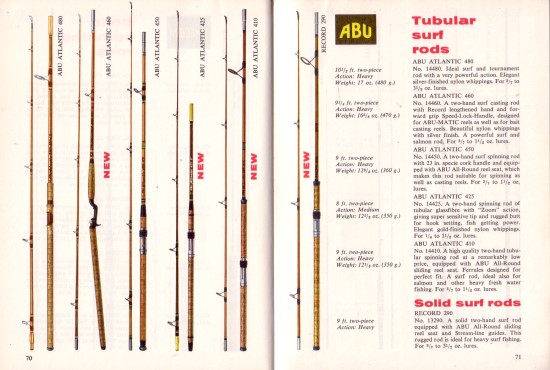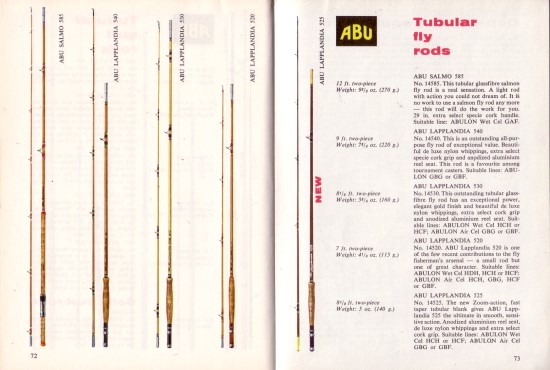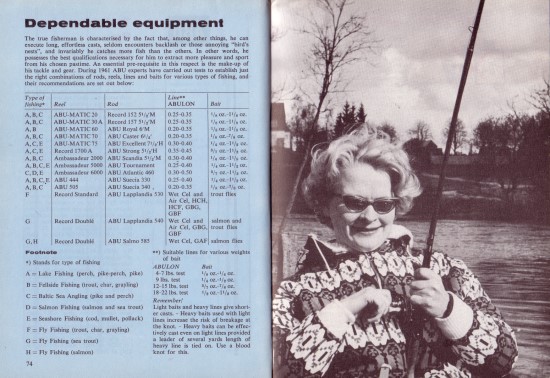 ++++++++++
I suspect there was no Tight Lines Catalog issued in 1963
++++++++++
Tight Lines 1964
My favourite 60's catalog has to be this one with double sided matching 3 page pullout displaying the Diplomat Zoom series of rods which to date are still the most luxurious of rods ABU ever made. Consequently they matched the Golden Ambassaeur 5000 Delux
All the energies seem to have gone in producing the above gems, as no other new rods are indicated in the 1964 lineup.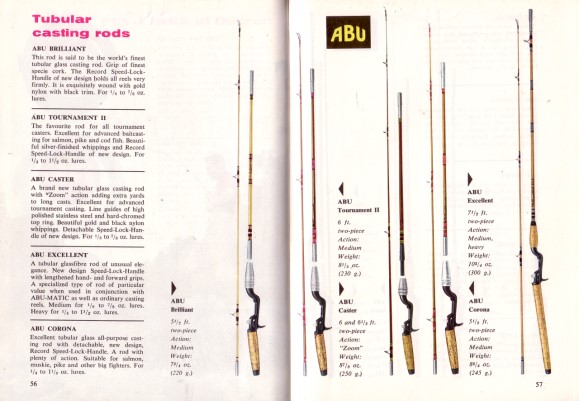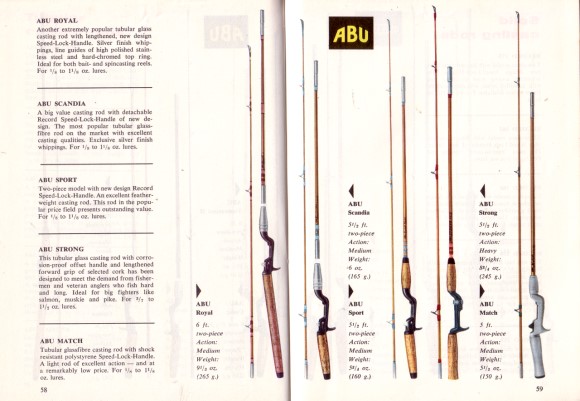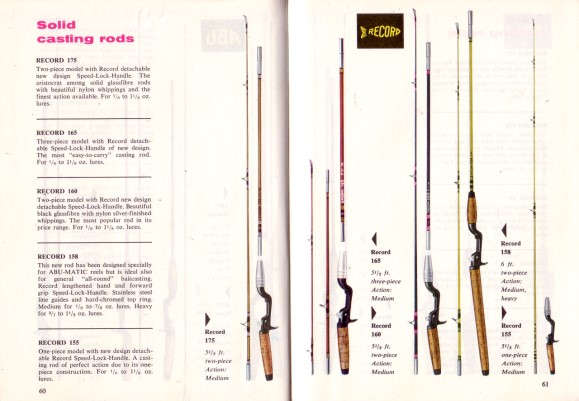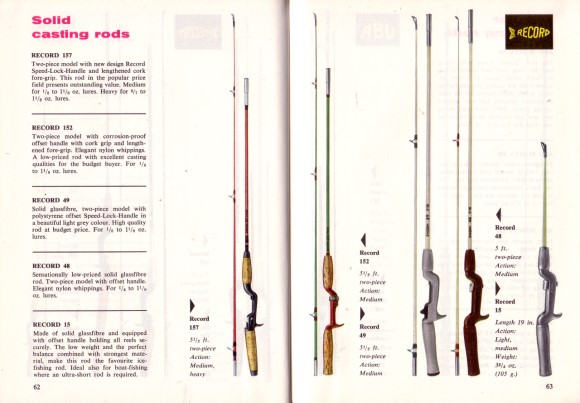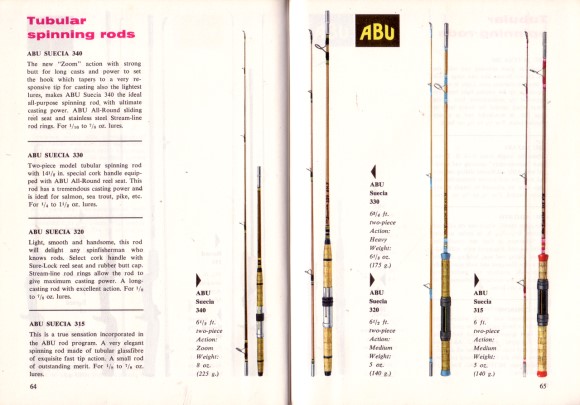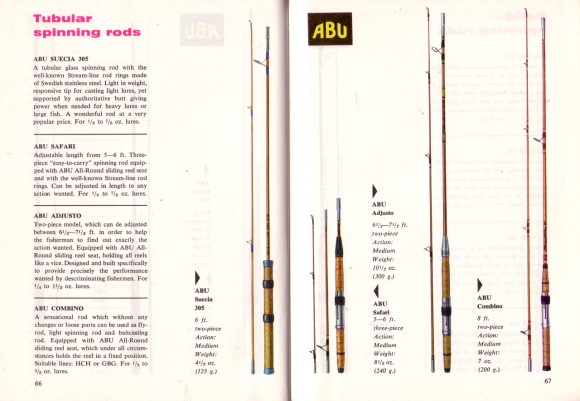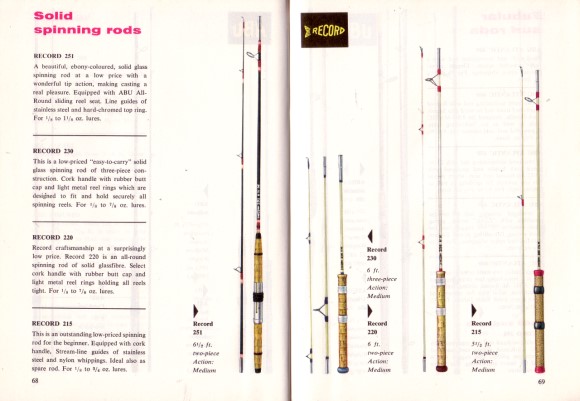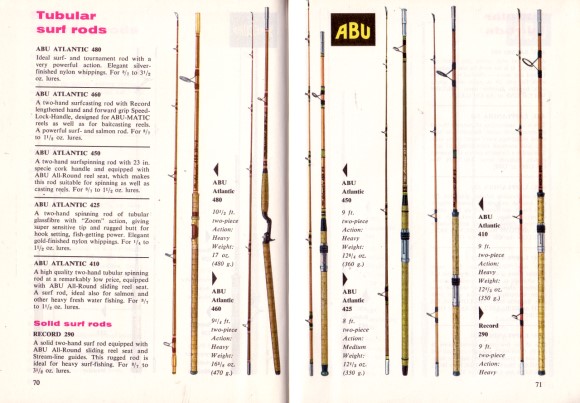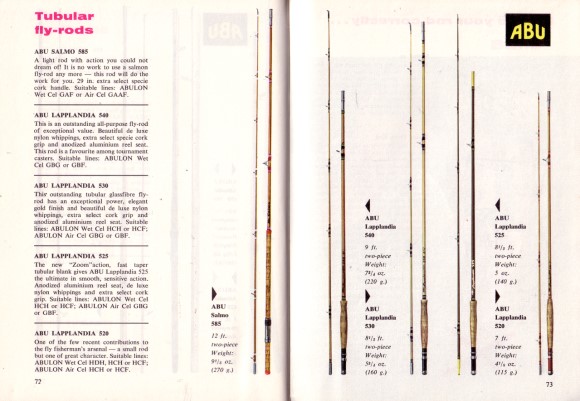 Tight Lines 1965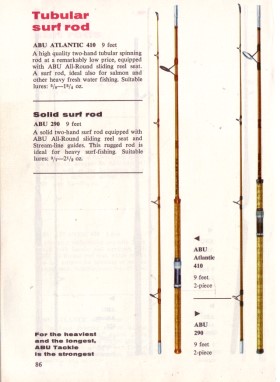 Tight Line 1966
Also Napp och Nytt Rods from 1966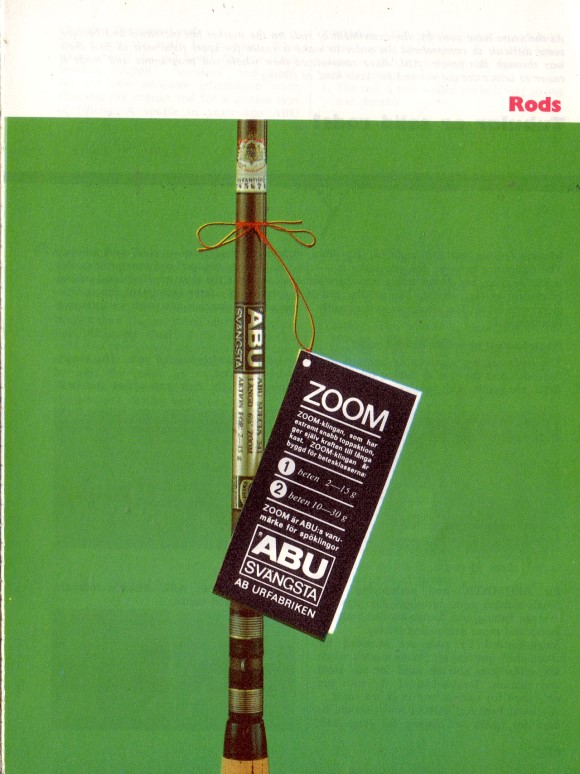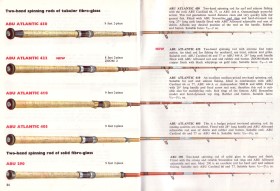 4 new rods only this year, the Atlantic 474 and 453 Zoom 4 and 3 respectively.
Also the ABU Strong boat rod and the ABU Mark 5 zoom match rod for coarse fishing.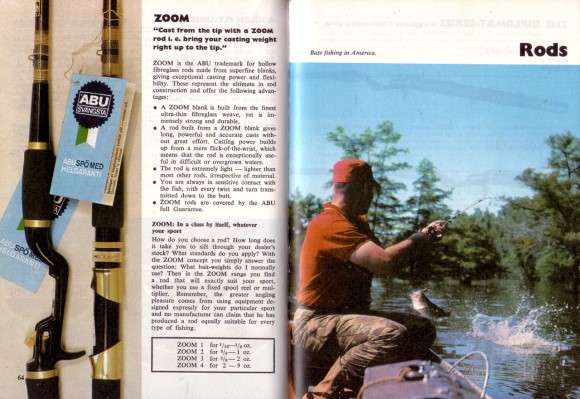 Tight Lines 1968
The ABU Atlantic 433 is released along with the two handed fly rods ABU Salmo 5810 and 5812.
A plethora of inexpensive solid glass rods in the form of ABU 81 and 82, ABU 71 and 72, ABU 61 and 62 and ABU 40 are provided for the beginners to baitcast fishing.
Inexpensive spinning rods in the shape of ABU 281 and 282, ABU 271 and 272, as well as ABU 240 are released also for beginners to spinning.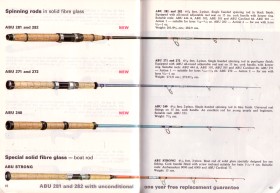 Tight Lines 1969
The beautiful baitcaster ABU Caster Duett Zoom 1 and 2 is new this year, along with its cousin the spinning ABU Suecia Duett Zoom 1 and 2
The ABU Fladen is new this year for sea anglers.
The standout release for the year has to be the new ABU Feralite series of fly rods. These revolutionary glass to glass jointed rods come in the form of the self explained line weight 856, 878, 889 and 8910
&nbs
Tight Lines 1971


Tight Lines 1972

Feralite glass to glass jointed rods were first introduced to ABU's fine stable of rods, courtesy of Fenwick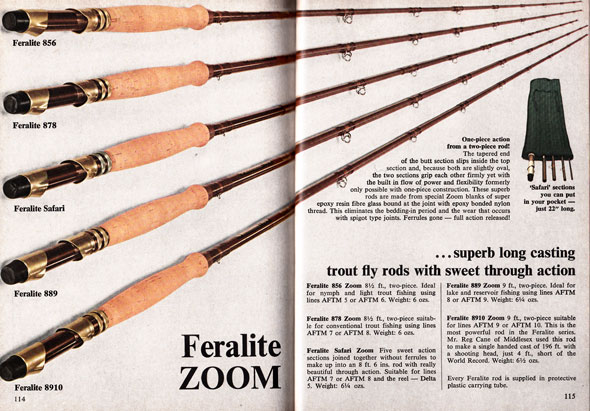 .
Tight Lines 1973

Its all Zoom , zoom, zoom
Look at the features of what is to become one of ABU's biggest trademark symbols

Tight Lines 1974
The lead-in page for a myriad of Zoom offerings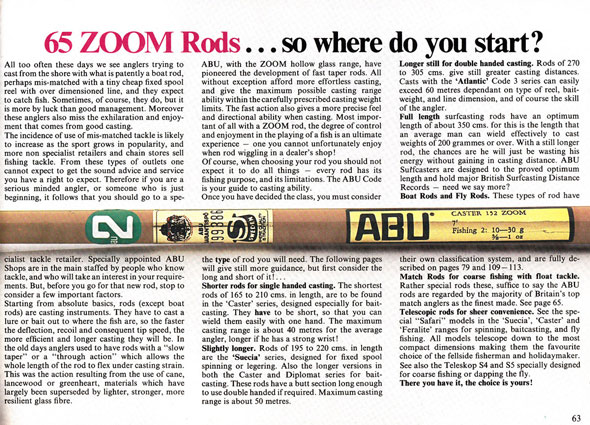 Tight Lines 1975
With all the razamataz of new technological advances, ABU still realized their was a market for their otherwise good and now cheap solid rods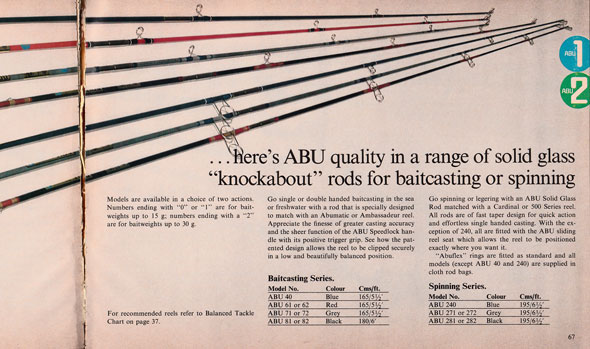 Tight Lines 1976

ABU offered all levels of technology for the fly fishing fan, purist/expert to beginner.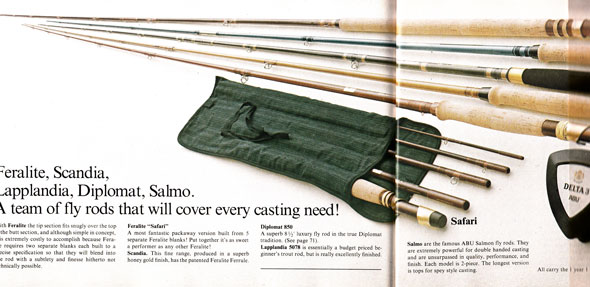 Tight Lines 1977
ABU now releases the ultimate in modern fly fishing (post split cane) rods in the form of the first new Carbon Fibre Carbolite.

Carbolites become a family of 4, offerings include fly, spinning and surf-fishing and baitcasting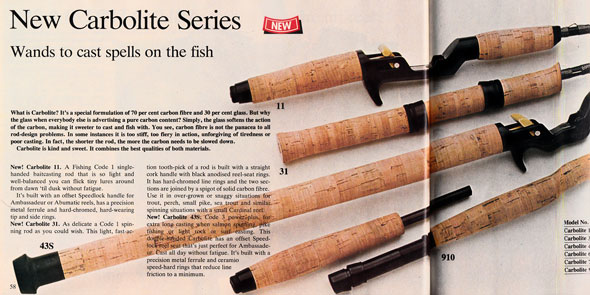 Tight Lines 1979

Yet another addition to the fine stable of rods, now including a gentle action called Parazoom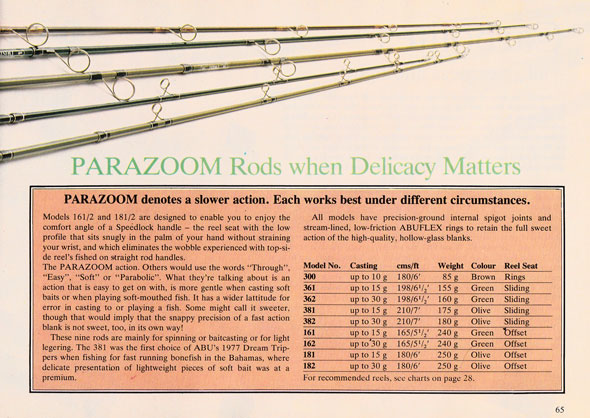 Tight Lines 1980
Targeting the coarse fishing market segment, a fine range of Leger rods are offered.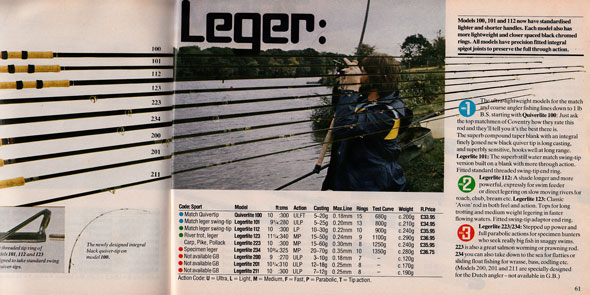 Tight Lines 1980/81
Now bringing the Carbolite to the ultimate form in the Diplomat series, called the Royal Carbolite Diplomat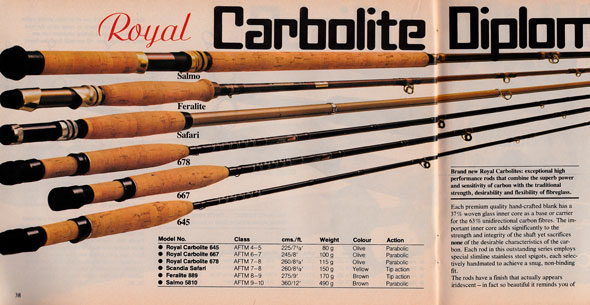 Tight Lines 1981

The name of the original rod making firm, Conolon has been bestowed to acknowledge some three decades of fibreglass rod making
More to follow as material and scanning time becomes available...
If you have any others listed above or this Pacific, that are unneeded or doubles in your collection and are available for a reasonable fee, I would be very pleased to hear from you. I cannot afford to collect Mint, or unused rods that command high prices at present.
If you are a person that has significantly had an effect on design/development/testing of ABU equipment over the years please contact me an>

wayne@realsreels.com

if you wish your contribution documented for posterity and the immediate interest of the ABU fans worldwide!