The Gospels of St Gote, St Len
....according to, and continually being updated as perceived by Ambassadeur Wayne and Language student Christian.
My good friend Christian who presently hails from Germany, but is of Swedish descent, is a student of languages and has kindly translated the Swedish to English for the majority of us avid ABU fans who cannot read Swedish. We are all indebted to his good work here. This is a time consuming "work in progress".

I have also recently completed collecting ALL the N&N catalogs. The missing English Tight Lines scans have been shared by Mike Elsworth , the Welsh Sleuth! I still need TL 1960

In each ABU catalogue, the first page was given over to careful observations by a member of the Borgstrom family. Almost as if he has consulted the oracle at Delphi, some would prove quite prophetic in coming years. There are gems here that we can learn from. Enjoy Gote and Len's words of advice.

Good Tackle, Twice the Pleasure
Effective and modern tackle, everybody surely is agreeing upon that nowadays, is producing better fishing results.
With a good rod and a well-balanced reel one is achieving those extra meters, which a good many times can add up to the best fish of the year.
The precision is getting better, and one is managing to make more casts during the all-too limited hours, which are at the sportfisherman's disposal.
But that is not the all of it.
A true fisherman is not just striving for a good catch and exciting experiences with the stubborn and persistent robber-knights of the water.
He is enjoying possessing good tackle as well as keeping it in excellent condition.
For a fisherman only the best is good enough.
Napp och Nytt 1948, 1949

( both years are identical, except for noting publishing date )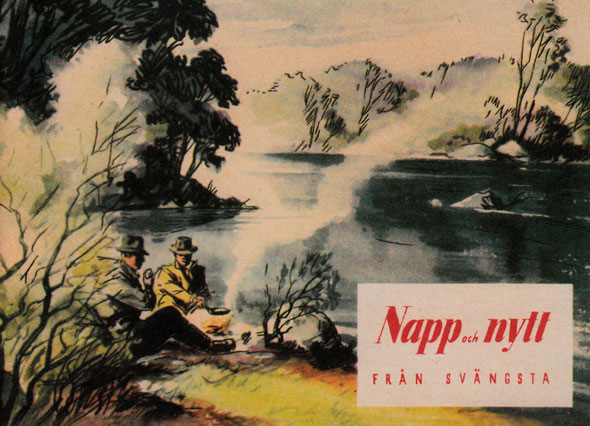 A glad salmon is shown in the adjoining picture. He considered himself to be home and dry when he got dragged onto land with a Record rod with a Record reel and a Record lure from Svängsta. Because he was a Mörrums salmon and a local patriot. There´s the rumour abroad, however, that fish gladly allow themselves to be caught with our tackle even in other parts of the country. We thank for the trust and show here the very latest and most tempting for both fishermen and fish.
A.B. Urfabriken - Svängsta
(
Göte Borgström
N&N 1950
Cover and Gospel page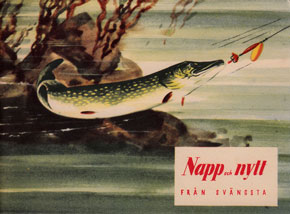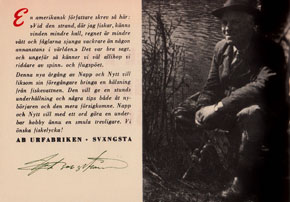 Göte is sitting at the shore with a rod, a hat and a smile.

At the shore, where I am fishing, the wind feels less cold, the rain is not as wet and the birds

sing more beautiful than anywhere else in the world.

And probably all of us are feeling approximately that way, we knights of the spin- and flyfishingrods.

This new volume of Tight Lines is set to bring a greeting from the fishing waterbodies.




It wants to give a period of entertainment and some tips, both for the beginner, as well as for

the more advanced one.

Tight Lines wants, in a word to make a wonderful hobby even a bit more pleasant.

We wish all tight lines!

AB URFABRIKEN

SVÄNGSTA

Göte Borgström

N&N 1951

Cover and Gospel page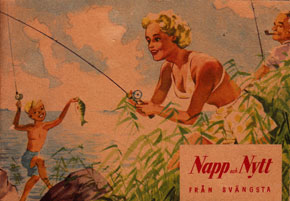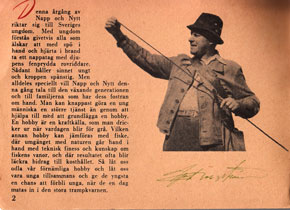 This 1951 annual edition of Napp och Nytt is addressing itself to Sweden´s youth.

With youth of course all are perceived who, with a rod in the hand and a burning heart , love to fight with the fin decorated robber-knights of the deep

By such means the mind is kept young as well as the body vigorous.

But this time Napp och Nytt especially wants to speak to the rising generation and to the families handling their upbringing.

One can hardly do a young human being a better favour than by helping with laying the foundation for a new hobby.

A hobby is a source of energy which you drink from, when everyday life is getting too grey.

Which other hobby can be compared to fishing, where relating with nature goes hand in hand with technical refinement and knowledge about the fishs habits, and where the results often become delicious contributions to boarding.

Thus let us cultivate our excellent hobby and let us be young together and give the youngest ones a chance to remain young, when some day they will be fed into the big treadmill.
Göte Borgström
1951
N&N 1952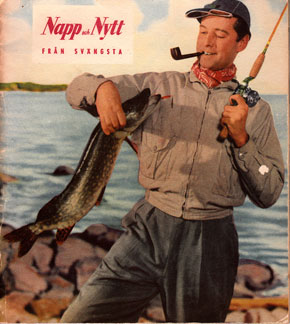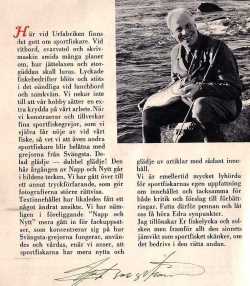 Here at the "Urfabriken" there are plenty of sportfishermen.
At the drawing table, the wood turning lathe and the typewriter where many plans are forged, about how the giant salmon and the big northern pike shall be outsmarted.
Successful fishing feats are soaked and congratulated upon in all eternity at the lunch table and social gatherings.
We are not denying, that our hobby is putting extra spice upon our work.
When we are designing and manufacturing fine fishing tackle, which we ourselves get pleasure of during our fishing so do we know, that all other sportfishermen will be pleased by the tackle from Svängsta.
Joy shared - joy doubled!
This year's edition of Tight Lines, we have switched to another printing process, which is doing the pictures more justice.
As a matter of fact, in the present "Tight Lines" we have settled more upon technical articles, which are concentrating upon how Svängsta-tackle is working, is being used and serviced, as we believe that the sportfishermen have more benefit and pleasure from articles with such a
content.
We are, however, very keen-eared about the sportfishermens own perception of the content and grateful for both critique and suggestions for improvements.
Therefore pick up the pencil and please let us hear your points of view.
I wish you tight Lines and sunshine but first and foremost the balance of mind that sportfishing, if practised in true spirit, endows us with.
Göte Borgström
1952
N&N 1953 (My Birth Year)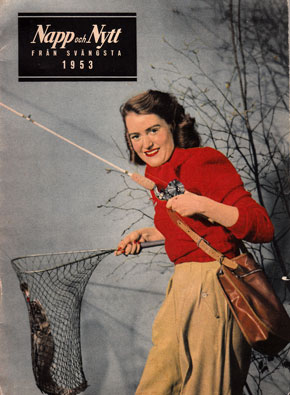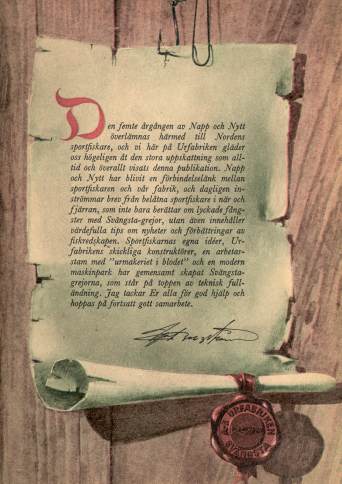 "

The fifth issue of N&N is hereby granted to the Nordic sportfishermen, and we at Urfabriken are extremely pleased that, no matter where it goes, this publication is always recieved with great enthusiasm.
N&N has turned into a (vital) link between the angler and our factory, and we receive letters every day from sportfishermen from all over the world, telling not only about their great catches on Svängsta tackle, but also about very helpful tips on fishing tackle news and improvements hereof.
The sportfishermen's own ideas together with Urfabriken's delightful constructions plus a workforce with "the clock-work in their blood" using modern type machinery, have in common created the Svängsta tackle, which are in the lead of technical precision.
I thank you all for Your help, hoping that this great co-operation will continue ."
Gote Borgstom

N&N 1954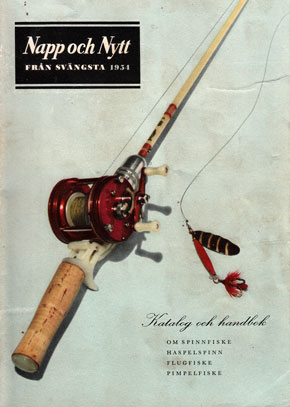 The sixth edition of Napp och Nytt is hereby delivered to the sport fishermen of the Nordic countries. The interest in sport fishing as well as the number of fishermen is steadily growing at an undiminished rate. Napp och Nytt is also growing. Last year we sent out 150.000 ex with 48 pages; this year it has expanded to 65 pages. It is however not only the interest in fishing , the number of fishermen and Napp och Nytt that has grown. Urfabriken has during 1953 been expanded to its double size. It is therefore our hope that we in the future shall be able to supply the fishermen with tackle faster and better than before. We note with pleasure and pride that the Svangsta tackle is appreciated and asked for all over the world and we thank you all for the great confidence shown in us and our products.

Gote Borgstrom hanks to Len Borgstrom for
his continuing interest in helping with
this translation here.



N&N 1955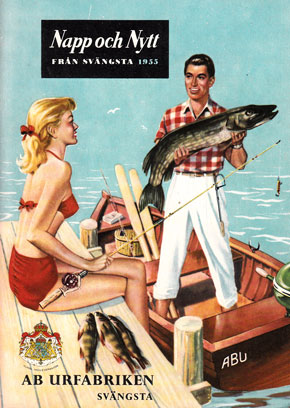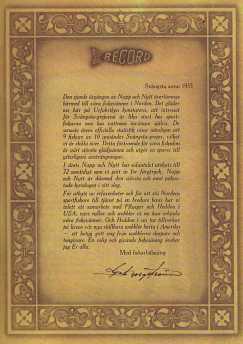 The seventh annual edition of Tight Lines is hereby delivered to our fishing friends in the North.

It pleases us here at the "Urfabriken" that the interest in Svängsta-tackle is as big among the fishermen as among the inhabitants of the waterbodies themselves.

The latest years official statistics show in fact, that 9 out of 10 fishermen use Svängsta-tackle, which we are proud about.

This confidence in our fishing tackle is our biggest matter of delight and constitutes a spur for further efforts.

In this years Tight Lines the number of pages has been increased to 72 and simultaneously we have begun with colour print.

Thus Tight Lines is the biggest and most expensive catalogue of its kind.

To exchange experiences and to serve the sport fishermen of the North on a broader base, we have opened a cooperation with Pflueger and Heddon in the USA, whose reels and wobblers we now can offer to our fishing friends .

And Heddon in turn is manufacturing our new adjustable wobbler under licence over there in America - a testimonial good enough from the creator and leading manufacturer of the wobbler.

I am wishing all of You an enjoyable and rewarding fishing season.

With fisherman´s greetings

Göte Borgström"
1956 (First Catalog in English language , click on page to read gospel)
N&N 1957

***********************
1958 (not printed)
***********************

1959

1962 No title

I

n the past almost always all the odds were to the advantage of the fish in the game of sportfishing. The development at the tackle-front during the previous years has however advanced in a single wild rush and the sport fishing gear of our time has changed the odds in the fight with hard-battling dreamfish. It has also opened a new world of fishing happiness and healthy relaxation for millions of people.

With fisherman´s greetings

Göte Borgström 1963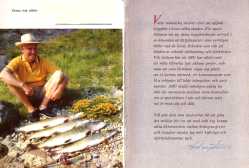 For the sportfisherman this desire for safety finds its expression in a craving to get fishing tackle, that are really keeping their promises, fishing gear which are at the peak of technical perfection and effectiveness.
Our ambition here at ABU has always been to produce exactly such gear, and without being presumptuous I dare to state, that we have succeeded with that; a statement which, among other things, requests for both humility and gratefulness.
That is to say, ABU would never have reached its current position within this branch of trade, if sportfishermen from near and far would not have backed us up with words and deeds.
To all those, who have contributed in making it possible for us, to, with full justification, put an equality sign between Svängsta-tackle and security, I express my hearty and unconditional gratitude,
Göte Borgström
1964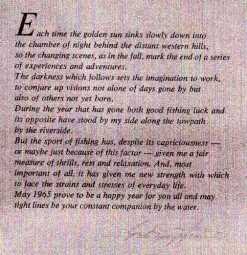 1965
1966 No title


1967 Aviemore: ABU Holiday Angling School in Scotland
1968 Invitation to Holiday of your Life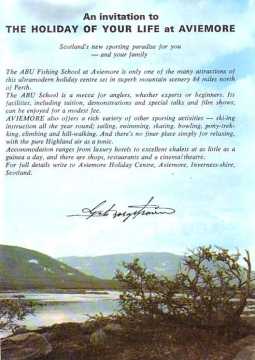 A Sport for Everybody!

The meaning of the sport or the hobby grows at the same rate as the tempo in our occupations increases. Our need of recreation, contrasts and environment contact is a community mindset nowadays. And our country is providing us with a series of excellent benefits. But many occupations have their limits. Most sports have only one activ age cohort. In other cases they are dependent on talent, on a natural requirement or on a community that you do not have time for.

Sportfishing is one of these occupations that are fascinating every individual, regardless of sex, age, social status and inherent talent. Sportfishing is a sport for everybody.

In close contact with our nature, with an injection of drama and excitement in every cast. And with a drunkenness of joy that defies its description at every indication for a bite. In this fight ABU is standing at the fisherman's side, to give the sport an even bigger benefit by the right tackle and the easy choice.

Do not let it go past you in this very life!

Göte Borgström 1969

1969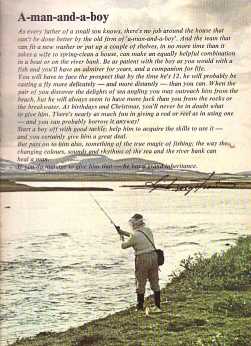 1970
1971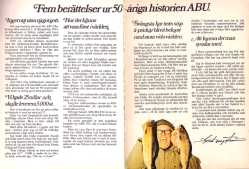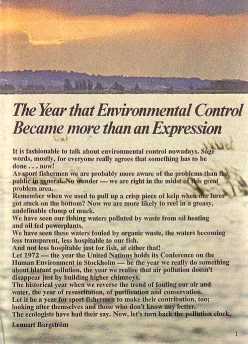 1972 The Year of Environmental Control
1973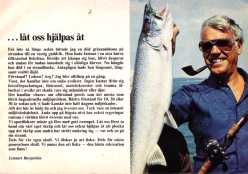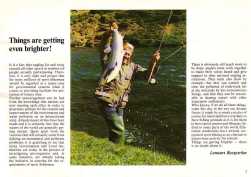 1974 Things are getting even brighter!
1975 Cheap Fishing Tackle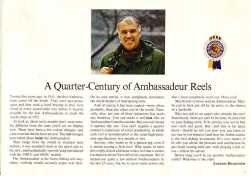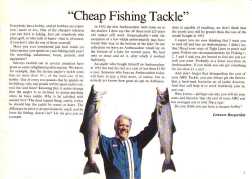 1976, 25 Years ofAmbassadeur Reels
1977 Len's last observation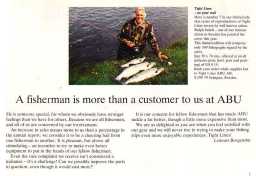 1978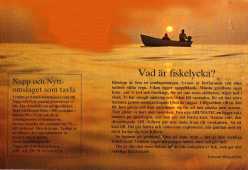 1979 Bengt Olofsson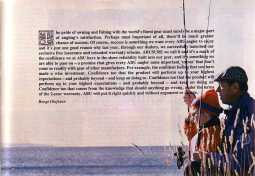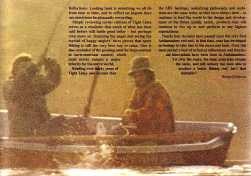 1980 Bengt Olofsson
1980/81 Identical to 1980 ...Interest lost??
1981 Unsigned ......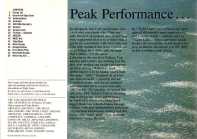 1982 ABU's Changing of the Guard
Signed only 'Your Friends at ABU" The personal approach has gone?
I do not have a complete collection of English Language Tight Lines catalogs, so any assistance in acquiring the missing years or at very least scans of the Len's words on the frontispiece would be greatly appreciated, in order that we all may share. I have over 50 years of Napp och Nytt , (all except 1951 and older), thanks to my Swedish friends.
I still need to collect copy of TL from 1960
thankyou.
This image indicating production numbers gives an idea of how many catalogs were being produced to satisfy the world demand for ABU fishers.
World wide variations of the ABU Fishing Catalogs with names as :
Tight Lines/Napp och Nytt/Nap og Nyt / Petri Heil /Nyt Nappaa / Dobrego Wedkowania / Petruv Zdar and more