Pimpel or Ice Fishing Reels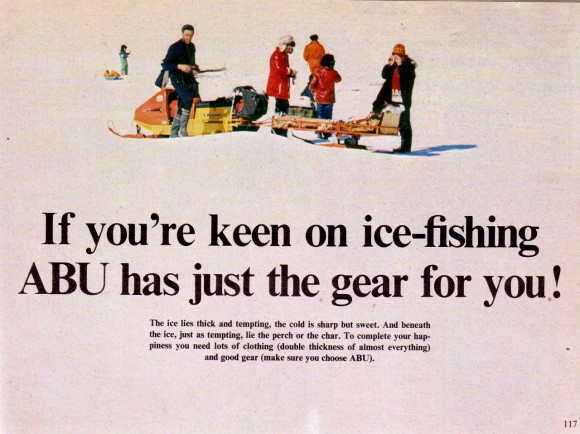 Recently my friend, Hans van der Pauw from the Netherlands, has kindly shared this Pre-Record/ABU era Pimple information for all to enjoy.
Thankyou very much Hans!
Click on this PDF link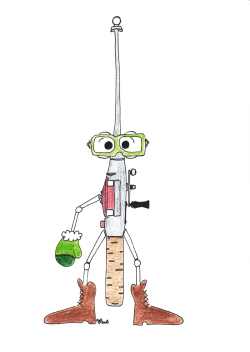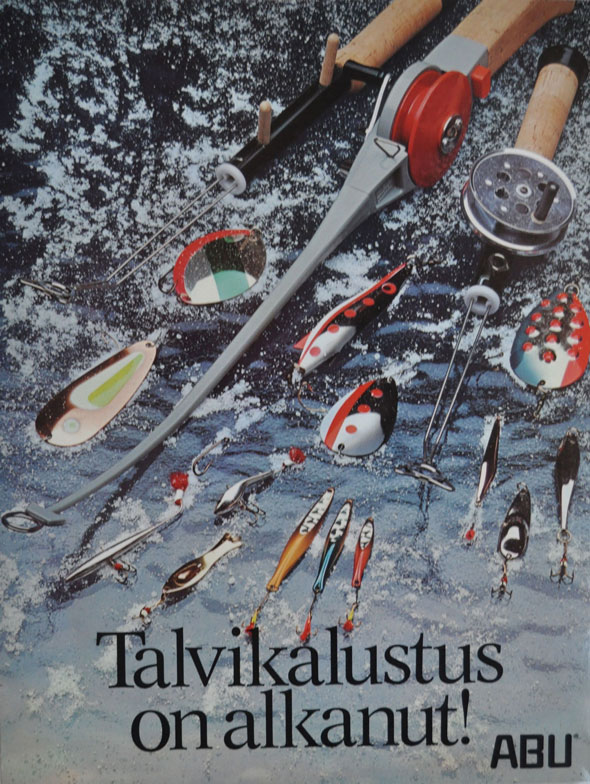 My Own Personal Ice Fishing Collection
...yet to be tried by me as I live in the Australian Tropics!
My friend Uffe Edefuhr has recently sourced this late 70's early 80's Saleman's Ice fishing kit featuring many of the ABU product lines, including ice cramps for shoes, ice scoop, ice thickness tester as well as all the usual ice-fishing perks, rods/reels and even the Finnish designed Delpin ice fishing rod/reel in both sizes.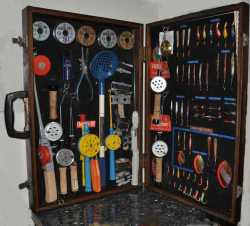 A treasure trove of items ! I now have my individual vintage ice-fishing items available to swap for collectors or ice -fishing devotees.

Beautiful rare ABU travelling salesman sample box used when trecking the north, where Fishing Tackle Stores are scant.

As sold and packaged new
Tight Lines 1982 Provides these wonderful graphic details
I am now only looking for a ABU ice scoop above from around 1982 to complete my collection of ABU Pimpel fishing equipment.

wayne@realsreels.com

It was an inexpensive blue plastic and alloy handle model. Anyone with one and willing to part with same, please contact me here.



An unusual form of the sport of fishing for most people in the tropics, but certainly intriguing enough for me to read up on, ask question of friends in Sweden who practicing the art-form. Topic was covered extensively in the ABU English catalog of 1967 (and Napp och Nytt) Links are here 1, 2, 3, 4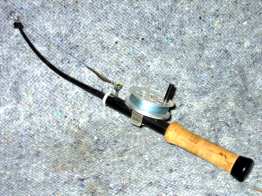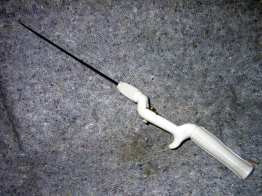 | | |
| --- | --- |
| | ABU has produced not only the fishing rods and reels needed , short enough to allow one to stand or squat near the ice hole and still able to see the action under and through the ice hole. The bottom two rods are a never for sale Pimpel1 prototype and a Record 15 to use with a Record Casting reel such as a 1500. Thankyou for selling me my Pimpels (the top two) Fernando! Some great videos can be seen here at this site (when I find it again!). Thanks to Christian for securing me the hand winding pimpel model to the left. |
ABU made even their smallest items, such as Pimple ice rods/reels repairable.
A full set of parts was available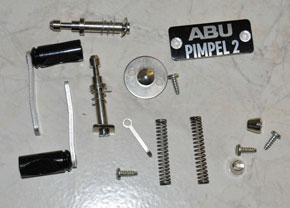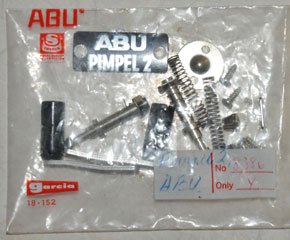 Many of my Swedish friends enjoy their ice-fishing, a passion of the hardy I guess!
Here Mikael Risberg has a good haul of small Redfin Perch or Abborren as known locally.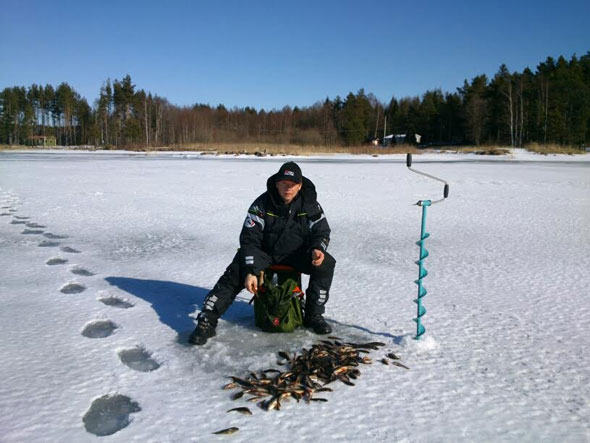 Uffe Edefur informs me this early ABU Eminent Skopborr is light and easy to use on any ice less than 30cm thick.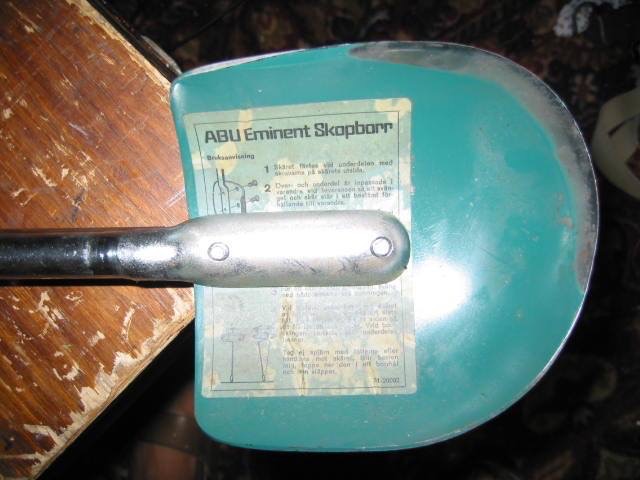 This later red auger featured below with Pimple fishing accessories, first appeared in Tight Lines in 1970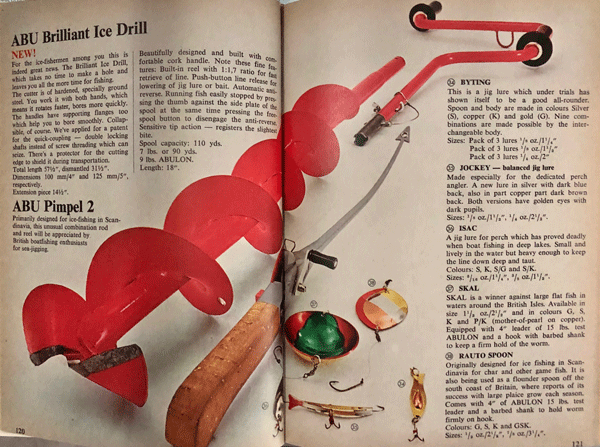 ABU Issodubbar

ABU Augers (side and below) that are used to cut the hole in the ice were originally hand operated mechanical devices, though petrol-engined devices are now readily available as a labour saving tool. I guess moving on to a more productive area is a much more time consuming task than packing up to try another area of the lake in summer. I believe ice can be anything from 10cm to 100cm deep over some waters.


My friend Sören from Sweden, who may be organizing for this ABU auger to come to my collection, tells me this amazing story....

"I am a big fan of fishing and my oldest son, age 9 is that too. When possible he comes with me on fishingcompetions. My wife was this spring at a flea market. We have talked about that my son should have an auger on his own to drill the holes. She found it on the market and bought it for SEK 50. The intention was to saw it off to proper length to our son. When she got home and I saw it was ABU I couldn't bring myself to do this. It should have been a sacrilege."

| | |
| --- | --- |
| | |


Locations obviously are in very cold areas, and not merely limited to the Scandinavian countries. I know Canadians who fish for perch in their ice-over farm dams. I am reliably informed that 4cm of ice thickness is sufficiently strong to hold a man's weight. However that said , many would prefer the thickness to be closer to 10cm. I think the first time I venture into ice (sometime when I visit some of my cold climate friends) it will be with some concern. Simon Rekestad has kindly supplied these images.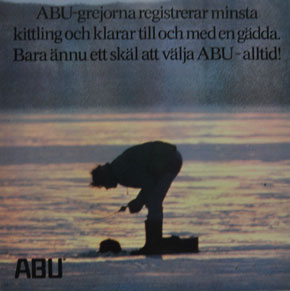 My friends such as Uffe and have supplied pictures from ice-fishing trips in the wilderness of Lappland . See Photos 1, 2, 3 Please note fire bucket for warmth. I have heard some even erect little wind shelter huts on the ice too.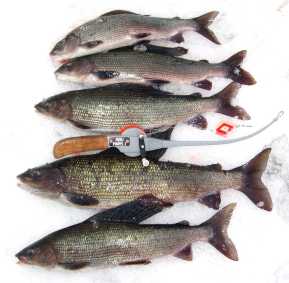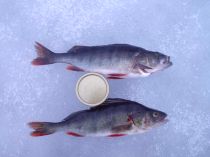 Quite often access to these remote spots is by ice-scooters but the usual is walking onto the lake and dragging one's equipment on a small sled using a backpack!
Some of the quarry are Arctic Char, Grayling, Perch etc I suspect the fish are filleted and frozen merely by leaving them on the ice.
Latest under ice capture was a big Pike from Soren's proud son, Anton. All great family fun!
A lovely but difficult to imagine environment for us Aussies who have no ice lakes at all!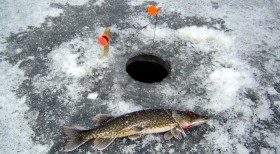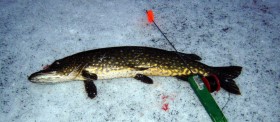 If you have any other Pimpels or ice fishing jigs other than those illustrated , that are unneeded or doubles in your collection and are available for a reasonable fee, I would be very pleased to hear from you.