Lures/Baits/Artificials
Collectors
Lures.
A work in progress which all will appreciate I'm sure!
Many thanks to Mike, Derrik, Rob, Henrik, Hans, Steen, Tonny, Kalle, Uffe and others in the future
Record ABU Lures by the Decade 40's, 50's, 60's, 70's, 80's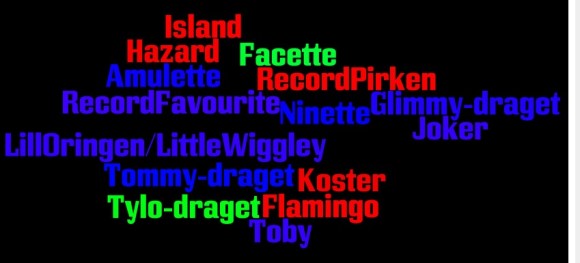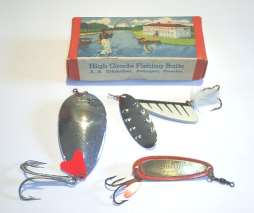 1950's
The 1950s was a very exciting decade for Abu. Following its initial success in Sweden, Abu started to export lures and other tackle to the rest of the world.
Abu specifically targeted the American market and the early Record and Ambassadeur reels were a particular success with the American fisherman. Alongside its reels, Abu sold English language versions of its lures already successful in Europe - the Salar was sold as Sally, the Svängsta-skeden as Kelly, the Tylö as Tilly, etc.
It was as Abu started making lures for the export market that the word "Sweden" started appearing on its lures. In the early 1950s several companies were selling Abu products in America but the main distributor was Garcia. The relationship between Abu and Garcia was made formal in 1956 when Garcia attained the sole distribution rights to the Ambassadeur reel.
Len Borgstrom tells me it was on Tom Lenk's (President of Garcia) advice that the soon to be released "Tobis" was actually named the TOBY as it would be a name US fishermen would remember.
Following the huge sales success of the Reflex spinner in America, the Hi-Fi spinner was designed for sale solely in America. Incidentally it was to be advertized in the 1956 Napp och Nytt Swedish ABU catalog. A first!
The Glimmy draget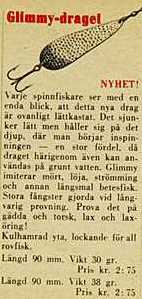 I have only 24 different Glimmy lures at present, ranging from the big old original 38g and 30g sizes, along with the 18g K , Z and BGL with intact red attractor and 12g S, K , G, Z and Cr . I would really like to find the large Silver example as well as the 18g Silver example
....to the mint tiny Record Lill Glimmy versions.
The Glimmy was introduced in Sweden in 1951 in two weights 1 3/8 oz (38 g) and 1 1/8 oz (30 g), both were 90 mm long. The listed colours in Europe were G, S, K, Cr, Z, S/G, S/K and Pm. I strangely have a BGL in this size and 18g

By 1954 the Glimmy in 1 3/8 oz was also being sold in America by Garcia. In America the listed colours were only G and Cr but I know that other colours like S were also sold there.
Abu ceased selling the largest size in 1957 but the 30 g was still sold until 1963.
Abu also produced a Little or Lill version in 1/4 oz (7 g) from 1952 until 1975. The lure was reprised for a 3 year period starting in 1973 in the weights 12 g and 18 g.
The lures shown in the group of 3 are (from left to right) Pm (Mother of Pearl), G (Gold) and Cr (Chrome), note the middle one is hooked in the American style with an oversized salt water hook.
Tylo-draget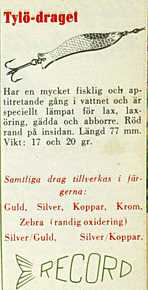 Toomba observes and notes
1: the very first lures did have only Tylö draget printed on them

2: the newer had the word Sweden added to them.

3: model 1 had the early type scales (referenced on 40's lures into)
The Tylo is a very special lure because, not only because it was the only ABU lure ever produced in the same size but with 3 different weights but also because it was so effective and I believe rivalled the long produced Toby in fishing attracting. The 3 different weight for same size , permitted it to be fished easily at different depths.
Above right are two USA market striped 14g models
My lovely 17g 77 mm long Z coloured Tylo-draget spoon was released in 1950 and discontinued in 1959.
It was available in S K G Z Cr S/G Pm.
It is shown complete with classic paper box indicating 8 windows in the depiction of the ABU factory on the banks of the Morrum river at Svangsta.
I believe the bait was also released later in 1954 as a 7 g 44mm long Lill-Tylo
In the early 60's it was also released as a 18g , still a 77mm long bait with all the afore mentioned colours available due to its effectiveness.
If I had enough to risk these to the water , I feel it would be equally effective as the Asian Pegron Minnow released some 40 + years later, as it has the same degree of curve for lure density.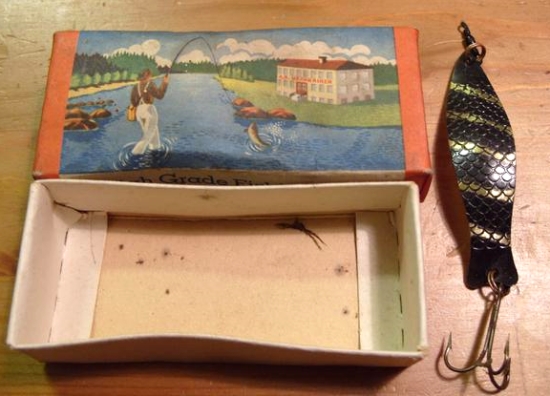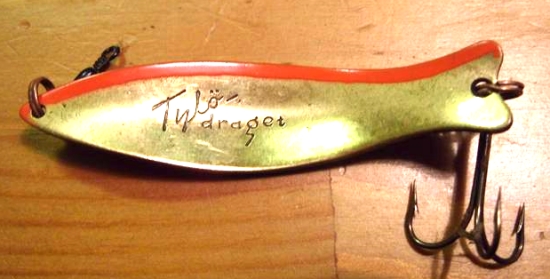 Tilly draget below was the same lure as above released in UK/USA


However, before 1956, in America they were also sold in 1/2 oz. (14 g) and 1 oz.(28 g). These lures are rarely seen with or without boxes like this one.
If anyone is aware of when the Tylo Draget/Tylo Sweden changeover occurred I would appreciated hearing from you.
John Fishkat asks
I have a

Tylö with new type scales that weighs 19g on my balance. This is driving me crazy because I don't have any other 18g or 20g

Tylö for comparison - I have a few 17g that weigh 17g on my balance. That's why I was checking references.
QUESTION: When was the old to new scale type conversion? (

All my 17g are old type with and without the "SWEDEN" stamp.) Maybe new type scale is only in 18g. Could things be that easy?
BTW: Combining 3 Tilly weights (14, 17, & 28g) with 3

Tylö weights (17, 18 & 20g) makes 5 different weights for the same lure. I'm guessing 5/8oz (17g) Tilly went to UK.
Here John provides a detailed view of 2 box sizes for the Tilly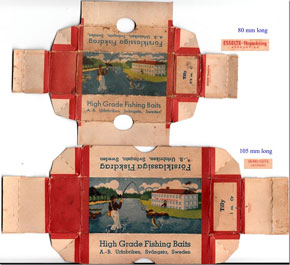 Record Favourite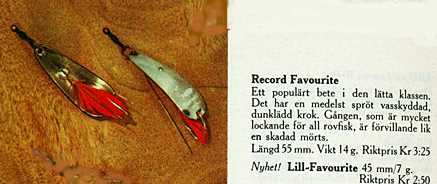 Initially the Record Favourite was produced in 1953 to 1962 in only one size 14g/55mm. It's colours were S, G, K, Z, Cr, S/G, S/K and Pm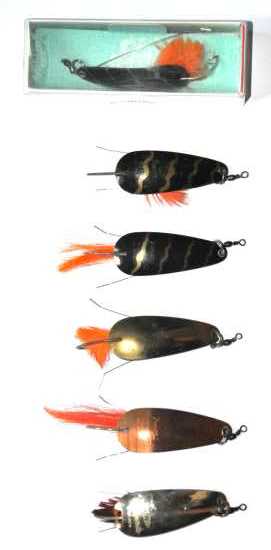 Left is an example of 14g first model with horizontal hook slot. Next 4 are the 15g ABU Record Favourite lures (also boxed example). Careful examination of the other view of this boxed model will show the straight line gold cross hatching, whereas earlier Record examples were hand etched and vary slightly from model to model.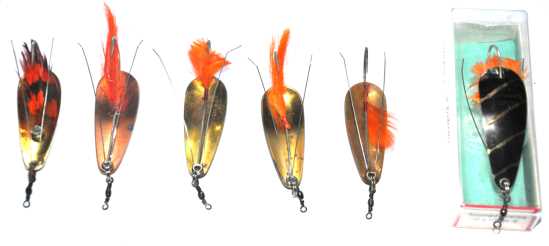 Note attractors varied from tufts of goats hair to feathers.
The Lill Favourite (Record) was produced in the usual 7g/45mm size from 1955 to 1962.
Record favourite (ABU) was made in 15g/55mm size from 1963 to 1982. Colours were S, G, K and Z
Finally the Lill Favourite (ABU) was made in 7g/45mm , from 1963 to 1982. The colours were also S, G, K and Z. I have none of these which should be easier to find than the old Record examples. Always looking to add more to my collection if your have spare doubles.
Record Pirken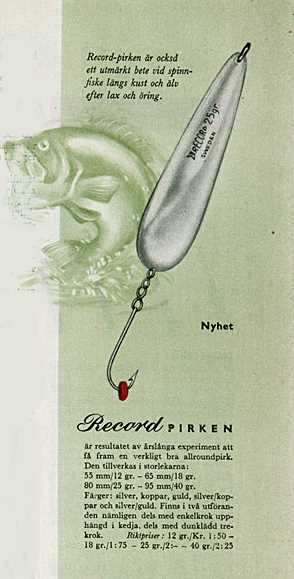 Four sizes of Record Pirken were produced from 1954 to 1966.
They were 12g/55mm, 18g/65mm, 25g/80mm and 40g/95 mm.
The colours were S, G, K, S/G, S/K and the unusual orange and green Krabba produced only from 1955/1957.
Mike Elsworth 's special and very rare Krabba coloured Pirken....
I also now have an 18g Krabba coloured Record Pirken in my collection now.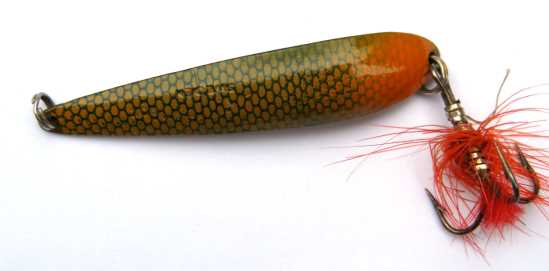 Tommy draget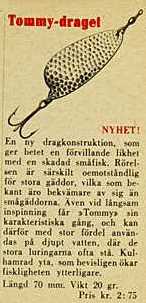 Like many early spoons, they appeared initially as the Record version , followed later by the ABU form.
The greatest variation with Tommy lures were the Records examples.
The were changed in weight and length and consequently released frequently.
1951 saw the first one introduced as 20g and 70mm length.
All models were released only in 8 colours S, G, K, Z, Cr, S/G, S/K , Pm
The 26 g and 70mm model was produced first in 1952 and withdrawn in 1954.
Next came 18g 65mm from 1955 to 1959, co-released with the 26g 75mm.
The last of the Record Tommy lures was the 25g 75mm released in 1960 and withdrawn in 1964.
Lill Tommy was predictably 7g in mass and was only 37mm long. This version was also an Early release being 1952 and withdraw at an undetermined time in the early 60's
The ABU Tommy took over in the early 60's and was withdrawn by 1966.
Its sizes were still 7g 37mm and 18g 65mm. These two were the real stayers.
Many are missing from my collection and I would be very interested in acquiring what I do not have.
1956 additions to ABU lure range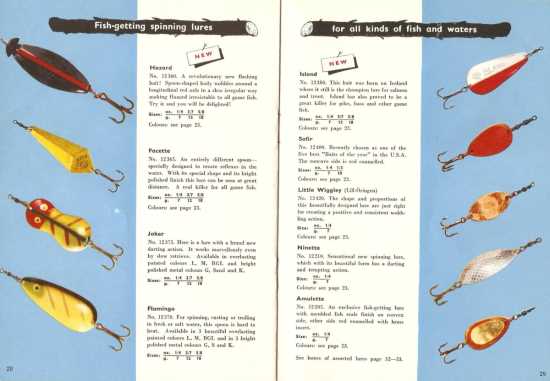 Hazard

The Hazard was a relatively short-lived lure, less than a decade from1957 to 1965, despite being a well-credited fish attracter.
Interestingly, there was no tiny lure named Lill Hazard despite the 7g being produced.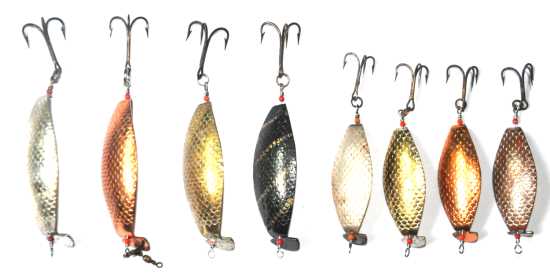 These are the 12g and 18g models, back of Z lures is normally gold in colour, not so with the Hazard! Last in line here is S/K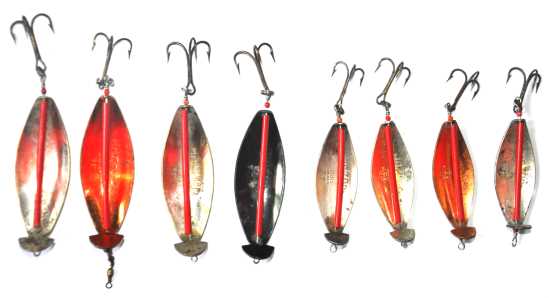 Like many ABU lures of its time , it was released in 7g/45mm, 12g/55mm and 18g/65mm versions. Al were released in the colours were S, G, K, Z, Cr, S/G, S/K, Pm
By 1966, it was just a memory, and a pleasant one at that which keep its fans looking for unsold stock!
Facette

Likewise, the Facette was only originally in the market for a short time, being first released in 1957 and discontinued by 1962.
It was found in 7g/55mm, 12g/65mm and 18g/75mm sizes with the following colours S, G, K, Z, Cr, S/G, S/K, Pm
Like the 7g Hazard lure, the 7g Facette was NOT named Lill...
Notice how in the larger views , you can see on the 2 older models to the left, that the naming is done on the backside of the lure and later reversed with the newer lures.
Later released in 1979 with holographic foil on the outside, the sizes were the same but colours were reduced to S, G, K and Z.
These lures were discontinued in 1982, which I guess equates to not being made in the far east.
Joker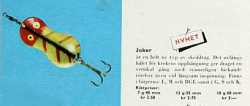 The Joker was first released in 1957 and discontinued by 1963.
It was made in 7g/40mm, 12g/55mm and 18g/60mm sizes. The colours were S, G, K, L, M and BGL.
Much later in recent Asian production the Joker name was reused on a lure looking nothing like the original.
Flamingo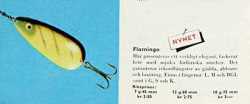 Of these multitude of small lures produced from 1957, the Flamingo had the longest production run with the greatest variety of modification.
The first model had three sizes and were produced in 1957 through to 1976.
The 7g/55mm, 12g/65mm and 18g/75mm were made in S, G, K, Z, D, T, L, M and BGL colours.
The second model, called the Flamingo Vass was also made in S, G, K, Z, L, M and BGL colours. The 7g and 18g models were made from 1960 to 1964, while the 12g version was from 1960 to 1963.
Larger 18g size , Giller vass, standard and Vass (last) Note the Vass has name engraved in reverse to previous first Standard and later Giller Vass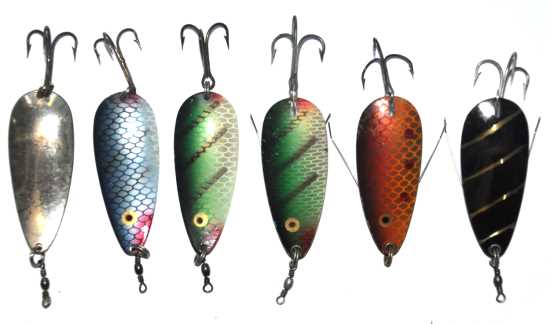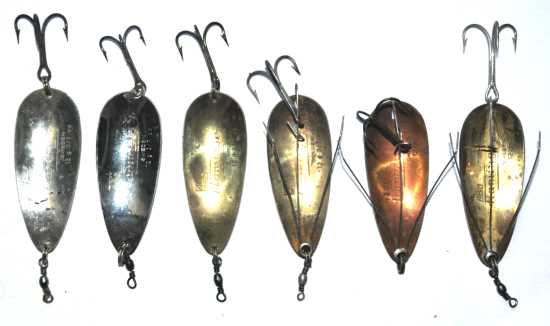 Medium 12g size, standard and Giller models
The third and final version was only produced in two forms, the 12g and shorter (never seen) 60mm size and the 18g /75 mm model.
The colour range was expanded to S, G, K, Z, D, T, L, M and BGL.
Island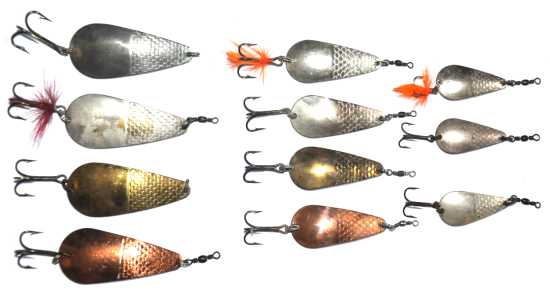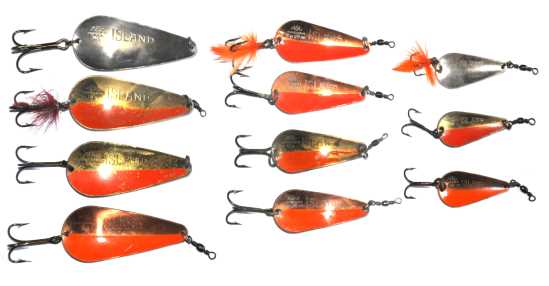 Thanks for Cr Island image from Mike Elsworth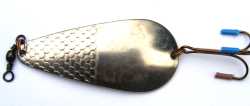 Mike has kindly photographed (below) the very rare 12g weight but 7g size Island from Gote's personal tackle-box
Click to see good detail.

I have 2 colours S and Z mint and Mike recently became the beneficiary of a spare Uffe had.
My latest rare colour ABU Islands BGL12g, Z 12g and D 7g, enhanced with a beautiful Record aluminium box.
The image could be better but I wanted show them with the reflective Record box.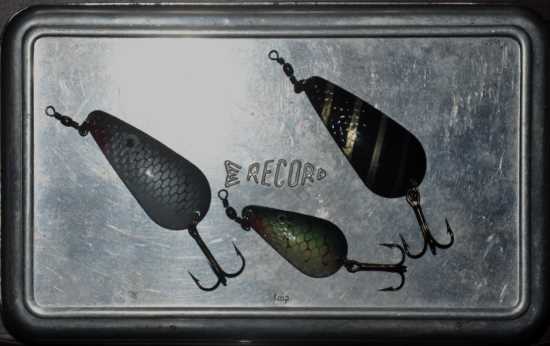 The Island lure was first released in 1957 but lasted in an uninterrupted production run until 1975.
The lures were produced in 7g/40mm, 12g/50mm and 18g/65mm sizes. Colours were very wide ranging in that S, G, K, Z, Cr, S/G, S/K, Pm, D, T and BGL.
Currently these old lures are so popular in Malaysia that a new identical Island II has just been produced by Pure Fishing and released in 3 sizes (only Silver) with much fanfare, including Tee shirts etc! I believe the range will be expanded due to local demand.
My updated display of 27 colours will be here soon. The Gote Borgstom specials are also displayed on the prototypes page.
Lill Oringen / Little Wiggley (in UK/USA)



This lure was only ever made in the 7g/34mm size.
The Record version of this lure was made from 1952 to 1971, and it was available in S, G, K, Z, Cr, S/G, S/K, and Pm
The ABU version of the same dimention was produced from 1972. It is not sure when the lure was discontinued.
Ninette

Only 3 sizes of this lure were made in , the 7g/45mm from 1956 to 1966, while from 1961 to 1966 the 12g/54mm and the 18g/62mm were available.
They were coloured S, G, K, Z, Cr, S/G, S/K, and Pm
Name and weight were on the concave side. 7g above and 2 X 12g Z and K and 18g S below
Amulette

This lure (like the Little Wiggley) was only produced in 7g/35mm size.
It was made from 1957 to 1976 in the colours of S, G, K, Z, Cr, S/G, S/K, and Pm
The reverse side had a profiled centre like the Salar which was basically a longer version of the Amulette. Around the profile was coloured orange on all lures.
I only have 3 illustrated here, so would appreciate hearing from those with doubles to spare.
Koster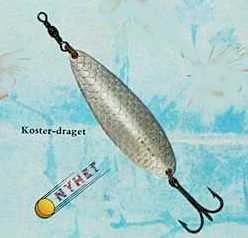 The Koster was first released in 1959, for 18g/60mm, 28g/70mm and 40g/80mm, but it has not been determined when the first models were taken from production.
They were made in S, G, K, and Z only.
The 12g/50mm model was released much later in 1965 and it had disappeared from production by 1976.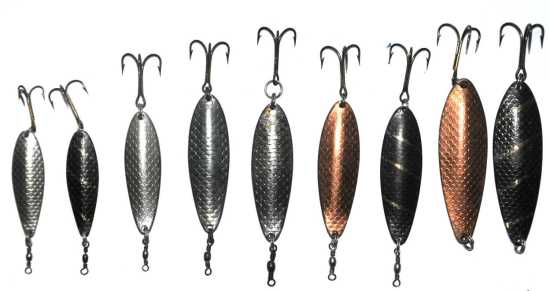 2 X 40g , 4 X 28g, 1 X 18g and 2 X 12g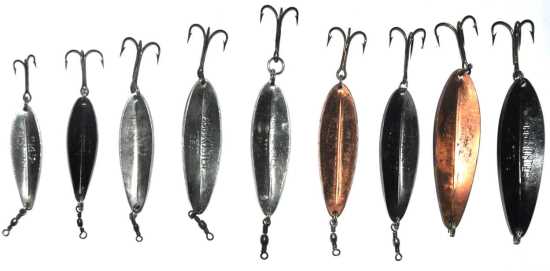 Plastic baited hooks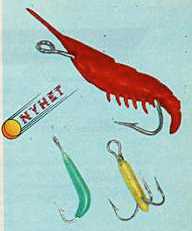 This line of plastic baited hooks was introduced in 1957, intending to be an attractor on both treble and single hooks as well as to simulate a small shrimp bait.
I have a large range in many colours on a travelling ABU salesman's board.
The following lures were flagship products of this decade (and all decades after IMHO) but are covered in detail on these links.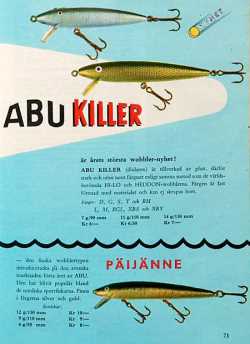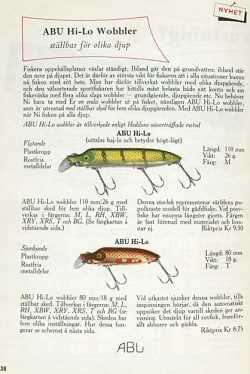 USA Charles Garcia Advertized Lures.
...a real image fest! Most are ABU but there are a few 'ring-ins' from France, Germany too!
The Hi-Fi Spinner...unique to USA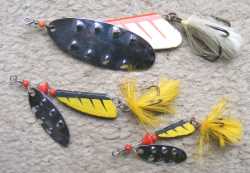 The Hi-Fi spinner was a special lure that was only sold through Garcia in America in the fifties. It shares the same body as the European sold Roulette and shares the spinning blade with the Sonette. The blades have "vibra-ducts" which create vibrations and sound, Abu actually claimed that the sound was high-fidelity hence the name Hi-Fi ! Mix and match was invented 6 decades ago!

It was sold in three body colour combinations White and red, white and black and yellow and black. There was also a coice of chrome or gold blades. The sizes were 1/8 oz, 1/4 oz, 1/2 oz and 3/4 oz.
The body also seems to have been used as a grey coloured ABU casting weight (sinker)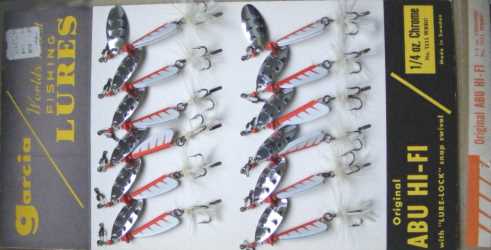 The Flax spinneran (dimpled blade identifies it)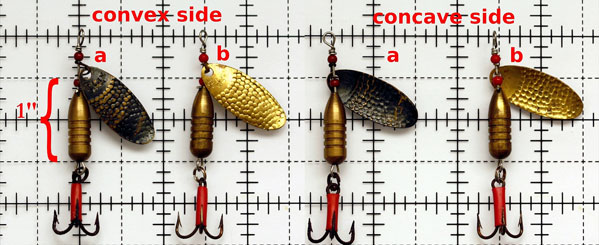 Greatly appreciated help from John Fishkat with some beautiful images and deftly explaining the naming differences between the Flax from source country Sweden and USA.
It has been discovered that there are in existence copies of this popular old lure still being sold new today. The source of their manufacture (Wayne's opinion) is probably in the far east but most definitely NOT Sweden.
Catalog page from the 1961 Trade catalog seen below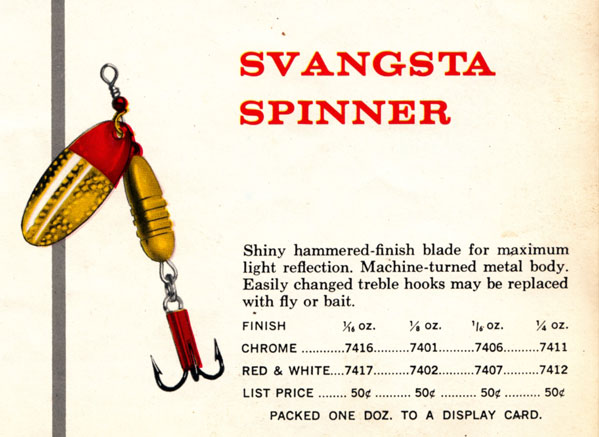 Garcia sold the Flax-spinnaren as the Svangsta spinner in 1959-61. One Garcia version has red and white paint on the blade. In 1962, Garcia switched to a different and new spinner that was known in Sweden as the Svangsta spinner, as well.

More outsourcing...
During this decade, ABU also continued "outsourcing" lures from around the world, and co-selling along side their own branded lures; this was from notably Norway, Finland and USA.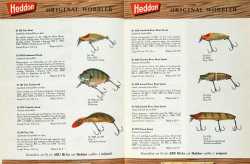 I am attempting here to create (with the help of others), the greatest collection of images and information about Record ABU lures ever collected together and freely available for all to learn from. Obviously image copyright for alternative publishing purposes always remains with the owners.
Please feel your input, help , criticism is very welcome and I look forward to expanding with network of Record ABU lure collectors and appreciators.
Contact me here to assist.
If you have any other lures, that are un-needed or doubles in your collection and are available for swapping or a reasonable fee, I would be very pleased to hear from you.