Lures/Baits/Artificials
Outsourced
Lures.
ABU's lures were sourced using 3 methodolgies.
1. Direct and complete construction at Svangta factory (covered elsewhere on this site)
2. Assembly by home-workers around Svangsta from completed parts. (immediately below)
and then....
3. Imported or licenced from other countries and sold under the ABU name.
2.


This rarely seen jig/tool was originally made by the husband of an ABU home worker.
Uffe's friend Bert Neilsson informs us the man who inverted this ingenious machine was name Albin Karlsson.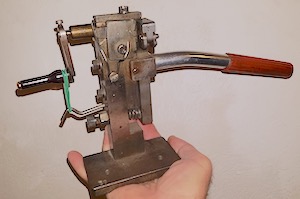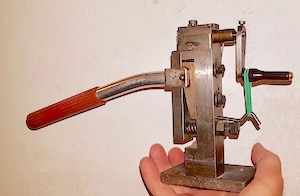 This machine is bolted to a bench in order for it to fulfill its purpose.
The express purpose is making bait loops neat and tidy with stainless steel wire upon which various baits were made.
This job which was once completed by hand , but this machine permitted a 5 X increase in production rate!
The types of baits it was used for were Spinnaren, Refex, Hazard, Morrum spinner, etc
Uffe's technique and words.....
../images/VIDEO-2019-05-03-02-30-43%20(1).mp4
Take the thread, push the handle down wards, so the machine open up where you put the wire to the right side on the little round knob. The wire must be straigt in the place. Let the handle come up, you can let push it up wards. Turn carefully the handle 3 turns, then open the machine again pushing the handle down, there you gave a nice litte eye on the end of the wire. Thus was the last move to get the spinner ready. First you have to mount the thread double through the spinner body,, abu workers got the thread pre done so they just put hhe hook in place, put the double thread through the spinner body, bent it on top of the body and cut it, then the put the ball and then the thing that hold the spinnerblade and another ball. After this the ending eye was done in the machine.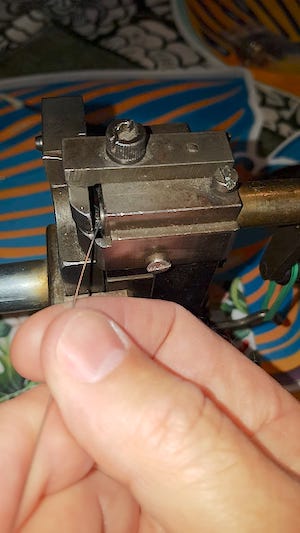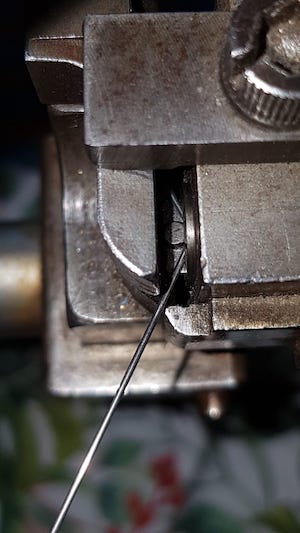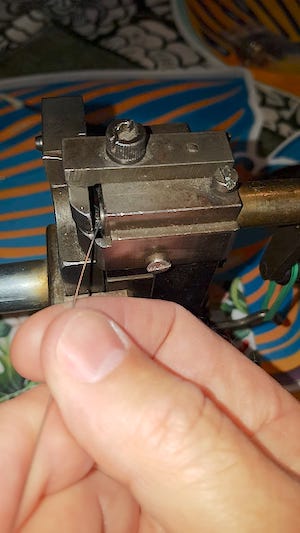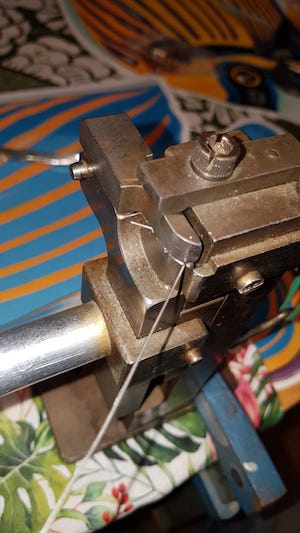 This machine allowed 'home workers' for ABU to speed up their work rate. Uffe tells me the husband of the lady who was hand assembling the spinners, 'invented 'the tool. ABU found out about it and bought right to make half a dozen or so and speeded up operations of the procedure! Basically all the parts starting bent ss wire and hook, next the bullet piece and bearings and spinner blade and its loop, needing the machine to finish of the twisting loop for the fishing line.
3.

Before ABU fully developed all its capability with respect to lure design and manufacturing, it imported and included products such as these spoons from Norway and life like plastic insect baits from A. Horgard (famous for their split cane rods) in the 1951 Napp och Nytt catalog.

The real Norwegian lures looked like this.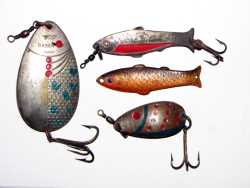 An especially lucky owner , (viz myself), has this original ABU packaged Norwegian Krokle bait in his collection.
The imported lure was sold, packaged in the old ABU paper box for just one year, 1951, like the Asbjorn Horgard rods.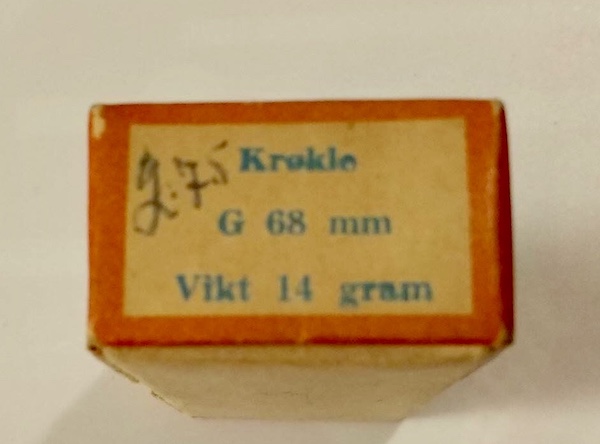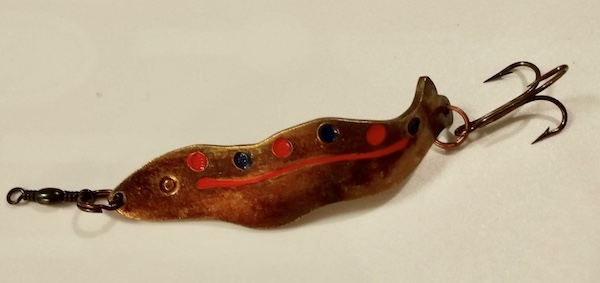 The A.H. lure moulds and packaging looked like this.
It seems ABU's strength lay in the production of simple spoons, perks and spinners, easily pressed from existing equipment. Very interestingly, ABU had a thriving home based assembly industry for some lures. Lure parts and instructions were supplied to local housewives who were largely tied to the house in the 40's but happy to find some paid work that could be easily completed at home.

Later when the plastic lures started to enter the world market and of course ABU wanted to be part of this expanding market, they had to be outsourced and symbiotic relationships developed between ABU and other world companies ranging from UK, to Finland and USA.

Breaking News!

Between Wayne and Len Borgstrom

Do you you have any knowledge of Svenska Cellulosafabriken (Swedish
Cellulose factory) 50/60's
I'm told they made the plastic ABU lures like Hilo, Killer, Rakan,
Kynoch but need some proof and details.
Any ideas?
Wayne

The company Celluloid in the town of Gislaved was a family company. At one
time they made most of the plastic parts we used in different products. They
were also one of the first makers of foam mattresses, which is interesting
as the now famous TemperPedic mattress was first made in Sweden. The
Celluloid company does not exist anymore. I did part of military service
together with the son of the founder. He was later killed in an automobile
accident. That might have been the end of the company.

Len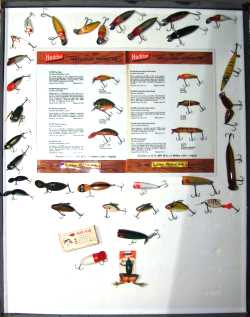 Of particular interest was ABU's collaboration with the world's largest lure manufacturer Heddon. Always aspiring to be world's best practice , ABU only associated with likewise companies from who they learned. Faithfulness was not a strongpoint of these arrangements as they all eventually soured. This logical agreement re marketing some Heddon lures in Europe via the ABU network would work well for 5 years until ABU's modified Heddon Spook plug, called the Hilo (with patented adjustable depth bib) ate into the psyche of USA fishermen and seriously threatened sales and the relationship ended in 1960. The Hilo lure today still remains one of the most popular in the eyes of fishermen and myself would never fail to have some in my tacklebox.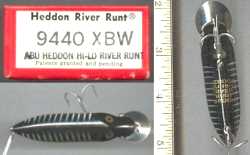 The second major lure which ABU brought into their fine stable of plugs was the Killer. My friend Henrik (detailed article here) has taught me so much about the history of this fine Killer minnow lure, which incidentally was the first lure I ever bought to catch Barramundi with in the mid 60's. By then I was buying genuine ABU product with the classic parallel lined and cross hatched black, blue or gold with silver colouration. By then the lure had been modified many times from its original Finnish form originally conceived on the lakeside with input from Laurie Rapala and the other great name Nils Master.

The list goes on but it would be remiss of me not to mention in passing the Scottish origins of the Kynock Killer invented and tested by Jock Kynoch on the Tay River. This design was licenced for a short time by ABU and called the ABU Kynoch. Its sliding up the line design so only the hooks remained firmly and heavily attached to the salmon's mouth was innovative. The major design elements of this top running surface popper has been much copied and no serious lure fisherman today would be without a popper in his tackle box. The 'original' is still being modified, with one website, I recently noted, offering custom painting of the old design.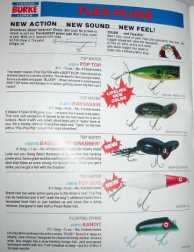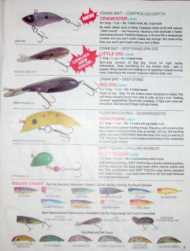 Bing McClellan of Burke from USA developed the soft rubber technology (and was probably first to do so) for creating lures and the Little Dig eventually became part of ABU's lineup called the Cello and Cello Dip, offered in 4 colours and one size only for each of the popper and deep diving versions.

My most recent "discovery" courtesy of Todd Larson is that of the ABU plug called the Snoky. It has originally been made as the Thompson Doll fish below. The lure came into the ABU catalogue due to the relationship between Thompson/Brunswick and Brunswick/Zebco and Zebco/ABU.

I would love to add one to my collection if anyone has one for sale.

The Doll Fish was a popular lure first introduced in 1972. Outdoor writer Don Carpenter declared of it in The Annapolis Evening Capital: "Something new in plugs for fishing is the 'Doll Fish' made by Thompson Fishing Tackle Co., Knoxville, Tenn. It is a sinking, fast-vibrating brilliant colored minnow with real-to-life scales that make it look like the McCoy. It emits a 'clickity chek' sound while moving, is made in three sizes, 1/4-ounce, 3/8-ounce, and 5/8-ounce--colors ranging from light to dark."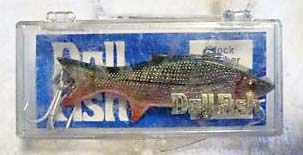 A Thompson Doll Fish in the box

In 1972, after two decades at the helm, Doll Thompson sold his company to Brunswick Corporation, venerable pool table makers who had acquired Zebco corporation in 1961.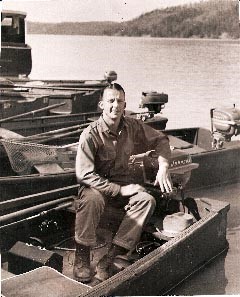 The lure maker himself!
Having made a name for themselves in the fishing reel market, the Brunswick-owned Zebco found a nice match in Doll Thompson, who served on the Board of Directors of the firm until 1975. Zebco continued making most of Thompson's line into the 1980s.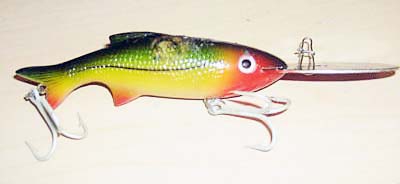 This particular deep diving model was not translated to the ABU stable
Many other links between Burke and ABU are suggested below by the Welsh Sleuth himself Mike Elsworth.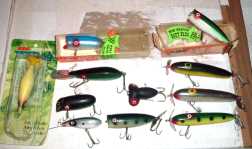 I first came across a lure called the Swappin' Droppen on a card with both Abu and Burke on it. The lure has a rubber body with a hair tail and uses interchangeable Droppen spinning blades (pic to follow). This lure really intrigued me so I started asking people in America what they knew about Burke. I found out that they had ceased trading but they had made really neat rubber bodied baits throughout the 60s and 70s, maybe into the 80s.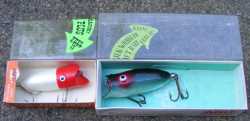 Then I found a Big Dig lure and realised that it was a Cello Dip with a different lip. I started asking more questions and found an Ol' Twitch, it was a Cello ! Then the penny dropped Abu's rubber bodied lures must have been made by Burke ! Last year I was told by a friend in America that he had been speaking with an old guy that used to work for Burke, the old guy clearly recalled that Abu bought baits from Burke. You have subsequently had this confirmed by Len so this is now proved as fact. Len B; "I think that Burke (Bing McClellan) tried to sell our lures after Garcia gave it up. He was not successful and might have dumped the parts."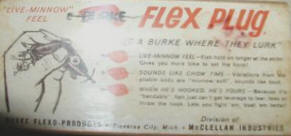 What is less clear is whether Burke also made the Rakan, I believe that they did. I also believe that they made the fish part of the Drop-fish.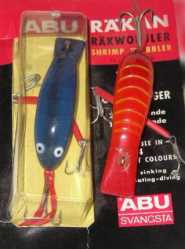 I have spoken to the an expert on all things Burke, and I showed him a pic of a Rakan and he did not know it. Len B; "Rakan was after my time, so I do not know.
"
He did however think that Burke could have made it. I am not aware that any other firm had the technology to make it at that time. So for me it must have been Burke.
The next strange twist came when I found a Reflex on a Burke card, then I found a Toby ! My prediction is that I will find an Ellips next !


Why ? about three years ago I bought a large collection of lure parts from a guy in America. The parts were Toby bodies, Droppen bodies and blades and Elipps bodies. It turned out that he worked for a scrap metal merchant and there were tonnes of these parts being melted down ! He saved a few examples because he thought they were too good to scrap.. He was right.
My (Mike Elsworth) current theory is that the then Abu Company may have gone through financial difficulty and paid Burke with lure parts. Possibly they made them into finished lures and sold what they could. When Burke itself was wound up the remaining parts were sold off as scrap. Just my theory at the moment but I bet that I am not far off the truth.
Breaking news from Len Borgstom....re ABU's relationship with Killwell and the famous Toby lure sold in New Zealand
The opposite of outsourcing! ABU gives permission and training to allow Toby into New Zealand.
Wayne,
Kilwell is owned by John Wells and his younger brother Jeremy.
Kilwell was the exclusive agent for ABU during my time.
Because of import restrictions a long time ago, John Wells actually came to Sweden to learn how to make lures.
I think that we supplied the first stamping tools.
He worked at the plant for 6 months and stayed as our house guest. This must have been around 1960.
Annika and I were in New Zealand maybe 10 years ago visiting John and Jeremy.
We went fishing with John and had a great time.
I have no idea who is the ABU agent now.
I also do not know if Kilwell still make the Toby.
I do not think so.
Fond regards! Len
I am attempting here to create (with the help of others), the greatest collection of images and information about Record ABU lures ever collected together and freely available for all to learn from. Obviously image copyright for alternative publishing purposes always remains with the owners.
Please feel your input, help , criticism is very welcome and I look forward to expanding with network of Record ABU lure collectors and appreciators.
Contact me here to assist.
If you have any other lures, that are un-needed or doubles in your collection and are available for swapping or a reasonable fee, I would be very pleased to hear from you.