I.G.F.A. Admiral /ABU Reels
Many of the Ambassadeur reels are very suitable for game fishing.
I have just had the pleasure of buying a big reel to use on my boat for trolling, actually an ABU Big Game reel, the ABU 20, but have not used a ABU30 or the Admiral 7.5/0 , 6/0 and 4/0 pictured above.

It's brilliant cork drag makes for a very effective drag.
I have just given away my Penn International 20 to a kind soul who send me some ABU products. This procedure has now permitted me to "purify" my reel collection for a full cousin to Admiral 4/0 or 7.5 /0. I have enjoyed using this Penn Inter 20 for thirty years for heavy duty fishing, as it is sneekily peering out from under my shirt in these photos of a Bronze Whaler Shark capture (self) and release. (estimated at 1.8m and 100kg on 15kg line for 25minutes ) Now it rests in Dick's display cabinet in New Zealand along side 4 other big Penn Internationals. Due to a recent acquistion .

Some day, I will be using a big red 6/0 Everol Admiral ABU reel from my boat! It is the same reel as the other except it sports only the Everol label rather than the other. parts are interchangeable.
Update, I have gifted this big red Everol 6/0 to Per Erlandsen, for whom this will make a special place in his collection.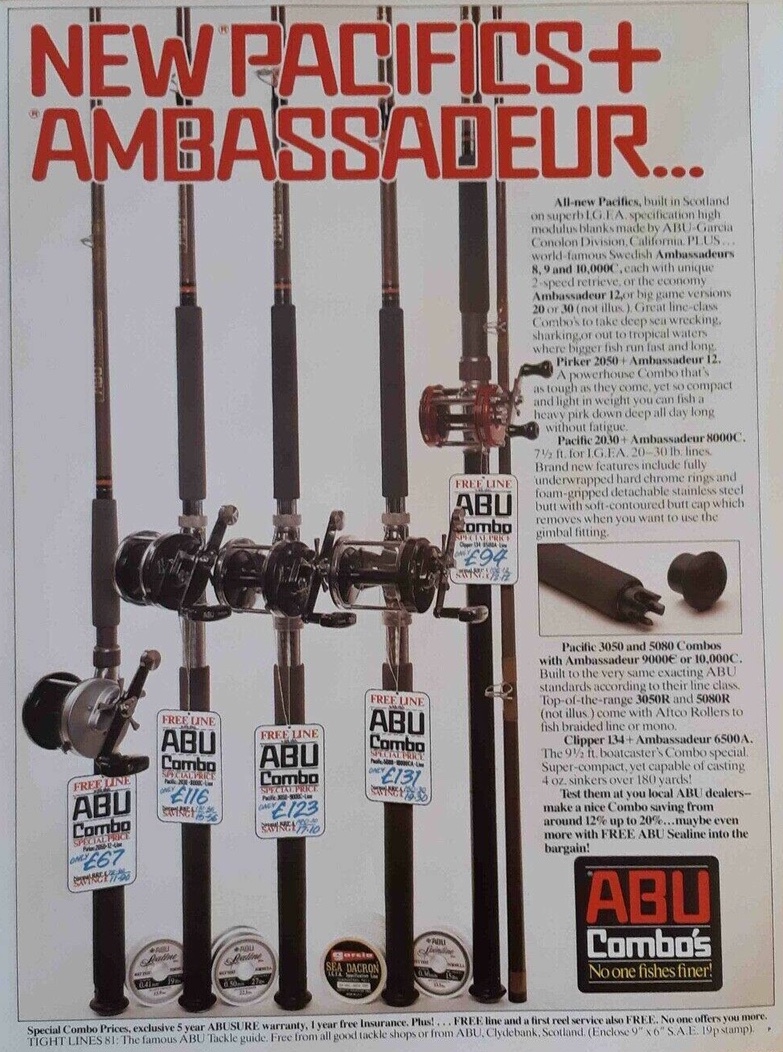 The Admiral
(standard reel image pages here)
The guys from the USA responsible for these beautiful big red Admirals coming to my collection
Supersize images here; Front Back Left Right
Update (21.10.05), Today I found out that a friend in USA is allowing me to become custodian of his Garcia Admiral 7.5/0 game reel. He wants me to show it to the world via this website. Stay tuned for lots more details and photos.
| | |
| --- | --- |
| Today (15.11.05), I became the custodian of the famous Admiral 7.5/0 reel made by Everol of Italy for ABU Garcia. Thankyou so much to Mike Harrison (Importer of Everol Reels USA) for selling this beauty to me. Mike and I negotiated a price and after he learned Fintan, my son, who is the designer of this website, suffered from Duschenne Muscular Dystrophy, made an incredible gesture which should be known to all. He told me to pay just half the agreed price and donate 50% to the DMD charity of our choice. It has been done today Mike! We are both deeply grateful for both these thoughtful acts. Keith Wichmann is the now current owner of the USA Evrol franchise. | |
From my research of two legitimate sources, I have discovered that ABU did not have a reel sufficiently robust to handle the huge schools of Tuna that appeared of the Swedish southern coast in the 50's. ABU apparently commissioned Everol Reels of Italy.
I have now become good friends with Paolo, owner and manager of Everol Reels today. He is most helpful at sourcing and even manufacturing parts for old reels when needed. Paolo enjoys putting his creations to test on board his boat moored in the local marina. He is genuine enthusiast and avid supporter of this website aiding in the documentation of these old reels. (ciao Mate, Wayne)
Remember that ABU had past experience filling their product line from reputable Italian and Swiss manufacturers when they had a need. Today we call this badge engineering.
Daniel Skupien points out that these beautiful bright red anodized mega reels were manufactured in 4/0, 6/0, 7 ½ /0 sizes. I have since found out on a Swedish website Fiskejournallen that a prototype was also made in 9/0 size as well. There are also excellent photographs here of these elusive reels. Some years ago Daniel Skupien valued them at US$500 but I suspect they are so rare that the sky is the limit for these beauties in good condition. I would love to own one to use carefully when out trolling for Spanish Mackeral (King mackerel in USA), and later to reside in my display cabinet. It is understood that Everol Reels can still supply some parts for these 50 year old reels from Italy. A good friend of mine, Uffe Edefuhr from Sweden, told me he has never seen one in forty years of collecting. His advice "It will break your heart and budget trying to locate one to buy". Whilst accepting his advice, this reel will always be in the back of my mind. Priceless it may be, but one can dream for free! You can now see I have lived this dream twice now with 2 in my display case.
Update (12.06.07) Due to a chance meeting I am now the owner of 3 Admirals branded Garcia, thanks to the generosity of John H Heil From Cudahy, Wisconsin and Bob Gill from Florida USA. John collects Game fishing reels and felt the 4/0 Admiral needed to sit in my collection along side the 7 and half /0 big brother. So one can imagine the excitement when Bob offered me the 6/0 size now I am trying to locate. Soon I will have links to his awesome Big Game Reel collection of rods, reels and lures. You can contact John if you have any Penn Game reels that might interest him.
My 2007 Collection of ABU Garcia IGFA Game reels.

My 2009 Collection of ABU Garcia IGFA Game reels.
The ABU 12 was a beefed up model based on the design of the beautiful blue non-export Ambassadeur 8500 (USA model 8600 Striper) This reel whilst nominally included in the IGFA series was apparently not advertised as such. Several much larger prototypes called the 50, 80 and 100 do exist. The 8600 was produced in the blue coloured sideplate form but is considered as tough as the Black record 5000 to find.
The downloadable PDF manual for servicing the big red ABU Everol Garcia will be created soon by my friend and reel wizz Tim Parratt
Alex my friend from USA also has two fine Garcia Admirals in 7 half/0 and 4/0 size.
ABU Ambassadeur I.G.F.A. Series
(Owning an Admiral 7.5/0 and 4/0 NOW, I feel they need an Admiral 6/0 as they sit along side the ABU 30, 20 &12 the other original ABU Big Game reels)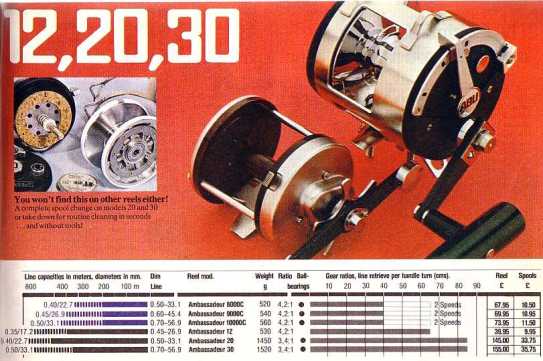 From 1975 to 1985, Abu did make some fine heavy duty big game trolling reels called the ABU Ambassadeur IGFA Series.They were named the 12, 20 and 30. I had the good fortune to purchase a mint Ambassadeur 12 from friend Steen in Denmark and thanks to Peter Harrison, my Aussie mate from Melbourne, I now have a beautiful new ABU 30 IGFA reel gracing my display shelf, sitting between the Admiral and the ABU 12. I have only just located and bought my almost mint ABU 20 , thus completing the set of ABU I.G.F.A. reels. The ABU or Garcia Admirals are the priceless rare big brothers that no price is high enough to cause me to part with them..
The manual of the IGFA Ambassadeur 20/30 reels can be found here.
Cover/Back, pages 2/3, 4/5, 6/7, 8/9, 10/11, 12/13, 14/15
Proof of existence of the prototype ABU 50/80 is below.
Per Erlandsen will be writing an article here to cover all IGFA ABU reels, including the prototypes
These big reels, whilst very strong are extremely heavy in both spool (stainless steel coated brass), and I have it on good authority that a world authority Jack Erskine, on Fishing equipment based in Cairns, Queensland Australia., has actually spun up some custom spools for these reels making them much more viable reels for fishing fast running billfish. (It's not a plane so I can say "Hi Jack!" ) When I broke the glass in my ABU Diplomat 662 double handed baitcaster, he rebuilt the fantastic speedlock handle into a fine Fenwick based 10kg baitcaster.
Another anomoly or Strange IGFA ABU 20
A Dutch friend has sent images of his big ABU ie aBU 20 which has some strange variations
Hi Wayne, Here are some pics from the abu 20 frame, I hope you can see it but there are on both side of the frame the numbers 1 2 and 3 and also x. The foot is only marked with sweden, no number. You can also see the holes drilled in the frame and the welding. Best regards from Holland, Jeroen
We would appreciate any ABU fans who can explain these numbers and drill marks? Another early prototype example perhaps?
Much more recently, we see the new ABU Garcia conglomerate PURE FISHING have released a reworked series of Ambassadeurs 6600 to 10000 sizes under the label Game Fish. I know nothing at all about these but I do see them rather inexpensively ie US$ 100/130 (NIB) from Asian E-bay webstores.
One again , draw your own conclusions, as I believe one gets what one pays for when buying new. I would love to hear comment from those that have used both and are thus able to compare the early bigger Ambassadeurs with these. There is some conflict of opinion as to where these reels are actually made. I saw a 6600 BIG GAME reel at my local fishing tackle store and the box said "Made in Sweden". I'm confused at I was told all manufacturing of Ambassadeurs (and sadly the Morrum reels too!) ended in Sweden this year(2005). Maybe it is at the year's end?
To my mind any finely tuned ABU reel can be considered a Game-fish reel.
One must pardon my inclusion here my latest acquisition, Everol Vertical Jigger J 12, almost an ABU and from the same pedigree which started over 50 years ago when Everol made the Admirals.
My collection in this department is now complete but I guess I'd like to get a used or marked version of ABU 20/30 to actually use in trolling from my boat.