Reels Overview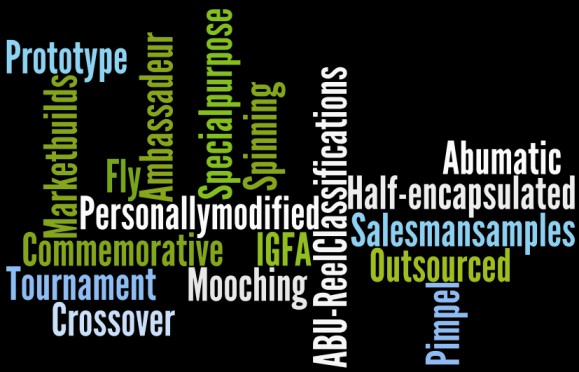 Chosen Reels
It is impossible for me to list and detail definitively all models ever released,
Nor would it be warranted or be beneficial to both the casual user and/or specialized serious collector.
Many are slight variations of each other, due to colour, gear ratios, line capacity etc.
One can realize, in the Service Guides, Tim and I try not to repeat ourselves particularly, where only minor differences occur.
I personally try not to labor on only the rarest, most collectable reels, rather I prefer to highlight the diversity and long production history of ABU products .
After great deliberation, this section will deal with selected ABU built reels based on the following.
Choice of reels will be largely up to ourselves and suggestions made from ABU fans.
Due acknowledgements are made to the ever available help from many, including Len Borgstrom, Uffe Edefur, Goran Enocson, the helpful team at Svangsta, including Jan Sjoblom and Patrik Svensson, Ben Wright, Marco Malavasi, Per Erlandsen and numerous others still to be added.
There will be an opportunity here for fans to put forward their own pages which would be acknowledged (please use Verdana font and max of 560 pixel images , unless linked to larger 1200 pixel size ones)
My classifications to cover over time.
2. Prototypes (to be determined)
3.Salesman samples (Cutaway examples)
4.Special Purpose viz Vintage Tournament reels (Tourny Combo and Wedding cake Spinning reel)
5.Commemorative reels (Record/Morrum box set, N&N 2500 CDL)
6.Crossover reels (1750 to 2650 models)
7. Special Market orientated builds eg Morrums and Suverans
8. Modified or Created ABU reels for personal satisfaction
9. All 9 A.B.Urfabriken Reel Factory Standard Type categories (made in Sweden)

viz
Evolutionary ABU Reel changes from 1940's to present ...
It can safely be said that the Abumatic, 500 series, Spinning, Mooching and Pimple reels had far fewer changes over time. This not to say they did not evolve technically, but they mainly stayed in their same basic form with internal improvements, though colours frequently changed.
Ake Murvall: The Record Ambassadeur Prototypes and Test Colour Reels. Once enjoyed here.
The new and updated Ver 4 article is now uploaded

This must start with Ake Murvall's ground breaking Record Ambassadeur Prototypes. I would dearly love to acquire one of these models.

The group of reels which really did evolve in physical shape, size, size and technical refinements were the Casting reels or as we call them in Australia, Multipliers due to the fact that they are geared and one wind of the handle will retrieve 3, 4, 5, 6 or 7 times the amount that say a fly reel would with its 1: 1 ratio.
The first were the stainless steel Record casting reels, red crossover reels, Ambassadeurs with external bearings , red and brown plastic-sided 3000 and 4000 saltwater reels , to palming plate reels with internal bearings, eventually morphing into models with floating axles, multi-bearings such as beautiful Morrum series and the current state of the art Revo series. A small variation into the not so popular planetry-geared mostly non metal Eon reels ending this diversion. ABU ventured into IGFA size reels to compete in blue water fishing. All in all, the round reels be they from 50's or the new super Rockets have held a place in the heart of this fisherman as well as many from all around the world. The latest are special custom one-off reels put together using some ABU basic components but with the addition of customized specialist, spools, bearings, coatings and finishes commanding up to 4 figure sums by such noted producers as Simon Shimomura, Ulf Tingstrom of Sweden and smaller manufacturers and modifier/assemblers in UK , USA and Australia.
Revolutionary ABU Reels, new shapes, new materials and new ideas: 1983...
Over the last 62 years of the ABU Ambassadeur revolution, it was subtle improvements over time for 3 decades. The reel retained its round shaped but improved considerably in handling. When 1983 arrived, the changes to occur over the next decade were incredible and the original reel shape and materials could hardly be recognized.
My good friend Per Erlandsen and I will be collaborating on this topic and as it is so extensive, this link should be used to explore the topic more fully. Coming soon!

Other competitive reel marques sent to Valhalla by ABU
The group of competitive reels made in Sweden which were eventually put to the sword or bought out by Record/ABU from Svangsta, comprised H.J.A.B at Halmsstad; Berhghaus, General Nordic, Mal Blohm at Gothenburg; Victory from Malmo, Malt Blom, Radius, from Stockholm; General Nordic, Arjon, from Malung; Tebe from Lindesburg; Rainbow from Linkoping and Comet, Ryd, Alvesta and Westerstrands. See some more info here
Noted author of Vintage Fishing Reels of Sweden by Daniel Skupien states
In regard to fishing equipment made in Sweden ...sic....
"it's history in the industry doesn't go back as far as as companies like Heddon, Hardy or South Bend -- at least not on an international level. But Sweden's manufacturer's contributed significantly to the technological age of sport fishing that began in the 1950's and ultimately helped shape the products we use today. One would be hard pressed to find a sport fisherman in the world who is not familar with the Abumatic, Ambassadeur and Cardinal and it would be equally difficult to name a reel maker that was not influenced by these Swedish designs.....a few books have been written containing some Swedish products, but these have for the most part been from the American perspective. Eventually one of these companies surfaced as the undisputed victor...The Ambassadeur would become one of the most enduring and popular designs of all time.-- both for fishing and collecting."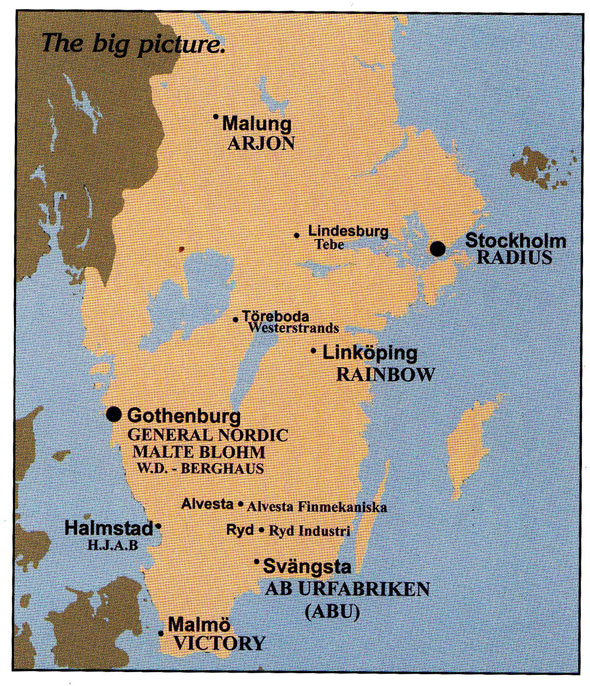 Please be patient and enjoy as they appear and do feel free to contribute info and pictures of your own Record, ABU or other Swedish fishing equipment!
If you have any others not listed above, that are unneeded or doubles in your collection and are available for a reasonable fee, I would be very pleased to hear from you.