Record/ABU Reel Models
500 Series
Model name ABU 501
Maker/designer Gote Borgstom and Enar Frode (patent 1961)
Production dates 1987/1982 (last model of the series)
Features Direct drive, turn handle backward when fish wants to run, Chenille-edged spool rim, contoured lip on Stainless steel winding cup, single pick-up pin, push button line release operated by one finger, oscillating spool to cross lay line to avoid digging in
Known Enthusiast Writers James Partridge and Martin Stone from UK and Marco Malavasi from Italy
Images My French sold 1980 ABU 501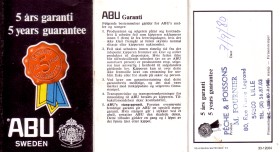 Beautifully mounted 501
Catalog
Tight Lines 1978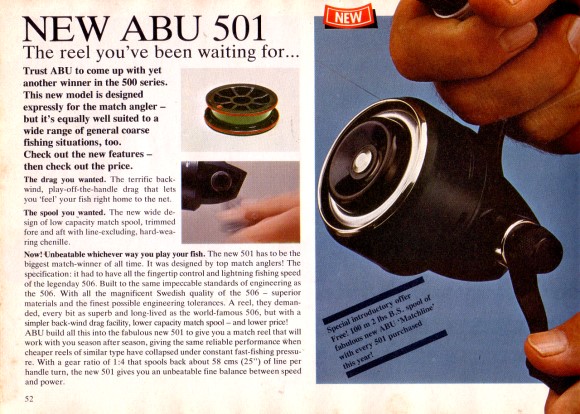 Tight Lines 1980/81

Tight Lines 1982 features the Back-winding drag ABU501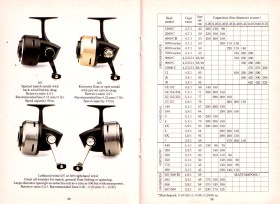 Schematic
Manual





This 501 was the last and perhaps finest of a great series of metal 500 series half-encapsulated spinning reels which made continual minor advances over 20 years.
More general material covering the whole 500 series is here.
They were followed by the less accepted plastic models 601 and 601M and 602 while the 501 and 506 were still in production in 1983. The two remaining metal models 501 and 506, were gone from the Tight Lines catalog by 1984.
Please be patient and enjoy as they appear and do contribute!
If you have any others not listed above, that are unneeded or doubles in your collection and are available for a reasonable fee, I would be very pleased to hear from you.