Asbjörn Hörgård

/ABU Rods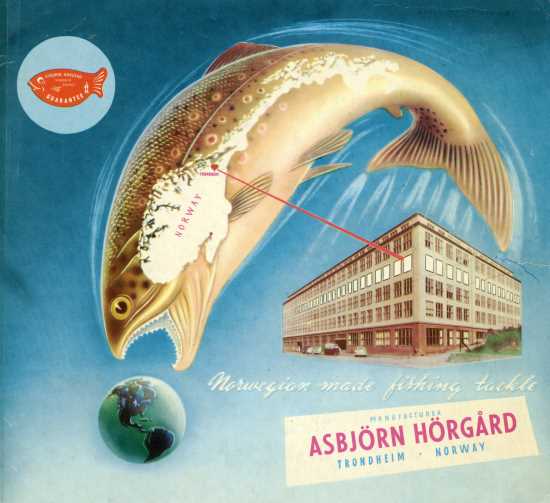 Composite Hörgård image and many others below from the very interesting vintage fishing web pages of Øyvind S. Bruland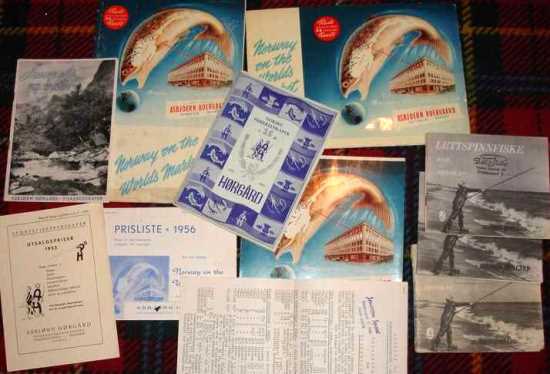 Missing from my collection was a Horgard split cane flyrod and spinning rod or baitcaster imported by ABU from Norway, until a few years ago.
Now arrived to my collection, are two Asbjørn Hørgård rods, (Konkurasse and Golden Fly) from Oyvind in Norway and Earl in United States. Still looking for any baitcaster model viz Norsk or Sjoa models or Spinning viz model Figga. The spinning Threadline version has been found and is seen below.

When I realised Len Borgstroms first fly rod was a A.H. Lillemor (incidentally named after Asbjörns wife) , I searched to find one and sent it his way and this is it on the carpet in his study.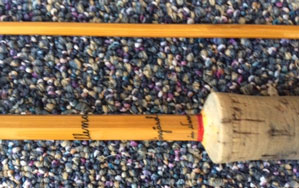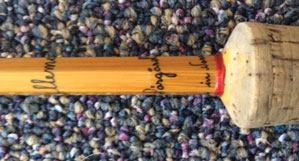 For someone who personally, and with his family, gave so much to the Sportfishing world, it was wonderful feeling indeed for me to send a rod such as this back to him and bring so much joy to him, that he now hangs it with pride in his home office. 1951 was a special year for ABU to include these fine rods in the N&N catalog of the era.


A.H. Threadline below (the most recently arrived addition)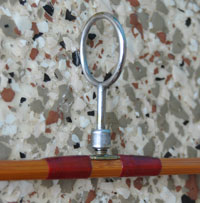 A.H. Golden Fly below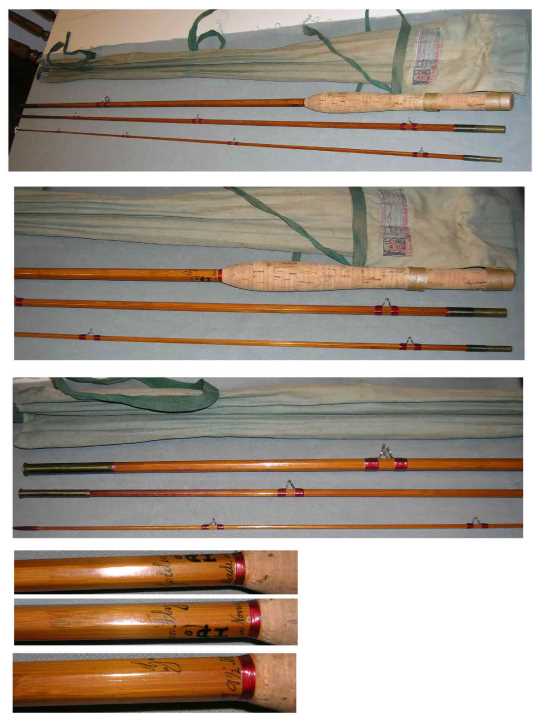 A.H. Konkurannse D (Tournament model) below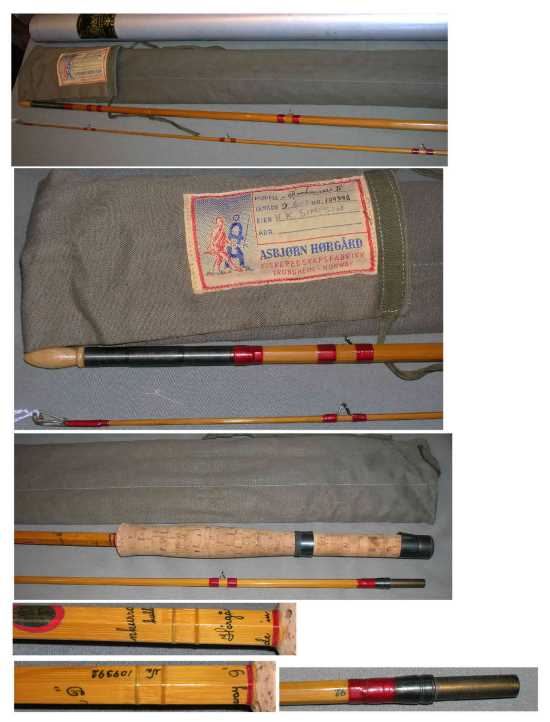 Oyvind Bruland has again recently been in contact with me and is offering further help to bring to the fore, more information about ABU/Asbjorn Horgard rods.
Here Oyvind had previously shared images of the missing A.H. Threadline spinning rod that I am missing. Hopefully I will be able to buy rods such as these one day.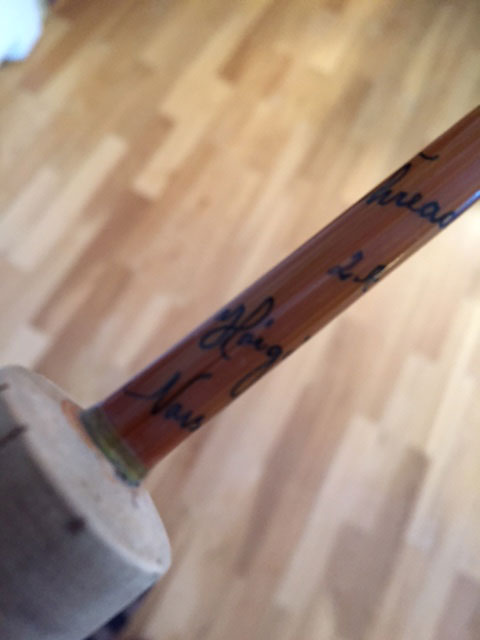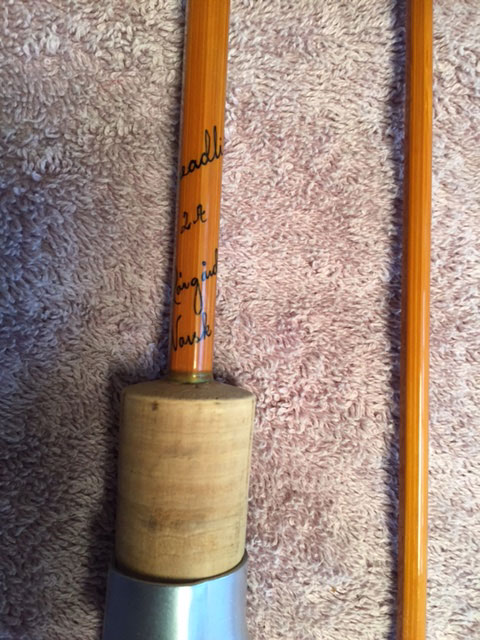 as well as images of the missing A.H.Sjoa baitcasting rod from Dag (first 2) and Oyvind (second 2)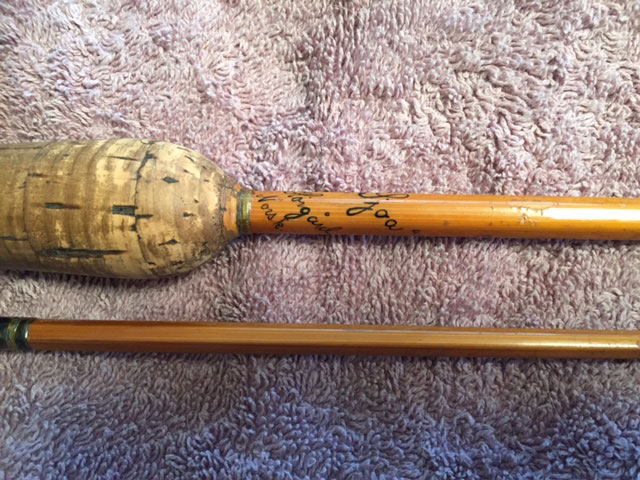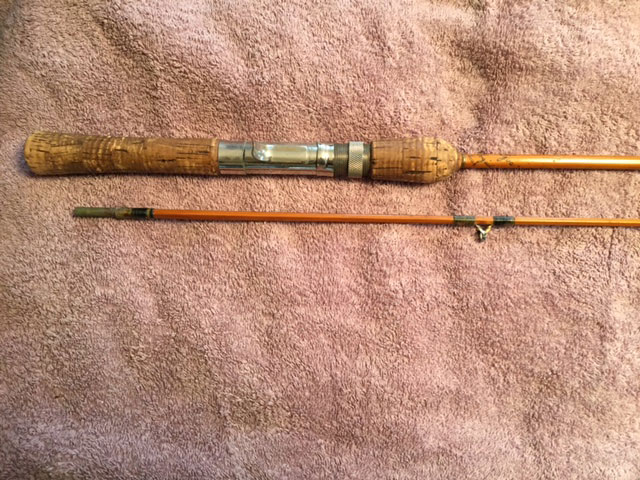 My friend Ove in Norway is organising for me to get a

A.H. Sjoa
baitcasting rod
,
then just A.H.Norsk to locate.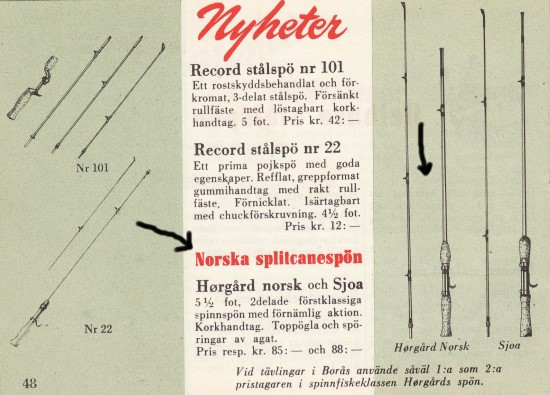 1951 Napp och Nytt


The beautiful light flyrod A.H. Lagen with me and is shown below by Oyvind. A user of vintage equipment, he assures me this rod


"is the very nice sea-trout single-hand fly rod which came in three sections and with two tops"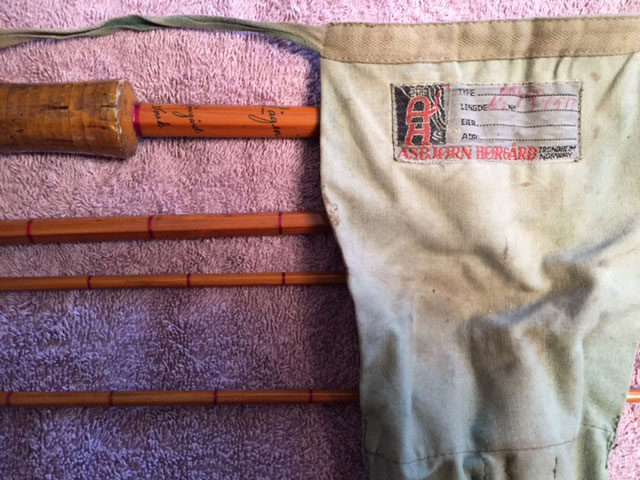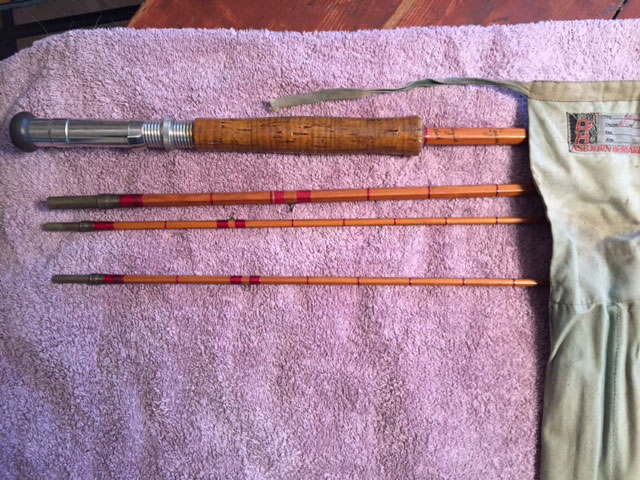 My Norwegian friend Jon Steinsnes and Dr Wolfram Schott are also helpful contributers and are on the job keeping their eyes open for one of these Horgard split cane Threadline spinning rods and/or baitcaster (Norske or Sjoa) rods for me.
Also Hans van der Pauw from the Netherlands has been a great help in gather information on the Horgard rods supplied to ABU.
Enjoy this summarizing Asbjørn Hørgård information written by Wolfram Schott
The Horgard story is extraordinary and well worth the read to see a story of pride, passion, persistence unfold to the benefit of all.
Wolfram has also supplied some wonderful images of the Horgard manufacturing equipment
Alas there is no such thing as a Hörgaard Museum, not in Trondheim (where the factory was), nor anywhere else in Norway. The items are exhibited in the Norsk Skogsmuseum (Norwegian Forestry Museum) in Elverum/Norway, some 400 miles south of Trondheim, together with MANY hunting, fishing, lumbering, wood-processing and other related items.
thanks very much Wolfram
The Horgard rods commissioned by ABU are shown here in better detail than in their 50's catalog pages above.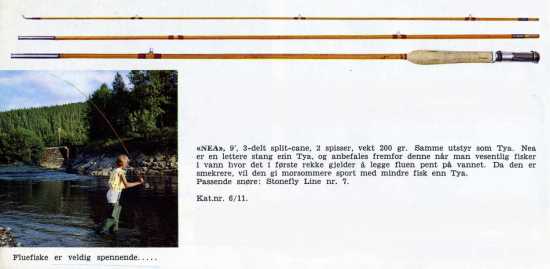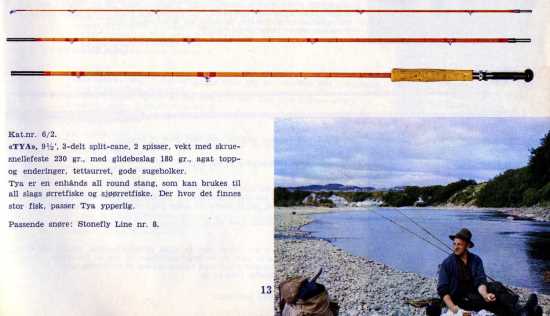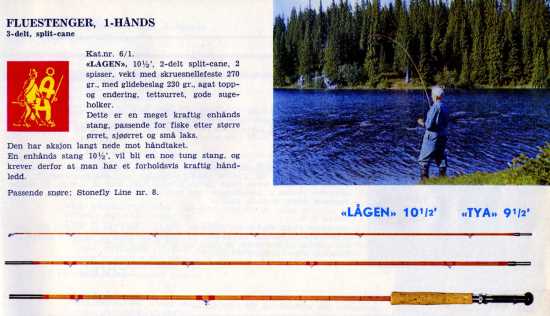 Great translation from the Norwegian, allowing us English only speaking fans an insight into the background and process involved.
Many thanks to the shy and anonomous translater
In this first article, I will take for me fly fishing rods for trout made from splitcane at the Trondheim factory, Asbjørn Hørgård As.
It is a known fact that Norway has had several renowned fishing rod manufacturers. There have been large firms that have invested in a wide range of fishing rods to the salt and freshwater fishing.
The rods for trout fishing with fly gear, were produced a few places in the country.
Making cane rods requires special knowledge and special machine equipment, which was not easily obtainable.
Some handful of useful and ardent amateur team sticks of wood and delivered to a small circle.
In Trondheim, there was a keen and enterprising angler, Asbjørn Hørgård. The man was an early this country with their fly rods. Already in 1934 he produced his first pole. The knowledge he found by the intense exploration. With the help of his school English and encyclopedia He found out the knowledge by studying and try out the information in an English book "Amateur Rodmaking".
By splitting up Tonkin bamboo poles that were supposed to making skis, he started to split bamboo and glued them together afterwards. Cutting took a long time, they may be even tapered in addition to each split/part was triangular. Like the handful of useful person he was and with insight in the mechanical industry, he made ​a planing machine based on bicycle wheels and bicycle gears, both with front wheels and wheel hubs. Moreover, he had much help of a mechanic teacher G. Storvik the "Central Technical School, which helped him invaluable. And he made ​the team milling spindle and other components in steel, which both had to be tuned and threaded.
The adhesive was a mixture of horn glue and varnishes.
He noticed that the quality of the glue and paint were not good, and worked his way to England by boat, to try to acquire knowledge about this. To acquire this competence was not easy, this was mid 30's. He visited several cities on exploration. Finally he found a shop with a sign that said: "Fishing tackle Established more than 100 years in London. He took courage and went inside. Here he was greeted by a friendly older man, who told that he had been doing to make fishing rods by the old method the entire life. This was precisely this Asbjørn Hørgård was looking for. Hørgård heard that the competition in the market was hard and new production methods made it difficult to keep it going. There was a lengthy discussion and Hørgård shared his methods at home Trondheim splitting and plan of cane splits. The older man split and planed manually. Eventually ventured Hørgård to ask about the glues, lacquers and preparation of lashing wire. He got all information he would like. The goal was reached and with fresh courage he returned to Trondheim to continue work with fly rods. Back home in Trondheim took he took up his small production of rods. He moved to a larger production facility, as he got loans from his bank in order to rent an area of approximately 160 square metres.
The rods achieved a good reputation. They were tested by city experts in fly fishing, Director Reidar Brekke in Trondheim Insurance company. He was the most famous and important angler in the city. He started throwing competitions in Norway, and the same man was also a renowned entomologist with studies, especially of insects that were trout food animals. Reidar Brekke has also written some articles in "Sport Fishing" the 1930's, and in 1940, his book "About Trout and salmon fishing in Norway "on Johan Grundt Tanum forlag.
The statements from Brekke weighed heavily and increased demand for Hørgårds rods. But to sell them in Oslo area proved to be difficult. Not least, this was because, the wholesaler that Hørgård contacted also had a leading position as an importer of fishing rods from abroad. It was a constant struggle to convince market that the Norwegian-produced rods were as good as imported rods from England, the time leading manufacturer and supplier to the Norwegian market. Until the outbreak of war turnover increased and he had to bring in more workers to help with the production. When the war broke out, many changed in the country. At Hørgård there was a steady but limited production in the first years of the war. He had a warehouse of Tonkin bamboo, which were completely necessary for the production.
In1944, Hørgård went to prison cause he had been active some time in an underground group in Trondheim. Prison stay meant the company and all the family possessions were taken away from of him, and Nazis were set to take over business. After the war he found that the production had continued. It was also a production of the other (fishing-) equipment in the enterprise. In time in prison Hørgård made plans for activities and ideas for new products that he would turn to when he was again a free man. Working Drawings for locations and products he had collected as closets safe hidden on the chest. Everything listed with a pencil he had available. He got back his company.
After the war, there was steady increase in production volume and more than 130,000 fly rods are totally manufactured in Asbjørn Hørgårds name. Until about 1970, the cane rods were dominating the market, when in terms of quality rods for fly fishing. After this the company started fiberglass, carbon and Boro rods of high quality. At this time there was no industrial mass production of cane rods at Hørgård.
The rods were made ​​of a combination of craftsmanship and use of special equipment and appliances. A brief description of the manufacturing method follows here:
Bamboo was imported from China in 12feet long balls a 25 sticks.
These must be stored in longer time before they can be used.
They must be really dry. The production begins with selecting and adapt two and two sticks in order to eliminate weakness in the joints of the bamboo.
The fibres in bamboo runner from extension to extension, and these joints must be dislodged during production of the segments, so that the two parts never are located together. The logs are split by a knife.
The fibres must not be cut, because fibres can be a bit skewed. A knife will follow the fibres, which are parallel from extension to extension. A saw will cut the fibres and make the rod segment weak.
A starting part consists of six ribs, three from the one bamboo and three from the other. These ribs followed each other during the entire production process. The outermost layer of the bamboo stick, it is strongest, the smooth shiny outer surface must maintained, the fibres here have the greatest flexibility. Therefore
the ribs must be planed on the inside, to keep the strong outer fibres. The outer surface joints are smoothened lightly.
Then the ribs are planed equally thick throughout its length. This dimension is slightly larger than the finished rib thickness in the thickest end. When all the ribs are planed equally thick with a triangular cross section, it is ready for the tapering plan. Dimension and taper determines the type of rod that is result. This cutting is done by machines. The self-produced machines can be set exactly to the infinite possibilities of different dimensions. Thus infinite many different types of rods can be produced.
After this operation is completed, six and six ribs are laid as they were paired from the start.
Gluing is done so that the six ribs which belong together are put into a glue container. From there over to a machine where two threads with a
suitable pressure are placed around the ribs, both ways to prevent twisting of the rod. The bamboo joints are parted, thus some of the weaknesses from these joints is eliminated. After gluing the rods are corrected.
When the rods are ready, they must be controlled and put on grips, reel mount, rings and hook ring, then signed and finally painted.
More to follow I'm sure....
If you have any others listed above, particularly a Horgard Baitcast split cane rod such as the Norsk or Sjoa, or Spinning models viz Figga that are unneeded or doubles in your collection and are available for a reasonable fee, I would be very pleased to hear from you. Particularly any Record rods or Diplomat series, or Safari Spinning or Fly rod and a Pacific Series boat rod.