Lures/Baits/Artificials
Toby Study

Toby Study
A work in progress which all will appreciate I'm sure!
Thanks to Mike, Hans, John Fishkat and Uffe
Please feel welcome to contribute and improve this article.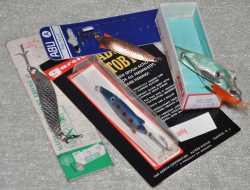 ABU Toby and Variations
1955 to the Present!
General Observations
What better way to start off the history of the famous Toby lure is to quote directly from the man himself, Len Borgström's introduction to the creation of the Toby in his biographical "ABU and Garcia - What happened?"
Another lure which may be ABU's best selling lure to date, is Toby. We presented it in the 1956 issue of Tight Lines/Napp och Nytt. I got the idea for this lure one time while fishing for sea trout in Denmark. It was meant to resemble a Tobis fish (a small slender minnow) . However , when we made the prototypes, we had some difficulty making this narrow lure move naturally in the water. At this same time, we had this lure called Torsjo, with small wings that increased the surface area and thus improved its buoyancy in the water. So, we added these small rectangular wings to the next Toby prototype., which greatly improved the the lure's movement through the water. However, when one of our designers saw the wings, he decided to shape into more realistic fins. This improvement made the lure more elegant as well as more fish-like. If one doesn't first attract the angling public to the lure, the fish will never have a chance to see it. This lure was so successful and attractive that for a long time it was part of the ABU logotype.
It is undisputed that the mastermind in the actual design/construction phase of the original Toby was Ove Soldemyr.
Wayne,
It is absolutely correct that the designer mentioned in my book, who came up with the idea of making the "Torsjö" wings in the shape of fins, was Ove Soldemyr. I at one time had the original Toby prototype. I gave it to the ABU management to help in a copyright fight, and it was never returned. I have tried to trace it but nobody now knows what happened.
Len
Further to another e-mail question to Len Borgstrom
Re. TOBY.
I thought that the following might be an interesting part of the TOBY story. As I have mentioned before, the idea to make TOBY came from fishing for sea run brown trout off the coast of Denmark. The shape was to make it look like a "tobis". That is the name of a small slender baitfish which used to be plentiful in Scandinavia. As we at that time sold a lot of different fishing lures in the USA via Garcia Corporation, I showed the prototype to Tom Lenk, the Garcia president. I mentioned that we planned to call the new lure TOBIS and explained why. Tom's immediate response was: "Why not call it TOBY? That is easier to remember!" That is how TOBY got its name!
Len
This i
s an interesting point Len, as I said later somewhere, the Toby was marketed to successfully attract American buyers. Tom was very helpful this suggestion! Wayne
Personal TOBY Observations
I find it fascinating that in all advertising I have observed, Toby has been referred to as a separate entity itself and Spoons are a category in which all other types were grouped together. Toby then, was always thought of as ABU's standout or flagship lure as it was in fact a spoon itself.
It was so well respected as a "Universal Lure" that it had its own magazine in the 1980's and 90's called the Toby Nytt and part of the enthusiasm spawned the TOBY CLUB. Click here on the image to see the contents of the magazine.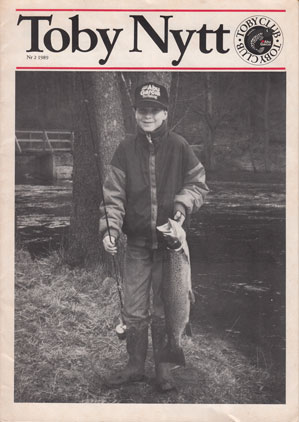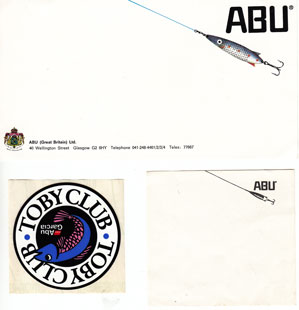 Next, after Toby's initial silver introduction, it was ten years before it was deemed advantageous to add colour to the TOBY range. Unnecessary up till then, as the brilliant shaping was just what the fish wanted, and incidentally still want. Perhaps it was the fisherman with an eye for colour who was the target ? For what it is worth I use a range of colours now, conventionally dark on bright sunny days and the most reflective colour on dull days. Not rocket science but for a beginning lure fisherman, it is useful information. This was explained in 1976 TL catalog (see below).
Toby was such a sufficiently good bait and well known trademark image of ABU, that they annointed it further by created fishing awards bestowed on and for Dreamtrip Winners. The pinnacle of these award would be the boxed Gold/Silver Toby with bejewelled eye!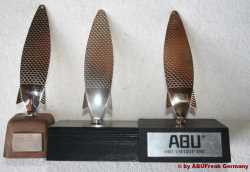 T
he last, perhaps obvious after Len's explanation above, observation by myself is that it never officially was known as anything other than a Toby or a Toby (something) in all markets for all time. Many other lures "lost" their original Swedish sounding names when placed into English speaking markets like UK and USA.Toby then was perceived to be able to stand on its own 2 fins so to speak!
Finally copying is considering the greatest form of flattery

My friend Hans

from The Netherlands tell me the most significant competitor to Toby was a

Solvkroken 'Odin' spoon from Norway . It entered the market in the 60's and was removed in the 80's so its

life was limited and never able to compete on the long term with Toby. The more shallow S bend has been seen as causing a better fluttering action. I have never tried the two lures against each other, but that fact that Toby is still for sale indicates appreciated by many anglers.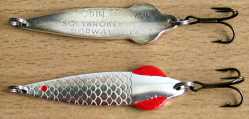 Mike (The Welsh ABU Sleuth) has been most helpful in sharing Toby information and images to improve the quality here.
Derrik Figge (ABUfreak) also has been kind enough to share some images of his rare Toby lures.
Toby was such an important lure that it was designated a "Must lure" and was even called "First Family of Must Lures" and this large poster was developed for point of sales in Tackle shops in the English speaking world. Toby was such an influence upon me for fishing, I have amassed over 130 different variations of the original made in Sweden types, up to the early 80's.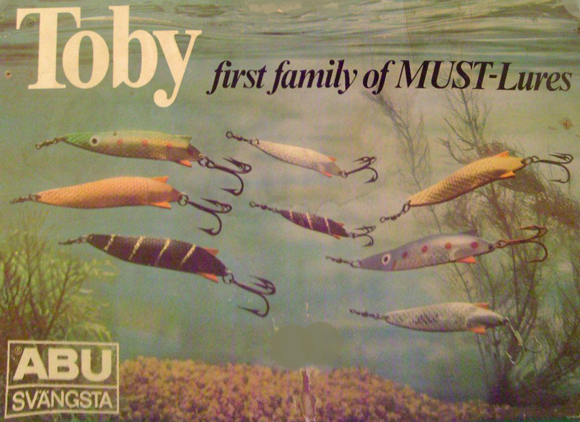 Poster as seen on Ebay

Yesterday Tackle and Books
Email:
d.dobbyn@ntlworld.com
and now owned by Mike the Welsh ABU Slueth

Prototypes/Variations to Marketed Product
"Today I talked to my friend Bert Nilsson from Asarum in Blekinge! He was working many years together with Ove Soldemyr! In fact the protos of the weedless Toby that you now have were made by Bert! He told me about the goat hair that he attached to the metal thread on the protos! I did not know that he was in this position working close to Ove!"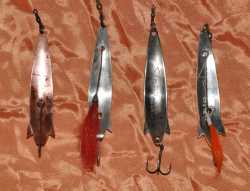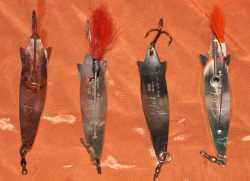 All these photos are of four early Toby. They represent some sort of progression of the many Toby lures in their developmental stages.
One can see initially a single hook on an ordinary K , 18g Toby, then stainless steel spring wire added to protect the single hook.
Both of these 18g Toby lures had the rear of the Toby merely bent to accomodate the single hook. Later models had the more usual elongated hole which would allow the single hook to pass through the body of the Toby without adversely affect flow of water around rear of lure.
The third image of an 18g Toby actually has a simple treble hook placed in these elongated holes made for the weedless version. Purpose unknown?
The final image is a MIB version which was actually sold as the 28g Toby Vas Weedless in S.
This is a nice progression of the marque, unfortunately the prototypes, crafted by Ove Soldemyr after Len's very first ideas, are missing, unlike the beautiful original blanks I have of the famous Krill lure in my collection. Perhaps a Krill Study will be the subject of another detailed lure study as time permits.
The Toby(s) Noted as Unusual
Apart from the purposeful test/prototype variations noted above, some other strange product has been found, due largely to the fact that the staff were encouraged to experiment and learn from their experiments. Some Toby lures have been found with no scales, some without branding and others with reverse moulding of the ABU Toby brand mark. All of these would have been created by enthusiastic, fun loving workers on the production line and would never been intended for sale.
When I am capable of photographing the tiny one-off Toby 4g (but weighing 8g ) that was made of double thickness metal , expressly for Gote Borgstom) with a consequent minimal strike from the mould due to thickness, I will add it here.

Design improvements and modifications were ongoing as ABU never rested on their laurels. They constantly sought improvement and the Toby is testiment to this fact. I have several of the testing prototypes from Bert above as well the aforementioned difficult to photograph, previously unknown subject of double thickness 4g size but 8 g weight Toby which was probably created for Gote Borgstom as were his special consignment double thickness Island lures. The fact that it not materialize into large scale production indicates lack of effectiveness. My testing now indicated it loses some of the Toby action/wobble due to density.
Gote Borgstom was constantly interested in trying variations, especially with his favoured Toby. He had workers even heat treat and achieve different coatings/finishes on Toby for his fishing. Many of these never reached commercial production stage.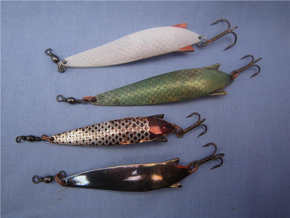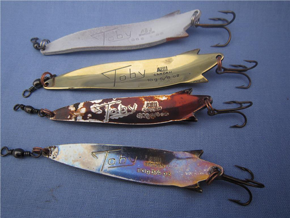 Smorgasbord of Toby Packaging shown above as lead in image, shows different eras, different production locations and different target markets.
They ranged initially from cardboard boxes with clear hard plastic covers, to mere cardboard hangers, which ranged in colour from green to yellow to variations of blue. In the USA one often saw a type of injection moulded light plastic bubble covering a cardboard base.
Along with the ABU Killer and ABU Hi-Lo, the Toby was one of the first 3 ABU lure models I ever bought in the mid 60's and have continued to use to the present due to their effectiveness! So almost 55 years in production for ABU and nearly 45 years productivity for me! Needless to say , the variety of size/density variations (via length and weight changes), colour options and hook-sets were enormous.
Now getting started after my preliminary observations!
Please reference the main Metal lure and Toby Colours here

Some painted/annodized colours found on a few later Toby lures are here in the generic ABU lure colour list.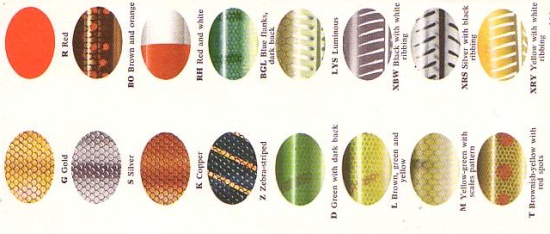 My Personal Collection of Toby and Variations
It comprises 115 original standard Toby, missing only 4g S/K, and 12g Smash Z
and 4 rare Ove Soldemyr prototypes courtesy of Uffe and Bert
4 factory experiments by workers
4 true fakes including an innovative one with a magnetic moveable round steel eye
4 Kilwell/ABU from New Zealand
Image to follow
After 10 years of Wondering!

I have at last discovered a 28g Toby in BGL colour. It was never documented in ABU catalogs and therefore not officially for sale. This example was probably made by a factory worker who saw the need for the classic long casting 28g Toby to be made in his (and my) favourite BGL colour.


HISTORY
In the beginning, 1955 was the undisputed year of Toby's first creation. It is in the right era for the "Lill" lures so why not call a 7 g Toby "Little". Mike will find his empty box and include a picture here. Steen apparently has a number of these boxes , all empty! So was the intention to market the 7g Toby changed after the boxes were printed? who knows? Anyone who has a "Lill Toby" would be most welcome to please contact me and post a picture here.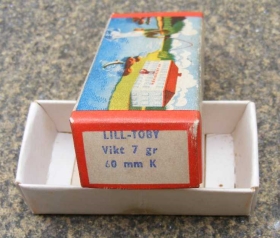 Looking back to the first catalogs I will show here some images from the first in 1955. For five years, until the end of 1959, the only offering was the Silver plated 7g 60mm and 18g 90 mm long versions, complete with the orange tipped triangular fins.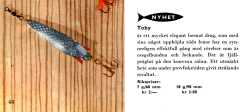 In 1960 the Silver 12g 75 mm version was catalogued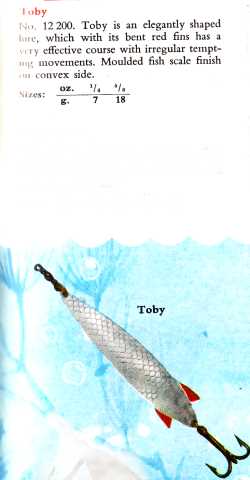 Breaking news from Len Borgstom....re ABU's relationship with Killwell and the famous Toby lure sold in New Zealand
See Kilwell New Zealand engraved/pressed into original ABU Toby Daffy and Glimmy lures
Wayne,
Kilwell is owned by John Wells and his younger brother Jeremy.
Kilwell was the exclusive agent for ABU during my time.
Because of import restrictions a long time ago, John Wells actually came to Sweden to learn how to make lures.
I think that we supplied the first stamping tools.
He worked at the plant for 6 months and stayed as our house guest. This must have been around 1960.
Annika and I were in New Zealand maybe 10 years ago visiting John and Jeremy.
We went fishing with John and had a great time.
I have no idea who is the ABU agent now.
I also do not know if Kilwell still make the Toby.
I do not think so.
Fond regards! Len
More to the info from friend Darby when searching their current website
"Kilwell Sports is a privately owned company established in 1933. The company is a manufacturer and distributor of fishing tackle, firearms and outdoor related products. Our wholesale division distributes a huge range of product for resale in retail outlets throughout the country. In addition to marketing and distribution of its own product brands, KILWELL SPORTS represents an impressive list of leading brand fishing and hunting product... which presumably from Len's info above , included the famous A.B.Urfabriken or ABU as we fans know it!
Then in 1961 , we saw the introduction of the Silver 15g 50mm long version to the line-up
In 1962 , I see a lure number designation was introduced and the Toby was catalogued as # 12 200. The range stayed constant in this year and 1963.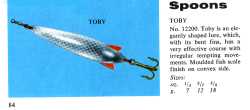 1963 The Toby is imported and sold by Garcia. The range was limited to one colour - the original Silver/Red Fins (S) in sizes 1/4 oz., 3/8 oz. and 5/8 oz. Thanks Mike
Sample USA packaging from different eras are below
Later in early 70's we see this USA Garcia range expand to include the most beautiful of Toby lures, the Silver Blue, and also the nomeclature changes from metric weights to DR (Deep Running) and R (Regular) to ease acceptance by American anglers.
By 1964, we saw the range explode in variety. Now we have 7g 60mm, 10g 60mm, 12g 75mm, 18g 90mm, 28g 90mm sizes in Colours S G K Z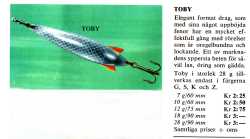 My first Toby spoons bought were all 28g S in 1965, as these suited my windy local conditions for surfcasting and spinning from rocky headlands. They would cast long distances and sank down deep. I do not remember seeing the Golf Copper and Black versions in my local Aussie tackle store at this time. Wayne
1965 There were no catalog changes this year.
1966, the colours of D, T and BGL were introduced to the 12 g and 18 g sizes. BGL was to become a favourite of mine due to closeness in colour to local baitfish.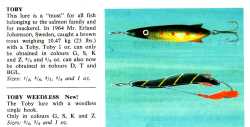 1967 and 1968 sees Toby earn a whole page in the Tight Lines catalogues with 6 illustrations, depicting also the Toby Weedless version available in 12, 18 and 28g size in colours S G K Z. For the lightest 5 Toby's S/G S/K are also newly introduced colour variations.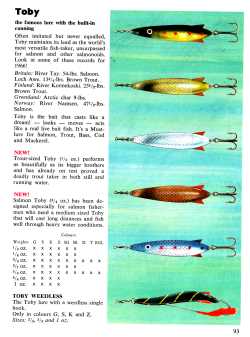 Advertizing says "Often imitated but never equalled!"
In 1969, Toby once again receives a new whole page in the catalogue, with the introduction of the Salmo Toby 30g and 110 mm long. Record catches in Europe are also noted.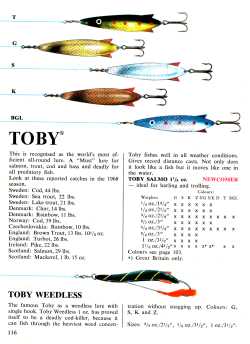 In the USA, the TOBY range doubles in size due to the introduction of the colour Blue/Silver, a beautiful colour that was specific to Garcia in America. Thanks Mike E, the Welsh Sleuth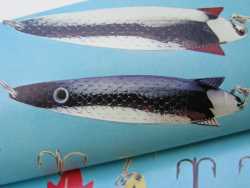 Further information below kindly supplied by John Fishkat
The USA-only silver-blue Toby was listed in Garcia Annuals from 1969-72. First in 1/4 & 5/8 oz sizes. Then in 1971, 3/8 oz was added. 1973-74 Garcia Annuals contained photos of the silver-blue Toby, but it was not listed as an item for sale. This is a difficult lure to photograph without glare spots or reflection of nearby objects. The best Garcia Annual photo is from 1971, which however does not show the blue top well. Later Garcia photos have artifacts giving a false impression of the lure's color scheme.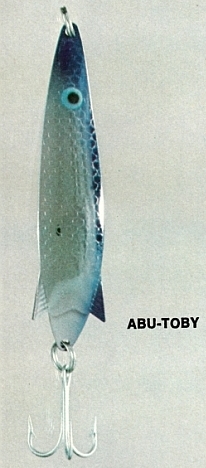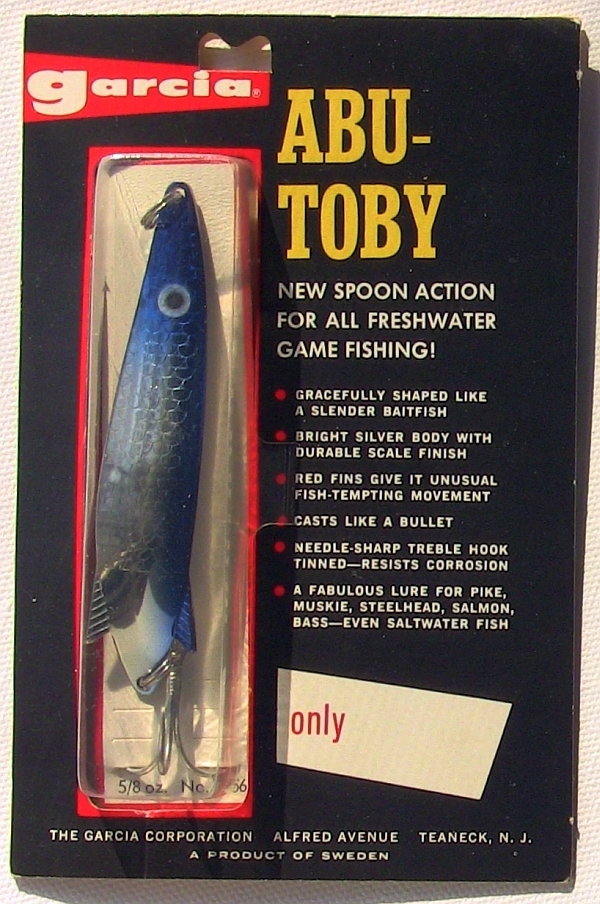 John has shared some more info on the USA issued Toby, called DR and R ( Deep Running and Regular)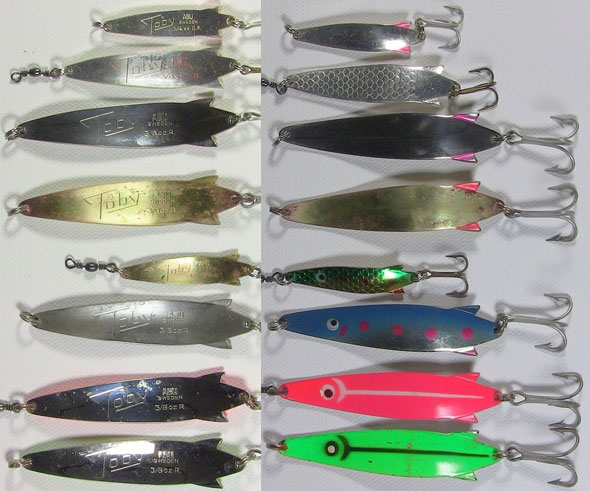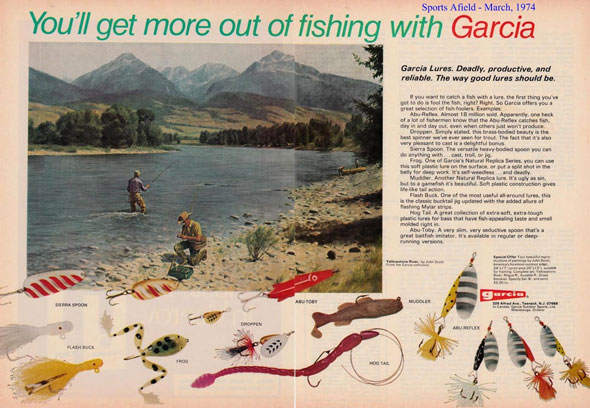 In 1973, Garcia (USA) added thick-bodied Toby spoons to their Toby line. The newly imported thick-bodied Toby spoons were stamped with "D.R." (deep running) instead of the weight in grams. The prior import sizes were now stamped with "R." (regular). Presumably this was done so that American fisherman unfamiliar with the metric system (for length and weight) could readily differentiate lures of the same length of different weight – or lures of the same weight of different length. For instance, the 45 mm "4 g 1/8 oz" spoon became "1/8 oz R." and the 45 mm "7 g 1/4 oz" became "1/4 oz D.R." Garcia used the terms "regular" and "deep running" on packaging, in advertising and catalogs from 1973 through 1975 (the last year Garcia cataloged Toby Sweden).


Interesting is that many of the R.\D.R. examples are not embossed with scales and fin bones. Although this is not unique to R\DR, in the US market there are examples of plain backs (no embossing on the back) with the standard Toby Sweden lettering (on the belly). Perhaps not surprisingly, not everything is cataloged as demonstrated by my example of the green/gold/red dot D.R. which has a color that was never listed by Garcia for any type of Toby.
John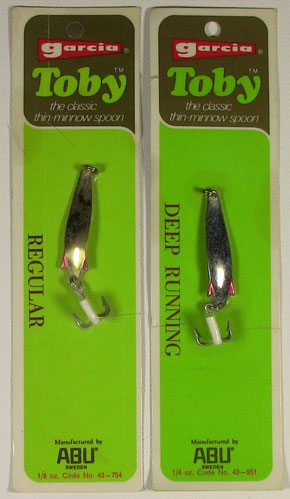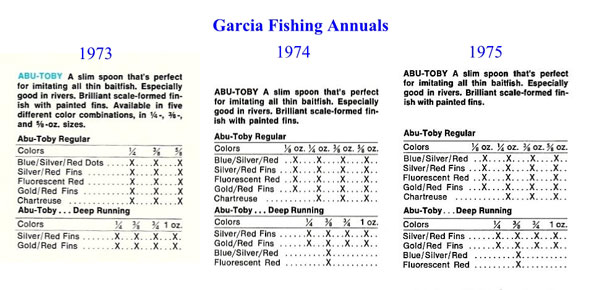 After the 3 year 1973, 1974, 1975 , USA Garcia ABU Tobys, we come back to the European ABU catalogs


By the Toby's 15th Anniversary in 1970 , 51 different size and colour variations were available.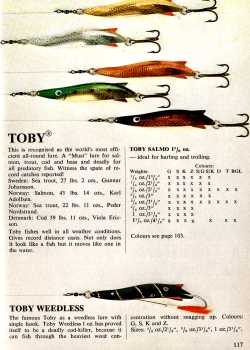 By 1972 , I count over a hundred different size, colour and hook-set variations cataloged, which is an enviable record never matched by any lure from any company in the world , I suspect! It made my initial 35 or so look a little lacking! Ah but 10 years after starting to collect, I have a display board numbering 120+ Tobys , made in Sweden (years 1955 to 1981) , USA and even New Zealland. I do have a numerous Toby prototypes made by the inventor Ove Soldymeyer, otherwise unavailable, except they were sourced by my long time Swedish mate Uffe Edefuhr who was a friend of a friend of OS !
Connections....so useful..my greatful appreciation to all concerned.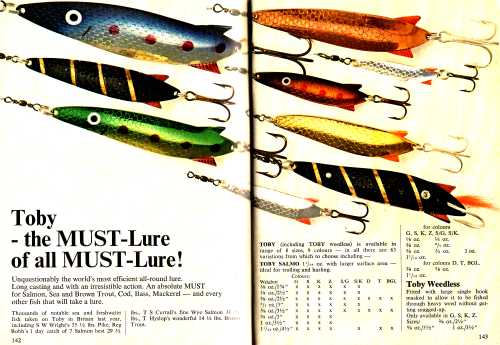 1973 saw the justified and spectacular claim of World's Most Efficient all-round lure! i have to admit if stuck on an island, it would be these as 1sst , 2nd and 3rd choice I would be taking to survive with.

1974 Toby was nominated as the World's Must Lure! The Scottish ghillie and his Toby story is worth reading here.
The 1/8 oz. size was introduced in USA
1975 With editorial hyperbole, Toby was called a Must lure with a mastermind.
No other essential changes to the range.
1975 Toby Röding/Toby Char




The Toby Röding was sold in one size only, 15 g / 77 mm, in the colours BGL (Bluegill), YP (Yellow Perch), SR (Silver Red) and S/SV (Silver Black.

The BGL, YP and SR were sold for 5 years 1975 - 79 and the S/SV for 2 years 1975-76.
In 1976, the Toby Char was again introduced and advertized with the conventional Toby group as well as the Ice fishing perk line-up.
It was released in 15 g 90mm length weight for only BGL, YP, S/R, S/SW colours. I was basically the same old Toby lure but with a different hookset. In this case the single shaft double barbed bronze hook was set on a piece of monofilament about 90mm long. To my mind it was merely a renamed Toby Roding but I will appreciate knowing if I am missing something here.
Incidentally, 1976 also saw a wonderful piece of fishing advice to help novice and experienced fishermen alike utilize the huge array of lures produced by ABU.
The explains and teaches lure choice is not a random one, it should be carefully considered based on lure action and many other variables.
1977 Toby Roding with single hook
1978 saw Toby Smash was the brainchild of the year.
Advertized as a "jewel of a lure, in both looks and value on your line. Its an 18g Toby with flaring, flashing, reflex scales that really draw the fish from afar." It was available only on G S K Z Toby lures with a thin gold stripe colour added.. For what it was worth, an once in my life I was ahead of the game by attaching Silver and Gold mylar adhesive tape, all be it much wider than ABU used, on my Toby lures and others as early as a couple years before this, just as soon as the light flashing sticky metal/plastic tape was available.
1979 saw Toby and Ellips co-released on the next page to perhaps uplift the importance of the new lure, along with Toby Salmo in the colour BGL.
1980 Toby including Smash and Weedless and the relative newcomer Ellips were once again paired on the same page to be seen as the choice of lure with 81 varieties available.
1981 sees ABU-Garcia take its lure production offshore and to the far east.
Questions on this matter produced these very helpful responses from different PF Managers in Sweden and France.
Hi Wayne,

The manufacturing of all lures was moved to the Far East in 1981.

Best regards,
Anita Enarsson
--

Abu AB
SE-376 81 Svängsta
SWEDEN


Hi Wayne
We do not make any lure in Japan anymore, but basically we can say that spoons and spinners realisation have been moved from Sweden to Taïwan. Actually we even moved to China later but for the Swedish market, for which high quality is key, we came back to Taïwan in order to be sure to follow exactly the original Swedish standards. R&D is made in Europe, and based on an exchange between the Swedish team and me, supported by our pro teams when it comes to field tests. Otherwise we have quality inspectors directly in the Asian factories to ensure the quality and the consistence.
Hope it helps. Any question I remain.
Regards
Sylvain
Manager PF (European Division) France.
So here we see samples of old packaging below to the left with 10g Toby G and Far eastern packaging to right for 12g Toby K.
My experience in fishing initially with these lures from the far east in the 80's , is that they work equally as effectively as a Swedish Toby made the previous year at Svangsta. Obviously they have the new markings and different cheaper packaging with the added bonus our hip pocket nerve will not be damaged as badly as it might have been. The collectability factor will no doubt be affected and older "classic" Toby lures (and all the Swedish lures) will maintain a premium price, based on availability, production run and condition.
To my simple eye, something of the aura of the old classic ABU Toby has been lost for multiple reasons
*Such a range of Toby variations has been created that we wonder what ever happened to the always effective Classic Toby, Toby Vass, Toby Smash that seemed to be all we ever needed. In 2009 one would need a Fishing caddy and cart to carry a range of the current crop of Toby and variant lures.
* Such a multitude of colour variations created over this last next 29 years since going offshore to Asia, may not only dazzle and confuse fish but also fishermen
*And most important to my friend Hans: the very regrettable loss of the genuine silver color! Today this is not the very fish-like silver but mirror- like chrome.
* Today in the 21st century, I feel the lures are being created because technology allows such a myriad of variations.
* I feel PF marketing has thought it has to compete with other brands which will produce the razzle dazzle holographic creations
* I have not seen most because my tackle shops cannot afford to stock all the range, certainly in any numbers anyhow!
* Toby Sono is one variation I would love to test but NEVER saw it for sale. Someone please send me some!
* I certainly imagine one will be equipped with Nano technology before long, literally with bells and whistle ie fish attracting sounds and lights.
* Certainly the tactile/sense of mouth feel is being addressed with soft body variants along with taste/smell characteristics.
* Catalog pages created with high quality are just a magnificent smorgasbord of visual delights
* Marketing at PF may have lost sight of the definition of the PERFECT/BEST etc . Hey people we are already there and you must find new ways to impress this on new generation of fisherpersons who will buy the classics if made aware. I hope I am doing this here for you without causing too much angst from my constructive criticism.
* I just do not know where we go from here, but I will always use my classic Toby!
1981 Toby Fly was introduced, along with the continuing Ellips presence as an insert.
1982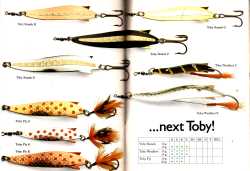 1983 Different photograph, same offerings this year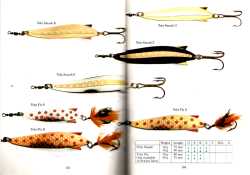 1984 Toby Tiger introduced pictorally this year with YE but no written listing till next year.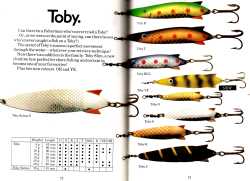 1985 Toby Slim is the new kid on the block this year and Toby Tiger is acknowledged as having been produced in 5 weights 7g, 10g , 18g, 20g, 28g coloured ORD as well as YE
Actually the Toby Slim is - just like the later Toby Rocket - precisely the shape of the real 'tobis' (sand eel), the fish it was set out to imitate originally in the mid fifties, an attempt that did not succeed at the time, because the narrow lure was not found to have a suitable action.
1986
1987 Toby Slim is still the relatively new kid on the block this year, shown off in its four colours of S/R, S/S, S/K, S/B along with the Toby Fat resplendent in S K and Fluro/Or !
1989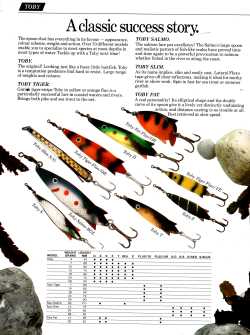 1990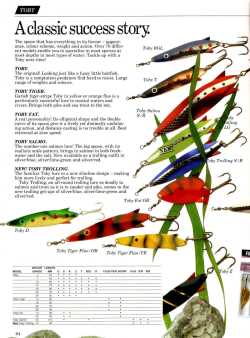 1991 No mention of Toby

1992 Japanese catalogue page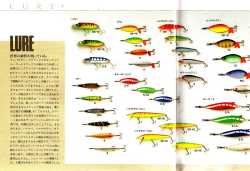 1993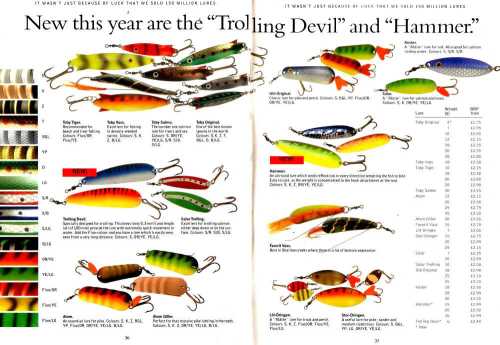 1994 No mention of Toby
1995 More new colours but a possible significant fish catching development with the SONO . Will someone please send me some to test. Never saw them for sale. I will pay!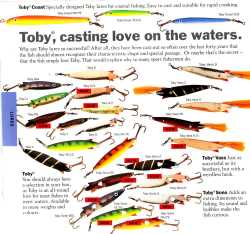 1996 No changes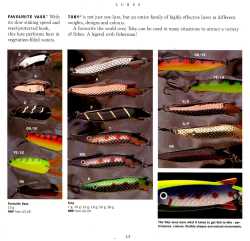 1997 More new holographic colours, S/R, S/B, G/Gr and K/B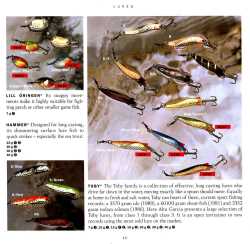 1998 No mention of Toby
1999 UK market Tight Lines Catalog, myriad of new colours.
Co-produced international catalog called ABU Garcia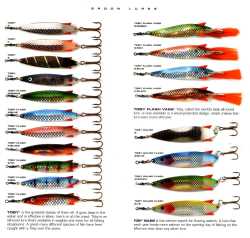 2000 Tiger Orange colour new in Toby and Toby Vass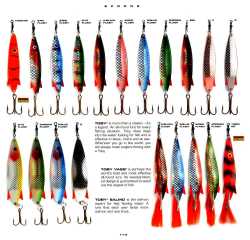 2001 More new (interesting looking ) spotted colours as well as the thinner meaner looking Toby Rocket, meant to imitate the sand eel. Remember just 46 years ago Gote Borgstom created the Toby to represent the sand eel baitfish known as a 'Tobis' in Sweden.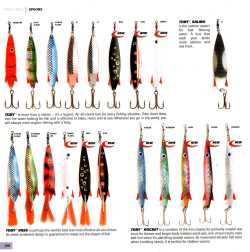 2002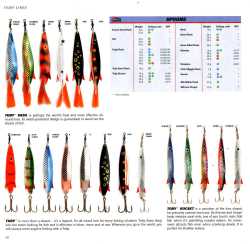 2003 Variations now too great for me to record, please click on hyperlink to enjoy this frenzy of colour!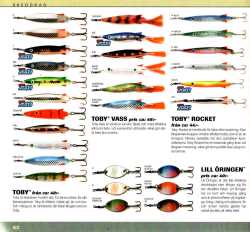 2004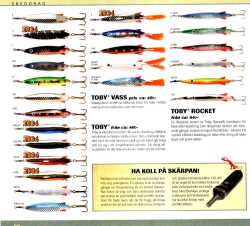 2005
2006
2007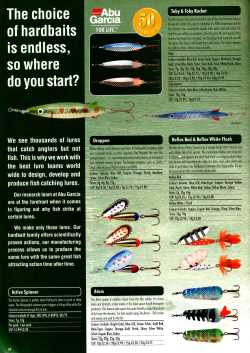 Synopsis of short film. Thanks Holger.
The Toby of ABU Garcia is almost a legend among the turn signals - an absolute classic. It was developed in 1955 - shortly afterwards ABU introduced it to the public. The beginning of a success story. The idea behind the ABU Toby: You want to create a sea trout flasher that is similar in its running behavior to the small sand eel. As this is also called Tobiasfisch, the name Toby was of course close. However, you were not really satisfied with the first practical tests. When looking at their own bait program then came the brilliant idea. At that time there was already the ABU Torsjö. This spoon blinker had two small wings that gave it extra boost. And it was exactly these wings of the Torsjö that served as a blueprint for the then product developer. From the wings, finally, small, pointed fins that make the ABU Toby unmistakable to this day. A new spoon for sea trout fishing set out to conquer the bait boxes.

   
          
To be continued....Any offered contributions (error, omission or new material) gladly received.
If you have any other Toby lures, particularly Toby Fly, Toby Salmo D, S/G, Toby Fat or Toby Tiger that are mint or boxed, and are un-needed or doubles in your collection and are available for swapping or a reasonable fee, I would be very pleased to hear from you.