ABU's New Classics!
As well as the 'standard' line of high quality reels, if ABU are ever merely standard , its ranks are being expanded by a range of specialized reels, aimed at collectors and serious fishermen needing the best (with matching, top of end of town pricing structure).
Here I will feature some of the emerging Olympic medalists of this fishing equipment world.
I think the Revo MGXExtreme made in 2017 was the current pinnacle of achievement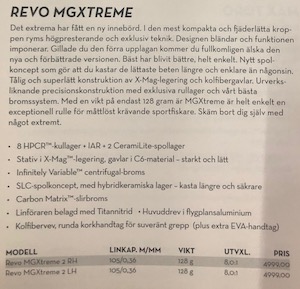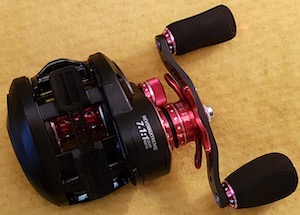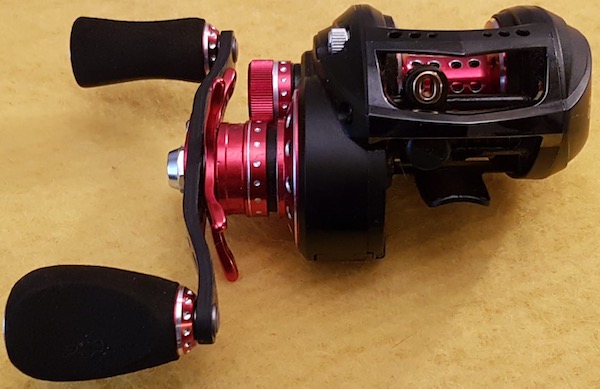 Also the Revo Ike is a great reel and the Revo Beastmaster as well as Coenraad's Morrum ZX 3600 appear at the bottom of this page, please scroll down.

Usually, all content on www.realsreels.com is independent of Pure Fishing BUT this is one section that I think all ABU fans would appreciate seeing.
I personally believe these reels will become new benchmark reels like their ancestors of nearly a decade ago or 56 years ago for that matter.
Judge me harshly if you wish for including blatant advertizing for PF ABU Garcia reels, but I standby my decision to link this info here as desirable and useful to all serious fishermen as well as ABU collectors .
Len Borgstom's 80th birthday
In 2011, Management at the Svangsta ABU factory saw fit to celebrate both Len's birthday and the 90th Anniversary of ABU factory on the banks of the Morrum River, with the production of a magnificient boxed set , comprising chrome Ambassadeur 5000 C accompanied by watch, cuff links and tie bar. Fittingly Len was presented with #1 of only 60 created for the special occasion. It is my fervent desire to acquire one of these sets.
Len kindly shared photos of his treasured presentation.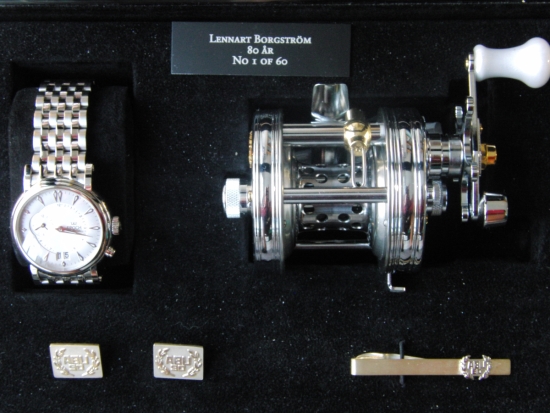 My most recent personal acquisition is the beautiful 60th Anniversary Napp och Nytt 2500 CDL Ambassadeur.
The included DVD contains all sixty issues of complete ABU N&N catalogs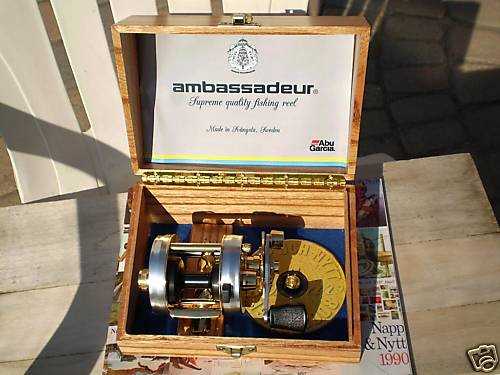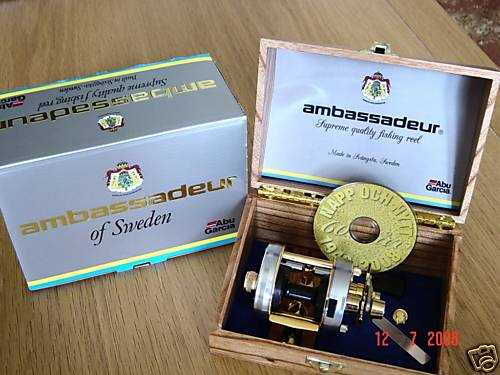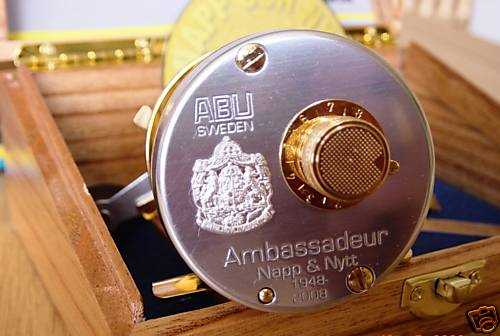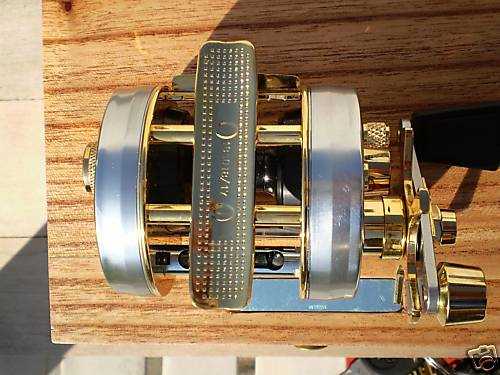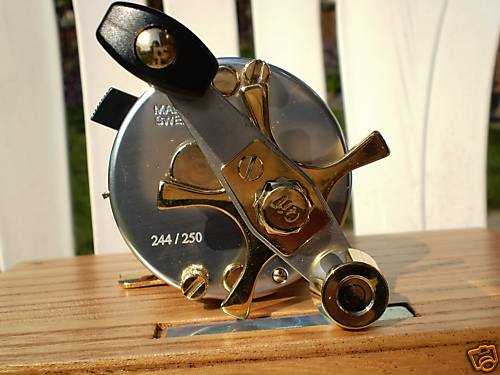 Mine is numbered # 182 /250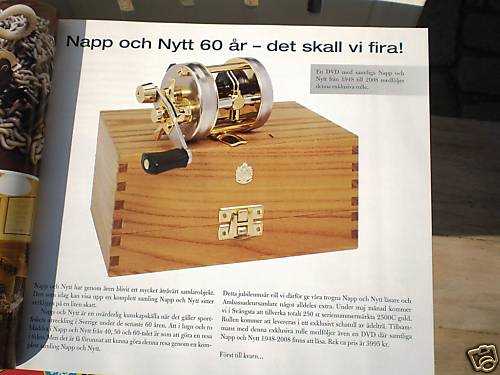 One of my first commemorative sets!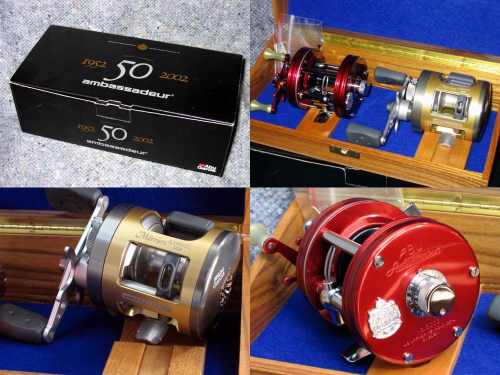 Another more difficult to find set of 2500/2501 Ambassadeurs I'd like to buy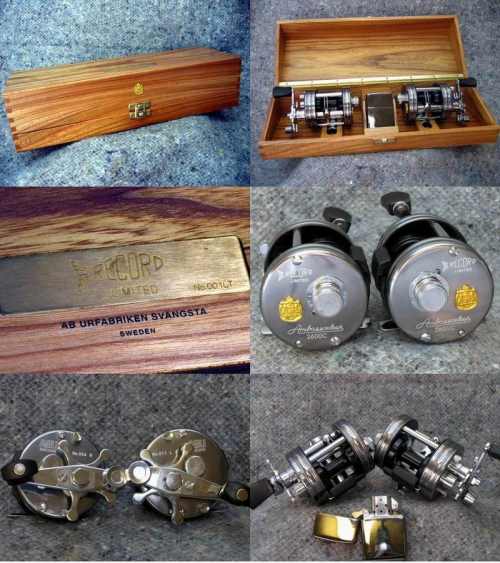 Some are individually personalized fishing Ambassadeurs according created by the Ambassadeur specialist Ulf Tingstrom of UT Reel Technology to your own particular useage requirements such as rod, line, lure weight etc

2500 Champagne Gold tuned
Enjoy this Powerpoint... on the new
2009 ZX Morrum baitcasters.
They are often only produced in batches of 200, ensuring they will never be easy to source or afford.
These I believe are destined to become the new classics and one considers themselves lucky if they are able to get onto the list from the factory supply.
My personal favourite is the soon to be released Pearl White Ambassadeur 5500 CDL which I suspect Simon Shimomura has exquisitedly crafted. Hope he can let one come to this website/collection!
Once the target of predominatly Japanese ABU fishing enthusiasts, specialized tuned reels made of exotic materials and unique colours are greatly sought by passionate ABU persons as well as the well heeled Ebay buyer who will gladly part with large sums to acquire them.
Current ABU Garcia-Fishing Products
Not all ABU-Garcia products, such as lures, are available in Australia.
They are however availablke online around the world, such as in

Australian magazine "AFTR Retailer" Jun/Jul 2013 had this article from Pure Fishing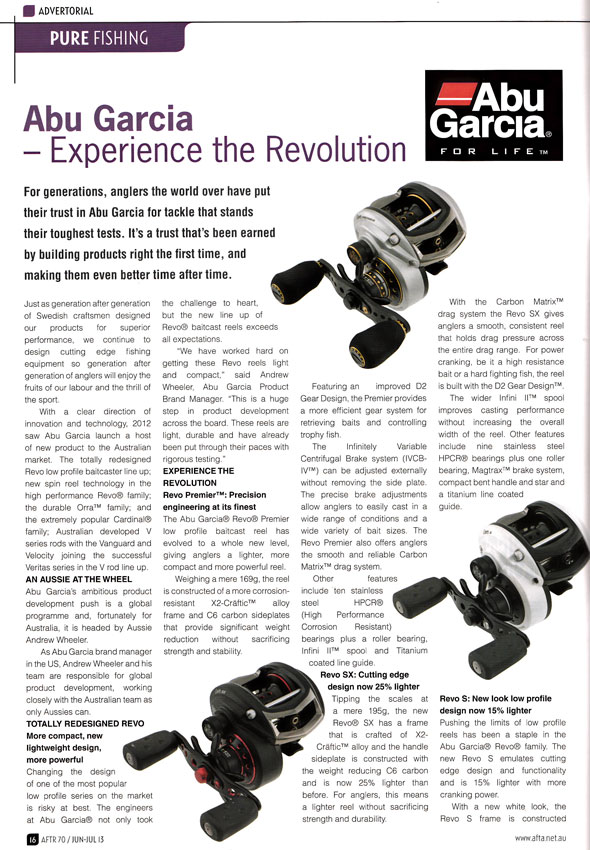 I use the following Revo inshore and it has become my favourite , most used ABU baitcaster (and I am really a round reel man, but it is sooo good and has such massive drag!
My only picky litle complaint has been , in salt, the black surface has peeled but not stopped it operating in any way....merely aesthetics
I have now just bought the Gold plated version which apparently does not peel off.
Developed for Australia, the Revo Gold features a super strong and corrosion resistant X Craftic alloy frame housing 6 HPCR bearings plus a roller bearing, powerful and consistent Carbon Matrix drag system, Duragear brass gear and infini spool design. Protected from the elements by a gold titanium deposition finish this reel is designed to perform in tough Australian fishing conditions.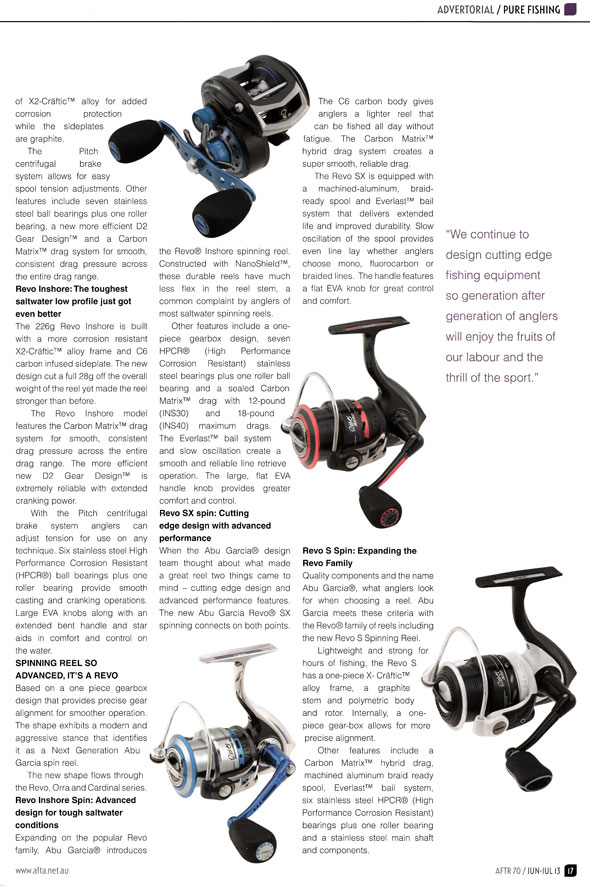 Reliable Guys who have the ability to source and supply unusual ABU reels at cost effective prices are below
Magnus Special editions ( Fiskespecialisten: Ebay Tradera Sweden ) E-mail 61444@telia.com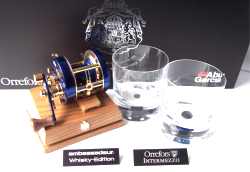 My Revo Ike, pure bling!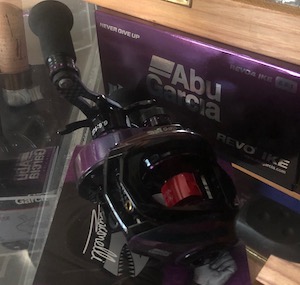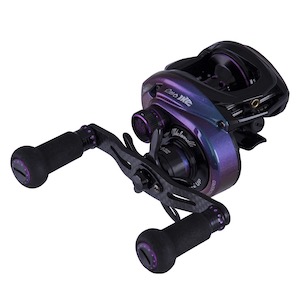 My Revo Beastmaster
Easily called the stealth bomber of ABU Ambassadeur Revo reels
The anthithis of bling
Strong drag, large capacity heavy duty workhorse of a reel.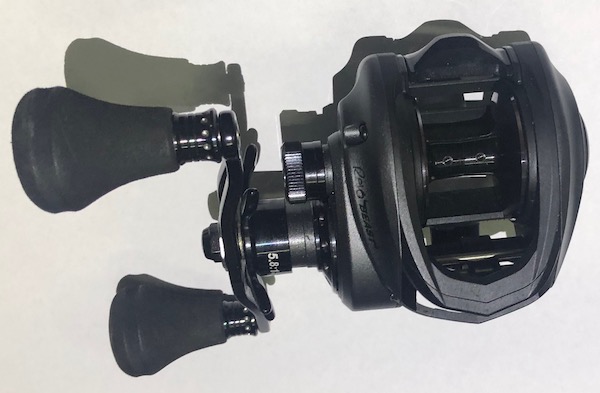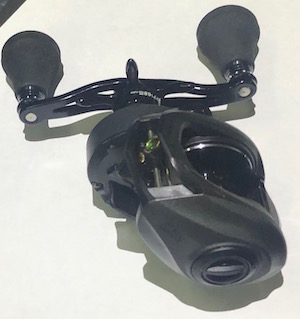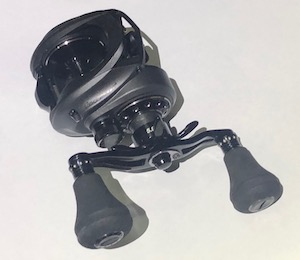 Coenraad van den Heever, my South African ABU mate
Contributes his experience with his Morrum ZX 3600
Thankyou from all who read below!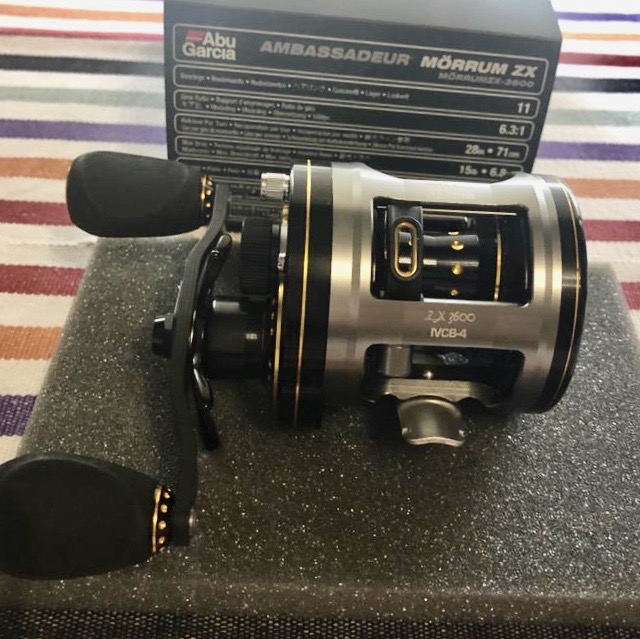 If you are a person that has collected some unusual ABU reels or significantly had an effect on design/development/testing of ABU equipment over the years please contact me wayne@realsreels.com if you wish your contribution documented for posterity and the immediate interest of the ABU fans worldwide!