Significant ABU Friends
Ulf Tingstrom : UT Reel Technology, Sweden

My relatively new friend Ulf (2009) , has set his heart upon creating the best for Ambassadeur fishermen worldwide. His 're-inventing the wheel' has produced some stunning performance upgrades to these legendary reels, not by merely re assembling the reels with a few new , but easily available non-standard parts but by a complete re-design and re-creation of new components to get the very best out of the Ambassadeur.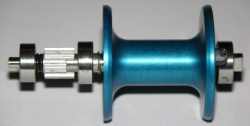 With encouragement, Ulf is in the process of making his UT Reel Technology website (look for International link soon) and its amazing contents more readily available to us world wide Ambassadeur fans who only speak English and cannot understand the native Swedish.
A few words from Ulf,
" My name is Ulf Tingstrom, and I am running a small company called UT Reel Technology, making very well reputed tuning upgrades to ABU's classic Ambassadeurs in 5000-6600 size with the spool bearings inside the spool. I also make complete rebuilds of Ambassadeur 1500 and 2500 bringing performance to life no one ever seen before, and I will during the winter release a complete upgrade kit to Ambassadeur 7000 made from 1972 to 2006.
The reels I make are based on ABU's, but the spool, the bearings, the idler gear, the line pawl, the complete drag washer system are all exchanged to my own set of components. In addition, I install a special IAR bearing that stands for a higher load and a special double supported shaft for an antireverse dog in case the IAR bearing fails, which those little components tend to do too often in our cold climate, especially if you accidently takes a bath with your reel.
I am a poor collector. Things I like, I use, and if I see an improvement potential I'll change it for the better. In the end it's hardly anything but the shell left. But I'm not better than I have a handful of unchanged original 2500 reels, just because that's the model I like best. I've got one of the first, I've got the CDLs, the black as well as the silver, and a few others that are considered rare. I've got four 2500 built for serious fishing so I think they are safe.
"
I have learned he is first a passionate fisherman, a talented inventor and finally a sharer of his ability all be it at a price. These babies are not cheap, but when is any item of exacting abilities, lasting qualities and consuming of much time in Research and Development ever been marked at give away prices. I know mine will be reel not merely for my lifetime but also my grandchildren's!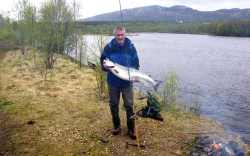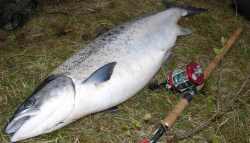 Any Ambassadeur fan would gladly wait in line 3 months and sell his first born (not quite!) or more to have the pleasure of using such a unique piece of fishing technology. I don't say one as he/she will certainly bequeathing it one day to be cared for by different generation of fisherperson. Ulf must have some of the Borgstoms's and Ake Murvall's genes !
CHRISTMAS 2009 was something extra special with Ulf having created for me this special chrome 6500 CS tuned beauty with the works!
Likewise September 2010 , I secured a very special Ulf Tingstrom tuned Champagne Gold 2500 with spare spools.

If you are a person that has significantly had an effect on design/development/testing of ABU equipment over the years please contact me wayne@realsreels.com if you wish your contribution documented for posterity and the immediate interest of the ABU fans worldwide!