Record/ABU Commemorative Reel Models


The 2018 example is the Rum/Cigar issue and is a personal favourite
It is available from Pure Fishing ABU Garcia stores throughout Sweden for

aproximately US $1000.
Please realise that this (except for the Rum and cigars) is totally a Pure Fishing ABU Garcia product, designed, created, assembled and lovingly packing by staff in Svangsta, SWEDEN.
It is one of 200 numbered edition.

More beautiful Commemorative reels from 2000 on...
Limited in numbers, some as large as 500 pieces and others much smaller , such as the twin Morrum set which was produced in 70 pieces only.
Model name 60th An. Napp och Nytt edition of the 2500 CDL
Maker/designer
Production dates 2008
Images
Features Included a mini-digital disc (in photos) containing every page of all editions of the Napp och Nytt catalogs from 1948 to
Catalog 2008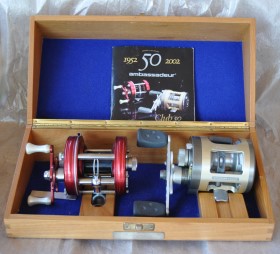 Model name Anniversary of Record Ambassadeur 5000 twin box set
Maker/designer Original design by Ake Murvall
Production dates 1952/2002
Images
Features This set carries with it the ultimate Ambassadeur of the day (2002) and a replica of Record Ambassadeur
Catalog To locate
Model name A twin set of left (SX 1601Ultra Mag S2) and right hand wind (SX 1600 Ultra Mag S2) Morrum Ambassadeurs.
Maker/designer Classic Morrum design but concept by Magnus Jacobsson Pro Tackle dealer
Production dates 2009 , number 39/65
Images
Features
Catalog To be located
Please be patient and enjoy as they appear and do contribute!
If you have any others not listed above, that are unneeded or doubles in your collection and are available for a reasonable fee, I would be very pleased to hear from you.