ABU Posters
How do we differentiate between ABU's Posters, Art, Advertizing, Catalogs, Manuals etc?
....all are graphic and show the development of equipment and of course the technology to represent that equipment in a graphic form to promote their items.
Some are pinned up and used in store to promote new items , while other are hung from the ceiling.
Some are purely for Art's sake and I have a category for that, some are obviously manuals and catalogs but Posters seem to overlap with Advertizing to assist sales eg lures as well as some being educational such as in identifying fish species while others are produced for Art's sake.
Here I will try to show some Posters created for varying reasons.
Christmas is not forgotten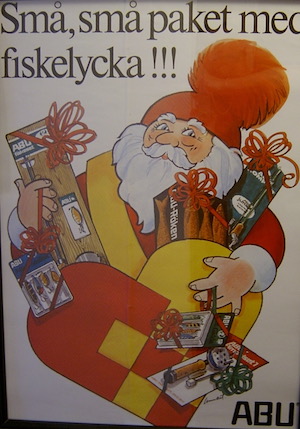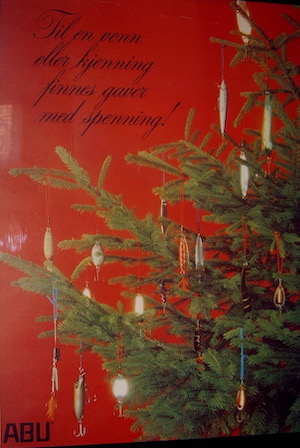 The first 10 or so are ones which I own and are in my display, while the latter one which I need are after the "Yet to Find" subtitle.
The first posters I obtained were those depicting equipment and lures and some showing covers of Tight Lines/Napp och Nytt catalogs.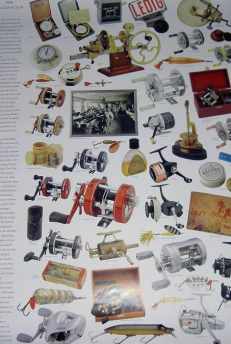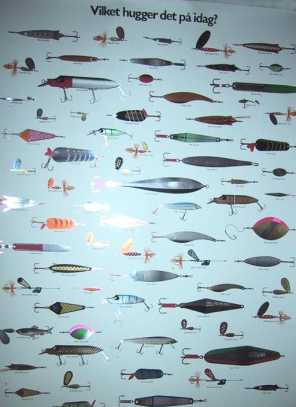 Some showing covers of 2002/2004 Napp och Nytt catalogs.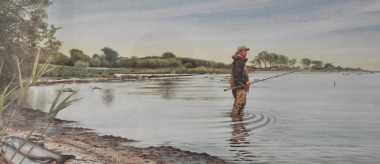 I have a spare copy of this beautiful Art paper quality poster print below if anyone wishes to trade/buy me something for it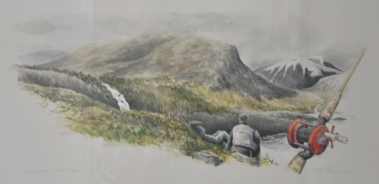 Some of my favourites are the educational Identifish
fish series relating to ABU's Type 1, 2, 3 and 4 fishing classes.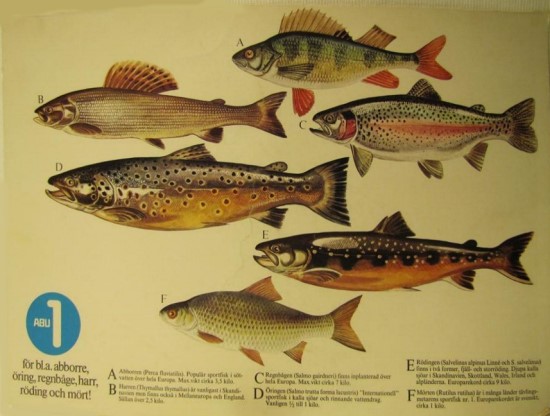 A good friend Stephen Makin stephen_pikeman@hotmail.com , in the UK, was bidding on this #1 poster also but I put in a higher bid to secure it. If you have a spare one of these he would love to buy one to complete his set of #, 2, 3 and 4. Please e-mail him if you can help him. Alternatively he will sell the 3 posters he has # 2, 3 and 4 .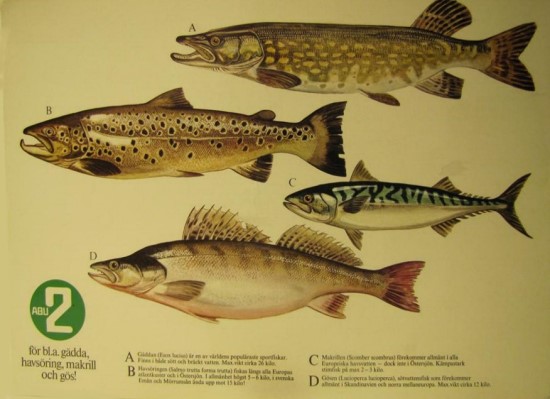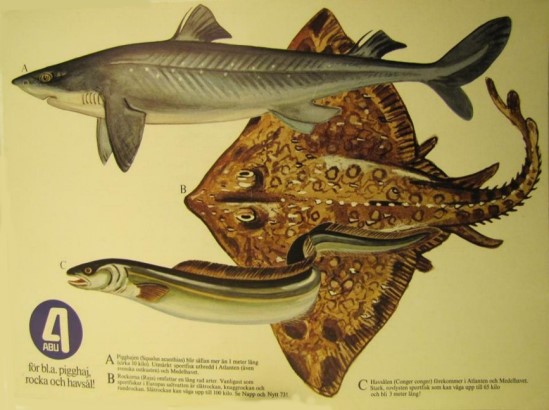 ....more to be added as photographed/scanners not large enough
Who could ever forget Miss ABU ?
.......most recently imortalized as a metal +- 50 C Thermometer?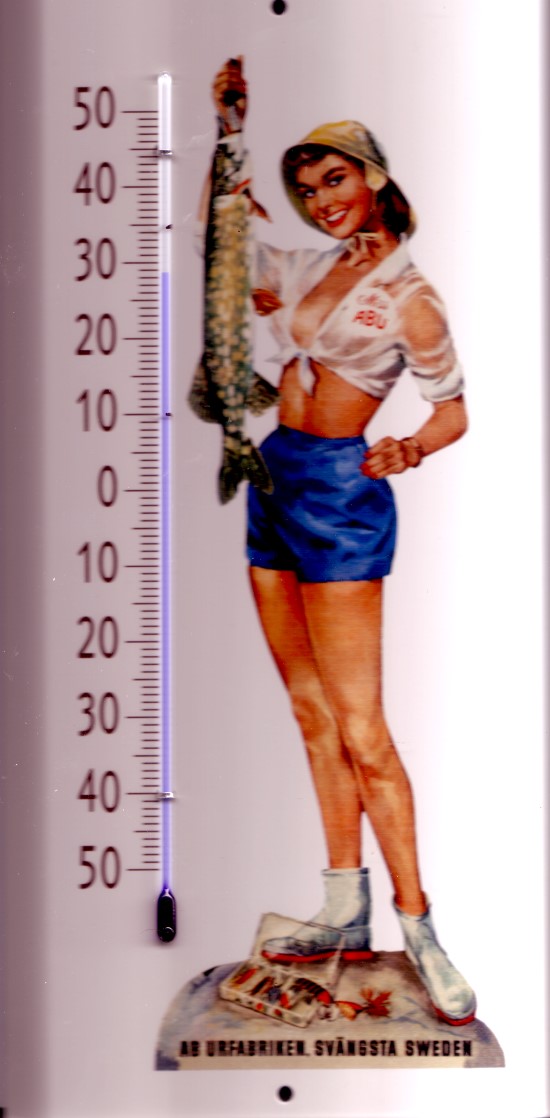 Yet to be Found Posters
Please contact Posters if you have any for sale or donation to this site
The Pop up/Stand up/out Posters would be great to add to my collection.
What wonderful mobiles Nils has from the early days!
Other special photographic quality fishing scenes with fishing reels are...


Mobile 2D fish poster for ABU shops to hang from ceiling.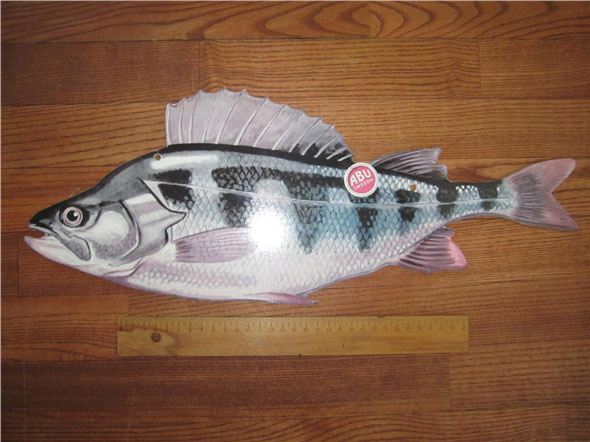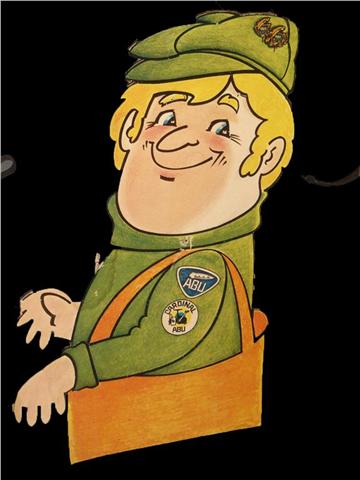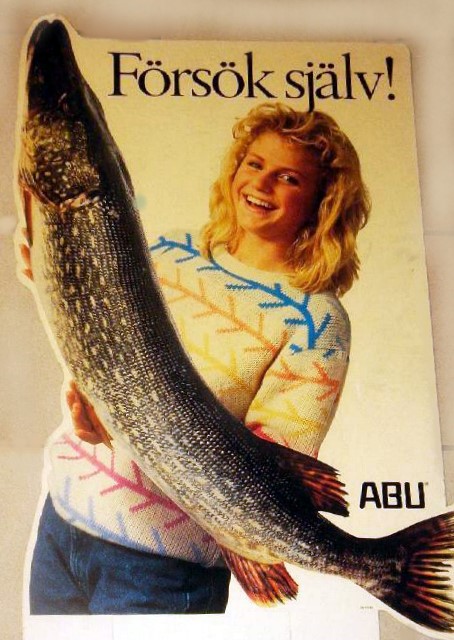 Pike Poster ..gender inclusive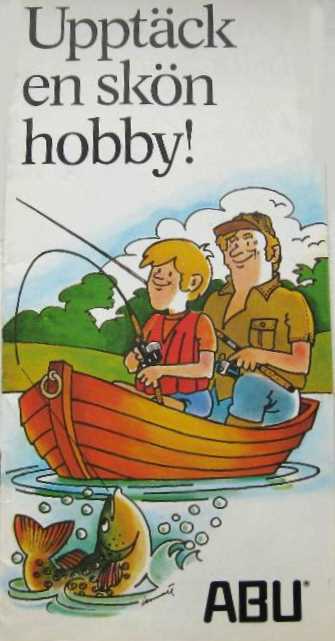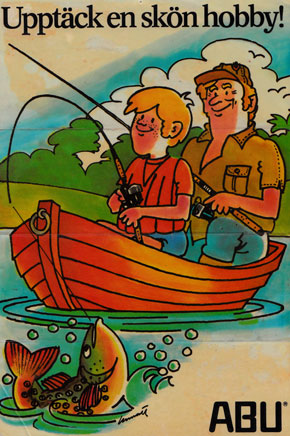 Family Fishing.... Two variations of the same poster...good enough for my Tee Shirt!
ABU Pimpel Ice fishing equipment and Out on the Ice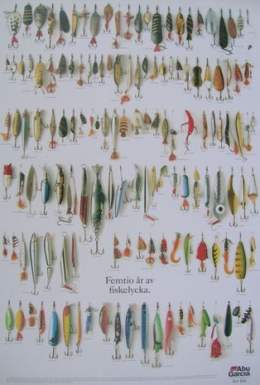 N&N Poster Lure Poster
If you are a person that has significantly had an effect on design/development/testing of ABU equipment/memorabilia over the years or have items such as these, that you wish to share, please contact me

wayne@realsreels.com

Your contribution documented for posterity and the immediate interest of the ABU fans worldwide!