Record and ABU Accessories
Record and ABU Knives
These Special ABU pocket knives were free and issued to top dealers!
This particularly beautiful knife was recently gifted to me by ex-Owner of A.B.Urfabriken, Mr Lennart Borgstom. I am greatly in his debt for his continuing support for this site!
Unsure when EKA started production of knives, but they are certainly endured.
The most current one I have seen is this wooden handled folder below. Thanks to Uffe for finding this one for me.
One of the older traditional pocket knives is 75 mm long and 18 mm wide. I suspect this particular knife is approximately 30/35 years old.
It is Gold embossed and enameled depicting the famous Toby lure and Royal Crest adorned with what look like Celtic scrolls. Weight undetermined at present.
The bottle opener, scissors for monofilament or flylines as well as small blade would all be practical fishermen.
It came in a small leather protective case, which accounts for the knife's remarkably good condition. It was made in Sweden by EKA as evidenced by markings on the blade.
Len himself said " It was made by ESKILSTUNA KNIVFABRIK (EKA). I knew the president personally and I think that they were the last knife manufacturers (aside from hobby manufacturers) in Sweden."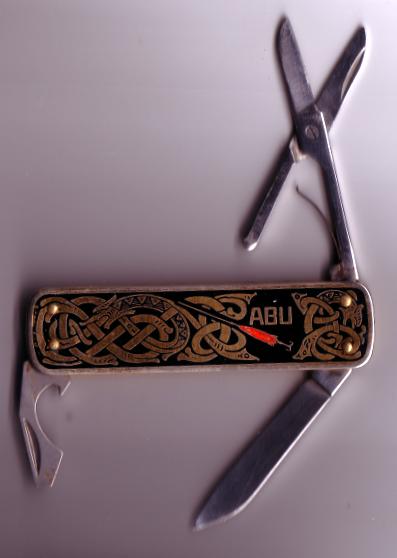 Leather case below for above knife.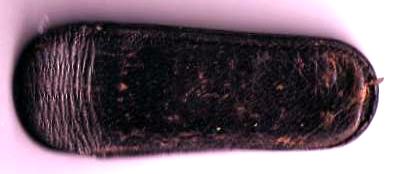 My most recent extravagant 70's acquisition at a cost of more than 1500 sek in Sweden
How many different designs were there , who knows? I have heard of 6 different examples?
Please send photos to be acknowledged here
Another sample of one of these exquisite knives. Probably newer and slightly larger due to extra and larger blade.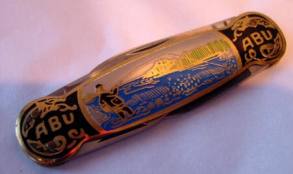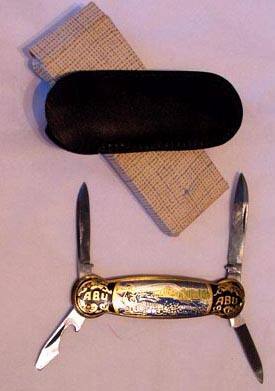 "From The Collection Of Lonnie Mills, USA"