Fly reels or Flugfiske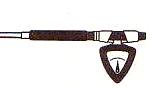 | | |
| --- | --- |
| I like to Fly! | |
The first A.B.Urfabriken fly reels were initially called Records and then later named as ABU reels after 1966.
Like all the other A.B.Ufabriken reels, most originated from the Record name then progressed to the ABU name with further identifying subtitles. Some were badge engineered from other manufacturers but not in this case. All original design and engineering....what a shame to lose the Cleopatra. With the fly reels, there were 3 types of Record produced (Standard, Precision and Double) before the Delta series appeared in 1966 to 1979 and then finally the Diplomat series from 1977 to 1988. Others appeared after this date but my expertise is sadly lacking here as I am primarily interested in the Classic ABU reels.
The Record Standard was produced by ABU in the guise of both the ABU and Pebco (Model 5) branded models. They were identical in performance and specifications, being manufactured in Sweden from 1942 to 1965. Interestingly they were being sold new at the end of their production run for less than when they were first released. All had 100yard (90m) capacity backing line under the normal flyline. I cannot find any specification as to weight line as we refer to today. One size fits all obviously in the past. These reels came in 4 variations of colour over time, starting with the the very rare Black, dark green frost, gray beige hammered finish and finally the pretty turquoise hammer finished model. It was engineered with a light and long lasting aluminium construction and the Record Fish logo never appear on this Standard model.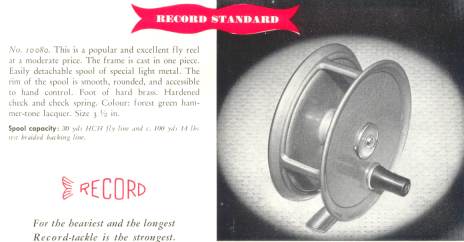 These Record Fly reels were also sold to Pebco and here we see the Pebco 4 model (Record Standard) shown. Quite a rare reel., housed in a lovely original leather case.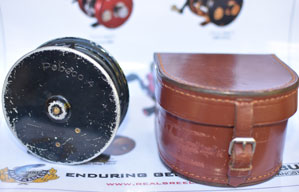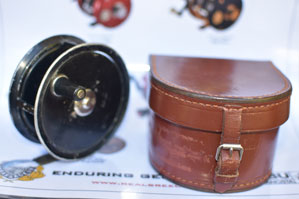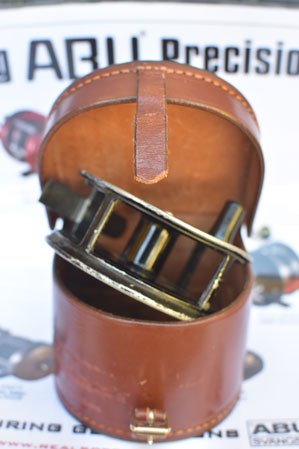 The best collection of Record fly reels I have seen are shared here by courtesy of Fredrik Gerwin from Sweden.
Amazing collection he has! I will add my two Record ABU/Killwell fly reels
below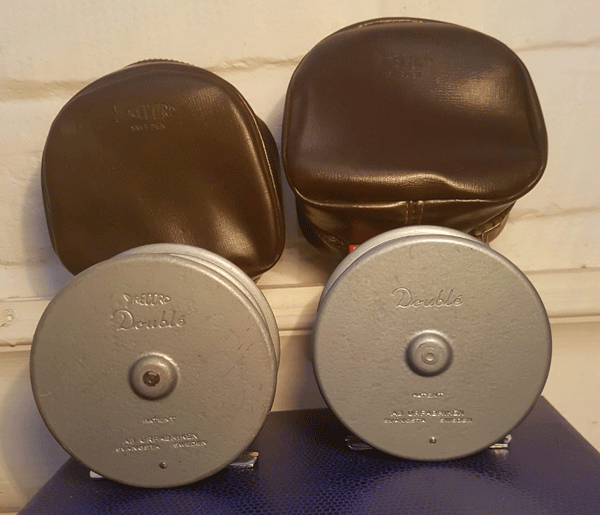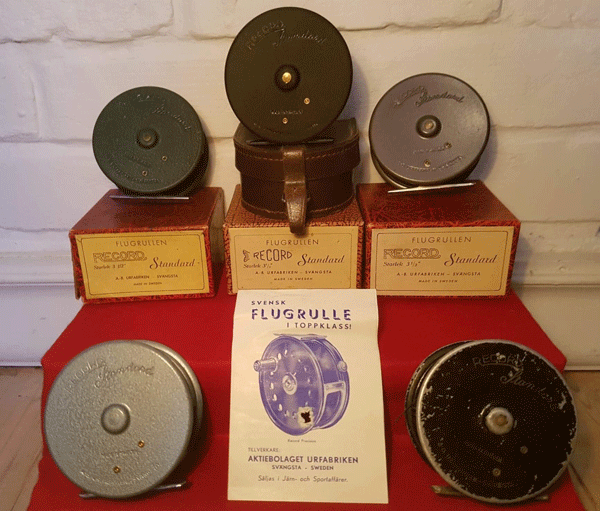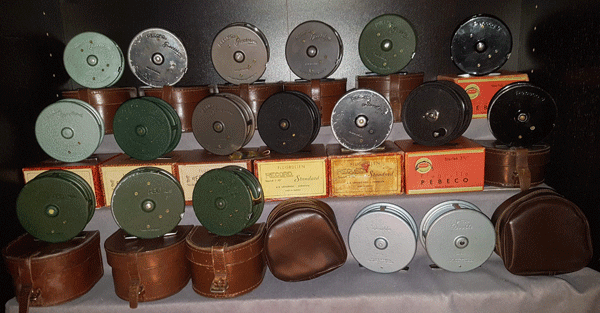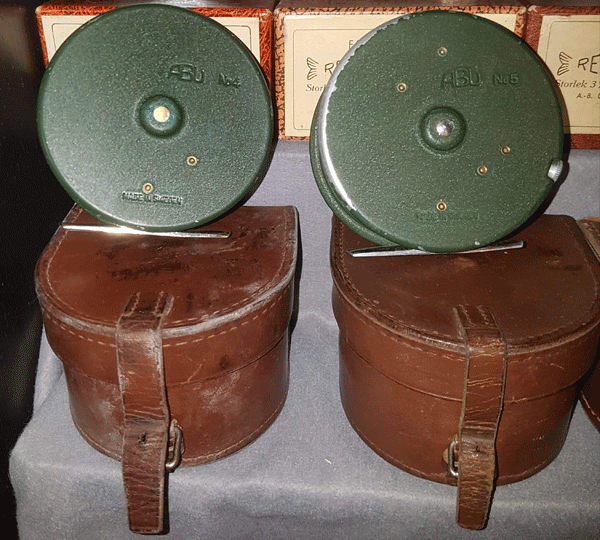 Thanks again Fredrik!
Kilwell from New Zealand , licenced Record Fly reels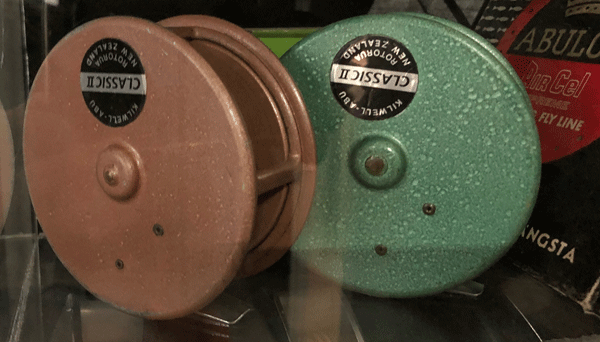 The Record Precision (also marketed as a Pebco Model 6) was also co released in 1942 (but only ran till 1955) to a different market segment. It cost 2.3 times as much as the cheaper Standard model, however did boast some significantly better performance features. This had a much lighter spinning spool and had chrome plated brass construction, along with a centre-pin mounted adjustable braking system.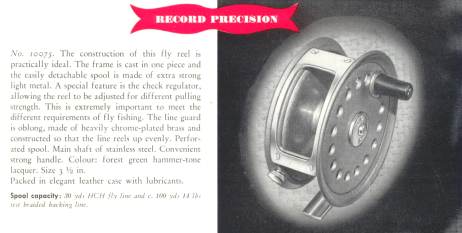 When the Precision ended its production run, the Record Double was released in 1956 until 1965. We saw it produce as a Double and a Record Double over this time and featured both right and left hand retrieve along with adjustable brake. A selectable clicker was available. I am still looking to purchase these records.
The ABU Delta series was introduced in 1966 and was produced until 1979. The innovative triangular reels housing a conventional cylindrical spool were considered to be state of the art due to the 3 point stripping system employed. There were two models released, the Delta 3 and a more expensive Delta 5 with adjustable brake. The Deltas both had left and right hand silent retrieve, with ratchet operating on runs from the fish. They are AFTM rated for #6, 7,8 wt lines. I am fortunate enough to have both of these in my collection.
In the words of Len Borgstom....
I do not know if i ever told you why the DELTA was made in that delta (triangular) shape? If you are a fly fisherman, i am sure that you have experienced how the fly line gets caught behind the reel when you shoot the line. By making the reel triangular, this problem will be reduced. Ideally the reel should come as close to the rod as possible.
Fond regards and Merry Christmas!
Len
The Diplomat models quickly followed on from the Delta series in 1977 but for a short time were co produced perhaps to wean existing satisfied anglers off the older Deltas. Interestingly both models sols at the same price at the end of their production run whereas as they had a 25 % differential at the outset.
SEE BELOW (bottom of page)
An interesting story on changing a RHW ABU Delta 5to LHW
Dave Brown from Santa Fe New Mexico sought a spare part from me, but unfortunately I only held the RH not LH he was seeking.
Persistence and help from the Fibreglass Flyrodder Forum helped him manufacture the needed part.

The Diplomats were initially produced as the Diplomat 156 and the Diplomat 178 models from 1977 until 1988. Their unusual name carried the qudos of the previously existing and very successful up-market range of fishing rods. They had an open frame construction and due also to their aluminium construction were very light. For the first time we see each model designated fro a specific line weight. ie the Diplomat 156 was 5/6 wt while the Diplomat 178 was intended for 7/8 wt. Both could carry 50m of backing line. The spool and frame finish was anodized with a dull black finish being introduced for the Diplomat 178.
The 70's ABU traditional and attention -seeking Fly offerings below
I know nothing about later models. If you wish to contribute then please feel free.
The biggest breaking story that I have ever heard with respect to ABU's involvement with the design and production of fly reels has to be the fantastic but never to see the light of day, Cleopatra reel, pictured below. I know of the existence of two models, one of which is in Japan and one in Sweden. It was made as a prototype by a talented engineer at Svangsta, probably in the 1970's as this was to be the reel to compete head to head with finally lose the battle with the Delta series above which were finally selected to go into production based on cost rather than performance. Was this the first crack in ABU's armour, if a price point was chief determiner of product line, rather than quality at any cost! Surely from the personal experience of the two people I know, their comments on the large line capacity and superb braking capability required for big game fish like Salmon, would have had me lining up to buy one. Now with only 2 in existence and both in collections, none of us will ever experience the potential of this apparently superb reel. Look closely at these two pair of photos . They show the individual differences (on both sides) of a reel that is not mass produced. Both however sported a superb braking system. Some day I hope to find exactly and a detailed analysis of why it never went into production.
| | |
| --- | --- |
| | |
Techniques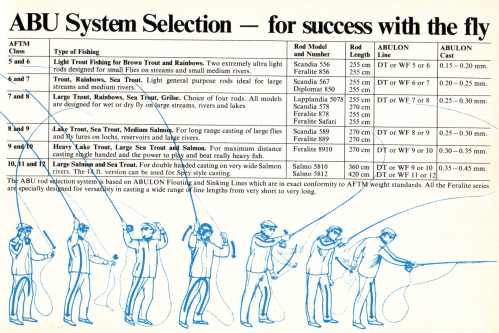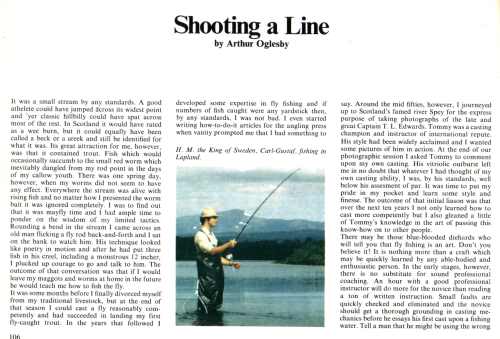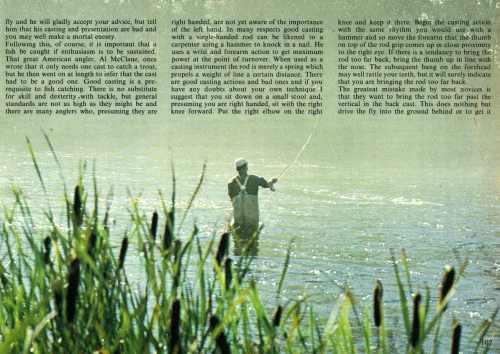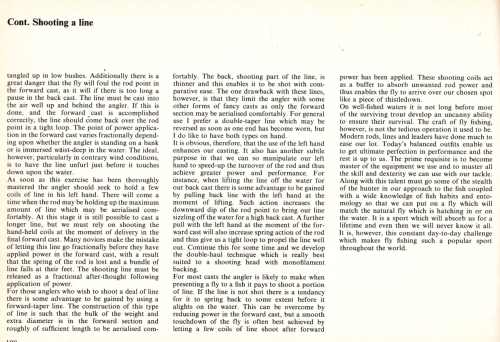 Dave's story on changing an ABU Delta 5 to LHW
It is wonderful how unknown persons can become helpful friends !

I'm embarking on a project that I know one of you smart reel mechanics can help me with. I have a couple of Abu Deltas that I would like to convert to LHW. They used to make a replacement part for this purpose, but I can't find it anywhere. The part in question was a mirror image of the "spring plate" shown in these pictures.
What I would like to do is reshape this original part by bending it in opposite directions, thereby effectively turning it into the LHW part. I think I can cold bend the "spring tab" on the one end, but I'm sure I'll have to use heat to reshape that folded tab on the other end. Can I get away with that? Will heat ruin the temper of the spring? Advice on how and when to apply hot and cold would be appreciated.
By the way, if I end up ruining the existing RHW part, I do have a source to replace it. (I guess if I'm super-lucky, somebody will chime in and say they have the LHW part or know where to get it, but at this point that seems unlikely. It's Abu Garcia Part #9655.)
Thanks again, and I hope all the above is clear.
bulldog1935 wrote:
Looking at high strength bronze sheet, you can get 2" x 12" strip for reasonable prices - it will end up with the tools being a $30 part, but you can make as many as you could ever need.
Just remember when you start fabricating, drill the holes first with a wood block backing, starting small and working up, then trace out your blank and cope it, file it, and bend it. You can also drill holes for the radiused corners, and give you a target to cope into. This may be your motivation to get into small tools - I have a lot. Good places for small tools include Micromark, gunsmith supply like Brownell's and Midway, and jeweler's supply like Ishor.
Bulldog - Not being able to wait for the correct material, I used some sheet brass I had on hand to make a part -- just for practice if nothing else. Drilling the holes first for the radiused corners did make the job much easier. I did the cutting with a rotary tool and diamond wheel, a tool I happened to already have. Lo and behold, even in the brass material, it works! I now have a LHW Abu Delta!
I have the correct phosphor bronze sheet on order and will redo it all when it comes.
Thanks a bunch for your advice. Turned out to be a fun little project.
Congratulations to all who helped Dave with his project!
Wayne (abuadmiral)
If you have any others listed above, (or indeed should the Cleopatra prototype ) that are unneeded or doubles in your collection and are available for a reasonable fee, I would be very pleased to hear from you. They would be given a good home in my physical and virtual collection here.