Record/ABU Reel Models
Market-Orientated REELS
ie Expensive Top end fishers, eg Japan
Two reels come to mind here and whilst sold worldwide, the lion's share were taken up by the deep pocketed Japanese.
They were essentially for fishers rather than collectors, as they fulfilled their purpose reliably and perfectly.
They were the Morrum series of Ambassadeurs and the Suveran Spinning reels created in 1998 and evolved for the next few years.
I have never seen a catalog from ABU such as its Year 2000 English language "Tight Lines" which featured both reels in detail as well as giving both the front and back covers to displaying these gems.
Finally, I have collected all the Suveran models and most of the Morrum Ambassadeurs. To my mind these have been the pinnacle of all ABU reel development.
I have had the pleasure of fishing with both series of reel and they have been faultless to use.
From the Marketing perspective, it is interesting to note, that the first Ambassadeur that looked like what we accept today as a Morrum, was heralded in the 1996 Tight Lines as "We are proud to present a new Ambassadeurwith a new design and details. the Ambassadeur SX 7700CL" it was repeated in 1998 Tight Lines catalog.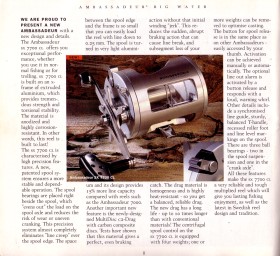 In 1998, the Ambassadeur 7700 CT slunk in as "NEW" and appeared without photo, as a one line entry on page 11 of the Tight Lines catalog. Incidently the SX prefix had disappeared as had the actual SX 7700 CL from 1997/98. It morphed into the new flagship Ambassadeur Morrum in the 1999 Tight Lines catalog.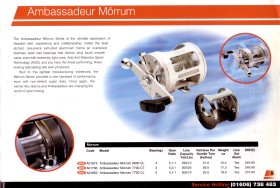 What is even more unexpected is that in a 2 page spread in the 1998 Tight Lines, " An Unrivaled Practical Workhorse" Morrum 3 and 4 appeared as headlined MORRUM.

This was NOT a printing error as the specs referred to ...the rotor system...and I also have in my possession a preproduction mock-up grey Morrum Cardinal box. So it seems that this spinning reel's name had yet to be changed to eventual Suveran name or Soverign (English) name, and had gazumped the casting Ambassadeurs to the coveted Morrum name.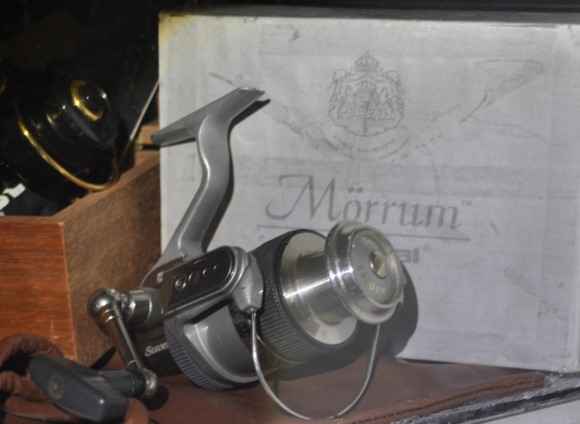 In Tight Lines 1999, we would see the first named SX series renamed Ambassadeur Morrum (referenced 2 photos above), with models 6600 CL, 7700 CL and 7700 CT on offer initally. The Morrum spinning reel was renamed as the sporting flagship Suveran with Models S2000 M, S3000 M and S4000 M. Their only link to past prior heritage was the suffix " M "

The last reference I can find to the Suveran is in 2003 below.
So a quick change of Title occurred I guess for some marketing reason. Certainly they are both deserving of their prestigious names and certainly far more destinctive than the SX series.
The Reels # 1
Model name Ambassadeur Morrum
Maker/designer
Production dates 1998 / 2001 and evolved models still currently made
Features They ranged in size from the tiny 1600 thru to 3600, 5600, 6600 massive blue water 7700 , including left hand models designated with the usual 1 suffix to a model without level-wind. See more details in catalog images
Images
My first Ambassadeur Morrum was one of a Commemorative teak boxed pair (teamed up with Record Ambassadeur 5000) below
I have the first conventional Morrums viz M5600 C, M6600 CL, M7700 CL and 7700 CT as well as the later released the gold SX1600 Ultra mag "Forell" and SX3600 C sizes (above)
I was also very fortunate to organize a trade for a Morrum MM CDL Gold model in its teak case with a collector friend Derrik (Abufreak)
More recently I acquired a pretty blue ZX 3600 and my most recent were the teak-box matched pair SX 1600 and SX 1601 released in only 67 sets.
So to have 11 of these beauties in number, I consider myself very fortunate.
Pictures to follow when weather improves...
Catalog As the range expanded they were documented with pride in the ABU catalogs. Sadly for us who do not speak Swedish, the English Tight Lines ceased in 2002.
Tight Lines 2000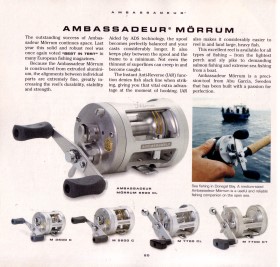 Tight Lines 2001
ABU GARCIA UK catalog 2003 (Post last Tight Lines)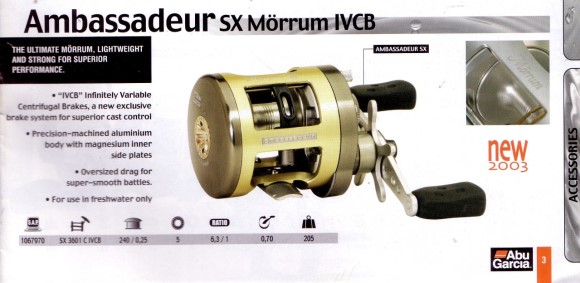 Extra
The Japanese took the embellishment and fine tuning of these reels to a new level and my friend Les Kilby has kindly shared an image and information about his left hand wind Zipi-tuned Morrum AE 74 for us to enjoy. I would like to add one of these to my collection one day.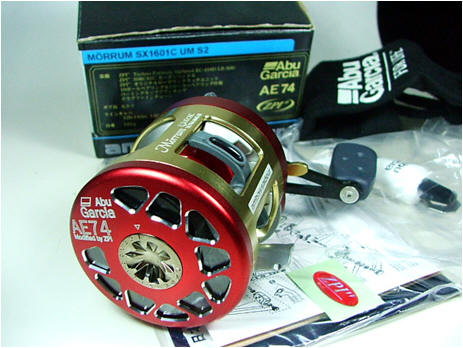 Below is a another black model image sourced from net.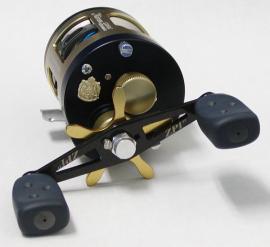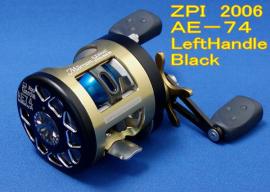 The Reels # 2
Model name Suveran Spinning / pre-production was originally named Morrum Cardinal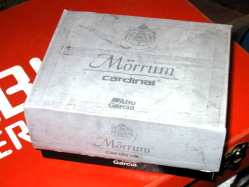 Maker/designer Bengt-Åke Henriksson, Lars-Olof Carlsson and Bengt-Åke Karlsson
Production dates 1998 to 2003, great demand
Images My reels to appear here soon
Features See above opinion above, (in red )to read the re-naming process
Catalog
Tight Lines 1999
Tight Lines 2000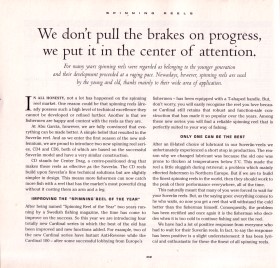 Tight Lines 2001
Tight Lines 2002 ABU Garcia UK 2003
As with any product, progress must be seen to happen in the industry.
Competitors always produce new models.
I prefer the idea of subtle improvements of a long running model like what happened for so many years with Ambassadeur from 50's to 70's.
Despite the wonderful advancements made with the evolution of the low profile Revo casting reel, I believe there will always be a place for the round reels like the Ambassadeur heritage leading to the wonderful Morrum series .
Also to my mind, continuing the development of the Suveran to corrosion proof S 5000, S 6000, S 7000, S 8000 etc for fishing true blue water brutes, would have kept the Japanese companies at bay.
I wonder why the brilliant and technically advanced Revo Neos and Premier spinning reels were assigned the name " Revo " from the ICAST award winning (2011 and 2012) low profile reels.
It seems a bit like a repetition of the Morrum/Suveran confusion of 1998. Also please give some thought to making this reel in bigger sizes with full salt water corrosion protection for blue water fishing.
Please be patient and enjoy as they appear and do contribute!
If you have any other Morrums not listed above, that are unneeded or doubles in your collection and are available for a reasonable fee, I would be very pleased to hear from you.