ABU ABU Lures in General
Vic McCristal the much revered Australian fisherman (ABU) , writer and fishing futurist,
long ago wrote simply"A lure is a lie told by a (wo)man to a fish
Lures/baits have been created for almost eternity by individuals fore personal use, from natural materials like fur, feather, shells, timber etc and later with metal and plastics of all types.
In the last century and perhaps even a few decades earlier , businesses sought to create lures to sell and the process continues to this day, with individuals hand crafting or modifying existing designs to suit their own purpose as well as large multinational companies such as Pure fishing constantly developing new product for a growing market seeking the "killer" product .
Many might think ABU's lures were always made in Sweden, BUT Not so, some from the earliest days were made in and outsourced from other countries while ABU was in its infancy. in the 50's these came in the form of small rubber insects from Norway, then later as rubber popper plugs from Burke Industries in USA , the Kynoch Popper from a Scottish Tay River design, The Rebel in the USA when a design upgrade was implemented for the famous ABU Killer! Italy and Germany also made spinner for ABU before all production ceased in Europe/Sweden to go to the Far East in 1981.
While ABU had the ability to bend cut shape mould metal in house, an interesting aspect of some ABU lure production was that the fiddly assembly of spinner with a myriad number of parts was often put together by stay at home housewives in Sweden from the late forties to mid fifties in and around Svangsta Sweden. Guides were supplied as a quality control measure and presumably assemblers were paid on a piece rate. I am unsure exactly when this process stopped.
To my mind the major categories are Plugs (wobblers), Spoons and Spinners, Flies (ABU Fly and Optic ) as well as Perks (Jigs). These others to be linked when I have myself more organized.
Please see images of many in ABU ABU catalog pages
Spoons
They are the most numerous of ABU's lures coming in combinations of weight, length, colour, hooking style running into the thousands. They are designed to rotate along their length and flutter when retrieve rates are varied.
These are probably the largest group of lures made by ABU
and the definitive texts
ABU/Record Beten Fran 40 till 80 Talent" by Urban Westblom and Goran Magnusson
and
a small-run booklet on ABU and Record lures by SteenTofte Pedersen
Both are highly recommended sources that I have found very useful.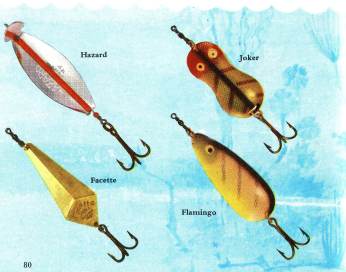 is manditory reading and could be a good choice for a complete and thorough understanding of this type of lure. The spoons number over fifty in name/style but then there are huge variations in sizes, either by length or weight, along with colourings and even the addition of snag prevention mechanisms on some such as the Atom weedless (spring wire spikes protecting the hooks from grabbing onto snags) Names like Salar, Flamingo, Hazard, Joker, Island, Ninette, Little Wiggley, Tilly, Glimmy, Dafy and Finish all are long lived and well used. In weights ranging from 7g to 30 g , they will fish enticingly for many species.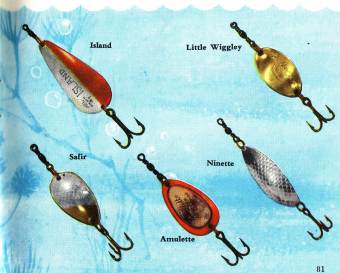 More details can be seen here from Tight Lines Catalogs
Group 2 Group3 Group 4 Group 5 Group 6
Tight lines magazines show possible species matched to particular spoons/lures. The essential element of a spoon is the ability to rotate, flutter or spin in their entirety compared to spinners which have a non-moving body and a rotating blade. It is most important to use good quality swivels in order to attempt to arrest the twisting of the main fishing line, which then would bring about difficult to manage line twist when casting. Ball bearing swivels are also available now to further counteract this problem. Some lures are worse than others at causing line twist. The Hogbom had an interesting innovation, which was drawn to my attention by Uffe, whereby the fisherman could determine the direction of rotation of the lure and reverse it to undo the line twist.
Without doubt my favourite all time spoon has to be the Toby which has almost as many variations as the Ambassadeur range of reels.
Plugs
They are generally plastic or wood construction and have 6 main form in the ABU marque viz Minnow like Killer , Hi-lo and Snoky. The Kynoch , and Cello are generally surface poppers, while the Cello Dip dives deeper and the Rakan is the shrimp like lure. All wobble in their action and are jerked along in pulses or wound in constantly at high , medium or low speed.
Hilo, Killers, Cello, Rakan, Kynoch, and Snoky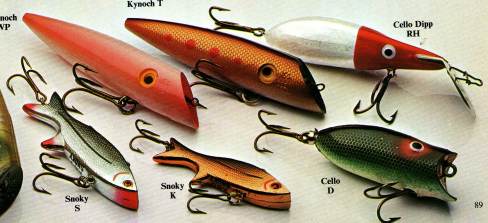 These were usually constructed from light bouyant wood and artificial materials to seal and smooth the finish like fibre-glass and/or epoxy resins. Some of these lures were heavier and sank after casting whilst others floated and had to be retrieved to make them dive to their particular fishing depth. Choice here depended whether one was fishing over submerged timber, rocky reefs or a snag-free bottom. Still others have a cup or dished front-face to make them skip like a wounded baitfish on the surface of the water. An example of this is the Kynoch and one style of Cello.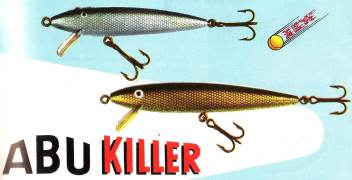 Hi-lo and Killer were also made in jointed versions also but I have new seen one out here in Australia. I presume they wobbled even more enticingly but then one more weak link has literally been put in the chain.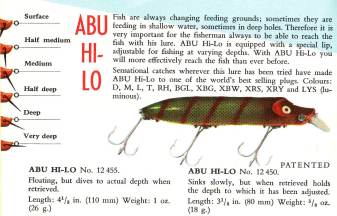 In order to make some of the diving lures run at a suitable depth for the underwater terrain being fished, they were constructed with different sized metal or plastic "bibs" in front. The Killer, Cello and Hi-lo were example of this form of depth control.
The wonderful innovation on the Hilo of the adjustable stainless steel bib allowed it to be used effectively at varying depths. They are often called wobblers because that describes their action ie from side to side movement but not a complete spin or rotation.
The Snorky appears to be a simple minnow shaped baitfish moulded lure with no adjustments at all. I have just learned there are two variations, one with a bib.
Of course colours varied considerably and the secrets of colour choice for particular fishing spots are still state secrets in the minds of some.
It is often said that lures, in varying sizes, shapes and colours catch more fishermen than fish.
Always keep in mind that at times artificial baits/lures are the most efficient enticer of fish strikes whilst at other times nothing can be better than a live bait.
Artificials however, if not lost, do have the advantage of always being in the tackle box ready to fish, whereas fresh bait must be bought, harvested and stored. My favourite all round plug is the Hilo as it can be rigged to fish as a surface running popper or a deep diver.
Lures make one cast more accurately!
Perks are deployed vertically from a boat in the sea or lake and via an ice hole when fishing in winter. They are "jigged" up and down at varying levels. Modern sonar devices allow these lures to be worked most effectively in particular bands of water or thermoclines.
Flies are obviously made from feather, fur or hair and are used in the surface dry form or the under surface wet form.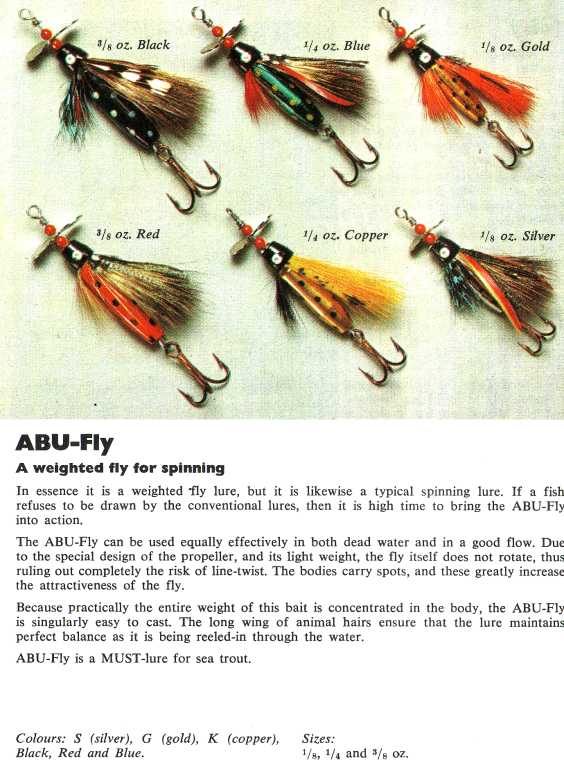 The Optic with its much copied bulging eyes, the popular Salmo or long thin weighted Tube fly came in a number of sizes , colours and variations totalling a dozen variations. Colourful names like Callgirl, Playboy, Pinup or Streamtease were used to identify each.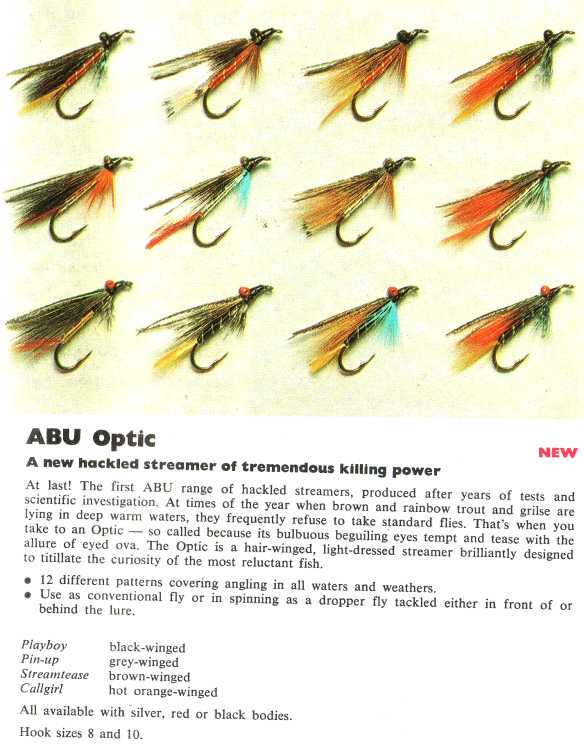 The later dry flies made in Asia (Torrfluga) cam in many assortment packs and differing hook sixes. They were modelled on well known patterns like Black Gnat, Cock-y-Bondhu, Blue Zulu, Greenwells Glory, Brown Ant and Royal Coachman FW to mention just a few patterns.
Spinners
They can be defined as a lure , some of which rotated through 360 degrees in its entireity OR some whose body remain stationary with a various number of revolving blade(s). They attracted fish by vibration in the water and /or flashing/reflecting light from its blade. Blade types were Spinnaren, Reflex, Droppen, HiFi, Flax etc with predomiantly single blades but some had two. The other types are Screw, Virvellen, ABU Fly, Swim Fin, Roulette, Double Spinnaren, Dropfish and Hogbom (famous for anti twist design)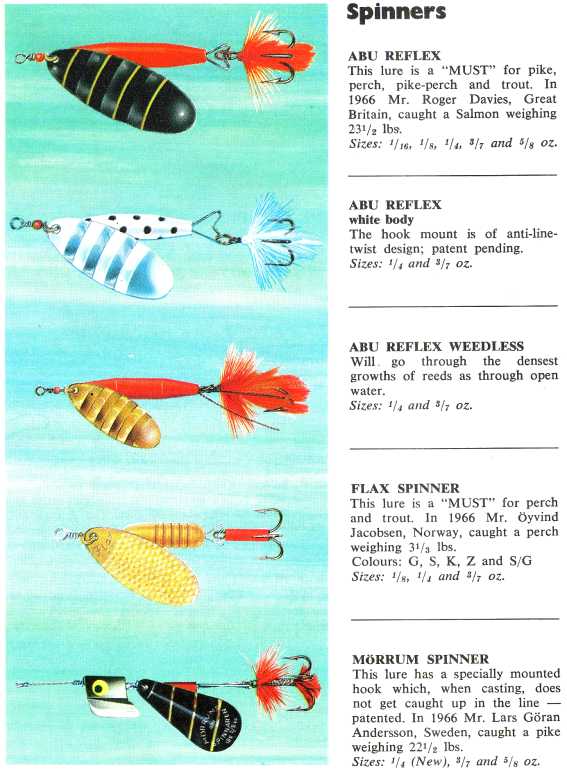 More graphics courtesy of ABU catalogs to follow soon. The unusual expression Must lures were commonly referred to, which meant you really needed these lures for particular species.
See my hand finished and much prized Svangsta Spinnaren here!
If you have any other lures, that are un-needed or doubles in your collection and are available for an> swapping or a reasonable fee, I would be very pleased to hear from you.