Significant ABU Friends
Hans van der Pauw ...... Netherlands
Hans van der Pauw 
Historian (PhD) .
Specializing in the 20th century  
World War II 

research


 Passion for all things pisctorial ! 

Han's most recent ABU literary contribution where he kindly translates
the fishing article on Morrum River in the first Napp och Nytt 1948

The Morrum perspective.... from N&N 1948

My friendship with Hans has been as a long term ABU mate for many years and he never tires of contributing articles here of interest to the wider ABU community. For that selflessness and his kind contributed words of me, I thank him very much. Some of these articles were first written and published by Hans in Waterlog magazine.

Black Plugs .... an interesting and considered piece of research, including some ABU
Waterlog nr.99, Spring 2017.
Coarse Fishing...a tribute to the impact of Richard Walker's "Still Water Angling" in Holland
ABU goes Ultralight...a specific perspective recently researched by Hans

How the Dutch went British....aka learning the UK carp angling techniques
The Joy of Simplicity ...the ABU 1750A
Confessions of a Spoon Fetishist
The Early Hi-Lo multiple position bib

Replacement Cardinal Aluminium Spools

Special Request ABU Reflex for Dutch Fishing

Other Swedish Distributors of ABU Products

ABU 1958 and 1963 Catalog Anomolies
Personal Recollection of ABU Tight Lines 1967

The Evolving Story of the ABU Hi-Lo 5/6 Position bib
Polar Problems...ABU Reflex 1956
A Nice little story on the Cardinal 66....uncovered by Hans

Contribution from Hans at my request.
I've known Wayne for many years now and I would even let him take care of my hamster Ronny. He's

the kindest man ever. He has provided ABU enthusiasts the world over with information, help and

advice at least since he set up his website in 2005 and to me it's always been a pleasure if I could

contribute a little something to that. Although I'm quite happy to keep a low profile, rather than

appearing under the label 'significant friend', I'll supply a brief sketch of myself on his request.

I'm both a professional historian and an avid angler. Take the two things together and you'll

understand why my articles and other contributions on angling usually have a historical component.

If, like me, you were born in 1955 and you started fishing in the early sixties, this means that

gradually your knowledge and experience becomes of historical value all by itself. You don't have to

do anything for that to happen, just be careful when crossing the streets and if you're lucky you'll

gradually acquire dinosaur status and you can talk like "Oh, way back in the old days, long before

specimen hunting was introduced, I went out with my trusty 12 foot bamboo pole and bla bla bla…".

Another peculiar aspect about this horrible aging process is that you may still own things that you

once, long ago, bought new - in my case e.g. a Gibson J45 guitar, some ABU Cardinal reels and hollow

glass Hardy rods, many books and even more spoons and plugs. You may find all these things now

listed as 'vintage' and 'collectors' items' on the internet. But… as you are the first owner, and thus

even older than those objects, this inevitably means that by now you'll have to consider yourself

'vintage' as well. And perhaps even a 'collector's item', if you're lucky. (I fancy that's how my wife

must think about me.) As to my old ABU reels, for me they are in the first place a link to fine old

angling memories, dating back to the seventies and eighties. This must be different to younger

people who are buyers and collectors of vintage tackle and who are probably more attracted by the

beauty or rareness of these old reel models. But I'm not a collector, I just still own the reels I once

bought new, and as I've always taken very good care of them I still use most of them off and on.

About my fishing then. I live in a rural part in the north-west of Holland, surrounded by polders (land

below sea level). In between the small villages there are meadows with cows and sheep and fields

with cabbages, tulips, potatoes and what have you. These polders are full of small canals and ditches,

most of them quite shallow (say 2-4 feet). They hold fish like pike and zander, carp and bream (the

old fashioned European Abramis Brama that is, not the Australian bream). I fish for all these fish.

When pike fishing I often go out with my friend Jan Eggers, well-known all over Europe as 'The Pike

Ferret' (and present elsewhere on this webpage).

I also publish about my fishing regularly. Some of the articles on angling that have a historical

component can be found on my website, which however serves in the first place as sort of a shop-

window for my work as a historian. This means I cannot afford to be too frivolous on it. Therefore my

articles on angling (part of them written in English) are somewhat hidden at the bottom of this page:

considered as a bit of a clodhopper instead of the decent and serious PhD you're trying to promote.

Finally I almost forgot to mention that apart from my historical books I've also written an anthology

of Dutch angling literature called Tijdloos Sportvissen ('Timeless Angling') - see the section 'Boeken'

on my website.

And I don't have a hamster called Ronny, of course.

Tight Lines,

-Hans-
Included pics of Dutch Polder fishing and species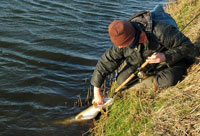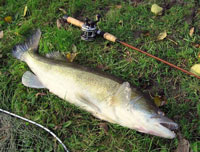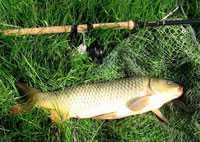 We are all thankful for your research and sharing Hans! Wayne
Please contact me abuadmiral@gmail.com if you wish your contribution documented for posterity and the immediate interest of the ABU fans worldwide!