Record

Casting Reels
My Collection of Record casting Reels.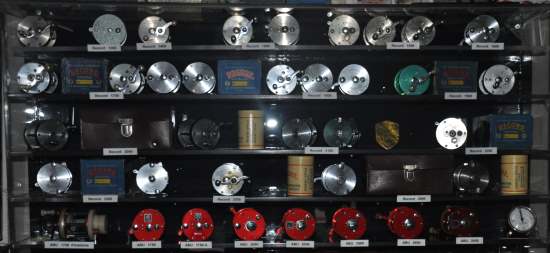 Development of the Record Casting Reels
PHASE # 1
This was the period from 1940 to early 1943. Made in Sweden was stamped on Right Hand Side-plate. They had a riveted foot with no markings. The reel handles had around profile knobs. The models available were 1500 to 1800. They all had brass arbour spools.
PHASE # 2
This was the period from 1943 to 1946. They had Made in Sweden on the riveted foot and Model A on the left Hand Side-plate. The spool was a single piece spun aluminium construction. These reels has jewelled end-caps of various colours , some of genuine ruby. The box was known as Type 2 Sea grass.
PHASE # 3
This was the period from 1946 to 1950. The Model A designation was remove. Agate studded end caps were phased out and a superior phosphor brick was introduced.
PHASE # 4
This was the period from 1951 onwards till the last Record was manufactured in the early seventies. All reel models from 1500 to 1800 were designated as Model C. The reel foot was welded not riveted. The famous RECORD FISH logo was introduced and Made in Sweden was underneath the reel foot. Most importantly all Model A's had been upgraded to Centrifugal Brake Blocks. The reels now had 3 piece spools made from 2 aluminium flanges pressed together onto an arbour.
Instructions in Swedish ie ABC for ABU Record

English language Tight Lines 1956 catalog shows
2500, 2100 and 3000, 1900 and 2300, 1800 and 1700, 1550 and 1600, 1500 and 1300 Record Casting reels.
Record Reservdelar / Spare parts
A.B.Urfabriken's other Swedish Distributors
Sample Record 700 Manual
Record Reel Models
The greatest compliment is that of forgery. See below 1300 to view the Cadillac fake Record 1300
(sequenced for Model not Production date)
300


Pleased now to announce I have this fine pink handled example of the Record 300 model in my collection thanks to the generosity of Uffe Edefuhr!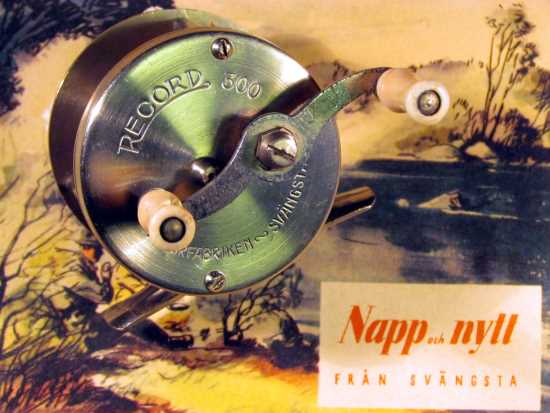 Produced 1944-46 Called Pimpel which means Ice-Fishing. This then very inexpensive reel is now very difficult to find and consequently is extremely expensive. Only 500 were produced. The fixed bearing caps helped to make it cheap to produce, but this was later changed to removable non agate bearing caps like that found in the Record 1400. Pebco marketed one of these models under the name No. 3. Until now, I had never physically seen one of these reels. These web images are they only proof I have such a reel existed.
Ron Elsenaar from Sweden has kindly provided this green handled example of the Record 300 Ice-fishing Pimpel reel
It is the special 'luxe version with the spool tension knob. (see larger image below)

1300
Produced 1950-63 Marketed as the inexpensive reel for even the youngest family member, it ensured ABU was for all. This was produced after the discontinued 1400 model. It was the first reel to have aluminium side-plates. Four colour variations exist in hammer metal finish which were dark green, the most common light green and rarely seen in red as well as the black versions I spied on display in the ABU Museum in Swedem. A forgery was made and called the "Cadillac". Advice I have received leads me to believe this red version further below is also a standard 1300 forged by re-painted colour from the more common original green Record 1300 with repressingLHSplate.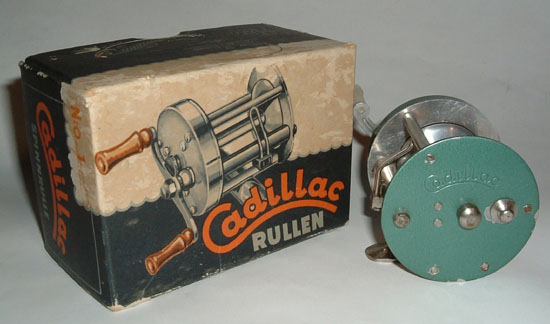 This pair of photos was taken from the first attempt at forgery. It came with non box or impressed Cadillac symbol.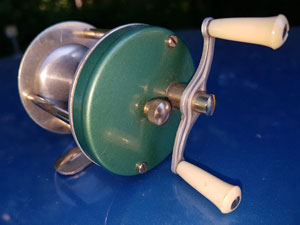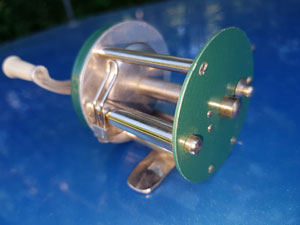 Museum display

Haven't been able to add the red/dark green model to my collection yet!

1400
Produced 1940-46 (including Model A, which was the least expensive of all ) Very rare and expensive to find today. Just added to my collection. Photo coming

1500
Produced 1940-51 (including Model A) Nickel plate coating used. Riveted cage to side-plate made reel inexpensive, popular with many with it becoming one of the best selling Records.
Parts for Repairs



1550
Produced one year after 1500 as a minor upgrade. Adjustable drag on Right Hand side.
Parts for Repairs



1560
Very rare and difficult to find model coloured purple. Aluminium export model only.
I have recently added a fished version of this reel with a few scratches and flakes of paint missing but quite complete and intact mechanically , thanks to Stephen Makin.
Pictures soon.


1600 For this model reel, A.B.Urfabriken elected to produce a differently branded reel, as they had at the time the request from Co-ops to do so for the Rainbow 333 casting reel. Per has very kindly shared his knowledge and pictures from this link. Uffe shared the second RAINBOW 88
First release Record 1600 before the Seagrass packaging.
Per Erlandsen's RAINBOW History

Normally produced 1940-51 (including Model A) This was a more deluxe construction with Chromed side plates and screwed side-plates allowing full disassembly.
Parts for Repairs



1610
Very rare and difficult to find model coloured gold. Aluminium export model only.
Have not been able to add this 1610 model to my collection yet!

1700
Produced 1940-51 Introduced the adjustable synchronized balance drag and contoured non-slip handles. Model 1700 A and Model 1700C exist also.

Parts for Repairs


A very special Record 1700 shared by Stephen also from Sweden is here.

1800
Produced 1940-51 (including Model A) Wave pattern engraving introduced.

Parts for Repairs



1900
Produced 1943-53 (Black spacers) and 54/57 for Model C Green. Model A 1958-61 had centrifugal brakes.Both collected. Several other variations exist Ivory white, Amber Yellow (early) Along withe the 2000, it is one of only 2 Record reels issued in a wooden box.
I own the 2 green model 1900 Records with different shades of annodized colouring as well as the black spacer model.

Here we see the dis-assembly for cleaning away 6 decades of grease for the most recent donation! Assembled and working perfectly after service.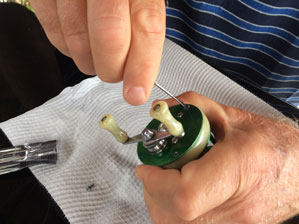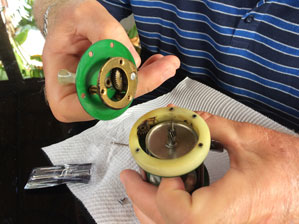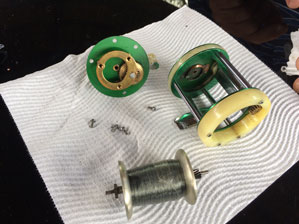 Generously donated by Wayne from UK, my last addition is below. Hopefully one day the 4 models 1900 will rest together in my display.

I have not been able to add the Amber 1900 Model to my collection yet.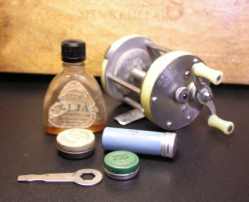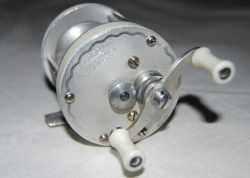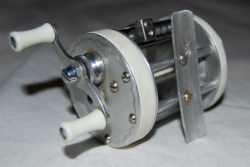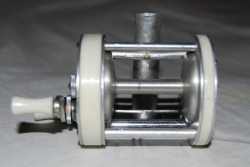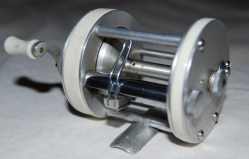 Parts for Repairs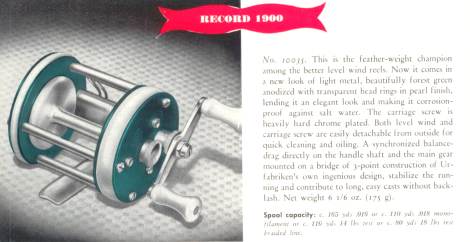 2000
Produced 1942-52 It was ABU's Flagship model Record till 1946. A ten year warranty was offered on this reel. initially only had only the black spacer model until September 2010 when the following happened.
I have just been able to add this very rare boxed and complete Yellow spacer Record 2000 to my collection! The generosity of spirit of Mikael Johnsson , wishing to share his Grandfather's pride and joy here is greatly appreciated. As I get all the historical details and separate page linked from below, will be dedicated to this reel and Grandfather Karl Östman's love of fishing ABU!

Karl Östman's rare boxed Record 2000 with yellow spacers story, donated reel (left above)
Thanks to Fredrik Gerdin for sharing his very rare Pebeco 999 here which is the same as Record 2000, except for the engraving. Very early model and difficult to find.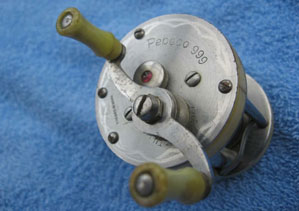 Parts for Repairs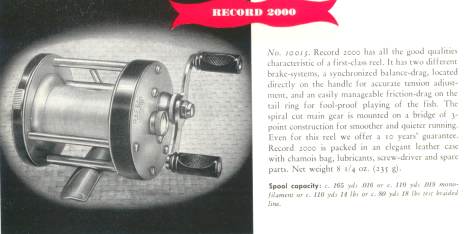 2100
Produced 1945-73 ABU's World champion Tournament Casting reel. First reel fitted with centrifugal braking. This was the only other Record issued in a wooden box.
Parts for Repairs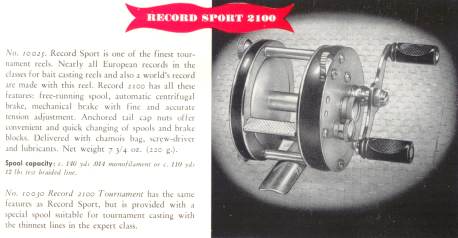 Wooden Boxed example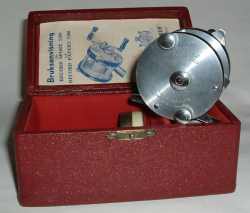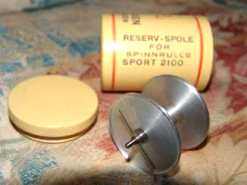 My Mib Record Sport 2100 engraved ABU which has the shop display box.
The USA export version of the R 2100 supplied by Ron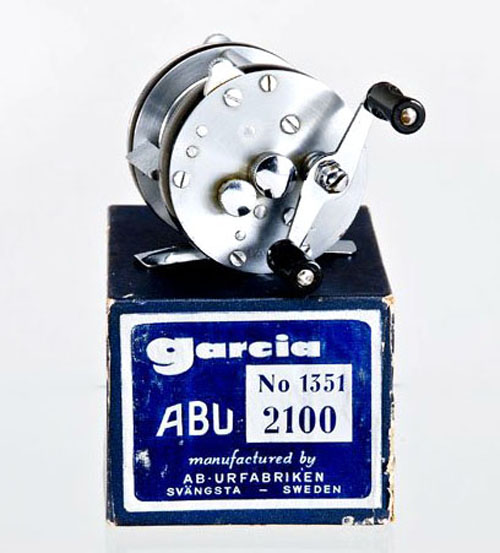 2200
Produced 1945-53 This was a less expensive version of the 2100. It has a switchable clicker on Models A and C. Model B was produced from 1948-54.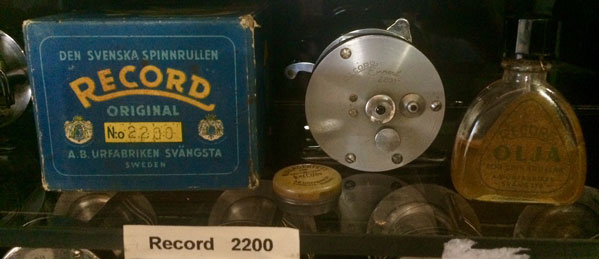 2300
Produced 1953-62 Three main versions were produced in number , Clipper and Model C. My model appears to be very rare with the custom designed narrow spool missing. I would love to buy the spool to complete the reel if anyone wishes to part with one.
Here is an unusual example of the Record 2300. I would say it was deliberately reverse struck to make a unique reel for a worker at the factory.
Thanks to Ron Elsenaar from Sweden for supplying these unusual images..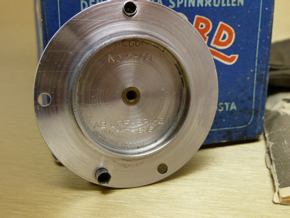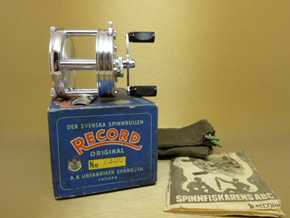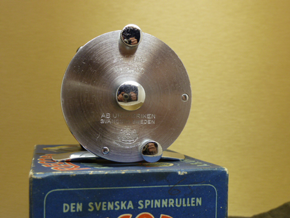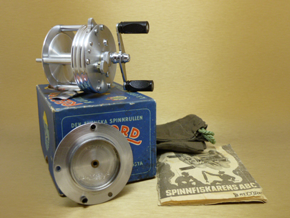 Parts for Repairs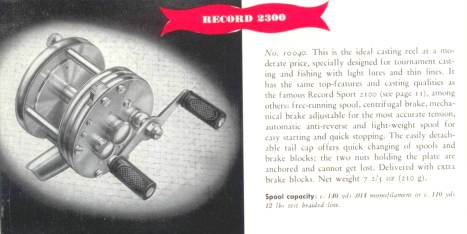 2500
Produced 1948-56
It's case had a different silver clip/buckle. Also produced in Clipper form


Parts for Repairs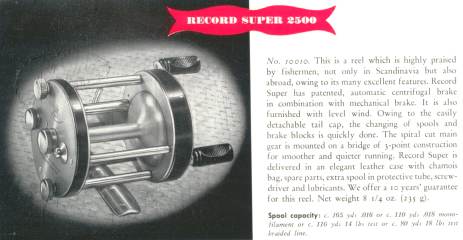 3000 Flyer
Produced 1950-57 (Including Model C) First model produced with ball bearings. It is wider than the original 2100 design from which it developed.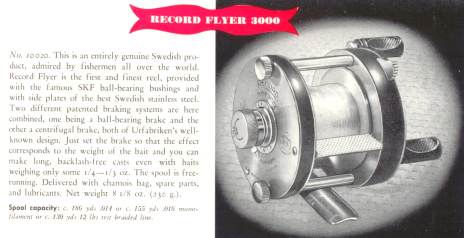 More Record Reels and information
Good friend Tommie shares his Record Collection with both English and Swedish comments. Enjoy.
Two special reels shared below by Jon Steinsnes of Norway
The Record 2100 casting reel with modified spool used by Arne Jakob Schultz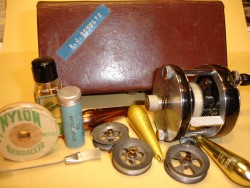 MY friend Ron Elsenaar from Sweden kindly shares more Record 2100 Sport reels below (as well his special Spidercast Tournament Rod/reel combo)
Magnesium spool version
Other nice Record 2100 Sport Reels fom Jeroen a friend in The Netherlands and below a few words from him re the Record 2100 Sport
The record 2100 became a very popular reel after the winning of a few national and international tournament games by the Swedish caster Ake Dalberg. They made a regular magnesium spool for wider casts which you could change with the normal aluminium spool. Abu made only on special order a custom build casting reel were you can make longer casts with. The main difference with the regular reel is that there is a fixed axle in the middle of the reel. The tiny spool is constructed on the axle. They have enlarged the brakeknob so it will be possible to loose up the brake while casting. They always stamped brake setting numbers on the sideplate, this would be standard on the later record 3000 flyer and ambassadeurs. Of course the tiny spool could not store a lot of normal line, so they use special line as thin as a human hair. Of course everybody knows that how thinner the line is how longer your casts will be. On the casting weight they attached a few meters regular line which they wind a few times on the spool. This was made so you can made a powerful cast, the thin line only have to follow the castingweight in the flight. I don't know how many of these reels were made by Abu, I've seen once a record 2300 casting on the internet. This was the lower budget brother of the 2100 casting. If anybody knows more ore can tell me more about these fantastic reels please do so. I've you have a question I will be very pleased to answer you. My emailadress is: jeroenenerica@gmail.com
Thanks to the kind guys mentioned above who have shared their reels here.
Unusual Prototype Record 2300
This was probably a one off, home-build rather than a factory peek in the future for the Record 2300
Steve Vernon from the USU of Antique Fishing Reels website has kindly shared his fine images of this Prototype Record 2300 with unusual level wind mechanism.
If you have any others listed below, that are unneeded or doubles in your collection and are available for a reasonable fee, I would be very pleased to hear from you.

Wayne .... abuadmiral@gmail.com ......