Servicing Help.
Pictorial Servicing Guides.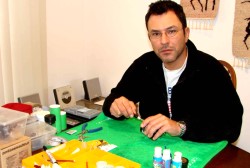 Look below for future servicing guides and a special tuning guide from our talented Tim!
Sheer Brilliance on Tuning your Old Amby!
Special issues: Anti-reverse dog on Cardinal 57 (applicable to models 52, 54, 55, 57, 152, 154, 155, 157 and Zebco 554, 555, 557)
Custom Jay Parker/Siro Cantone Special 6500 CT
Special Custom 1750A ..Info needed on the electronics
I have been fortunate enough to recently acquire some thousands of genuine vintage parts for Record and ABU reels.
At present they are in a big box but when I have them catalogued, if you are a serious collector, please e-mail Wayne if needing a particular part number and I will check if it is available. I thanks Rikk from Sweden for his assistance in acquiring these difficult to acquire parts.
Record Casting Reels
Record 1560 to come Record 1600
Record 1610 needed
Record 1700 C Record 1800 to come.....
Record 1900 Green Record 2000 to come.....
Record 2100 ABU Ambassadeur 2100 Sport, (same reels different eras)
Record 2200 to come..... Record 2300 to come.....
Record 2500 to come....
Record Flyer 3000 Record Flyer 3000 C
Record/ABU Ambassadeur Casting Reels
Record Ambassadeur 5000 Record Ambassadeur 6000 to come....
Ambassadeur 5000 (4 screw) ABU 1750 A
Ambassadeur 5600 C Ambassadeur Eon 5600
Ambassadeur 5600 EXT Ambassadeur 5600 D5 SW
Ambassadeur 7000 C Ambassadeur 6500 C3
Ambassadeur 8000 C Ambassadeur 8500 to come.....
Ambassadeur 9000 C Ambassaeur 10 000 C to come......
Spinning ABU 222 Spinning ABU 225
Cardinal C6 - 3000 Suveran 4000
ABU Close Face Spinning Reels
ABU 500 Series reels
ABU Ice-Fishing reels
ABU Pimpel 1 Ice-fishing Combos
ABU Pimpel 2 Ice-fishing Combos
ABU I.G.F.A. Reels
ABU Fly Reels
Record Precision Record Double
Delta 5 Delta 3
Diplomat 156 /Zebco Cardinal 156
ABU Garcia Mooching Reels