Bait/Lure Scarcity Index

A.B.Urfabriken started producing lures at the very beginning (early 1940's)to go hand in hand with the production of their Record Casting reels.
Their expertise lay in producing moulded, punched and stamped metal lures from quality Swedish metals such as stainless steel, copper, brass, aluminium, including gold and silver for decoration etc.
What was not in their line of production immediately was outsourced and sold (including appearance in the N&N catalog of the time)
As expertise grew, all their metal lures became in-house ABU design and production.
Much later ABU was to seek expertise in and relation ship with other companies such as Heddon and Burke when it became obvious plastic both hard and soft flexible products would be good lure making materials.
They were able to help drive the Swedish economy from the home base by having at home workers assemble multiple components into fishing lures.
An example of an all time winner produced over a long time period was the ABU Reflex, which Len Borgstrom talks about here.
Today some collectors pay some huge some for difficult to find ABU Record lures.
Obviously unfished mint and boxed lures of the day are most expensive, for me I have to be happy with what I can afford at the time, so most of mine are good condition, used lures. I can dream on of titanic battles with fish far different to my tropical Australian varities. Needless to say they catch fish here just as well as in all other places they have travelled around the world!
I have , by purchasing, reading and discussing with many generous collectors around the world been able to learn sufficiently to share with ABU fans here.
Uffe Edefuhr, Mike Elsworth mike.elsworth@ntlworld.com Urban Westblom westblom@comhem.se, Nisse Persson nissensson@telia.com , J.L. van der Pauw vanderpauw@planet.nl , ABUFreak d.figge@gmx.de, Karl Bornefelt karbo001@student.liu.se, Rob f2hrkhoflan@hetnet.nl and Steen Pedersen glimmyflyfishing@yahoo.se as well as others whom I will acknowledge soon as contributions are received.
It is my intention for people wanting to share pictures and knowledge here, to link their work to the lures below or indeed others not mentioned to date.
Steen has also bequeathed me an example of his very limited production "ABU/Record " lure book, which is frequently used in conjunction with Urban's example. I am indeed fortunate to have access to their combined knowledge.
I am looking forward to the possibility of both Urban and Steen releasing new updated books on ABU lures sometime.
I would also like to work on one small aspect of the knowledge, that is, the nature of the very limited release of some lures and thus scarcity of availability and perceived value to collectors. Please contact me if you can offer suggestions here or correct errors.
Some people like to collect a favourite marque of lure, like the ABU Toby or Killer or Hi-Lo or Island as I do. Really I collect them all but these are my special interest as they were the first ABU I saw and used successfully. Obviously limited release lures are a special gem to find and especially the below mentioned link to prototypes.
I guess we must accept some lures were failures (interesting in itself) and did not fish well, so were taken from production, on the other hand, lures on the market for a long time could be considered classics which would favourites of fish and fishermen as well as ABU . Design features changed over time and the range of colours produced expanded and occasionally contracted.
Sadly many of us will only ever enjoy seeing pictures of these lures rather than holding them or heaven forbid actually fishing them with the inherent possibility of loss due to agressive fish better than our skills or failure rig or cast correctly. Lure fishing teaches one to be careful especially as a child when 2 weeks pocket money was the price of one ABU Killer or Hilo!
Weights and lengths are easily understood but colour codes need to be referred to.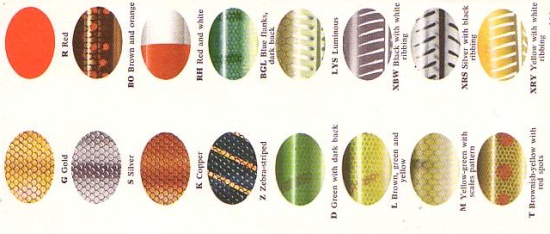 (All seen here were never for sale )
For the first 5 years I will attempt to mention release dates of lures by name/weight/colour
Some were re-released later in differing forms under the same name, so will appear to be re-mentioned.
One Year of production only
Ideal X, with 14g weight , produced in just 1941 still missing from my collection
Salar15g 55mm (G/K G/S K/G K/S) in 1945 only
Record Tommy Draget 20g 70mm (S K G Z Cr S/G S/K Pm) in 1951 only
Ellips, with18g, 80mm, (S K G Z) in 1978 (just recently acquired)
Spader-Ess 7g 30mm (S K G) only 1979
Rauto-Flex 10g 40mm, 15g 60mm, 25g 80mm (S K G) in 1982 only
Vicker 8g 60mm, 11g 70mm (S S/K S/G) in 1982 only
Piggy 2g 30mm, 4g 40mm, 5g 50mm, (S S/G S/K) in 1982 only still missing from my collection
Two Years of production
ABU Favourite 7g, 45mm (S K G Z Cr S/G S/K Pm) produced 1959/60
Safir 7g 35mm, 10g 35mm (S K G Z Cr S/G S/K Pm) 1955/56
Record Tommy Draget 7g 37mm, 18g 65mm (S K G Z ) in 1965/66 only
Three Years of production
Record Tommy Draget 26g 70mm, 18g 65mm (S K G Z Cr S/G S/K) in 1952/54 only
Four Years of production
Hogbom 25g 75 mm Cr model with one red bead set in up front and 3 red beads at rear, only 1945
Kynoch 12g 100mm (G T BO BGL WP LYS RH 1973/76
Snoky 6g 80mm, 10g 100mm Floating, 10g 65mm, 15g 80mm 28g 105 mm Sinking (S K BGL) 1973/76
(I have prototypes and variations of this lure)
Perka 40g 85mm, 60g 90mm, 100g 105mm, (S) in 1977/80
Five Years of production
Facette released from 1957-1962
Six to Ten Years of production
Tylo 50/59, Joker 57/63,
Eleven to Twenty Years of production
Svangsta Spoon (in USA) Kelly 46/57 Finish Spoon 46/62, Double Spinnaren 47/63, Island 57-75, Whirler 49/66, Lil Oringen/Wiggley in USA 52/71, Amulette 57/76, Tommy 51-64, Hazard 57-65, Ninette 56/66, Flamingo 57/76
Twenty-one to Thirty Years of Production
Glimmy 51-75, Favourite 59/82, Plankton 45/75,
Thirty Years plus of Production

Reflex 1945> Toby 55> Hi-Lo 55> Killer 59>
There are no doubt some omissions here which you may feel free to advise me of.

MY COLLECTION OF LURES started off very small. See pic
If you have any other lures, that are un-needed or doubles in your collection and are available for swapping or a reasonable fee, I would be very pleased to hear from you.