Boxes for Record /ABU Lures
The first packaging for A.B.Urfabriken lures was in cardboard/paper fold up boxes.
Some had the contents hand written while other were printed in colours and fonts which changed over time.
Indeed the box design changed form the 8 window factory image (left) to the 11 window factory (right).
They were made in 3 sizes only to accomodate the varying size of lures.
One major variation within this cardboard box style was that in USA the top of the box had a clear cellophane panel to show off the lure.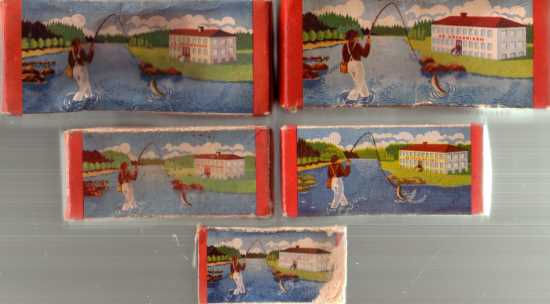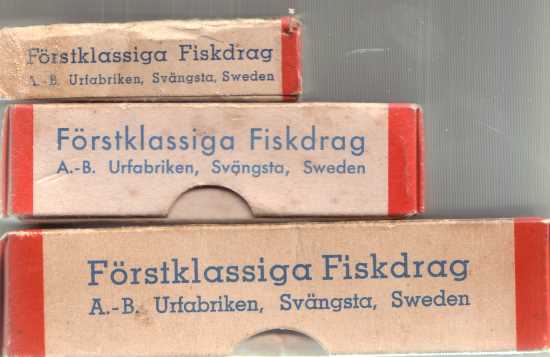 The serious student of ABU record box types will want to visit here soon to see the results of Dr Toomba and my work on paper boxes..
The later plastic topped cardboard boxes generally had 6 major labelling variations
From the top image down:
aprox 1959 when all paper boxes ended
Version 1 box (Hilled ABU name font)
Version 2 box (Flat ABU name font)
Version 3 box (Fat flat ABU name font)
Version 4 box (Boxed ABU name font)
Version 5 box (Boxed ABU name font with Finer Fishing tag)
Version 6 box ( Different unboxed ABU font with Finer Fishing tag)
ending in around 1970/71
Strange (for me anyway in Australia) Early red and white boxes with green inners.
Appreciate any explanation of these early ones that I have not seen here in Oz.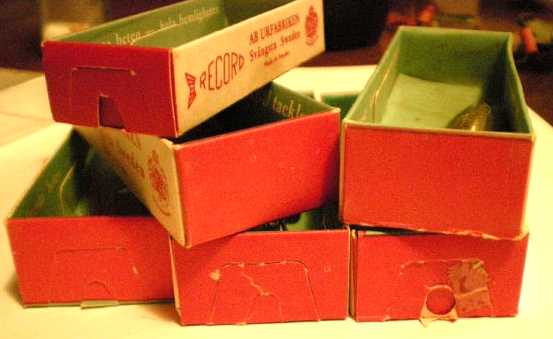 Possibly a short time production box in USA (50's) Thanks to Mike
It is a box, rather than a blister/bubble pack which is covered elsewhere.

Hilo were initially packaged in 50's with complete plastic boxes containing cardboard inserts which changed over time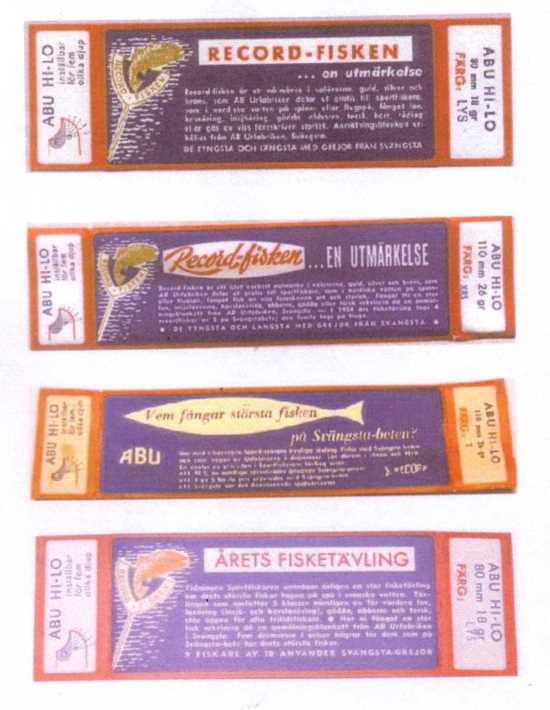 In the USA , this was the typical paperbox and plastic lid packaging.



Please feel your input, help , criticism is very welcome and I look forward to expanding with network of Record ABU lure collectors and appreciators.
Contact me here to assist.