Record/ABU Reel Models
A large number of my Favourite Ambassadeur reels are
here.
Ambassadeur REELS
The ground breaking Record Ambassadeurs are covered adequately else on the website.
A fine example of a traditional "round" Ambassadeur, will be followed by the revolutionary "Eon" planetry geared reel, the 5000 D in Champagne anodizing and the latest and greatest teardrop REVO MGX model, as an example of how Ake's design has evolved over 6 decades.
A beautiful black 6000 model is kindly shared here by Sandy from Scotland.
Note the line of the day and no doubt still well able to be used.
Example #1
Model name ABU Ambassadeur 6000
Maker/designer Ake Murvall
Production dates 1967
Images
Features Counterweight handle, conventional star drag system, four screw right hand side-plate
Catalog Tight Lines 1967 page 52
Example #2
Model name ABU Ambassadeur 1500
Maker/designer Ake Murvall
Production dates 1977
Images Thanks to Lars Jönsson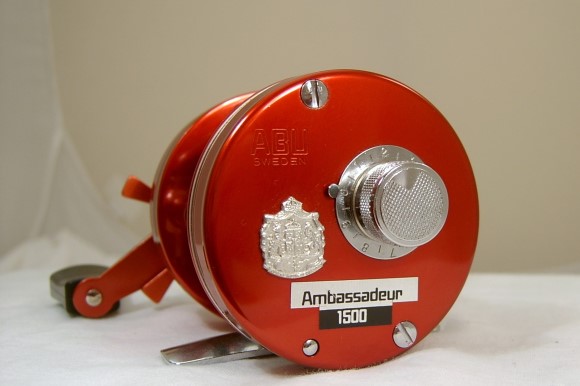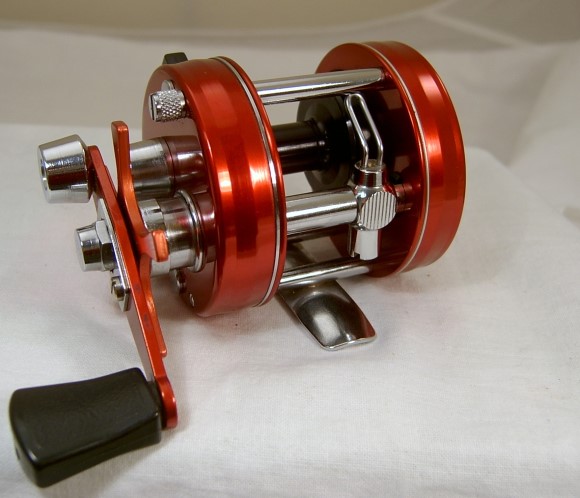 Features Difficult to find model, an enigma as the reel was celebrated almost 20 years after initial release , Simon Shimomura thinks it may have been because the Record 1500 was the first model multiplier released.
Catalog Never catalogued but central feature on 1995 release of the ABU 75th Commemorative Poster
Example #3
Model name ABU Ambassadeur 5000 D
Maker/designer Ake Murvall
Production dates 1974 only
Images
Features Champagne colour annodized, direct-drive mechanism, rare model
Catalog Uncataloged model produced in limited numbers for Japanese market.
Example #4
Model name Ambassadeur EON and EON Pro
Maker/designer The EON was designed by Patrk Svensson, Börje Moosberg and Thomas Holma.
Production dates circa aprox 2000
Images
Catalog
Known Enthusiast Writer Yet to be determined
Features Radical new planetary triple main gear design in a low profile design made of modern plastics. The more up market version EON Pro show in 4th photo has carbon fibre used in its construction. scrolling large drag tension knob, soft feel winder knobs
Example #5
Model name ABU Ambassadeur REVO MGX
Maker/designer The industrial design for the MGX was made by Patrik Svensson and Andrew Wheeler (brand business manager for ABU), the mechanical design was made by Patrik Svensson.
Production dates 2010 and still current
Images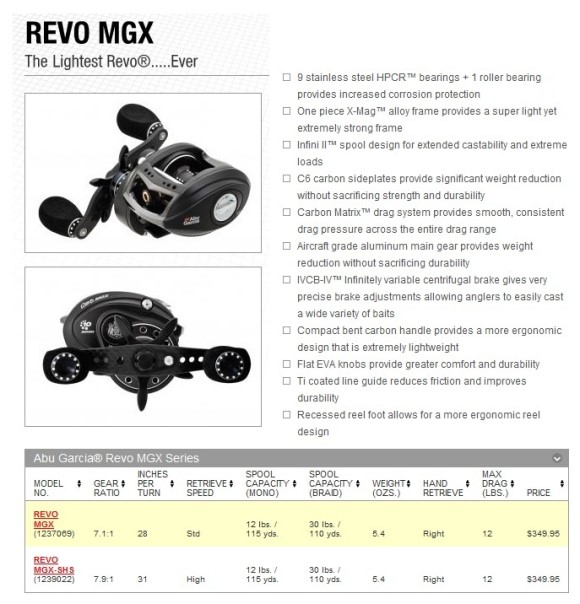 Features
ABU Ambassadeur REVO MGX.....Magnesium Frame 5.4-ounce Abu Casting Reel

The evolution of baitcast reels continues. The new Abu Garcia® Revo® MGX low profile reel raises the bar higher than ever before. The combination of enhanced compact design, a one-piece X-Mag™ magnesium alloy frame and lighter-than-aluminum C6 carbon sideplates produces the next generation of ultra-lightweight low profile baitcasters. The MGX weighs only 5.4 ounces!
The Revo MGX is more than just a lightweight reel. The Infinitely Variable Centrifugal Brake system (IVCB-IV™) can be adjusted externally without removing the side plate, as standard centrifugal brakes require anglers to do. The precise brake adjustments allow anglers to easily cast in a wide range of conditions and a wide variety of bait sizes, especially extremely light baits. Other baitcast reels struggle to cast these lightweight baits. The IVCB-IV four brake points are vertically implemented allowing 28 positions of adjustment, compared to centrifugal brakes that are either on or off.

The MGX includes nine stainless steel HPCR™ (High Performance Corrosion Resistant) bearings plus a roller bearing, Infini II™ spool, Carbon Matrix™ drag system and Titanium coated line guide. The durable aircraft grade aluminum main gear reduces weight as does the compact bent carbon handle with flat EVA knobs. The recessed reel foot is more comfortable and moves the crank handle closer to the reel.

The new ergonomic design of the Revo MGX is more compact than any other reel on the market and required the introduction of a new standard in gear ratios. The 7.1:1 gear ratio model retrieves 28 inches per crank; similar to current standard 6.4:1 Revo models. The faster 7.9:1 model retrieves 31 inches similar to current high speed 7.1:1 Revo models on the market today . The 7.9:1 gear ratio is the highest speed of any low profile reel on the market but provides the same line retrieve rate as all existing 7.1:1 high speed Revo models due to the new compact design of the Revo MGX.

The Revo MGX has a line capacity of 115 yards of 12-pound monofilament fishing line or 110 yards of 30-pound braid.
Please be patient and enjoy as they appear and do contribute!
If you have any others not listed above, that are unneeded or doubles in your collection and are available for a reasonable fee, I would be very pleased to hear from you.