Record Steel Rods
Telescopic 'Stalspo'
For something a bit older and different , enjoy my 4 Record Steel telescopic rods here and 2 more soon to appear.
They are numbers 22, 24, 25 and 40. They are 4 and a half feet long and are screw connected 2 piece with the exception of the Record 40 manufactured model. Two are cork gripped, while one is wooden and the other rubber. All have stainless steel reel seats with the fore-finger crurved grip. They hail from the late 40's early 50's. Two others are to arrive shortly, viz Record 1 with its cast aluminium handgrip and a different Record 40 which has a stainless steel winch mount like the others.
While stiff and heavy to use, these were the only option other than the more expensive Split Cane models from other manufacturers like Asborn Horgard from Norway. For many, they would soon be put to the sword, so to speak, with the introduction of the 'fabulous' new fibreglass rods from the USA. First to appear in a solid glass form and then later in much improved hollow glass and the even better ZOOM models a decade later.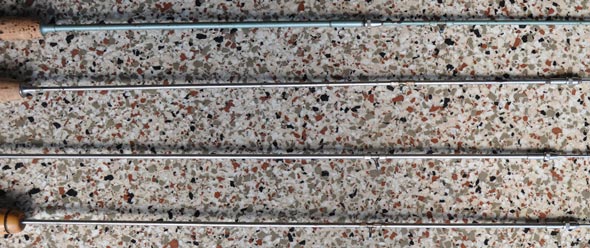 Please contact me if you can add to this information.