A.B.Urfabriken
Swedish/European Advertizing
Initially my good friend and supporter of this site, Uffe Edefuhr, has spent many hours scanning wonderful old images from the late 50's to the late 60's.
We all appreciate his efforts to share and I just wish I had a good command of the Swedish language to fully understand the contents.
However images speak all languages and many of us who appreciate the technical attributes of ABU's products are understanding more.
Initially, advertising was very mainstream and limited to fishing related media, but later as ABU products became more of a world entity, unrelated books/magazines where chosen by ABU and Volvo and the like, to further expand their impact with a wider field of readers. Some 1970s examples are seen at the bottom of this page.

I was surprising for me to discover that particularly in the early days of A.B.Urfabriken , many companies produced catalogs which encompassed the wide range of fishing equipment available in Sweden. With the passage of time, many smaller producers of fishing equipment were eclipsed by ABU and indeed some companies were taken over.
Here is a typical example of Non-ABU advertising which had Record fishing reels advertised from 1945. This was quite a common process, so well was A.B.Urfabriken respected, it seemed many wanted to advertize for them. Nothing would ever compete of course with their own, Napp och Nytt , Tight lines and the myriad of other catalogs translated by ABU into more than a dozen languages at different times.
More recently I was able to purchase a magnificent research set of professional hard cover bound volumes of Sportsfiskaren monthly magazines covering all of 1941, 1942, 1946, 1947 , 1948 and 1949.
These volumes consist of around 1200 pages of images and text.
When I have finished scanning and posting samples of salient advertizing images and articles , they will be offered to any serious collector at the same price I bought them for, from owner Daniel Skupien . I am not seeking to make a profit, merely offer to another fan when I'm finished with them in the New Year. Contact me here if interested.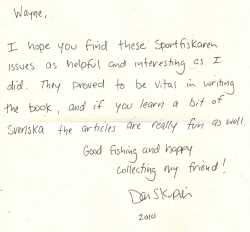 These are the earliest references to A.B.Urfabriken I have seen and cover Record, WD, Pebco and HJAB products as well as other companies selling their products.
I will post many samples of advertizing for each year and an occasional article of interest when I can get them translated.
From John Fishkat
Wayne,
December, 1940 ad by WD for A.B.Urfabriken reel in Sport Fiskaren. This certainly must be one of the first ad's for ABU. On page 230, but this is a journal that numbers by year – there are only 20 pages per month.
John
Later 1941 and onwards issues of Sportsfiskaren.
Following these very early advertizing samples and in no particular order other than publishing date, these images will all hyperlink to large sizes.
The first I will display is Len Borgstom (while it may be a little unpopular today), with a cross promotional ad for cigarettes.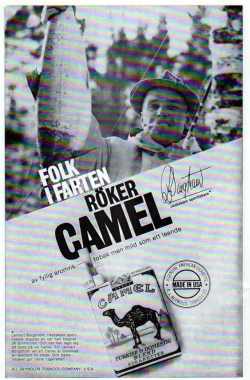 This December 1952 2 page dealer brochure for the newly released record 5000 is a favourite!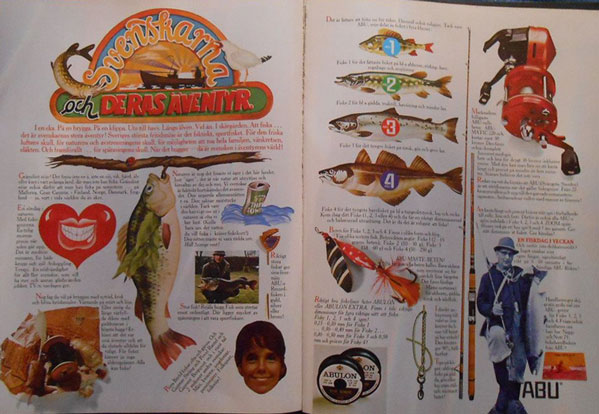 This ABU Diplomat rod and Ambassadeur 5000 Delux reel ad, along side the fabulous Volvo of the era,
indicated the prestige of the marque!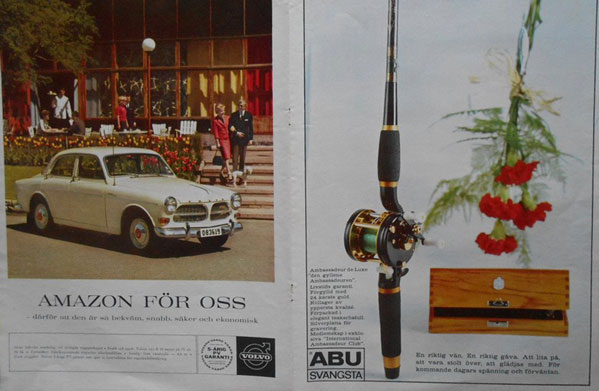 Now, advertising has moved to TV, newspapers, the Internet and Utube.