Influences on Gote, creating the ABU Empire
circa ...all his life-time of loving fishing
Gote Borgstrom was first introduced to fishing by his father, Carl Borgstom, founder of A.B.Urfabriken, who designed and fished his own reel.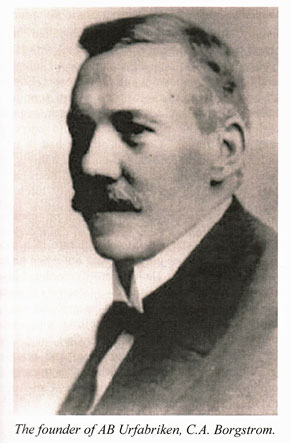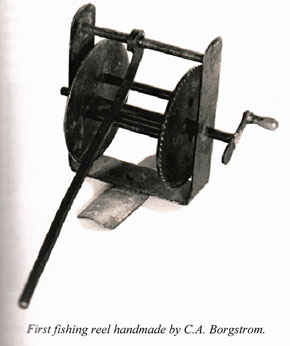 C.A. Borgstrom was a fine engineer and his own design of casting reel; circa late 20's
The guiding force of A.B.Urfabriken, Gote Borgstrom was a man driven by his love of fishing.

ODE TO GÖTE BORGSTROM

by his son Lennart Borgstrom

The older you get, the more you realize how wise your parents were. I guess that is true

for most people. Imagine if one could reach them now and tell them how grateful one

is and how one with time has been ever more impressed over their wisdom and far-

My father was without doubt not only my father. He was the father of Swedish sport

fishing. Napp och Nytt was the sport fisher's bible. Whenever a new Napp och Nytt was

published, it was like Christmas for the sport fishermen. A complete collection of Napp

och Nytt (or the English version Tight Lines) is worth a fortune. I wish that my father

would have lived to enjoy this.

Gote Borgstrom was always an enthusiastic fisherman.
When he decided to startmanufacturing the first Swedish casting reels,
he knew exactly what a fisherman needed.

He fished as often as he could and even during his most active years in business he fished

every week. Sometimes pike in the Baltic Sea or sea trout or salmon in the Morrum

His far-sightedness and his way of planning for the future still amaze me. He started

The Swedish Sportfishing Promotional Institute (Fiskeframjandet). The idea was to get

as many people as possible interested in fishing. He realized that his task was not only

to make reels for grown-ups. It was important to also make quality reels at prices that

youngsters could afford. The more expensive reel had to subsidize the lower priced reels.

Everybody should be able to afford fishing. Hundreds of thousands of Swedes have found

their love for fishing, stimulated by my fathers Napp och Nytt.

It was Gote Borgstrom's ideas in the early 1950s that were the base for the development

of the most popular casting reel in the world – the Amabassadeur- still the world's most

popular casting reel. Today it is the model for all modern casting reels.

My father started with debt well over his ears. He was the one who took all the risks and

laid the groundwork on which I got the privilege to continue building into the world's

strongest name in quality fishing tackle. My admiration of my father has over the years

only grown stronger both as a business man and a human being. Every time I hear some artist sing
"You are the wind beneath my wings", I think about how both my parents really were the wind beneath my wings.
Do you know that you are my heros?

Lennart Borgstrom

;

last in the line of

A.B.Urfabriken
The world famous family-run sports-fishing dynasty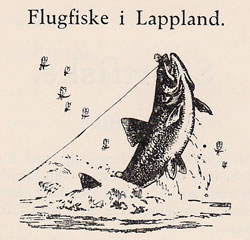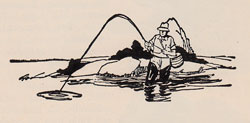 So from Len's ode above, we can see Gote always had a passion for his fishing!
Record or ABU as we know it did not suddenly appear in 1940/41 as often cited, when Gote presented his first Record reels.
His fertile mind must have had the potential and been incubating ideas for many years prior to these reels being released.
Likewise his ability to choose good staff, who would also help bring his dreams and aspirations to life, would prove to be visionary.
Certainly many factors were responsible for the dizzying heights ABU reached under Gote's control
A. the start of second world war, with the banning of many materials being imported, including fishing tackle imports from USA,

B. the demise of the taximeter business in Europe
C. his passion for fishing and awareness of the business potential therein
D. his awareness of the current marketing approaches in this growing industry
E. his support by family, friends and staff, all with a passion for sports fishing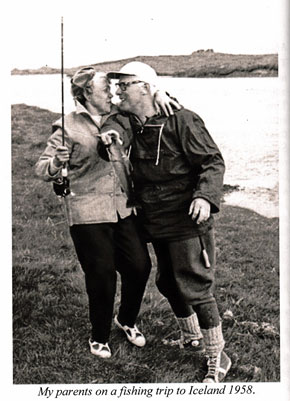 Many companies throughout Europe and the rest of the world were nibbling at this market.
Other companies in Scandinavia, Hardy in UK, Heddon, Pfleuger, Shakespeare, South Bend and others in USA are just a few of the influences that Gote was aware of.
He learned from them and sought his company to be better. In just a short decade or so, ABU was well on the way to becoming a world-beating fishing tackle supplier to all who sought the best.
It took market awareness, creativity, good business acumen, persistence and dedication to the desire to spare nothing in the search for quality.
His reel designs, as well as those that he employed, like Murval, Nurmse and Svenssen and so many others ( here ) started the company but impetus was maintained for decades!
Obviously, reels alone were not to be the ABU that Gote envisioned .
Gote saw the need for
A. Other hardware to be offered in the inventory

such as rods, baits/lures, gaffs, landing nets, fish priests, fishing-lines, terminal tackle, like hooks, swivels, leaders, split-rings, oils, grease,sharpening stones, smokers, weighing scales, casting plugs, spare parts such as spools, handles, rod rings, binding silk, lacquers
B. Catalogs and promotional materials to be created
even before the 1948 and forever on Napp och Nytt, other small ABU/Record booklets existed (sometimes published by other sellers of these products) to make fishers aware of product, in languages other than merely Swedish.
C. The importance of education of both staff, retailers and the buying public

and encouraging the sport of fishing to become the domain of all, workers and customers, be they men, women or children
D. Having a world view of the ABU brand and the influence it could have on future tackle

thus promoting the use and sales of ABU equipment on all continents except Antarctica
E. Initially having wholesalers for a short time to sell his first Record reels
ie Paul Berghaus (Pebco) and Wilhelm Denninghoff (WD) assisted with this success no more retailers were sought.
Two decades on, Gote is still filled with the passion for fishing.
He would have been well read and aware of what fishing equipment was in the marketplace what gaps there were to fill in terms of short-comings with then current models and quality offered.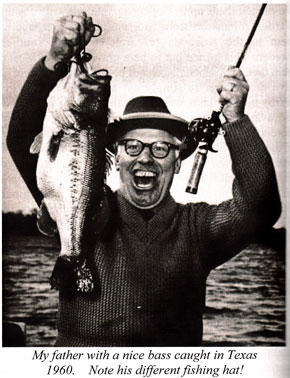 Catalogued examples of pre-ABU equipment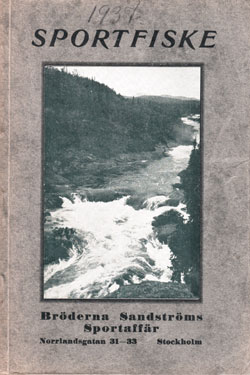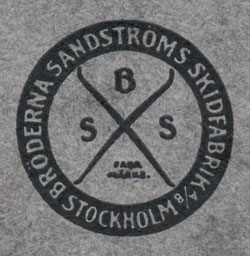 These pre-existing catalogs were useful to stimulate further ideas in Gote's mind.
Such came from around the world at first , but closer to home catalogs of all sorts of general fishing equipment , would have been source nutrients to his already fertile musings.
The earliest I have found came from this 1936 Swedish catalog
The following of course were from pre-A.B.Urfabriken era
Sportfiske, Broderna Sandstroms Sportaffar located in Stockholm.
Now from the post-A.B.Urfabriken era
Nygrens Fiskredsknapsaffar located in Goteborg
or
Leidesdorffs from Stockholm
Some interesting images below from these catalogs , will illustrate my point.
Examining their large form by clicking on the thumbnails will prove fruitful.
Some images indicate similarities and the range of items to appear in the future ABU product range , and other images indicate no relationship to the direction of ABU.
Gote was a fan of Hardy split-cane rods and also their fly reels but it took some time, another 15 years in fact before Split cane featured shortly in the ABU inventory, courtesy of Horgard in Norway. Steel however was the domain of Swedish production at this time. The lighter drilled spools for fly reels was a direction, he would follow with the later Record Double and Precision fly-reels.
One can see the same basic elements featured in the multitude of long running USA reel models, coming to the fore in the first basic Record casting reels. The difference being was Gote chose to include the best of all. in his Record reels. The later even more sophisticated Record 2100 through to the 3000 models, were very innovative with centrifugal brakes. It was these that put ABU and the Swedes as world champions in distance casting. It was however Ake Murval's Record Ambassadeur 5000 that put ABU out in front for decades.
The first Leidesdorffs catalog I have collected is from 1954, further down is the 1957 release.
Scanned are the Record/ABU relevant pages....
1954 Leidesdorffs Catalog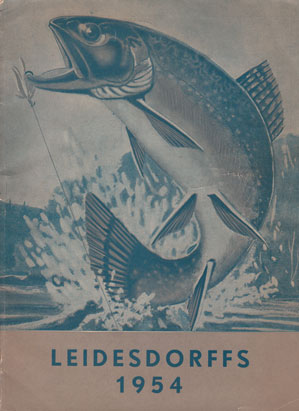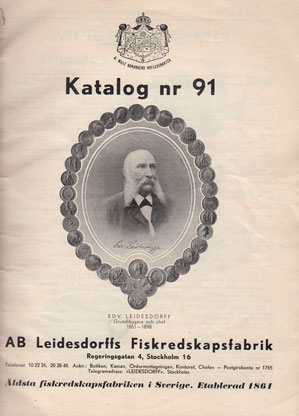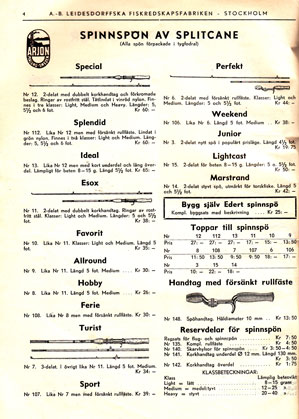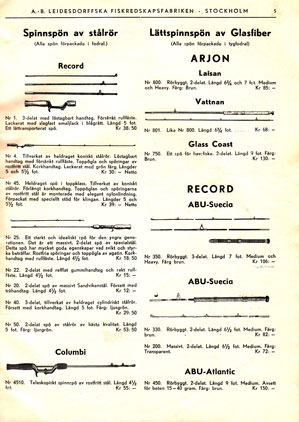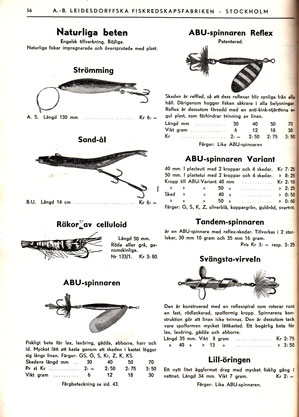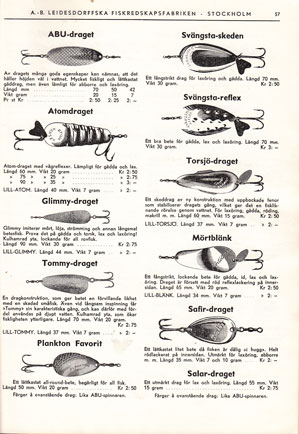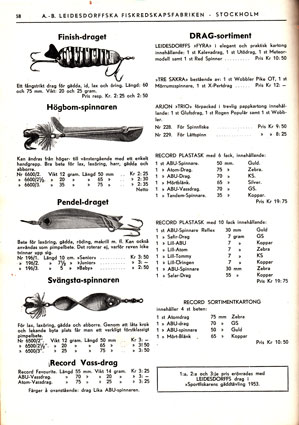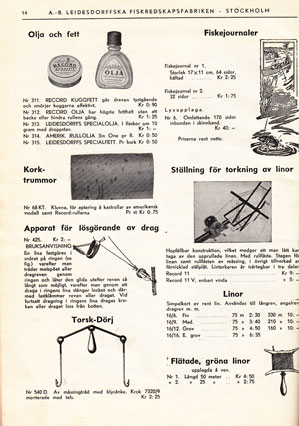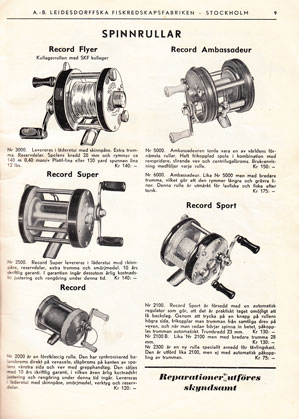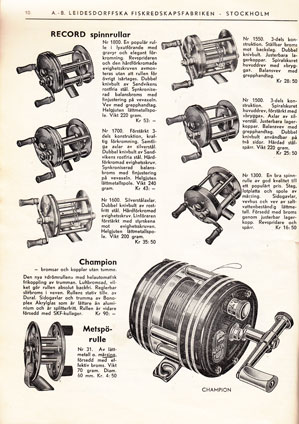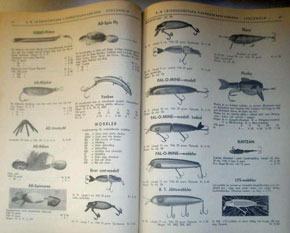 Reels from around the world...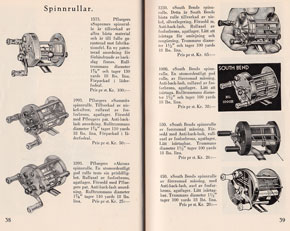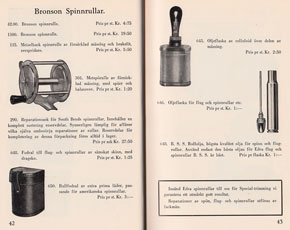 Rods from Hardy and Heddon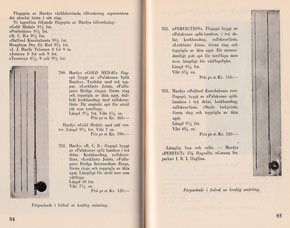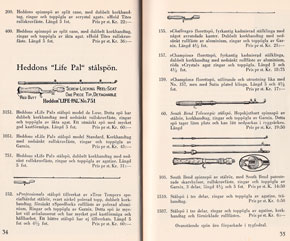 Fly-Line Drier and Mr Hardy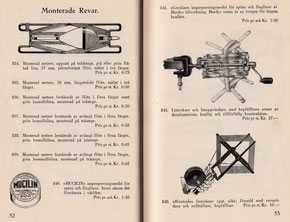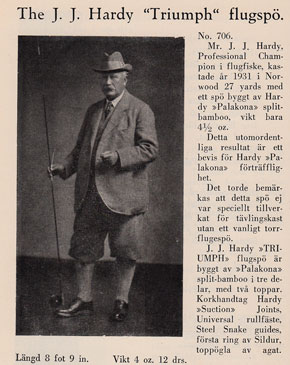 Lures
Influences came from both USA eg Heddon plugs and Scandinavia with the range of Delphin spoons.
It is obvious to see some that some lures were deemed useless or unworthy and never appeared in ABU's range.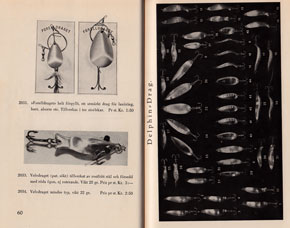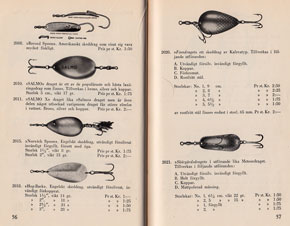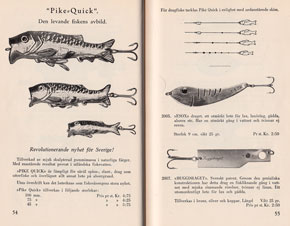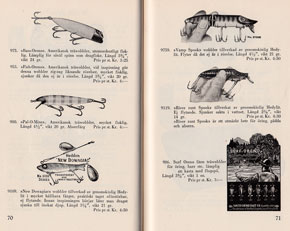 One can see here that plastics, as well as metal was being utilized in these early days.
Many facinating Pre-existing Lures ( an expanding list to appear here will include )

Ideal X, Pike , Snakdraget, Pendledraget, Keleva, Plankton, Favourite, Hogbom, Uto, Double Spinnaren and Morrum etc etc

I find the history of this one particular ABU lure named Kaleva facinating in that it existed since 1925 , which is 49 years before ABU licenced it and brought it into its fine stable of lures.
My all-knowledgeable friend Uffe Edefuhr, has filled in the pre ABU history for us, and I believe this should not go unrecognized.
Hi Wayne

I have some info about the Kaleva bait. A lot of the baits that Leidesdorff sold was made by "Dragfabriken Stenbastu" in Stockholm. The Kaleva bait was a new bait 1925. Look at the page from their catalog from 1925. There is also a possibility that this company made this bait to different other sport fishing companies. There is one common Kaleva bait that is stamped CFN and that is also Leidesdorff. There was also another big sport fishing company in Stockholm at this early time called Lundgrens sportfiskeredskap they also sold the Kaleva.
The story that Edward Leidesdorff called the bait Kaleva and took the name on it from his son Karl and daughter Eva is quite true.

Uffe
More Kaleva spoons including those from ABU and Leidesdorff here

Now some Nygren Fiskredskapsaffar Catalog page images from the 50's era, which Gote Borgestom would have been very aware, will turn up many interesting facts as to the tackle available at this time.
You will see the catalog offered tackle that A.B. Urfabriken made, tackle that was to become part of their inventory in future years as well as many items which were of little interest to Gote.
One can reasonably draw the conclusion that A.B.Urfabriken under Gote's leadership, saw little need at this time, to offer such things as floats, dead bait bridles, unusual hook designs, nets to snare/trap fish etc etc
Now look for the item differentiation below. You will see it in terms of lure names, shapes, weights and application.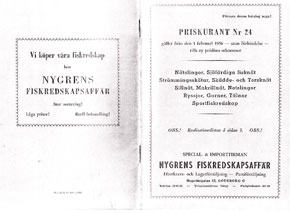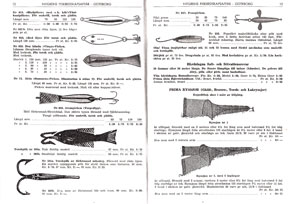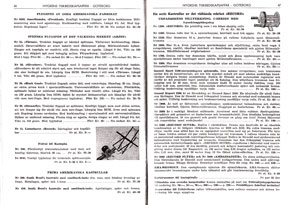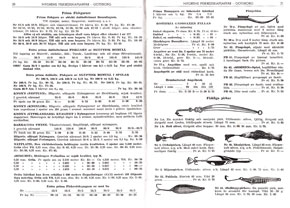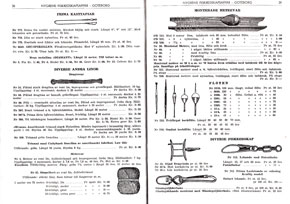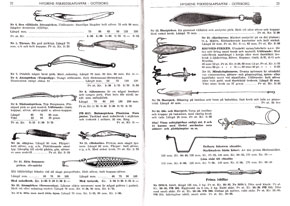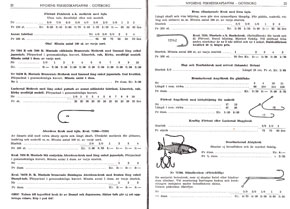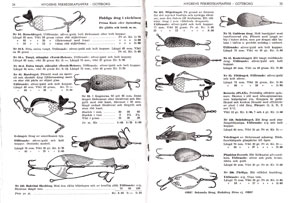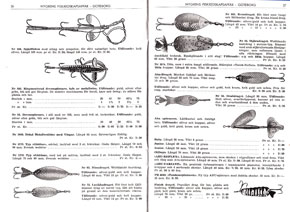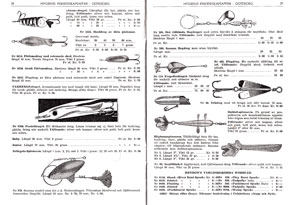 So, with such a great fishing nation, supportive family to be born into, as well as a creative mind, good business sense and bloody-minded persistence , alog with a dedicated staff, it is easy to see how Gote Borgstrom developed A.B.Urfabriken into a world leading fishing tackle company, to be still further honed into the world-leading over several more decades, by his son Lennart Borgstrom .

If you have more to contribute please contact me Wayne here at abuadmiral@gmail.com