ABU's Old Classics!
Here we have an unusual and rare Ambassadeur 6500 C , one of the last true classic external bearing reels before the palming plate models were introduced in 1980.
My friend Paul Brown has recently sold this reel on Ebay for nearly A$1500 !
An astounding price paid by an eminent Japanese collector who I hope will see this and contact me. I being such a keen collector, I'm sure he knows my website.
This is up there with my superb first release 1963 Ambassadeur 5000 C Delux mint in case # 9921 with all extras!
Nice reel due to rarity , Good condition but hardly excellent condition or MIB!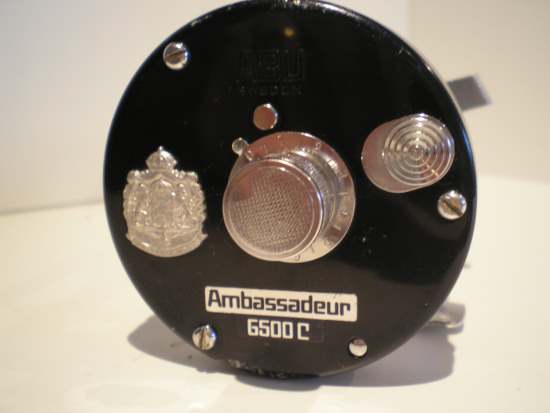 ABU Ambassadeur VERY RARE BLACK 6500c 1980 ' s 6500 c
Item condition:
--
Ended
08 Jul, 2010
07:19:17 AEST
Bid history:
13
bids
Winning bid:
GBP 851.00
Approximately
AU $1,469.72

Hello Wayne,
As promised the pictures of the 6500c black version...

Who would have thought that a humble Swedish fishing reel could have such value. Not just financial value but for a fishing reel to mean so much to a collector that they should pay such a price. It's pleasing to know that back in the days of manufacturers producing reels with the end user in mind, they did so with such care and precision that they are still very much in use today.
This really brings it home, when one see's hundreds of mass produced items on the market today, sure for a reasonable price but no where near the quality or care as the reel just sold by myself, and surely not produced to benefit the angler more to line the pockets of the share holders.
Well, its gone now to sit in a display cabinet in Japan, probably amongst many more vintage reels.
I doubt I will see another and this is brought home to me by the sale price of this rare black reel, only produced for a few months back in the 1980's, it leaves me thinking, perhaps they are rarer than i imagined.......

kind regards Paul,
<![if !supportLineBreakNewLine]>
<![endif]>

More to follow
If you are a person that has collected some unusual ABU reels or significantly had an effect on design/development/testing of ABU equipment over the years please contact me wayne@realsreels.com if you wish your contribution documented for posterity and the immediate interest of the ABU fans worldwide!