Halda Watches:
Forerunner to the A.B.Ufabriken products
Many thanks to my friend Nils Persson for these images of family treasures.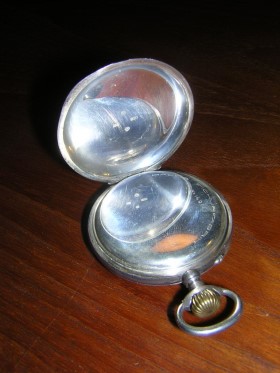 Here are pictures of a Halda Fickurfabrik AB pocket watch (Fickurfabrik AB means Pocket Watch Factory Ltd.) I inherited it from my late father.
It is a Z Calibre (15 jewels) silver watch.
There are four stamps to provide more info:
The three crowns is a stamp that is found on almost all high-grade Swedish silver of older date;
The C inside a circle is the town stamp of Carlshamn (older spelling of Karlshamn) the nearest city to Svängsta;
The HH stand for the maker Henning Hammarlund, who founded Halda in 1887 (he had his watch maker education in Switzerland) and later employed Göte Borgströms father;
Finally the Q6 is the date stamp of the year 1894. It also has the low serial no. 1491.
So this little beauty will turn a 118 years old this year. And it still runs beautifully. This quality can be traced right up into the Ambassadeur and further on if you ask me. I wore this watch on my wedding day. In good shape these watches fetch several thousands and the ones of gold up to and above 20000:- Dad had 3 or 4 gold and I´ll see if I can borrow one and take pictures next time I see mum (may take a while since she lives some 200km from here).
Perhaps not so interesting from a fishing point of view but I think they have their place in the pre-history of ABU and eventually in it´s making. I remember when me and a friend got a personal tour of the ABU-museum by the old curator and ABU legend Henning Karlsson:
When he learned that my father had collected these watches, Henning shone up like the sun. He thought the world of them, I could tell.
God bless that man, who saved so much from being thrown away in the late sixties and also saved very much for posterity when Göte Borgströms office was cleared out after his death.
If you are a person that has significantly had an effect on design/development/testing of ABU equipment over the years please contact me

wayne@realsreels.com

if you wish your contribution documented for posterity and the immediate interest of the ABU fans worldwide!