Many times expanded from the original centre of production in the nineteen twenties but today less productive in terms of actually constructing the reels that it became famous for, as now, with most organizations producing goods is cheaper and more cost effective off shore.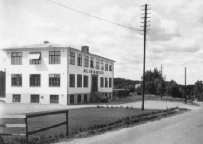 Factory circa 1943
My A$100 Ambasadeur 6000C that I received in 1974 for my 21st birthday, today can have its replacement bought for $99 but personally I'd prefer to pay the "real" cost of a 21st century built to the same exacting standards and materials which I imagine would be in the order of $400/$500. A current Morrom would be my comparison today in terms of quality and price. This is very definitely not a mass market reel and I guess expanding the market is a justifiable company goal but just not for all. I do hope the reels of the ilk of "Morrom" will continue to be designed and manufactured for discerning fisher folk.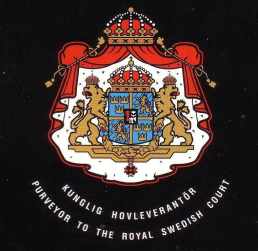 Royal Seal awarded to A.B.Urfabriken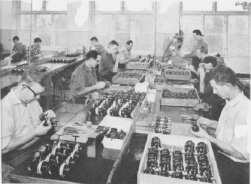 Quality Control Inspections
Never the less, there is a human side to the ABU factory, and lots of people still work within and I am deeply indebted to my good friend Glen Eriksson who is a very helpful Service Manager and really does understand the meaning of Service. Congratulations Glen for the enthusiasm you show to customs/fans of ABU!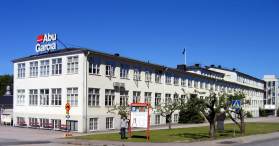 Factory circa 1990's
Thanks also go to Anita Enarsson and Maud Petersson who have helped in communications and registering my ownership of the 50th Anniversary set of 5000 and Morrum reels # 1513 / 1800
I thank you Maud, and your colleagues who have received my recent e-mails and were able to assist with the process of recommending official ABU endorsement of this website.
I have been in contact with the General Manager of ABU Sweden, Jan Sjoblom , with respect to endorsement of this site.
Positive responses have occurred.
The Modern Abu Garcia Factory in Svangsta