Collector Friends
Gary Oswald is an Aussie magpie mate (hails from South Australia) who has a fine collection from the ABU stable.
He has been very helpful and great benefactor to the the realsreels.com website and collection. His generosity has been regular, wonderful and surprising.
His collection is eclectic, in that it is not as encompassing as mine but he has some great depth. You will enjoy these images to follow.
My personal favourite of Gary's reels would be the Simon Shimomura special 6500 CDL.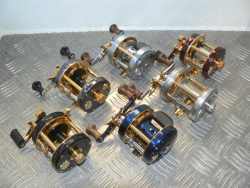 In Gary's words....
Growing up on the banks of the Port River in South Australia, I guess I was destined to have a love of the sea and the life it contained. I remember, as an 11 year old boy, roaming around the docks and breakwaters of our local sea-port, Outer Harbour, when I first met 'Old Nell'. I say 'old' because to an 11 year old every adult seems old but in truth she was probably only in her mid forties at the time, if ever I knew her surname it has been long forgotten. This particular day was a magnificent autumn day, flat calm and not a cloud in the sky, 'Old Nell' was fishing off the rocks for Snapper with her trusty 14' bamboo rod and 6" Alvey side cast reel. There was an air of anticipation and excitement surrounding Nell and her male fishing companions, for which I could fathom no reason….until the peacefulness of that Saturday morning was shattered by the unmistakable howl of the ratchet on an Alvey reel as 25lb of South Australian Snapper took the bait. 'Old Nell' calmly picked up her fishing rod and eased back on the big piece of bamboo to set the hooks, following a battle that seemed to last an eternity to a goggle eyed youngster, a beautiful Snapper was drawn up through the crystal clear water. I will never forget the crimson back, the silver belly with its blue tinges or the spread of this magnificent fish's pectoral fins as it fought for it's freedom so close to my feet. And so began my love affair with the art and romance of fishing.
In my early years of fishing I used whatever tackle I could beg or borrow and what mum and dad could afford for birthdays and Christmas, but it didn't matter, as long as I could fish I was happy. However as the years passed the desire to catch bigger and more elusive fish also required the acquisition of quality tackle, ABU was the pinnacle of quality tackle at the time but I still had to wait until I joined the workforce to buy my first Ambassadeur.
Now, in my mid-forties, I enjoy life as a professional fisherman and a collector of ABU reels. I am often asked why I collect reels, surely you can only fish with one at a time! I think my collection takes me back to a pretty happy time in my life when my young mates and I would pester the local tackle shop owners to get Ambassadeurs out of the display cabinets just so we could hold them, knowing only too well we couldn't afford them. To be able to open my own display cabinets thirty five years later and handle a 'new' reel still in it's box from that era is living nostalgia.
I'm sure 'Old Nell' would approve.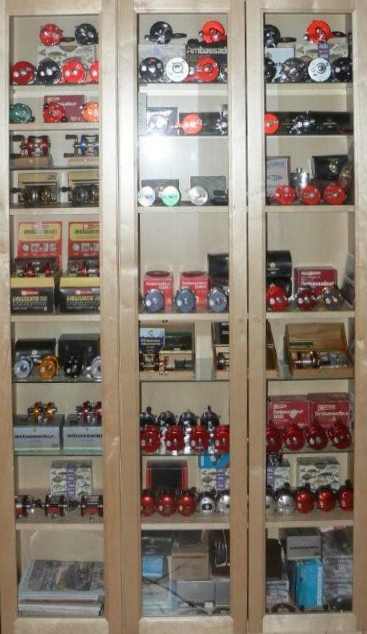 If you are a person that has significantly had an effect on design/development/testing of ABU equipment over the years please contact me

wayne@realsreels.com

if you wish your contribution documented for posterity and the immediate interest of the ABU fans worldwide!