ABU Piking and Catalog
Collecting.
Mr Jan Eggers
NL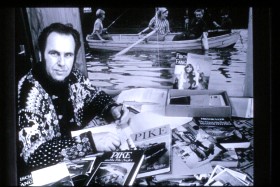 Introduction
I recently had the good fortune to connect with Jan via help from another fan of ABU from the Netherlands viz Jonas Petersson.
We have been sharing a lot of information and it turns out we have many mutual friends in the ABU world. Jan was presented to me as an ABU catalog nut (like myself) as well as avid user of ABU reels , not exclusively but predominantly, with Cardinals and mostly 500 series. It turns out he is also a very competent large pike fisherman , strange that, (tongue firmly in cheek) !
ABU Catalogs: The list, and doubles to swap
Jan has been a dominant force in both setting up Fishing Clubs and co-operating with others to record data on large European pike.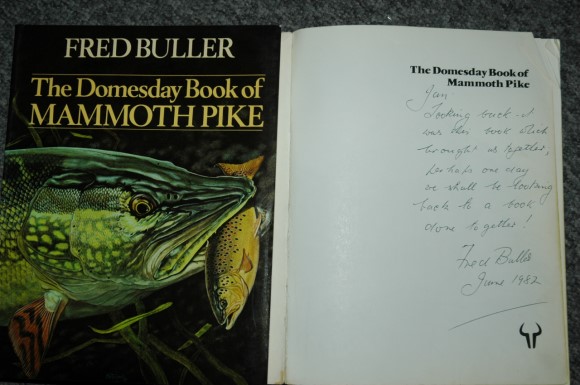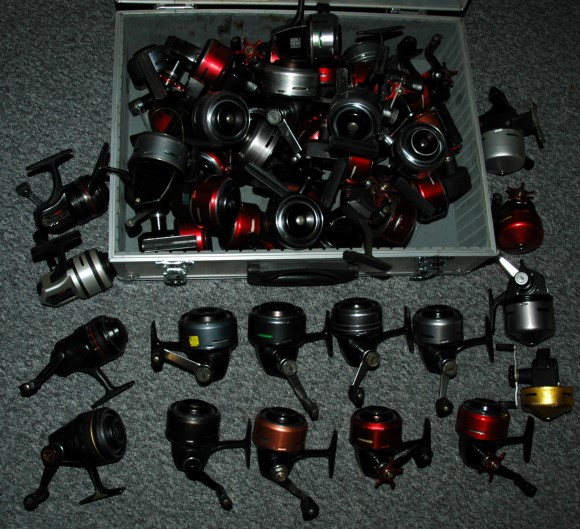 Read this delightfully crafted story of one man's obsession and passion for fishing and ABU. I feel I have met another kindred spirit.
Story of Jan Eggers and Abu
On the 1st of July 1943 I was born in the small village of Graft, a village surrounded by a network of canals, small lakes, shallow ditches and all full of fish, especially pike. Why I started fishing for roach, rudd, perch and bream is still a mystery for me. Nor my father, nor my grandfathers or any other member of our family fished or learned me how to fish. But my mother told me I started fishing when I was 4 years old in a small canal next to our house and I could fish until it got dark. Later on I earned my pocket money by catching live baits for the many local pike anglers and also pikers from Amsterdam. At the age of 8 I joined the local fishing club and I am still member after almost 62 years. The highlight of this period was joining in the weekends some local pike fishermen and fishing was done with live baits for artificial lures were unknown in this part of the fishing world. At the age of 12 I caught my first 2 pikes myself, using a 12 cm roach as bait, doing everything wrong but never mind, I had caught 2 pikes of about 50 cm! I showed them to the whole family, cleaned them and that evening we had to eat fried pike and I didn't like the Y bones….
About that time I also had to go to the gymnasium in the bigger town of Alkmaar and there I found what I had been looking for so long: a good modern tackle shop. I got a very good contact with the owner Cees Bijvoet and his nickname was: "Abu Ceessie". He showed me the for me brand-new Abu Hi-Lo wobblers, the Abu Reflex spinners which were too heavy for my shallow polder canals but not for the much deeper North Holland Canal in Alkmaar. Although these Abu tackle was quite expensive, I bought it for I discovered in practice that it was not only quality stuff but that I also caught a lot of fish with it. By catching more and more live baits I was earning more and more money for buying Abu tackle. I remember how proud I was as a teenager that I could buy one of the very first Abu 505 closed face spinning reels. A reel I loved, used my whole life and still use almost every day. Cees Bijvoet became a good friend and I was allowed to test new Abu tackle and with the, now very rare, light version of the Abu Reflex spinner I caught many pikes and perches. I have one old picture of Jan Eggers with 4 pikes of 70-80 cm that were caught in less than an hour on a rainy December morning. The picture not only shows me with my Abu 505 but also a 45 cm half-digested pike found in the mouth of one of the 4 pikes. For me proof that predators cannot resist the Abu Reflex light.
After having done my duty for 22 months in the army, I was looking for a job and something in the fishing tackle business was my dream. But such jobs were hard to find in Holland and I got the idea to learn Swedish and ask the fast growing Abu company if they had a job for me. When I had started learning Swedish, I realised that it would be nice to have a penfriend in Sweden so I wrote a letter to the newspaper Stockholms Tidningen and to Abu in Svängsta. Within a few weeks I received letter of young girls from all over Sweden and one from a certain Ingegerd Borgström in Svängsta. A familiar name for Abu friends and her father Tage Borgström, a brother of big boss Göte Borgström, was the personnel manager at the Abu company at that time and had given my letter to his 18 years young daughter. Well, what can one wish more? I also decided to corresponded with the girl whose letter arrived first and believe it or not, almost 50 years later I am still corresponding with Bodil Rehn, not by "normal" mail but by e-mail. The end of December 1967 I travelled to Sweden to meet Bodil, Ingegerd was on holidays to the Canary Islands, and to visit the Abu company. Both meetings were interesting and my plans to work in Svängsta got more shape. In June 1968 I made a 5-6 week trip through Sweden, from fishing in the Baltic Sea till catching grayling and trout in Lappland. I had collected the necessary paperwork for getting a working permit for Sweden and was about to make the final arrangements to leave Holland.
After coming back from that long trip to Sweden in June/July 1968 I was almost 100% sure my future would be in Sweden and I had started to obtain the necessary permits. On the Saturday evening of the 13 th of July, it was not cold but there was quite a storm blowing, I was fishing nearby our village when my best friend came by bike and suggested I would quit fishing and bring him with my car to the village of Schermerhorn, only 6 km away, where the annual fair was going on. Not a bad idea and I packed my rods and drove to the dancing hall. Wearing my fishing clothes and boots was not the ideal outfit for asking a young lady for a dance but after a few beers I dropped my boots in the corner, asked a nice girl, Tine was and still is her first name, to dance with me after having excused me for my fishing clothes, which I still call my best clothes, and the rest is history. I decided to stay in Holland, we married on the 1 st of October 1969 in the afternoon and I remember very well I caught in the morning hours of that memorable day 4 pikes. Yes with my 505 reel and Abu Reflex light spinner. The only thing I can say is that she still is my wife for 43 years….
I keI kept corresponding with Ingegerd and Bodil and these ladies also got boyfriends and married. In 1975 I made a 7500 km long trip to the north of Sweden with my family, visited Bodil and Ingegerd and their families and especially the contact with Bodil and family is still very good after 48 years of exchanging letters and last spring she and her oldest daughter, husband Leif died last year, visited us, looking for the tulip fields in spring.
I managed to get a summer job in the plastic industry then, a couple of years later I became manager of several departments at one of the bigger plastic companies in Holland and had a good life. My only problem was I had not enough time for fishing and loving being outdoors I started looking for another job in … the fishing world. Did a lot of match fishing and became no 3 during the National Championship in 1982 after having been regional champion a few times before. The real change had started in 1980 when I received a copy of The Domesday Book of Mammoth Pike by world famous pike historian Fred Buller. I loved this book with the stories of 230 big pikes over 35 lb from mostly England and Ireland. Was unhappy with the fact only a few monster pike from continental Europe were in the list and did collect a list of about 40 big pikes from mainly German and Sweden, many found in Abu catalogues, and sent this list to Fred Buller. Within a few days I got a letter back from Fred, asking if I wanted to help him with a new list for his new book Pike and the Pike Angler and I did. This book is dedicated to Richard Walker, Hugh Falkus and a certain Jan Eggers and I was very proud and even got the nickname The Pike Ferret which later on became the name of my company. The best sources for data of big pikes are editors of fishing magazines and when I contacted them, they were all very helpful, sent me a lot of data and pictures and…. Asked me to write nice stories about the biggest pikes in the world. I discovered that writing articles for magazines is not bringing enough money to feed a family of 5 so I was looking for other possibilities in the international fishing world.
In spring 1984 I was invited to do a slide show at the International Musky Symposium in LaCrosse, Wis, USA and here I met a lot of managers of international tackle companies like Berkley, Mepps, Rapala and Zebco. Talking with them, I discovered they had one big problem: they had no idea how the European fishing tackle market was working. I told them there is no European market. The is a German one, a Swedish one and a Dutch one and they all differ a lot. To become successful you have to understand the history, traditions, important species and languages of these different markets. Fishing tackle companies make one big mistake: They think that fishing in the rest of the fishing world is done like at home. Certain rods, reels and lures used for salmon in Sweden, black bass in USA or catfish in Austria are no good in other countries where you don't find these specie. The next night I got the brainwave and woke up my wife and told her I had found the formula to start my own business in the international fishing world. I would contact 5 companies, one for each working day, and offer them my help as European consultant for a small fee and working on a base no cure – no pay. The 5 companies reacted in a positive way andan> the end of 1984 I left the plastic company where most people thought I was crazy giving up a good job for a free-lance adventure. I had no doubt, saw the possibilities in the future , my wife believed in my idea and was happy to do the bookkeeping and working 80 hours a week instead of 36 in the plastics was not a problem at all. I had the feeling I was not working but enjoying a hobby. Also got more and more involved in all kinds of pike business, started the Dutch Belgium Pike Anglers Club and was 20 years president and the SNB has 2000 members now and I feel proud of what is my love baby. But in all these years Abu also stayed my love baby. From collecting the catalogues, testing new reels but still fishing with the 500 reels and visiting Svängsta every now and then with Dutch and German distributors.
After working a number of years with Berkley, later named Outdoor Technology Group and nowadays Pure Fishing, I visited the company almost every year and at a certain moment I was surprised that each time I had a chat with CEO Tom Bedell, he was asking me inside information about the Abu company. I told him honestly that the name Abu and it products use to be much better in the period 1950 -1985 when the production was Made in Sweden. By changing ownership, moving production to the far east and cheaper product, the quality name of the past was disappearing. At that time I realised Berkley-OTG and Tom Bedell in particular were interested in buying Abu and it really happened. I joined the merging festivities and had a good time at the black Abu cabin-house on the bank of the Mörrum river. Also found out that it was not easy to combine and integrate the American Berkley philosophy into Swedish Abu management culture but that is history now. Well, let's give one example. One of the most powerful advertising and promotion tools of Abu through all the years was the Napp och Nytt, Tight Lines, Petri Heil or whatever name Abu catalogue. This was an institute and I can remember waiting patiently for a new issue each year, more for the big fish stories than for the product changes. Berkley had in mind to quit issuing this catalogue in so many languages in order to save money and use a less costly promotion campaign. Again, an example of not understanding the market outside the USA.
BecaBecause I loved the 500 reels which were not in production any longer, same story with the green Cardinals 33,44, 66 and 77, I mentioned in my articles that I was looking for these reels and would like to buy or swop them. When I became editor in chief of Voor en door DE VISSER in Holland/Belgium there was even a little advertisement me searching for these old quality reels. As a result I had in December 2010 when I officially retired about 90 reels of the 500 series. Little by little I have started selling the most used examples at the collectors fairs and it is a surprise how many collector and fishermen are happy with such an old but always reliable reel. It even quite often happens that when I am spinning in my polder canals a young fisherman asks me if he can have a look at the newest reel he has not seen before.
I often wonder how many fishermen caught 4 pikes, all released, on their wedding day?
Jan's home is naturally backing onto a canal for convenient fishing.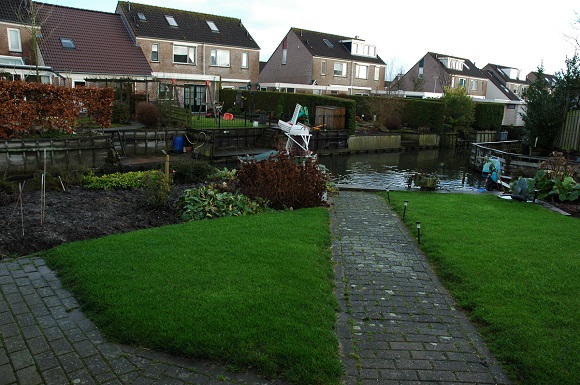 After 1984 my life has changed a lot. First of all I could tell my wife that when I went fishing, I went to work, and she still doubts it. I met an awful lot of friends in the international fishing tackle world and fished with Todd and Mike Sheldon of Mepps. Risto, Esko, Ensio and Jarmo Rapala, Tom Bedell and many other staff members of Pure Fishing. Was long time European consultant of The IN-Fisherman magazine, fishing with good friends Al and Ron Lindner and not to forget Doug Stange. I can continue this way and tell about the 19 counties where I caught pike, the more than 1000 pikes over 100 cm and most of all about the many, many hours I enjoyed with a rod in my hand. Fishing is fun and I hope I can spread this message over this crazy, hectic world we live in and especially under the youngsters, the fishermen of tomorrow. Time for a cup of coffee and later on making a long walk with Tine in the white cold winter world and the sun is shining and no wind, just winter wonderland as you see it on postcards.
Through the e-mail Wayne Real sent me asking information about Abu catalogues in Dutch language I got involved again in a daily e-mail exchange about Abu and to be honest it brings back a lot of good memories. It also convinced me again th>at quality is the key to success in the fishing tackle business. Thank you Abu for giving me a lifelong pleasure by using your products made in Sweden.
December 2012
Random Fishing with Jan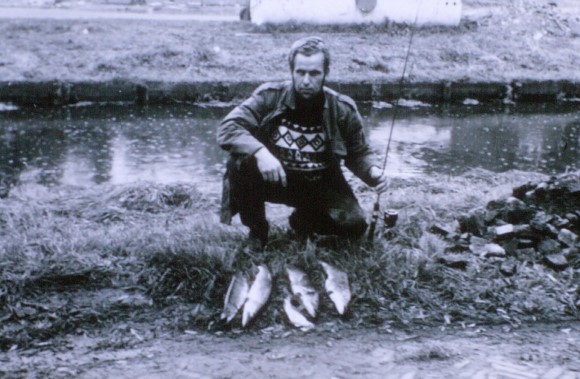 Pike above

fished from Taltson river/Great Slave Lake, Canada 123 cm and 14,5kilo, caught it with my 506 reel and 0,20 mm braided line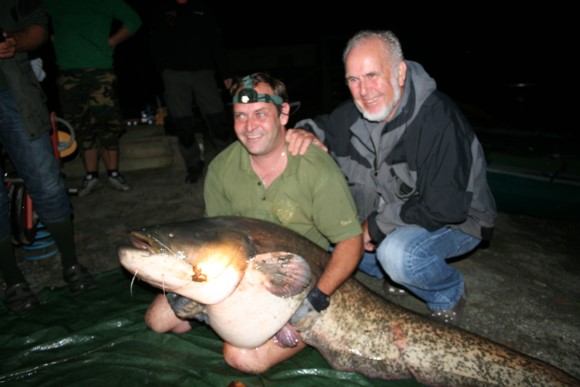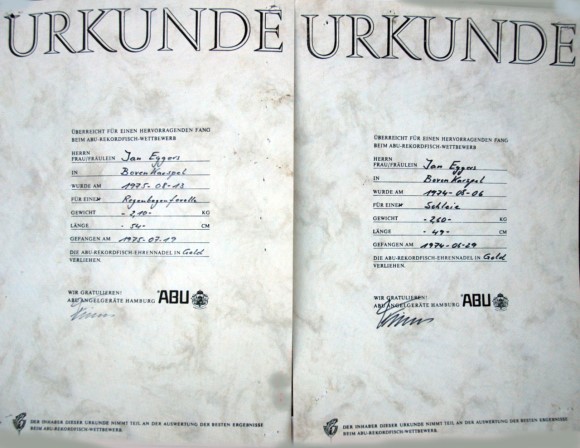 Another memorable story of ABU and big pike from Jan.....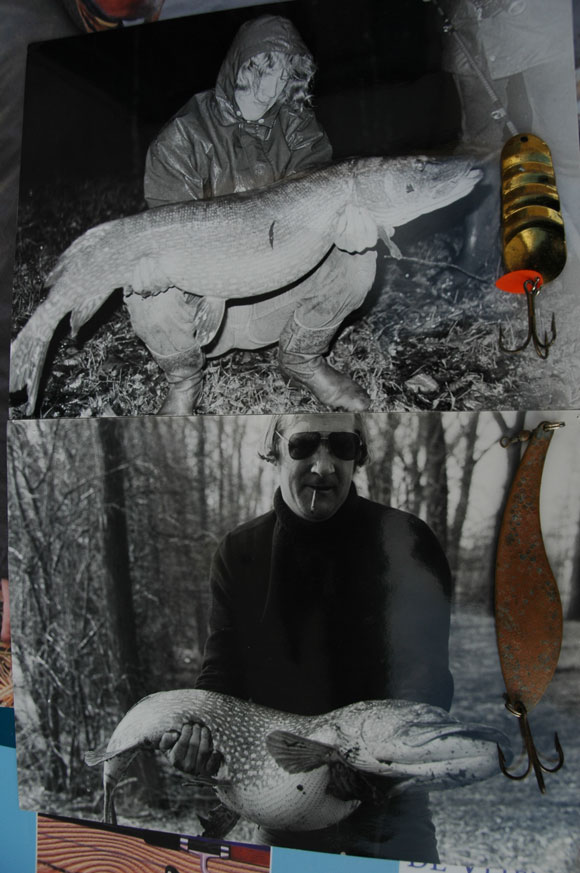 The Abu pike or One pike – two Dream trips Going through my archives searching for Abu related pictures and stories, I found some paper cuttings from Dutch, German, Swedish, English and Spanish fishing magazines with the same title: The Abu pike. Reading these stories I wrote about 30 years ago gave me the idea to send them to Australia for Wayne Real might find them interesting enough to use them on his famous website. I still remember how happy I was to find a Dutch pike big enough for the Big Pike List of my good friend Fred Buller. Nowadays the entry limit for this list is 18 kilo but in the early eighties is was 35 lb. = 16,2 kilo. The reason why it is so hard to find good data in Holland with the weight of the pike is that in Holland the longest pike, and also other species, is considered the record pike and nobody weighs them. But this pike of 128 cm caught by Ruud van Dort was also weighed on good scales and showed a weight of 17,5 kilo and seeing the photo, I agreed with every gram of this fat and pregnant grandmother pike. I wrote a letter to the captor and got more information about where and how it was caught. Ruud was fishing in a manmade lake nearby Utrecht on the 7th of December 1979 and he used a not too soft spinning rod with Abu Cardinal 66 reel and an Abu Atom spoon. When it was getting dark he hooked something big and the fish decided to stay close to the bottom of the 10 meter deep lake. When he saw the huge head of the pike he became nervous for he had no landing net. The drill lasted more than half an hour and with the 4th attempt he could finally land the giant pike with his hands. Some friends helped him with measuring and weighing the friends and also shot some pictures and hoped they were good enough to use in the magazines. The pike was released then, which is normal for Holland, for them there is always the possibility to catch it again…Because it was caught on an Abu lure and also an Abu Cardinal 66 reel was used, Ruud filled in an entry form for the Abu Dream Trip competition and won the prize for the biggest pike of that season. Same lake, same spot, other Abu lure and other captor. My name as collector of big pike data was well known in Holland and rest of Europe and I also had a wide network of correspondents informing me when a big pike was caught and even the captors themselves contact me.. I remember receiving a letter, no e-mail these days, from Thijs Swart telling me he had caught a big pike that would qualify for the Big Pike List. After that first contact I had several phone calls with Thijs and the first surprise was that he had caught it in the same lake, called Plas Vechten, and even same corner, as where Ruud van Dort had caught his pike. Thijs was fishing with an 18 grams Abu Ellips spoon on that memorable 23rd of February 1982, 5 days before the closed season for pike starts in Holland, and first caught some big perch between 40 and 50 cm. Hooking the pike was a total different feeling and Thijs was not impressed by the fighting quality of this pregnant lady. When she was safely on the bank some carp fishermen with certified scales weighed her and the needle stopped at 18,5 kilos. She was released then and I got some not too good pictures of this moment from one of the witnesses. That same witness, John van Plateringen, phoned me a year later telling me a pike of 130 cm was caught in the same spot and he would try to get pictures which I still have not got. Is it the same pike???? The more I looked at the pictures, the more I got the idea it was the same pike. In January 1983I visited Fred Buller in London where we joined a social evening of the PAC, Pike Anglers Club of Great Britain. I knew that biologist and famous pike fisherman Neville Fickling had written a scientific piece about Identifying pike by mean of pictures. I had several pictures of both fishes showing the same side of the body, with me and already after a short look at both, Neville was 99% sure it was the same fish. Later on at home he studied the pictures more carefully and sent me a letter with a lot of detailed information stating it was the same pike. Because this fish was caught twice on an Abu lure and both fishermen using the Abu Cardinal 66 spinning reel, I christened this pike officially as THE ABU PIKE and I think everybody will agree. Also Thijs Swart qualified for a dream trip and one sees that Catch and Release works for fish and fisherman.
The name of the captor of the top part of pic is Ruud van Dort and he caught the pike with an Abu Atom spoon and it weighed 17,5 kilo The other guy with cigar in his mouth is Thijs Zwart who caught the pike 2 years later with an 18 grams Abu Ellips spoon and the weight was 18,5 kg this time.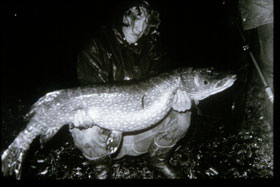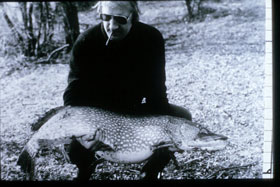 Jan Eggers
Jan has caught many species from all over the world, but his true passion is Pike catch and release/protection. He guides many friends to snare their first or maybe personal best fish throughout most of the year. He he has accompanied and assisted a youngster to catch his biggest Pike to date.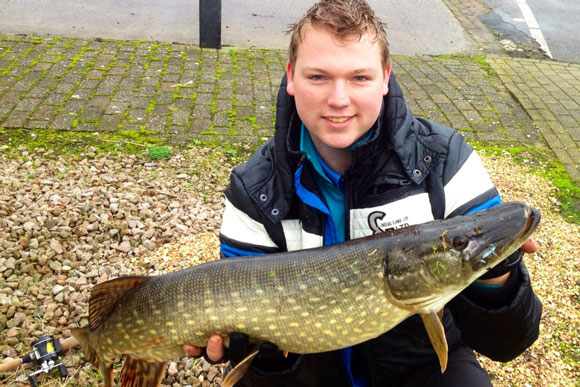 Jan has recently posted me some wonderful ABU items to assist with my collection.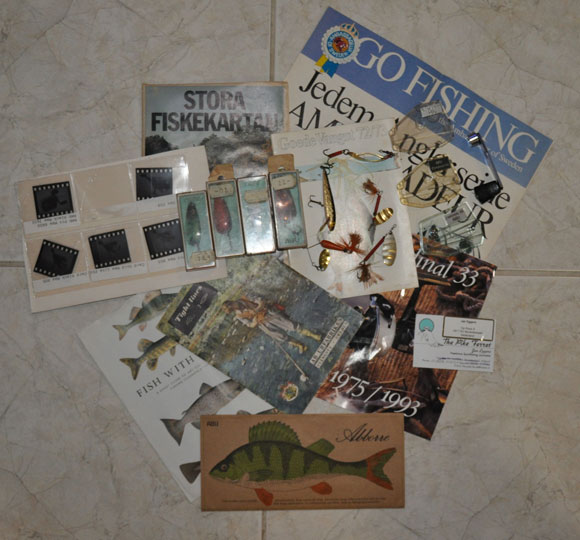 If you are a person that has significantly had an effect on design/development/testing of ABU equipment over the years please contact me wayne@realsreels.com if you wish your contribution documented for posterity and the immediate interest of the ABU fans worldwide!